What compels an otherwise logical individual to shoot madly through Harvey Norman like a rogue asteroid? The prospect of getting my hands on the LG CordZero™ R9 with ThinQ robotic vacuum cleaner, that's what! I have always, always wanted to experience how a robotic vacuum cleaner could help bring balance to the force that is three haphazard children and one shedding canine – and LG R9 was my new hope. As it turned out, it was far more than I ever expected.
Putting the "robot" in "robotic vacuum" with its endearing personality, the small but powerful LG R9 not only had my floors looking cleaner than they'd ever been, but also found itself being anointed as an honouree new member of our family. Fun and efficient, read on for my LG R9 review and discover how LG R9's advanced technology could help you now and in the future…
LG Robotic Vacuum Review: The droid you are looking for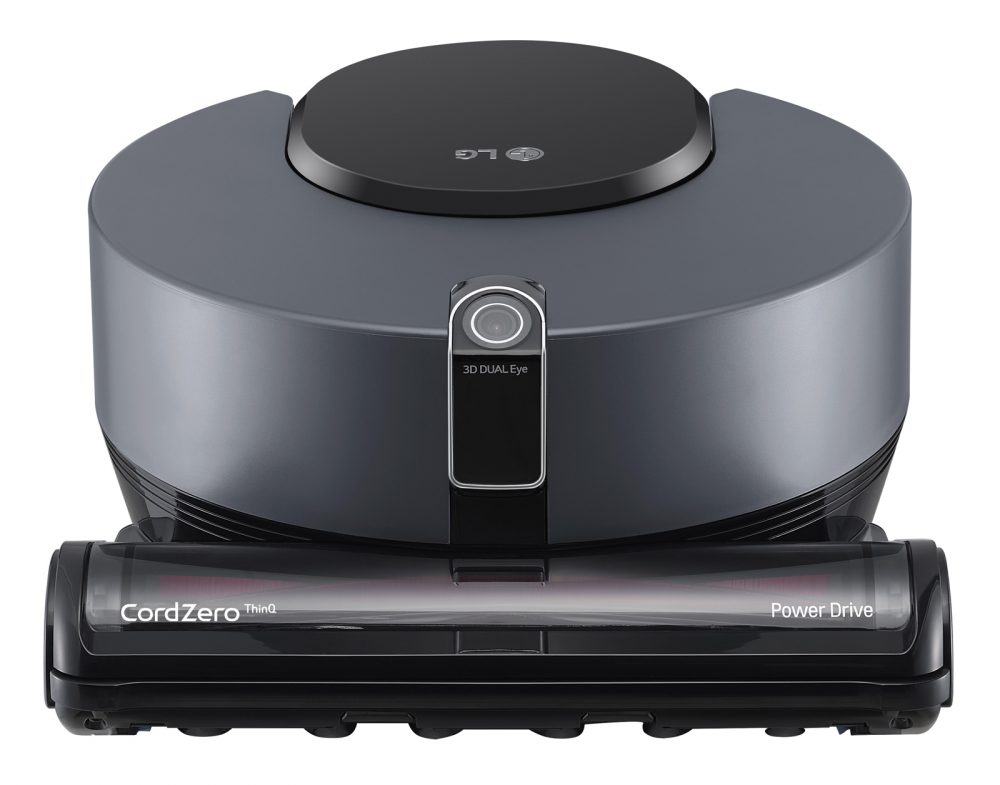 LG R9 may be a vacuum, but, to my family, it was so much more than that – it was our busy little droid companion. This feeling was enhanced by LG R9's sleek, attractive exterior as it zipped around, and its sense of having an underlying personality which was perpetually entertaining for us. It was not a purely fanciful sense, either; LG R9 is equipped with advanced DeepThinQ™ technology, meaning it was able to learn and respond to its surroundings (including us!).
At the front of LG R9 is a 3D Dual Eye, comprising a 3D camera sensor and a 3D obstacle detection sensor. This Eye helps LG R9 identify obstructions as it boldly goes about its job. Once it has mapped potential hazards, this clever cleaner remembers where to travel and what to avoid. Even so, a robot's literal view of the world is not always human reality. As seen in the above video, one of LG R9's fun features (and the one my kids couldn't get enough of) is its ability to vocalise. If you happen to obstruct LG R9 in its cleaning progress, it will politely but firmly tell you to "please step aside." The hilarity ensuing from this command only affirmed our warm feelings towards LG R9. Yes, LG R9 is a vacuum cleaner, but one with the potential to quickly feel like a member of the family.
Powerful heart, intelligent brain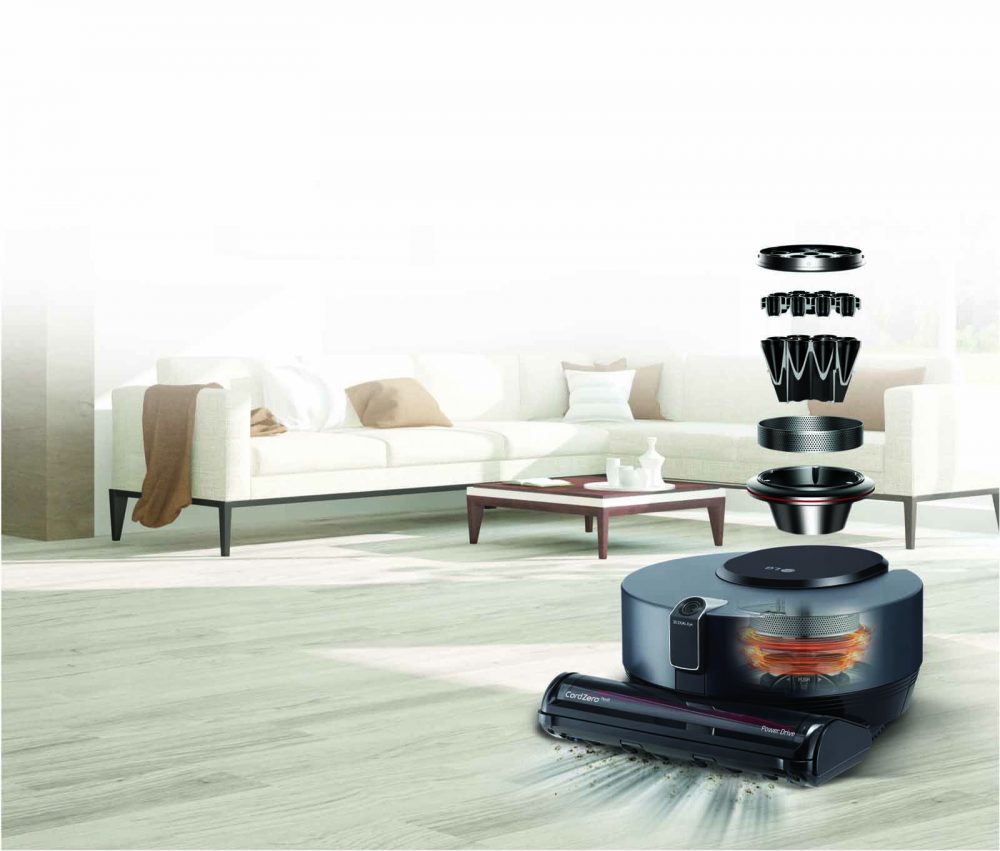 The LG R9 is a charming robot addition to the household (like Rosie from The Jetsons!), and it's also a powerful and efficient purpose-built cleaning machine.  The R9 has a Smart Inverter Motor that rotates at high speed, spinning a fan to create strong air flows inside the cyclone chambers. When the vacuum detects certain carpet types, walls or heavy concentrations of dust, it will switch to turbo mode and increase suction power for a more thorough clean. If that wasn't enough, the belt driven Power Drive Nozzle, with its anti-tanglebrush design, works efficiently to lift dust, dirt and even pet hair from carpets and other surfaces. All in all, LG R9 is brains, beauty and power in one adorable package – what more could anyone want?!
Set course for Rigel II cleanliness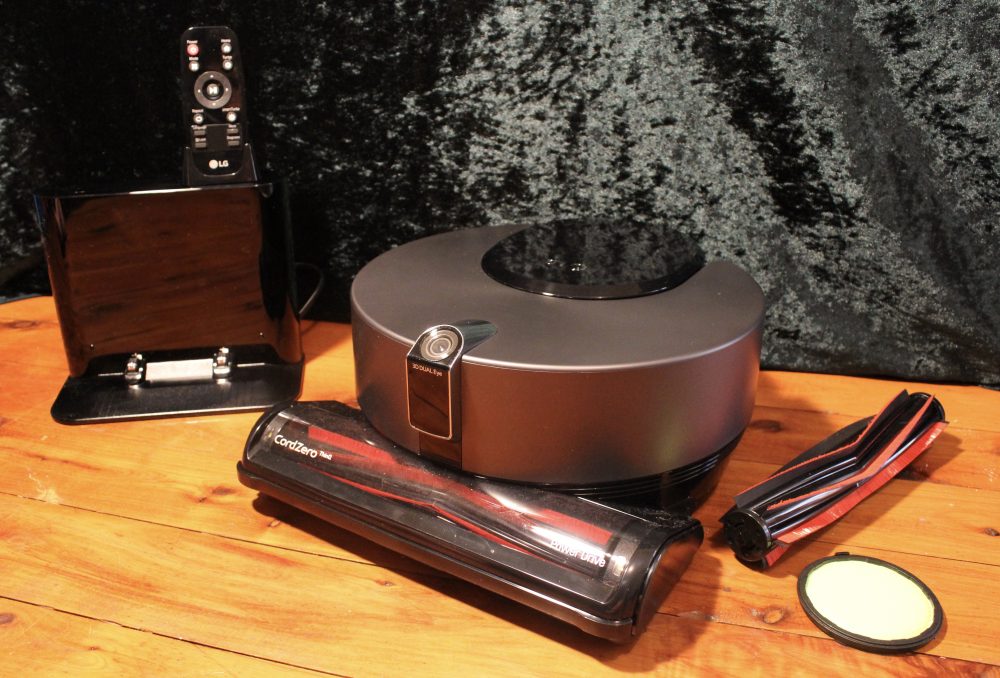 My initial foray into the brave new world of cleaning automation began with the included remote control. As the type of person who leaps into playing with things before even acknowledging the instructions, I was delighted to find LG R9 very simple to operate. Even without prior robotic vacuum cleaner experience, it didn't long take me long to master the different cleaning modes R9 offers.
Accessed via the remote control or the control panel, LG R9 cleans in one of four modes: Edge, Zigzag, Spiral Spot and Manual. All LG R9 needs is for you to select the cleaning mode best suited to your immediate cleaning situation then "please step aside!" But don't wait for LG R9 to tell you – once LG R9 is off to work, it's time to grab a coffee and put your feet up (that's what I did!).
Edge mode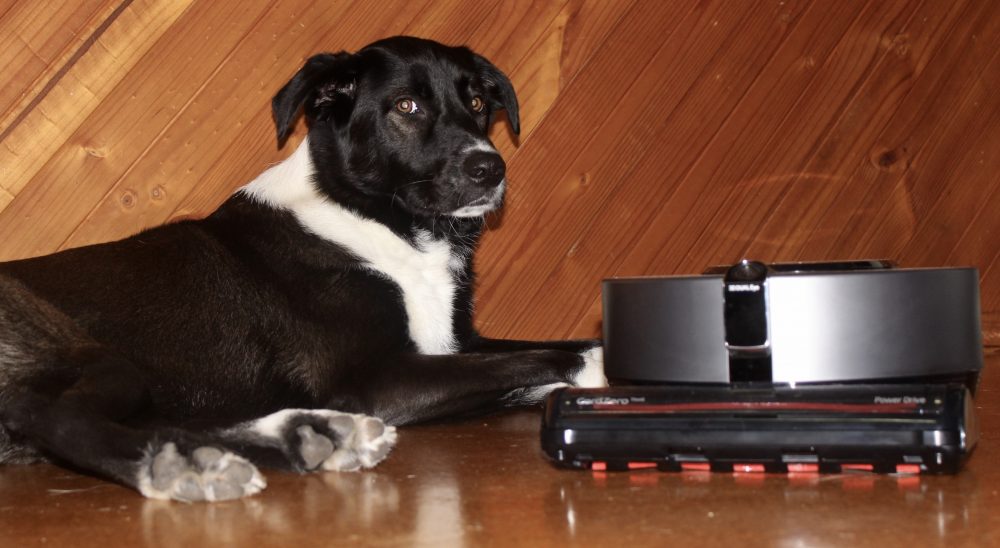 One fantastic aspect of letting LG R9 do the cleaning is you don't have to remind it to vacuum the edges. Unlike some household helpers (here's looking at you, kids!), once you have set this LG robot vacuum in Edge mode, it will vacuum the entire room and pay special attention to the edges. Edge mode, along with Zigzag mode, utilises LG R9's DeepThinQ™ technology to gain a picture of its surroundings. Upon encountering a wall, LG R9 reduces speed and temporarily increases suction power to clear the edge of dust, hair and general accumulated muck. As a dog owner, I was super impressed with the amount of suction my little robot friend directed at the edges of my rooms. LG R9 methodically expunged my canine's shed fur with ease. It also had no problem ridding room edges of the stray corners from muesli bar wrappers that my delightful children seem to sprinkle in their wake!
Zigzag mode
If you need to clean a large area quickly ("What? They're on their way?!"), Zigzag mode covers the most ground in the shortest amount of time. As the name suggests, Zigzag mode sends LG R9 off on a long and winding trail through your house. Instead of pausing as in Edge mode, LG R9 turns around at walls to continue its cleaning escapade. I tested Zigzag mode in my kitchen where the open space was ideal for LG R9 to zigzag without interruption. LG R9 effortlessly negotiated the angles of the benches and oven while eagerly devouring the detritus of daily kitchen life. Plus, unlike a fallible human (me) using a regular vacuum cleaner, LG R9 does not lose patience and hastily strike out in any old direction. The methodical route LG R9 undertakes in Zigzag mode ensures all of the open floor space is thoroughly cleaned.
Spiral Spot mode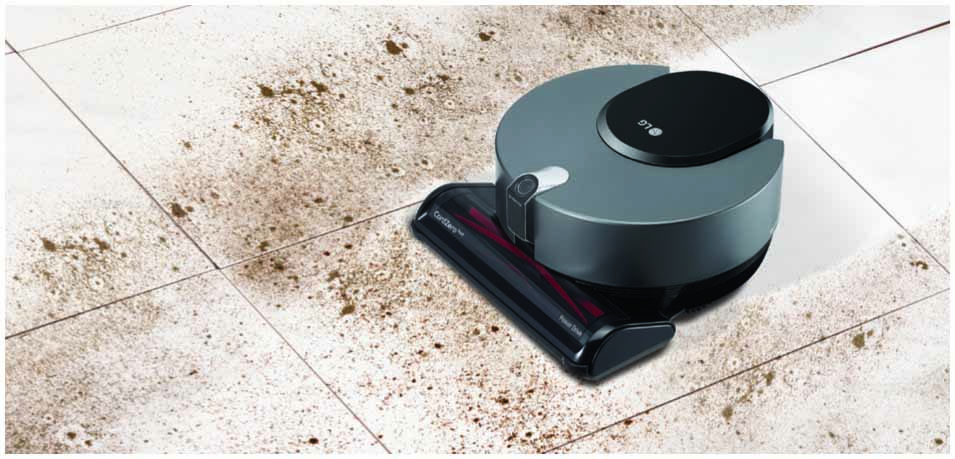 Dry spills are a dual-edged frustration. There is the initial horror of losing your popcorn, chips or nuts to the floor. Then, the thought of dragging the vacuum cleaner out of the cupboard, setting it up, plugging it in and vacuuming up the mess compounds the despair. Not anymore! LG R9 lives (almost) for this very situation. Spiral Spot mode concentrates LG R9's cleaning powers on a 1.5 x 1.5m area. As it spirals out from its starting location, LG R9 utilises a stronger suction, making this mode the best choice for when you accidentally drop your movie night snack. Once LG R9 has completed its emergency decontamination, it returns to its initial position where you can either tell it to stop or let it complete another cycle. Best of all, while LG R9 takes care of the mess, you can grab a fresh snack and start the movie!
Manual mode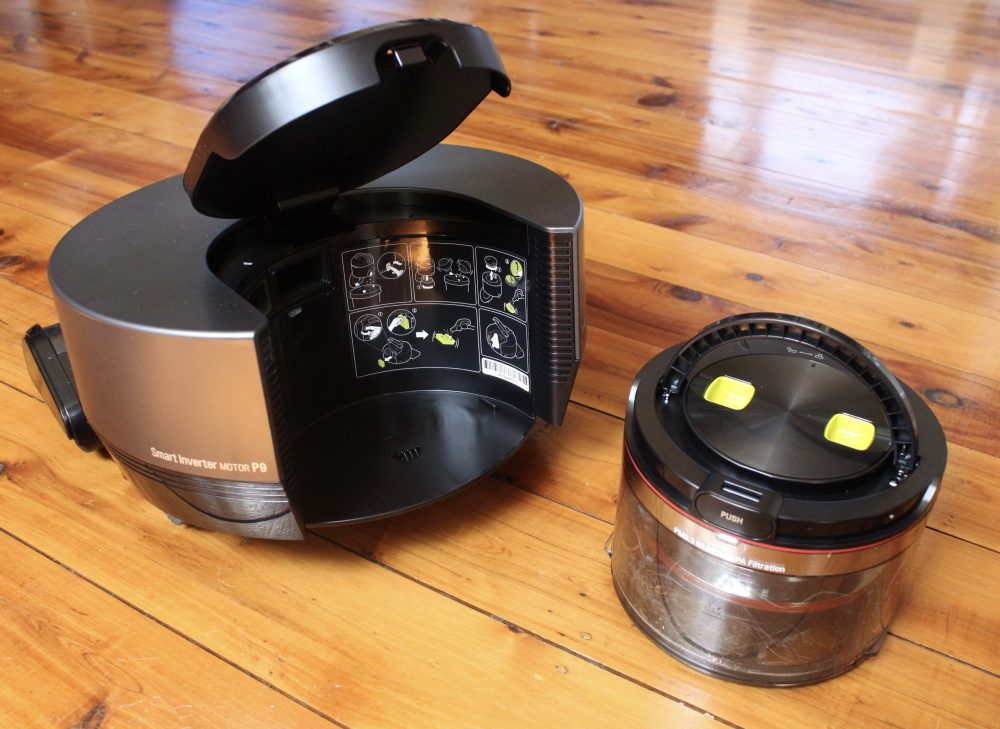 It would be a significant oversight if I didn't confess to having an absolute favourite LG R9 mode. All of LG R9's specialised modes made short work of cleaning my floors, but one mode gave me the most exhilaration I have ever received from a vacuum cleaner. Believe it or not, that mode was Manual mode. Manual mode allows you to move LG R9 forwards, backwards, left or right using the directional buttons on the remote control. In other words, it puts you in the driver's seat. In Manual mode, it is ridiculously easy to forget you are cleaning and instead abandon yourself to the sheer joy of careening a robotic vacuum cleaner around your house.  If I had relinquished the remote and let my kids have a turn, they would've loved it too!
I used Manual mode to successfully target known-problem areas of my front, dining and living rooms, directing LG R9 to vacuum to my satisfaction. Manual mode also conquered the final frontier of my sons' bedrooms. Steering LG R9 around the legs of their beds was an absolute breeze!
The Eagle has landed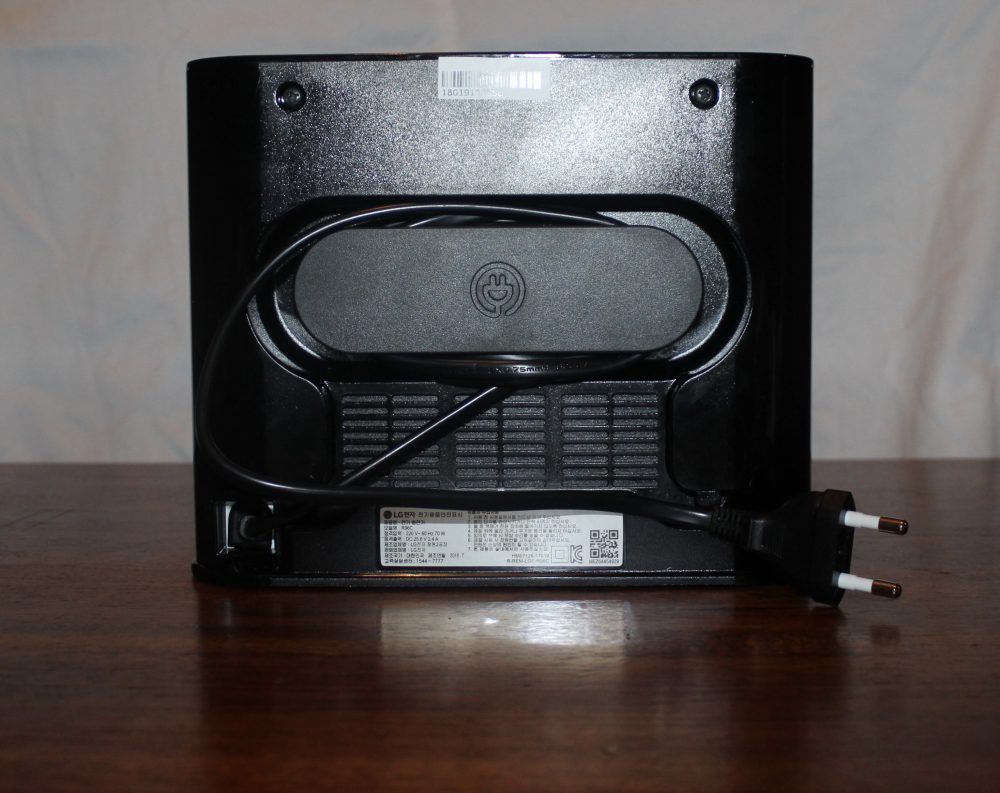 The Home Station is LG CordZero™ R9's ground control. LG R9 automatically returns to Home Station after a cleaning cycle or if its battery is running low. The Home Station also solves the question of housing your robot friend; simply position Home Station against a wall near a power point on hard, level flooring. A cord keeper at the back stows the cord safely out of the way.
Nothing, however, prepared for me the pure pleasure of pressing the "Home" button on the remote control. As my kids cheered, LG R9 plotted its position in relation to the Station, navigated through the room and commenced docking procedure. Without a hitch, LG R9 was home and charging.
Logically, LG R9 has power saving features to minimise trips to the Home Station. If LG R9 finds itself trapped in an unchartered quadrant of the galaxy room, in furniture or on an obstacle, it will power down after 10 minutes and await rescue. LG R9 also automatically switches off if left idle.
It's life, Jim, but not as we know it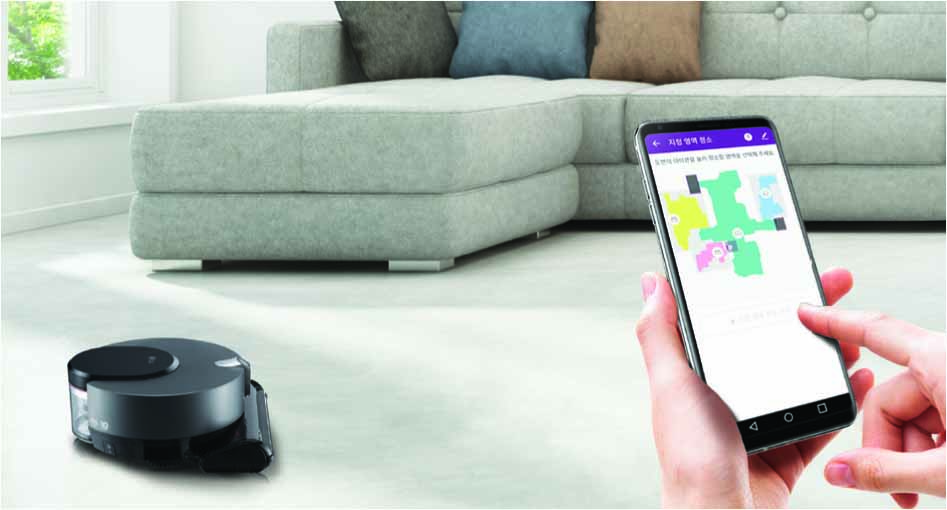 As we have seen, this LG robotic vacuum cleaner is out-of-this-world. It is easy to operate and cleans beautifully. Like all great voyagers, however, this is only the beginning for LG R9. Downloading the LG SmartThinQ app from the Google Play or App store onto your smartphone opens a whole extra dimension. From home security to troubleshooting, LG R9's smart functions increase its workload (and lessen yours!). Check out these star-quality features:
► Home Guard, uses motion sensor technology to detect movement and send images to your smartphone.
► Home View, this feature lets you access the machine remotely via a compatible smartphone and view inside your home using the front mounted camera. You can control the vacuum's motion with the on-screen controls and even view on your smartphone screen exactly what the vacuum's camera can see.
► Smart Inverter Motor, for powerful suction.
► Power Drive Nozzle, for high performance dirt and hair pickup on all surfaces.
Are you ready to boldly go and explore the exciting possibilities of LG CordZero™ R9 for yourself? Head into your local Harvey Norman store where our friendly, expert staff will be more than happy to introduce you to one of the best robotic vacuum cleaners and answer any questions you may have. Or you can shop for LG R9 online and let this endearing robotic vacuum cleaner make household life a lot easier and a lot more fun!
Tried & Tested Blogs
Want to read about some of the other products we've been road-testing lately? Check out our recent Tried & Tested blogs:
Philips Vacuum Blender
 Bissell CrossWave Pet Professional Vacuum and Mop