My flatmates and I are no strangers to dirty air, largely thanks to smog from the busy road we live on. Luckily, we were recently introduced to the wonderful world of air purifiers thanks to Harvey Norman, who asked me to do a Philips Series 3000i Air Purifier review – and I've got to say, it was love at first set-up.
If you're looking to ensure the air quality in your home stays clean and safe, this Philips air purifier review is for you.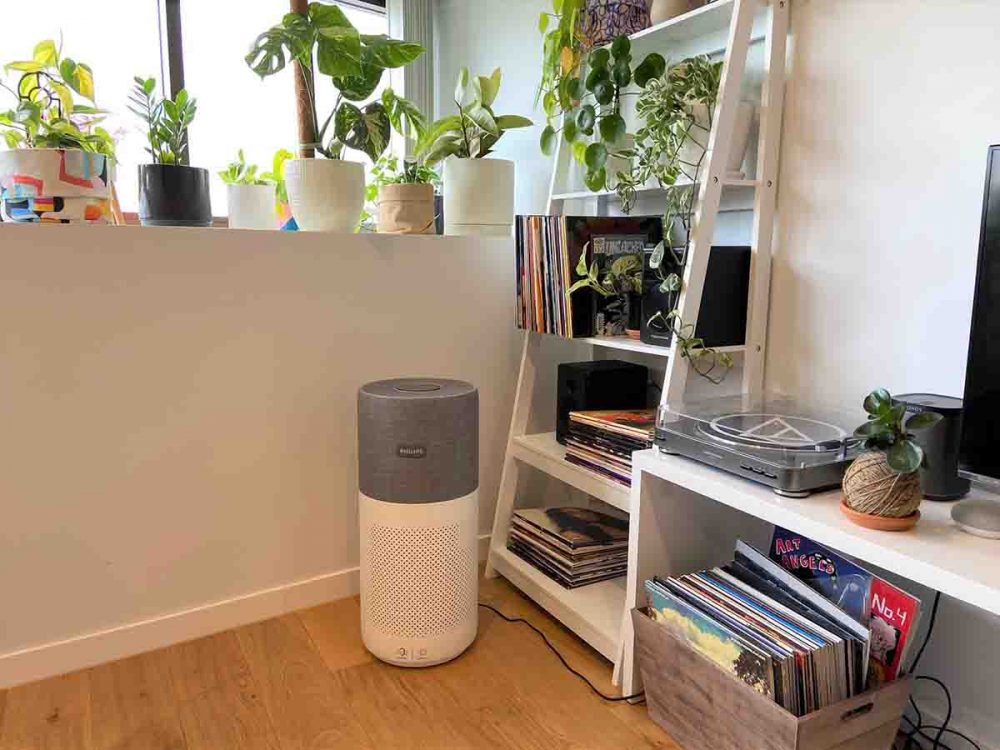 Your Air Purifier, Your Rules
Setting up the Philips Series 3000i Air Purifier was a breeze with the Philips Clean Home+ app. Just download the free app, make sure your mobile device has a Wi-Fi connection and you're ready to go. One feature I really appreciated was being able to customise my air purifier by answering some simple questions and selecting any specific concerns I wanted to target.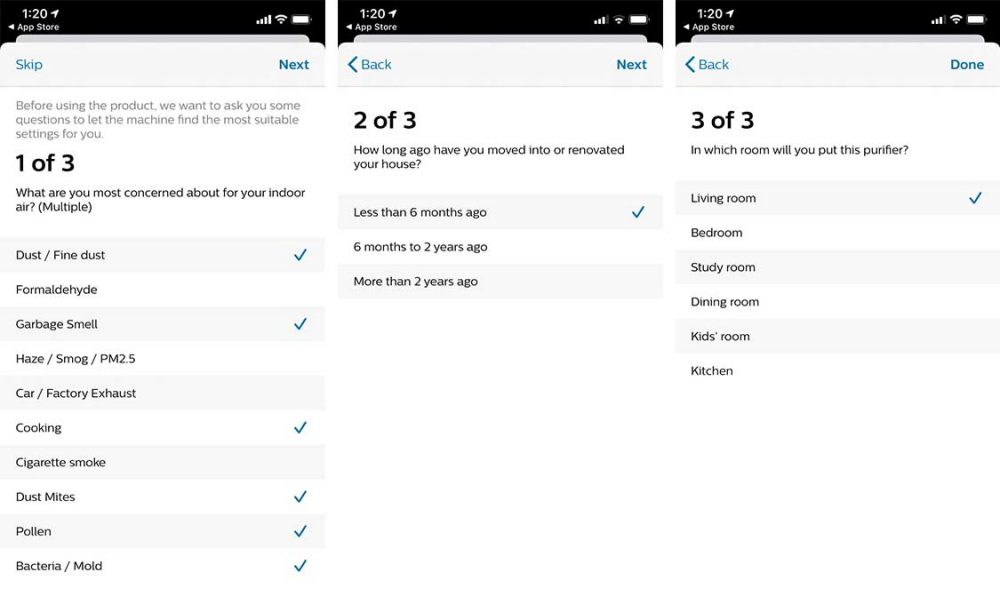 A few of our key concerns were dust, pollen and, of course, smog coming in from the street. I was pleasantly surprised to find that the Philips Series 3000i Air Purifier was able to tackle all our worries, and more. From cooking smells to bacteria and unforgiving garbage odours, this Philips air purifier turned out to be a superhero swooping in to save our apartment from every airborne nemesis we had.
Philips Series 3000i Air Purifier: Smart, Versatile & Intuitive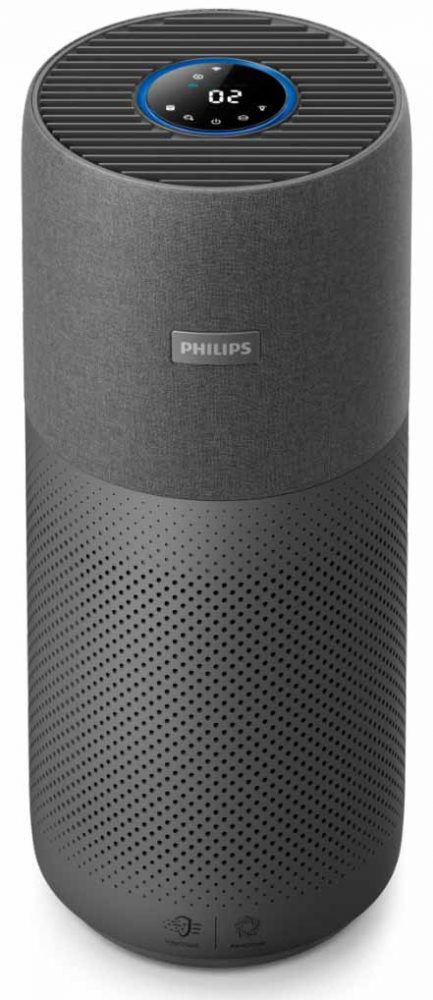 The Philips Series 3000i Air Purifier uses smart sensing technology to detect and automatically remove the three main pollutants affecting air inside your home: indoor allergens, particles and harmful gases. This clever technology senses air quality levels in real time, so your home stays as safe and clean as possible, preventing build-ups before they can occur.
Using either the Clean Home+ app or the display on top of the Philips air purifier, you can easily switch between three modes to suit your needs:
• Auto mode is my go-to setting for regular days around the apartment. It allows the Philips Series 3000i Air Purifier to track the air quality levels and automatically react to changes in air quality, keeping my mind and allergies at ease.
• Turbo mode is my best friend on busier days. Whether I'm kicking up dust by cleaning and vacuuming, or need help venting out cooking smells, there isn't much that Turbo mode can't handle.
• Sleep mode is the silent helper that continues working hard while we rest. It's been meaning that my housemates and I wake up to clean air, helping us get on with our day.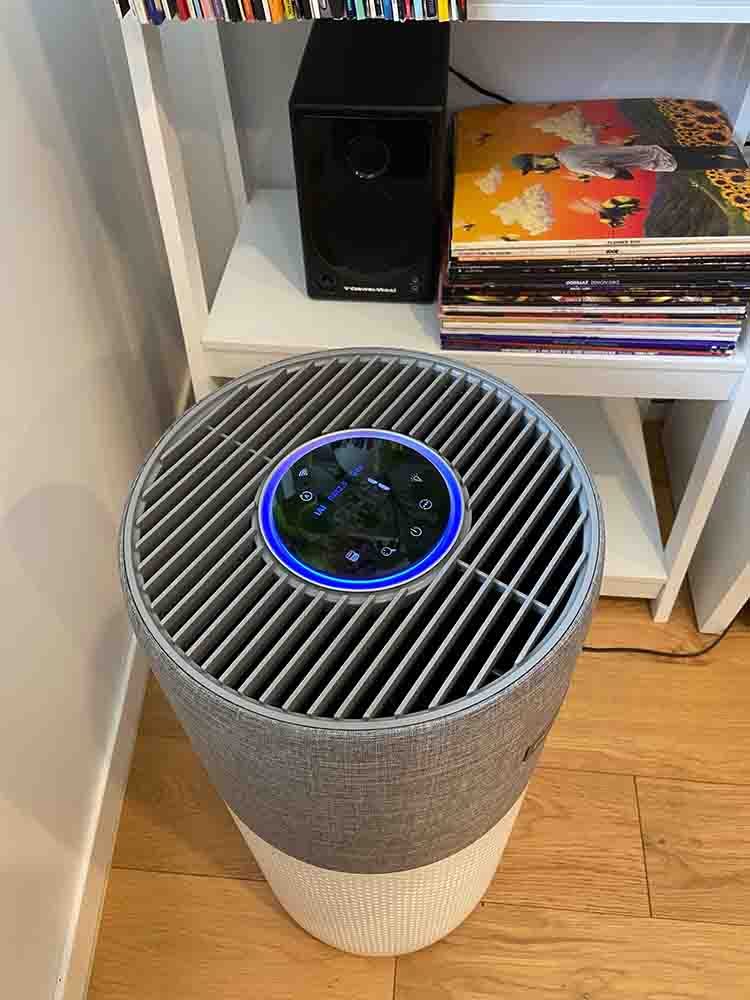 The Philips Air Purifier's 3-Layer Filter
One of the reasons the Philips Series 3000i Air Purifier is so effective is the 3-layer filter. The outer pre-filter catches larger debris like dust and hair, followed closely by the activated charcoal filter that works to remove gases and odours, while the NanoProtect HEPA filter catches the smallest particles of all, as small as 0.003 microns. Each layer works seamlessly with the others to capture and remove airborne nasties, including up to 99.9% of pollen allergens.
Both the display on top of the Philips air purifier and the Clean Home+ app allow you to view the filter's status. I appreciate how easy it makes viewing the amount of pollutants filtered, as well as the fact that it lets me keep track of how much life is left in my NanoProtect HEPA filter. Another great feature is the automatic countdown, reminding me when it's time to clean the outer pre-filter, so maintaining the Philips Series 3000i Air Purifier couldn't be easier.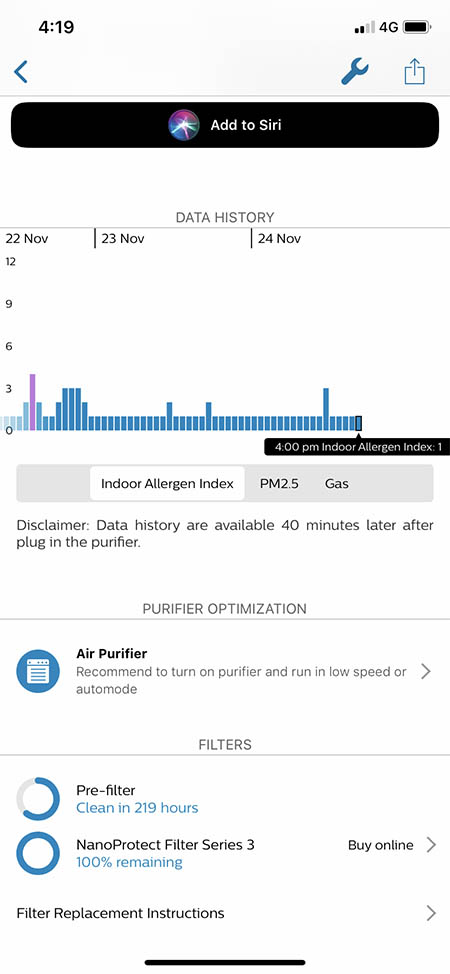 An Air Purifier the Packs a Punch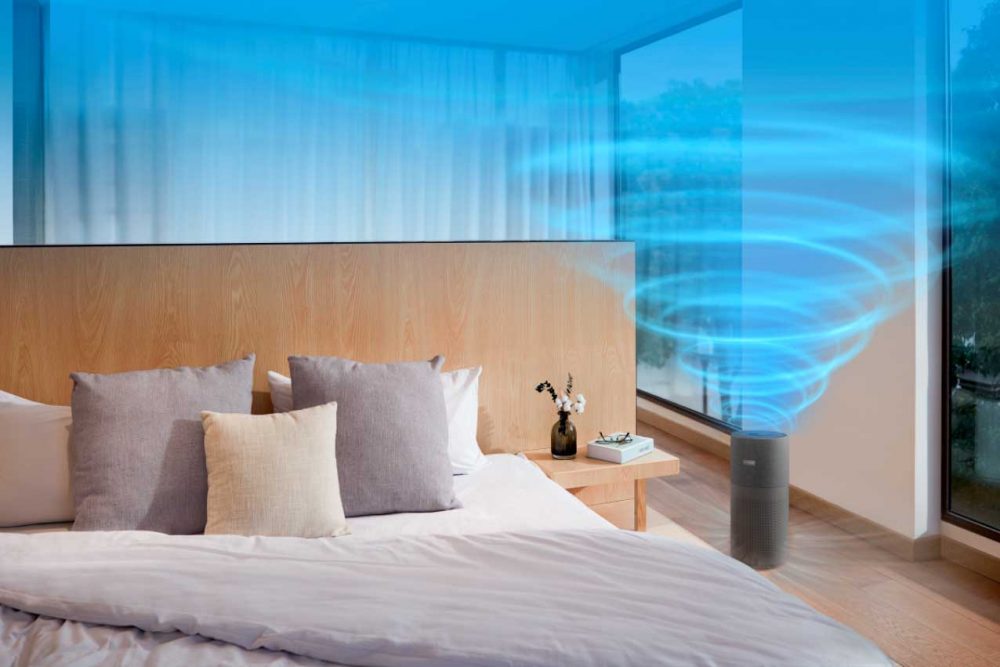 Something that really impressed me about the Philips Series 3000i Air Purifier was just how quickly I could sense a difference. Upon coming home to a stuffy apartment after a day out, I popped on the Philips air purifier, and within minutes I could feel a change. This was no doubt thanks to the advanced filtration system combined with Philips' new 3D air circulation technology resulting in clean and fresh air being produced at a fast rate.
What's even more exciting is that this luxury is not just exclusive to apartment-dwellers like me – the Philips Series 3000i can purify rooms as big as 104m², making it perfect for households of all shapes and sizes.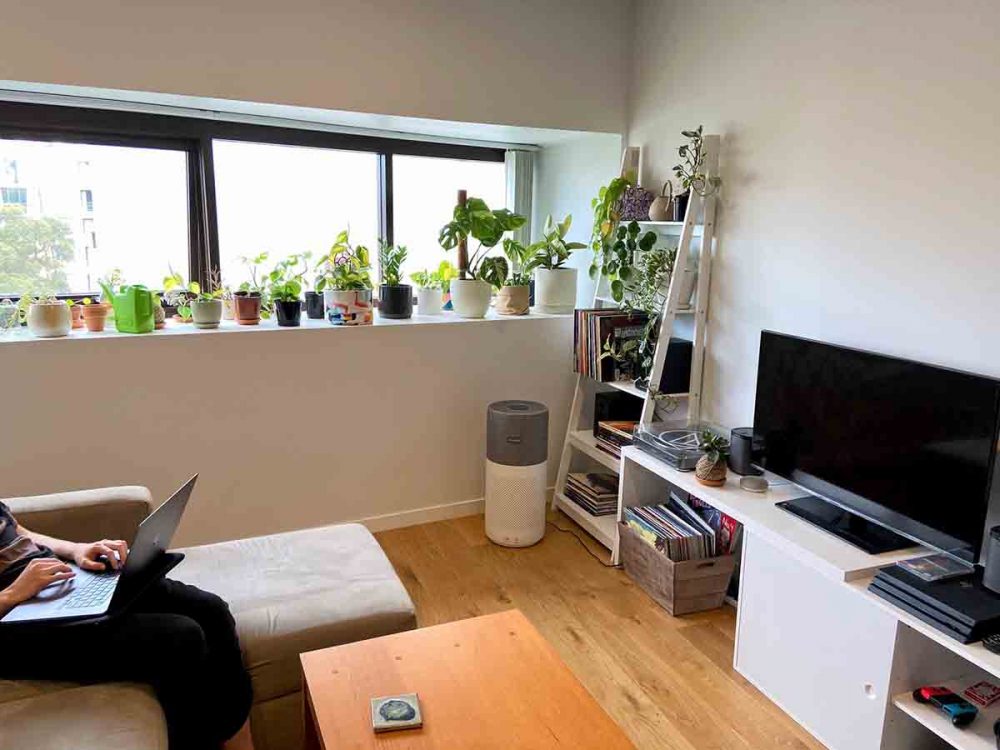 You're in Remote Control with the Philips Clean Home+ app
I love that I can track and control my Philips Air Purifier 3000i from anywhere at any time with the Philips Clean Home+ app. The app is simple and super user friendly, which is always a nice bonus in my books. As soon as I open the app, I'm able to view a summary of the Indoor Allergen Index, PM 2.5 particle levels, and any hazardous gas levels in my apartment. The colour-coding system is extremely handy, allowing me to check that everything is running smoothly with just a quick glance at the screen.
Below is an example of a day when I forgot to switch on my Philips air purifier before leaving for work. When I opened up my Clean Home+ app, I noticed the allergen levels in my apartment had increased from 'Good' to 'Fair', so I followed the recommendation under the 'Purifier Optimization' tab and popped it into Auto Mode. In just half an hour the Indoor Allergen and PM 2.5 Particle levels had been halved, ready for me to come home to a fresh apartment. So simple!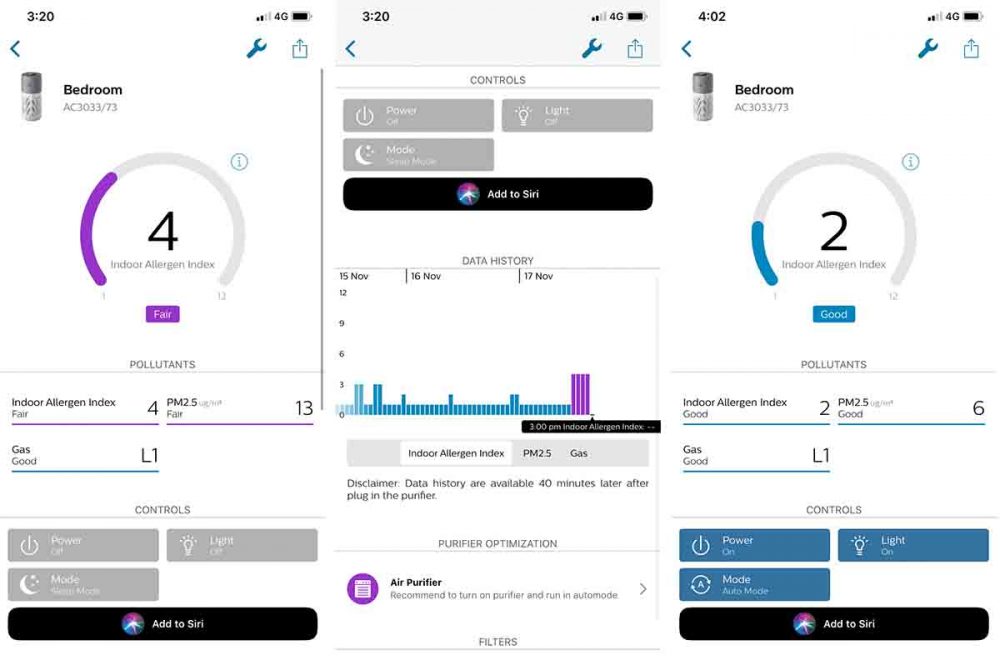 Why I Love the Philips Series 3000i Air Purifier
I can safely say that I am a little bit obsessed with my new Philips Series 3000i Air Purifier. If you're after the best air purifier in Australia, this may be a top contender. It has been the perfect addition to my household, allowing us to take control over stuffiness, dust, smog and so many other pesky pollutants.
And on top of how chuffed I am with the results, I also love how sleek and tidy this Philips air purifier looks in my apartment. The fabric accents and clean design help it blend in seamlessly, regardless of which room I place it in. Speaking of which, the unit itself is nice and lightweight, making it a breeze to move around from room to room if I ever want to focus on a specific area. So long as there is a power outlet nearby, I can simply plug it in and let it take care of the rest.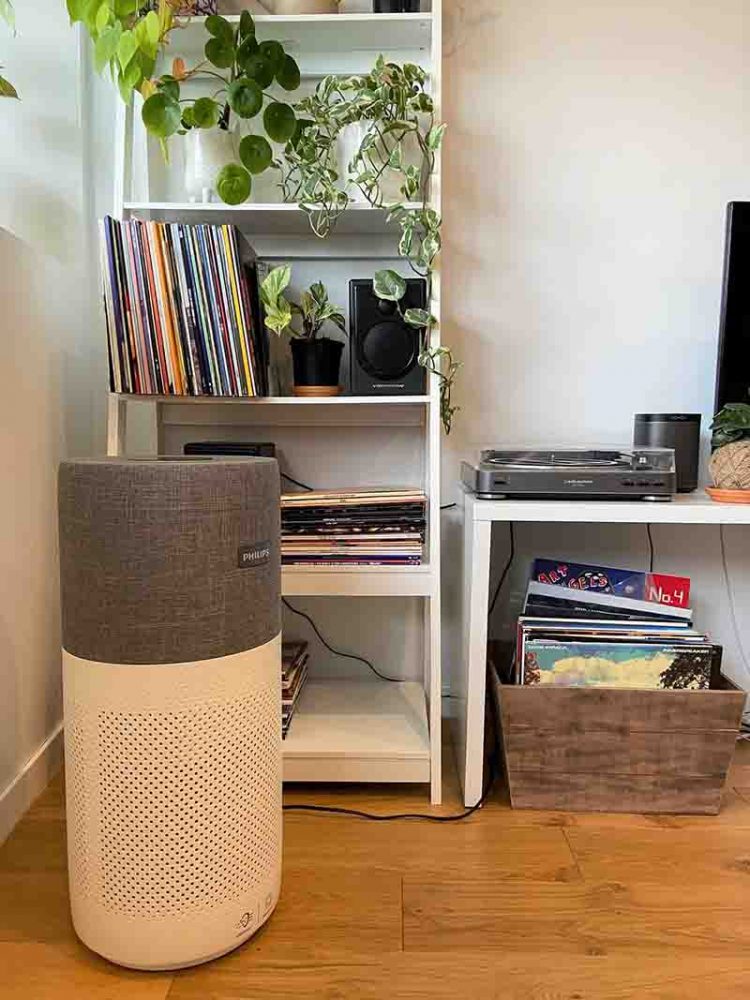 Where to Buy the Philips Series 3000i Air Purifier
Ready to fill your home with clean air and wondering where to buy an air purifier of your own? The great news is that you can shop the Philips Series 3000i Air Purifier online in White or Grey or at your local Harvey Norman store, where our friendly, expert staff will help with all your air purifier queries.