I was very intrigued when Harvey Norman gave me the chance to do a Vornado 6803DC Energy Smart™ Pedestal Air Circulator review.
Air ventilation is usually something that I only start to think about in mid-spring. Around my area, that's when the days start heating up and the house begins to get uncomfortably warm. However, upon receiving this state-of-the-art Vornado, I learnt that good air ventilation is something that should be considered all year round.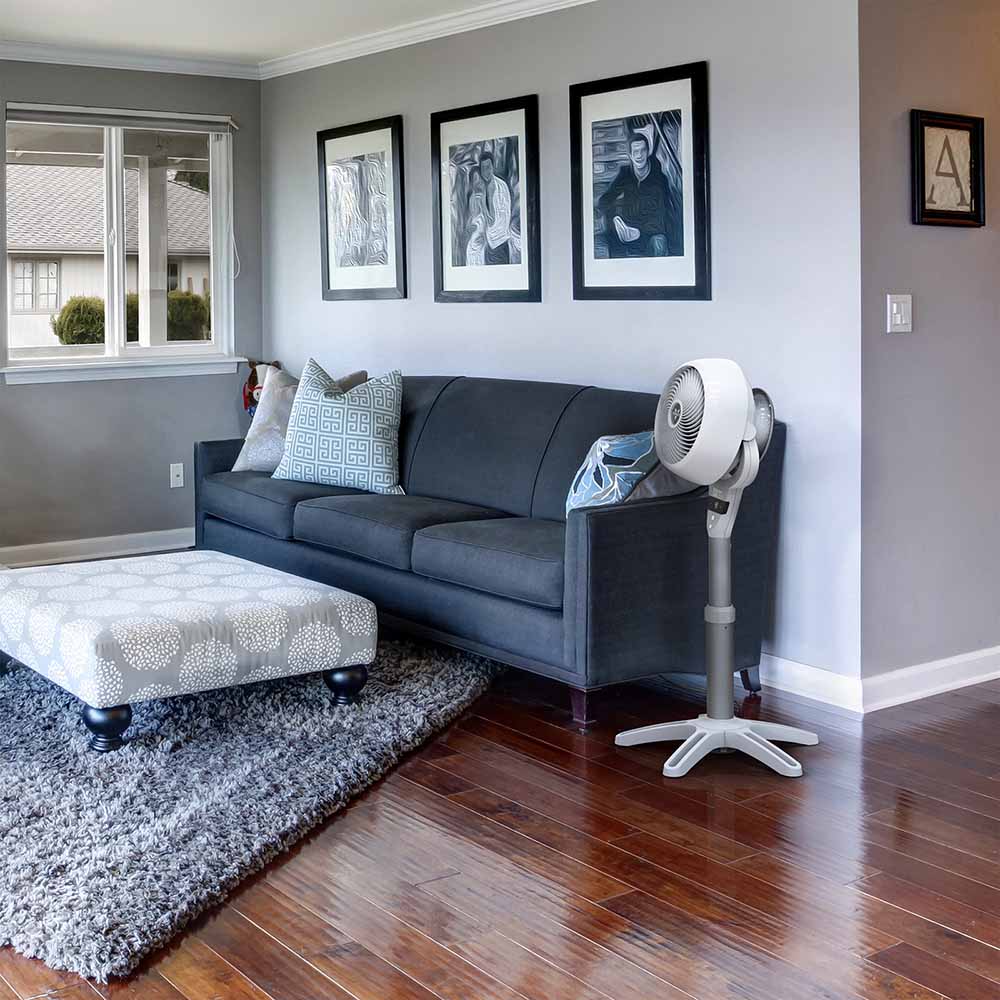 Why is good air ventilation important?
Good ventilation keeps the air fresh and healthy inside your home. A lot like our own bodies, our homes need to be able to breathe. Clean, fresh air needs to get in and stale, dirty air needs to go out.
On those hot and stuffy days, you'll of course want to cool down by moving the air around. But, at any time of year, if your air isn't moving, you can get a build up of moisture, dust, gases and odours. And nobody wants that!
Now, you might have air conditioning at home, and that's great. Certainly, it's increasingly essential in many parts of Australia. But, unless your home has fully ducted air conditioning, then it'll most likely only be affecting the air in a couple of rooms. This is simply down to the non-portable nature of air con units.
There's also the matter of how well your windows work. The type of windows you have will vary greatly from single storey houses to high-rise apartments. Sometimes, you just don't get enough airflow to make a difference.
Luckily, this is where the Vornado 6803DC Energy Smart™ Pedestal Air Circulator comes in.
What is the Vornado 6803DC Energy Smart™ Pedestal Air Circulator?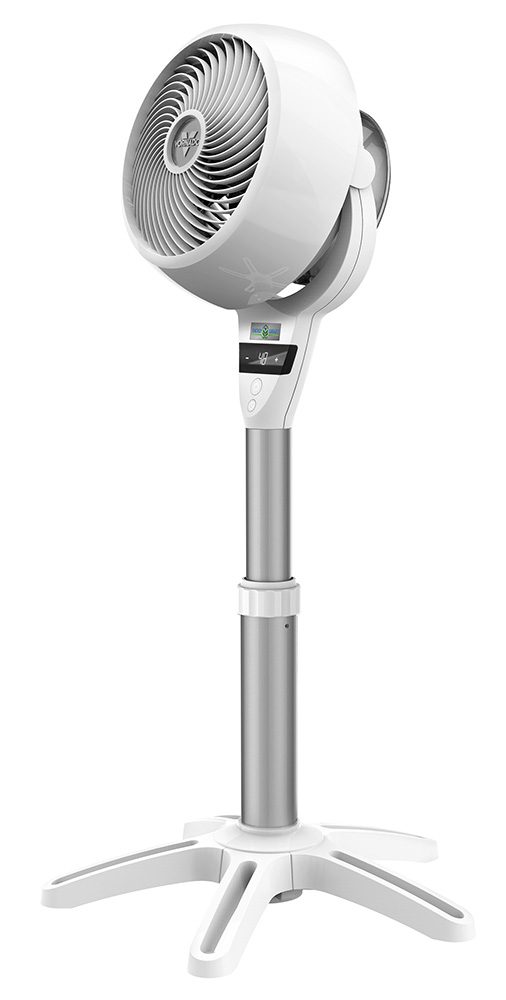 More than your regular Vornado pedestal model, the 6803DC air circulator has 99 speed settings. These range from the single digit settings with soft, silent airflow, all the way up to the full-throttle power of the 99th setting. This final setting is perfect when you want to get the job done really quick – moving air up to 26m².
The built-in timer lets you set the Vornado 6803DC Energy Smart™ Pedestal Air Circulator for 1-12 hours. If you're going to sleep, or heading out, this allows you to schedule the Vornado to turn off at a time convenient to you.
The pedestal sits on a five-legged base for great stability, and is height adjustable – from 80-96cm. The air circulator head itself can be directed where you want – from up high to down low, depending on your needs.
With electronic push-button and touch controls, this Vornado air circulator also has a handy remote control for extra convenience.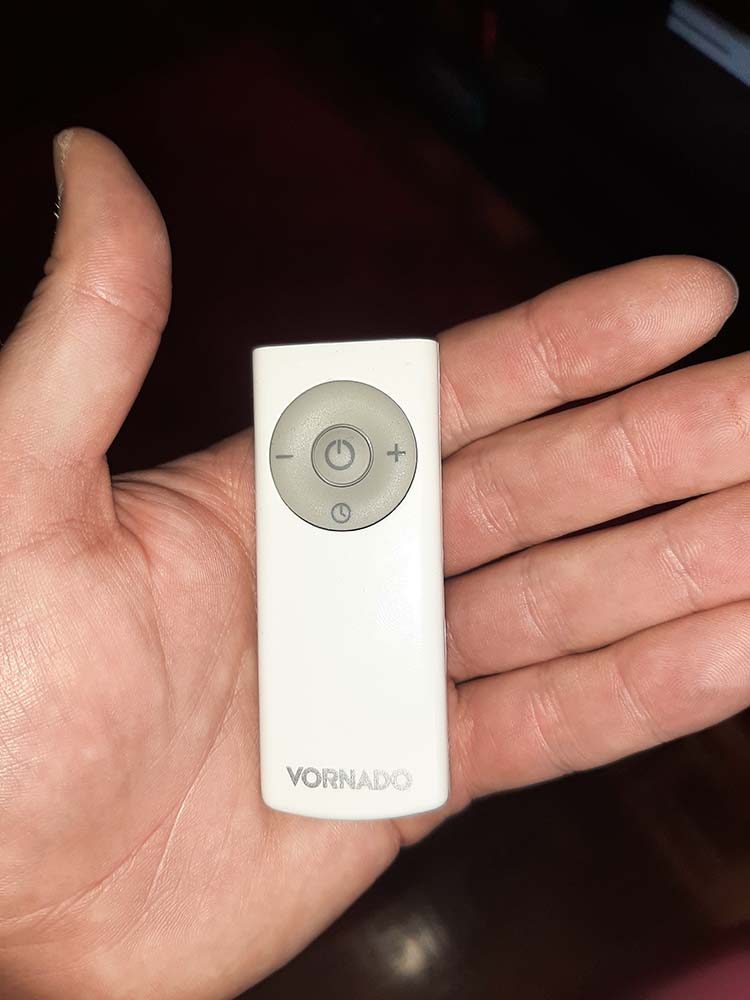 What makes the Vornado 6803DC an Energy Smart Air Circulator?
The Vornado 6803DC 's precise airflow control allows it to be energy smart.  If you've ever wanted an 'in-between' setting on air flow, then this air circulator is for you.
Another energy smart feature of the Vornado 6803DC, is the way in which it pushes air out in a twisting vortex pattern. This lets the air cover greater distances, moving it around an entire room and not just the part of the room directly in front of it.
In talking about the 6803DC Pedestal Air Circulator, Vornado states it uses up to 80% less energy than older Vornado products – certainly showcasing just how energy smart it truly is.
My Vornado 6803DC Energy Smart™ Pedestal Air Circulator Review
I'm happy to report that the Vornado 6803DC Energy Smart™ Pedestal Air Circulator is easy to put together. It only takes a minute or two to get all the parts out of the box, attach the feet to the pedestal base, then connect the air circulator-head on top.
The Vornado 6803DC Energy Smart™ Pedestal Air Circulator is very light weight, so you'll have no trouble moving it around your home. At the same time, it's substantial and stable enough that you don't need to worry about it being bumped or falling over.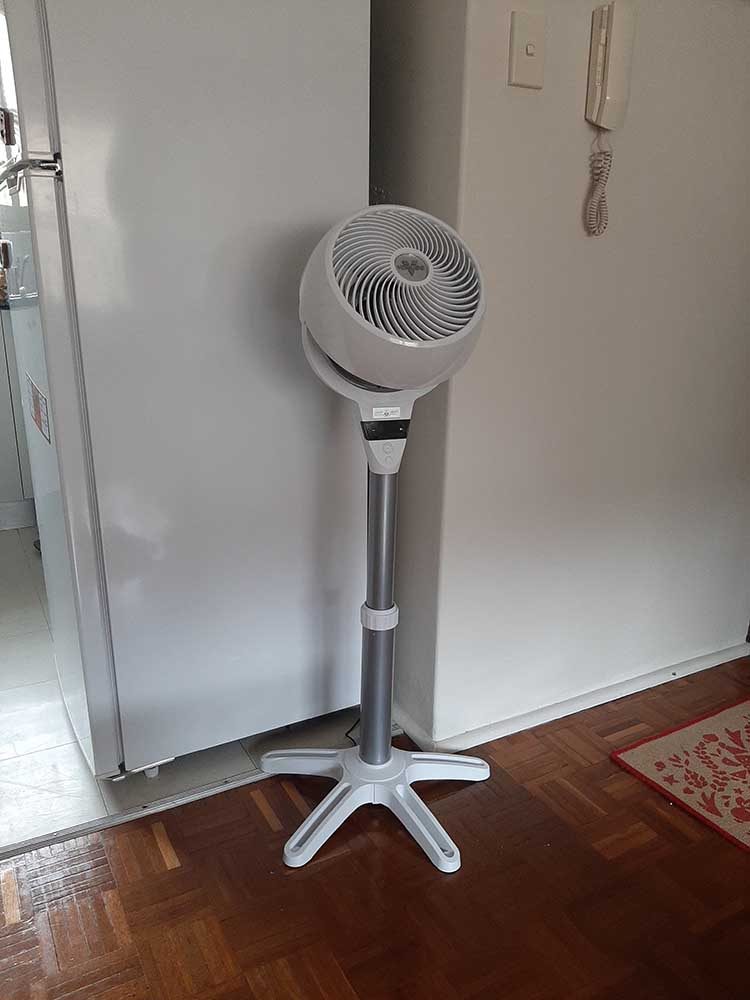 The Vornado 6803DC Energy Smart™ Pedestal Air Circulator in Action
I set the Vornado Air Circulator up where my kitchen meets the living room. I then tilted the air circulator upwards so that it would target the air that congregates around my ceiling. As my windows open from the bottom, they offer no help to the air at ceiling level. However, the Vornado certainly helped in that regard.
While pointed at the ceiling, I set the Vornado 6803DC Energy Smart™ Pedestal Air Circulator's speed to 35, as it was one hot Saturday! Doing housework, I also put the timer on for two hours. I figured that would be long enough to get through all my chores (I hoped!).
Those hot air pockets near my ceiling were truly blown away by the time I came to check the difference. My apartment was feeling a lot cooler and fresher. With windows open on either side, all the hot and stuffy air had been pushed out, and the fresh air entering had been cooled quickly by the Vornado.
Later that night, I switched the Vornado 6803DC Energy Smart™ Pedestal Air Circulator on again for an hour in my bedroom just to get the hot air out before I went to sleep. Once more, it did an awesome job of cooling things down and making the air much more comfortable. When the weather is less extreme, I can see myself making good use of the Vornado without air conditioning to save energy while staying cool.
Where to buy the Vornado 6803DC Air Circulator in Australia
Ready to boost the air circulation in your home?
You can shop the Vornado 6803DC Energy Smart™ Pedestal Air Circulator online or you can view it in person by heading into your local Harvey Norman store.
If you have any questions about our Vornado range, or air circulation in general, our friendly, expert staff are always ready to help.
Here's hoping you all stay cool and relaxed for the summer ahead!