Harvey Norman Social Media Co-ordinator Steph Petrou and yours truly were cordially invited to the headquarters of kitchen appliances company Blanco. Located in Kingsgrove —in Sydney's southern suburbs — we were warmly greeted by Lisa Hill (Advertising and Promotions Executive), Mary Karagiannakis (National Showroom and Training Manager) and Sinead Fitzgerald (Product Executive).
The incredible showroom not only houses the impressive range of Blanco appliances, it has a fully functioning kitchen as well. There's even a thriving herd and vegetable patch out the front of the office. After a brief chat around the dining table we were served an amazing meal of chicken wrapped in prosciutto, on puy lentils, with roasted capsicum and master stock. And for dessert, we gorged ourselves on a truly decadent chocolate truffle and berry stack with vanilla and aniseed custard.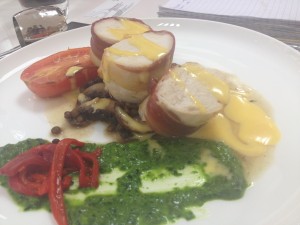 These culinary delights were whipped up by Blanco's in-house chef, showroom manager and demonstrator, Jason Walker. With extensive local and overseas experience, his cooking career spans 25 years and a vast range of the gastronomic gamut. Jason not only understands Blanco, he believes in it, having sold the products in top retail chains as well as used the products in his home – it's a perfect fit.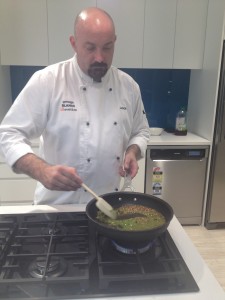 There are three people in the food preparation team at Kingsgrove, as well as five in Melbourne, two in Brisbane and two in Perth. All the Blanco showrooms nationwide have a similar set-up with: live cooking areas for new product launches, cooking classes, pre- and post-purchase demonstrations; individual brand displays; and conference rooms offered to key customers for business meetings which, of course, are catered.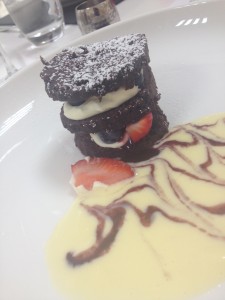 With lunch finished, we took a constitutional around the showroom, which exhibits the incredible range of Blanco products: beautifully designed ovens featuring impressive touch-button controls; slimline cooktops available in gas, electric and induction; restaurant-style free-standing cookers; super-stylish stainless steel dishwashers; plus fashionable and functional sinks and tapware. Also on display was the incredible Blanco Elegance range, exclusive to the Kitchen collection at Harvey Norman. As well as Blanco, parent company Shriro Australia has under its umbrella brands like Everdure and Robinhood.
The Blanco team explained to us the concept of a "paperless showroom". As well as being environmentally conscious, with little to no wasted paper, it also means the customer isn't bombarded with flyers, brochures and the like. Instead, their contact details are taken upon arrival and follow-ups are tailored to suit their personal interests.   
With minds full of information and bellies full of delicious food, Steph and I bid "adieu" to the Blanco crew, thanking them for a wonderful afternoon.