Perhaps it's been a few years since you last considered buying a new washing machine or clothes dryer? And that's the way it should be. We all expect our appliances to provide years of unwavering service, and we all tend to have the philosophy of 'run it until it busts'. However, the downside to this approach is that as our machines age, new technology emerges that could be saving us considerable time, effort and money!
Knowledge is power, so in an effort to inform you of the latest in laundry innovations we thought we'd help out by providing a little insight into some these new technologies that can really make a difference. So whether you're currently in the market for a new washer or dryer, thinking about upgrading your old machine or just wishing for a better way to wash, here's the lowdown on the latest features and innovations available at Harvey Norman.
King-Size Capacity Means King-Size Savings
Have you been stuck in the thankless routine of doing loads of laundry all weekend? Had a few rainy weeks and now you're stuck with a backlog? The good news is that a washing machine with king-size capacity is the solution you've been waiting for. By fitting more in to each wash you'll have less loads to do, resulting in more of your time spent doing the things you love. Time isn't the only thing you'll be saving with a king-size machine. By getting the same amount of items washed in less loads you'll also be saving on water and detergent – good news for the environment and great news for the hip pocket. This 16kg Front Load Washing Machine from Samsung is one of the best and will handle whatever you throw at it with ease.
Want to take things to an extra level of convenience? Get an innovative king-size capacity washer/dryer combo and you've got the drying sorted as well. The 2-in-1 design of the LG 15kg Washer/7.5kg Dryer Combo is supremely convenient and is ideal if you live in an apartment, have limited laundry space or want the convenience of putting the laundry in and taking it out washed and dried, particularly if you take advantage of off peak energy by doing it overnight.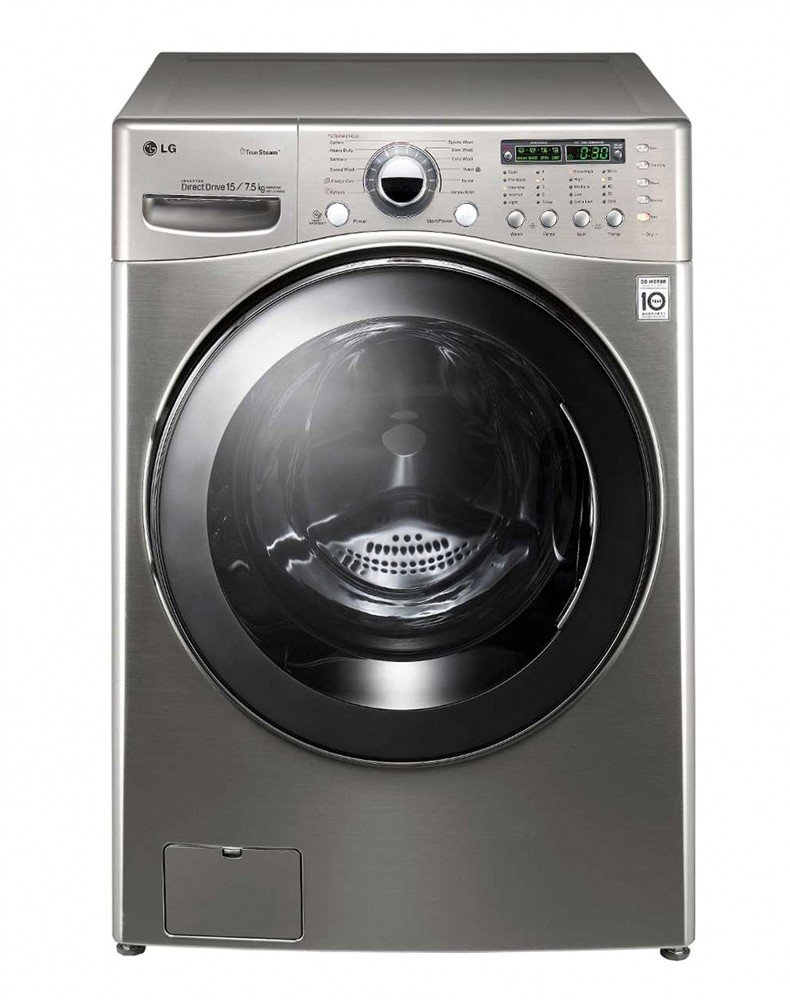 Machines That Mix It Up
Ever pulled your washing out of the machine only to find telltales signs of detergent residue on your clothes? It's enough to make you throw your hands in the air and cry. In the past you would have just had to wash those items again – wasting time that you may not have to spare. Now you can own a washing machine that features premixing technology that will make this phenomenon a thing of the past. The OkoMix technology featured in the AEG Series 8 ProTex 10kg Front Load Washing Machine ensures that your washing powders and fabric softeners are premixed and fully dissolved in a mixing chamber, so that when they are sprayed into the drum of the washing machine they are fully activated to provide better washing performance. With the benefit of premixing, the machine can also wash at lower heat temperatures, providing savings in energy consumption. Some new machines can even automatically determine the exact dosage of detergent needed for your load and dispense it from a pre-loaded reservoir, thus removing all the guesswork from the process.
Update for Energy Efficiency
Do you save the clothes dryer for emergencies? You could have good reason for doing so, as older dryers can chew through power like nobody's business, resulting in energy bills going through the roof! Perhaps it's time to consider updating to a new heat pump dryer. These machines are so much more energy efficient than that old model that's taking up valuable space in your laundry. A quick look at Harvey Norman's range will reveal that there are many models boasting a 6-star energy rating, such as the AEG 8kg Heat Pump Condenser Dryer or the Electrolux 8kg Ultimate Care Heat Pump Dryer, which use 48% less energy than standard tumble dryers. These new dryers are also much quieter than the antiquated rattler you've got now, so you'll be saving your ears and peace of mind as well as your money.
Seriously Smart Solutions
A stray sock that forgot to stick with its buddy. Another shirt for the next day of school. Those pants you left by the dresser. Whatever the item may be, finding that item you forgot to put into the wash can be annoying – especially if you've just put a load on and you have a front loader. If only they'd invent a trap door on the front so you could put those sneaky socks in!
Well, Samsung has done just that with their patented AddWash™ door function, as seen in the Samsung 11kg AddWash™ Front Load Washing Machine. It's perfect for those late additions you nearly forgot – even after the wash cycle has already started you can now add extra items and save yourself the worry (and extra time). Simply push the pause button and use the special hatch door on the front – there is always room for more. I like to think of it as the equivalent of an airlock on a space station. You can think of it as a seriously smart solution in the laundry.
If you're more of a top-loader type, then you'll love this next innovation. Also from Samsung, Active Dualwash™ provides a dedicated pre-wash/hand-wash space for you to prepare delicate items and pre-treat those tough stains before they go in the washing machine. You can start and stop the water jet with the press of a button, then when you're finished just lift the Dualwash™ tray and it will pop your items in the wash for you. The just set your wash programme and away you go.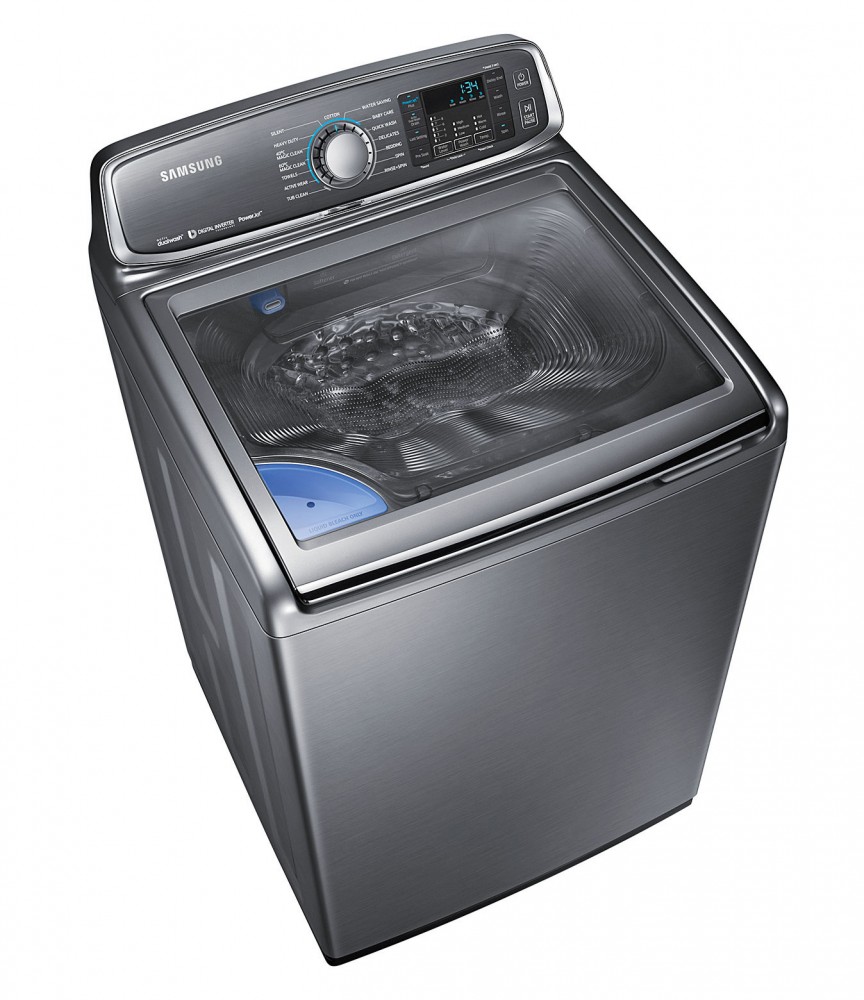 As seen in this Samsung 12kg Top Loader Washing Machine, Active Dualwash™ would be incredibly convenient for homes where space is limited and you might not have a sink available in your laundry or close to your washing machine. This machine also features an internal heater to help sanitise clothing, and a Smart Check function that helps detect and diagnose problems and provide troubleshooting via your compatible smartphone. Consider your laundry stress officially sorted.
Mastering the Little Things
If you're like me and can sometimes be incredibly frustrated by the fiddliest of little things that would otherwise be innocuous, then you'll be pleased to hear that these niggles have been taken care of by the latest in laundry technology.
Hate the sound of a slamming lid every time you start a load of washing? You'll love the Fisher & Paykel 8.5KG WashSmart Top Load Washing Machine. A soft-close mechanism prevents the lid from slamming or jamming, thus keeping things quiet while also protecting your fingers and making it a great family-safe option.
Laundries are designed with floors on an angle so that any spills head straight for a drain. This means all washing machines will need adjusting when installed to ensure they are level and won't move around. Fisher & Paykel have even made their machines easy to install and thanks to self-levelling feet. Whether you've just bought it or need to move it around to clean the laundry, this machine with always be on the level with you so you don't have to hang out on the floor fiddling with wheels and a spirit level.
Update Today
If you've been inspired and are ready to update, then it's time to get down to your local Harvey Norman store where you can talk to the experts and find the right machine to transform your laundry experience. You can also check out the latest technology online and find out more about what's on offer.