I'd never loved a mop before – until I was introduced to the Bissell SpinWave Cordless mop!
When I was asked to review this cordless electric mop for Harvey Norman, I had lots of questions. Could it handle my neglected bathroom tiles? Could it cut through the sticky messes of my kitchen? Would it be kind to my precious hardwood floors?
Thankfully, the answer to all those questions was a resounding YES! Read on for my Bissell SpinWave Cordless review and discover why I fell in love with this outstanding cordless electric mop designed for all hard floor types.
My First Encounter with the Bissell SpinWave Cordless Mop
My house is a carpet-free zone. Instead, should you ever visit, you'll find my floor types are tile, polished cork and hardwood. This means I have a large hard floor surface to keep clean. As anyone in a similar situation knows, vacuuming is not enough. These hard floor bad boys need to be regularly washed to keep their freshness. Throw three kids into the equation and that regularity becomes more regular, if you get my drift. Needless to say, I was hungry for a simple, time-saving floorcare solution when the Bissell SpinWave Cordless mop crossed my path. The attraction was instant! Before I could take it to the next stage, however, there were a few introductory steps to take care of.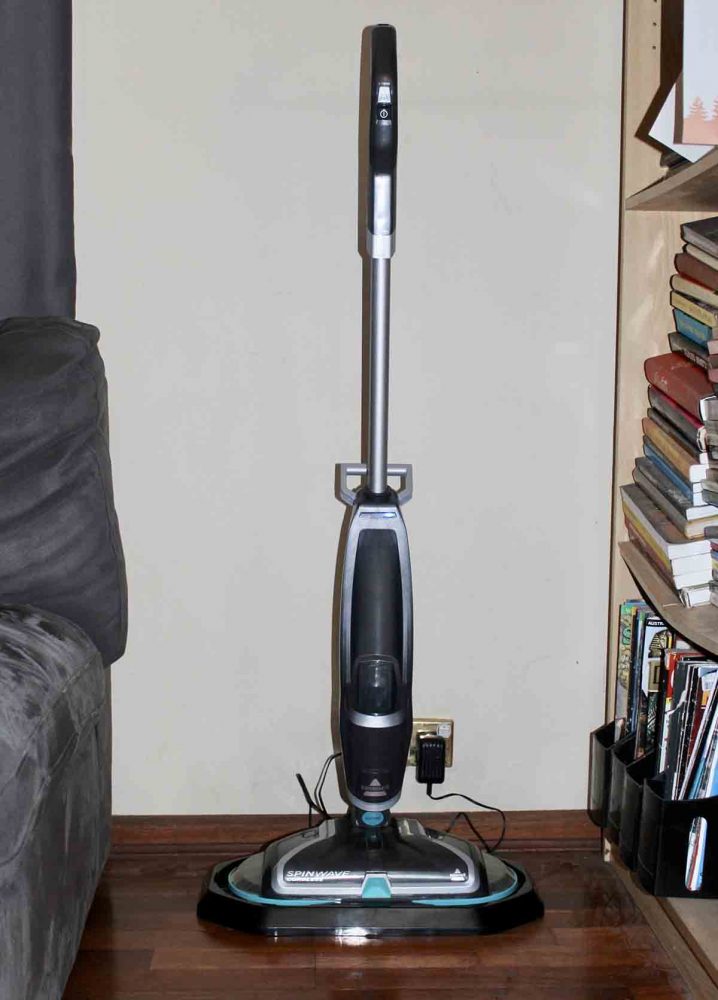 Even though the spark between us was real, the Bissell SpinWave Cordless mop still needed an initial charge. This was a very simple process of placing the mop in its storage tray, attaching the power cord, plugging it in and turning it on. I positioned the charging mop unobtrusively against a wall where I could easily monitor its progress with eager anticipation.
Three solid blue lights on the charging indicator meant I was good to go. The next step was attaching the mop pads. You can do this by placing the mop pads in the storage tray and simply placing the Bissell SpinWave Cordless mop on top. Another equally valid method is to gently lay the unit on the floor and attach them yourself. As I'd excitedly whisked the mop away to the bathroom the moment it was fully charged, this was the method I chose. Thankfully, it requires little effort to line up the centre of the pad with 'the middle screw on the bottom of the foot' (as per instructions).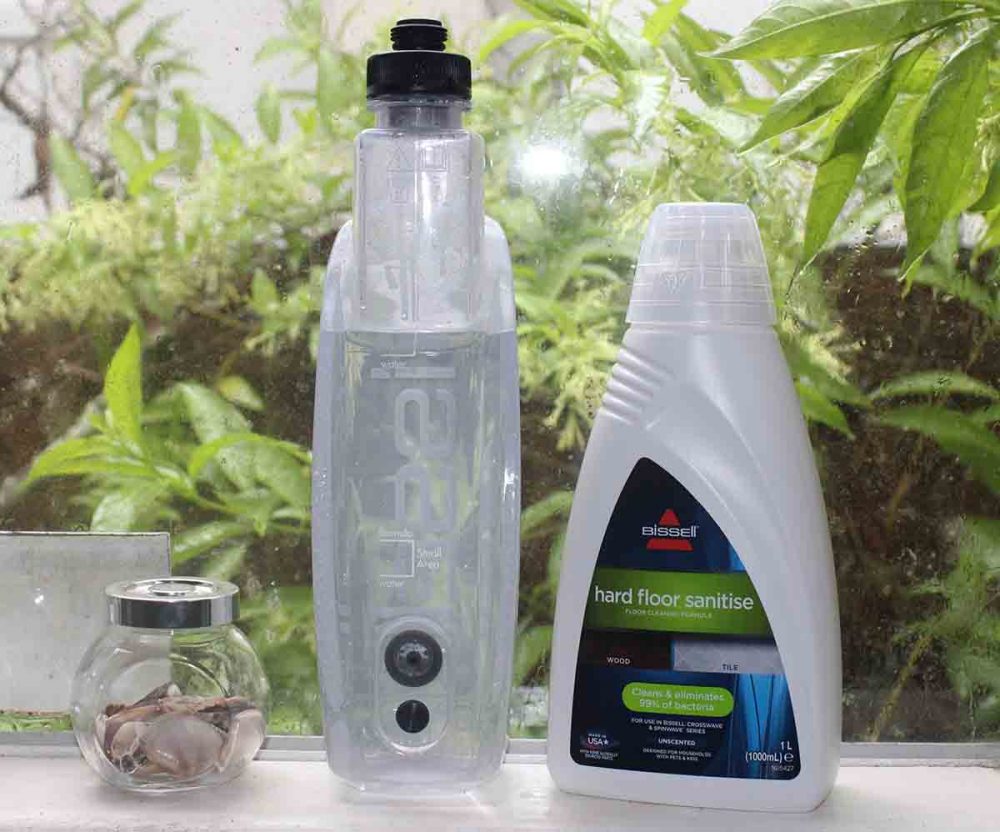 Once your pads are in place it is time to prepare the cleaning formula. For a foolproof solution, the bottle does the measuring for you. Fill with warm water to the water line then pour in formula to the formula line. Too easy!
Ok. Now I have a confession to make. True to character, I didn't read the instructions all the way through and used cold water instead. Was this a Big Mistake? Was this a signal of a cooling relationship? I was about to find out …
The Bissell SpinWave Cordless Mop on Tile Floors

First, some context. My bathroom is an en suite (read 'adult area') that my kids like to utilise as per the classic 'what's mine is mine, what's yours is mine' mentality. Add to this my taxing weekday schedule of commuting, the necessity of attending the beach on weekends plus my not-so-secret aversion to housework and you have a bathroom in desperate need of a mop. Don't get me wrong, I strive for a clean house. I just don't have any passion for the cleaning process. Thus, I present to you Exhibit A: The mucky tiles of my bathroom.
Now, there was one last conundrum before shimmering bathroom brilliance could be mine. Should I tip out my inadvertently incorrectly-prepared solution and start again with warm water? Or should I just go for it and hope for the best? Again true to character, I decided to just go for it. But I needn't have just hoped for the best because that's what I got!
Unbelievably quiet, the Bissell SpinWave Cordless mop got straight to work removing all the grime even with a cold water mix. While you should definitely follow the directions and use warm water, it is a testament to the power of this cordless electric mop that my blunder still resulted in an outstanding clean.
Operating the Bissell SpinWave Cordless mop is as simple as turning it on and pressing the spray button as necessary to dispense the cleaning mixture onto the floor. I was using the heavy duty 'Scrubby Pads' for this job. These pads smash through tough, sticky messes like nobody's business.
As I watched the white of my bathroom tiles re-emerge from beneath the shroud of unmentionable grime, I couldn't help but acknowledge that the Bissell SpinWave Cordless mop is an absolute pleasure to use. Its unobtrusive purr combined with the smooth motion of spinning pads gliding along the floor was undeniably relaxing. Enjoying myself immensely, I continued mopping even after the job was done. Until, that is, I remembered there were more surfaces in desperate need of this marvellous cordless electric mop. To the kids' bathroom and not a moment to lose!
SpinWave Cordless Visits Another Dirty Bathroom

My three sons share a bathroom that often sports toothpaste smears in highly inexplicable places (notably the floor). Luckily for me, my eight-year-old is an enthusiastic cleaner who willingly volunteers to clean his bathroom. When he saw the Bissell SpinWave Cordless mop in action, he eagerly requested a turn. The product instructions indicate this cordless electric mop can be safely operated by children eight years and up (with supervision!), so I agreed. As this bathroom floor was in a better state than mine, I switched to the 'Soft Touch Pads' suitable, for less-intensive everyday use. The dirty 'Scrubby Pads' went into the washing machine and later came out as good as new!
My eight-year-old quickly got into the swing of using the Bissell SpinWave Cordless mop. I was immediately impressed by how effortlessly he manoeuvred the lightweight cordless electric mop in thorough sweeping motions. The mop's swivel action meant he could easily clean around the toilet base and behind the bathroom door without moving from the same spot. He also took very seriously the procedure of pressing the spray button and used a sensible amount of solution. This was when I noticed that the Bissell SpinWave Cordless formula leaves a pleasant fresh smell without any overpowering scent. As a hay fever sufferer who is often sensitive to artificial scents, I couldn't have been more pleased. Finally, a heavy-duty cleaning session without sneezing!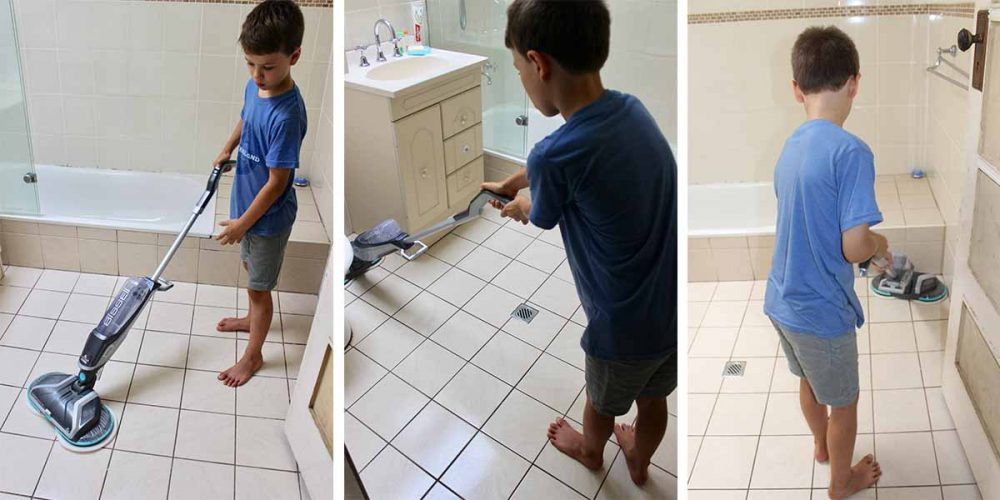 Overall, cleaning the two bathrooms convinced me I'd just experienced the best cordless mop for tile floors.  I could feel my affection blossoming. However, this was just the beginning for us. Next stop – the kitchen!
The Bissell SpinWave Cordless Mop on Polished Cork Floors

Once upon a time, some previous owner of my house decided to lay a polished cork floor in the kitchen. While it is currently not the most favoured of flooring types, caring for polished cork is similar to the more popular laminate. So if you're in the market for an electric mop for laminate floors, the following review applies to you!
After correctly preparing a fresh batch of formula with warm water, I got to work on my poor, beleaguered kitchen floor. As the hub of food and drink preparation, my kitchen suffers plenty of spills from my kids who try to hide the evidence with the hasty wipe of a paper towel. This inevitably leads to surprise sticky patches requiring cleaning fluid and (sigh) elbow grease. Not anymore! Proving to be a whiz-bang electric mop for laminate floors, the Bissell SpinWave Cordless mop glided over the floor surface with delicious ease. Even better, all the mop left in its wake was a gleaming floor complete with reflections of the fridge and other kitchen accoutrements.
During this third use, I paused to compare the result to that of my current string mop. Besides sloshing large volumes of hard-to-dry, increasingly repugnant water everywhere, my string mop moults remnants of itself in a mockery of the cleaning process. Not to mention the aggravation of filling up a bucket and lugging it all over the house! In comparison, the Bissell SpinWave Cordless mop's soft cleaning pads and bottle dispenser instantly eradicate these annoyances while leaving the floor acceptably damp but not saturated.
By now, I was thoroughly convinced that the Bissell SpinWave Cordless hard floor spin mop is the ideal solution for the fuss-free cleaning of tiles, polished cork and laminate. There was, however, one question remaining. Was this also the best cordless mop for hardwood floors?
The Bissell SpinWave Cordless Mop on Hardwood Floors

When I was house hunting, one of the items on my wish list was polished hardwood floors. What I didn't count on was the preoccupation with maintaining them. As my pride and joy (besides the kids, of course!), I am very particular about what cleaning equipment and solutions touch their beautiful, character-laden surface. Designed to operate as a cordless mop for hardwood floors, I had no hesitation putting fresh cleaning pads on the Bissell SpinWave Cordless mop and finding somewhere to start. That's when my ten-year-old asked when it was his turn. 'Right now,' I answered. 'Let's clean your room!'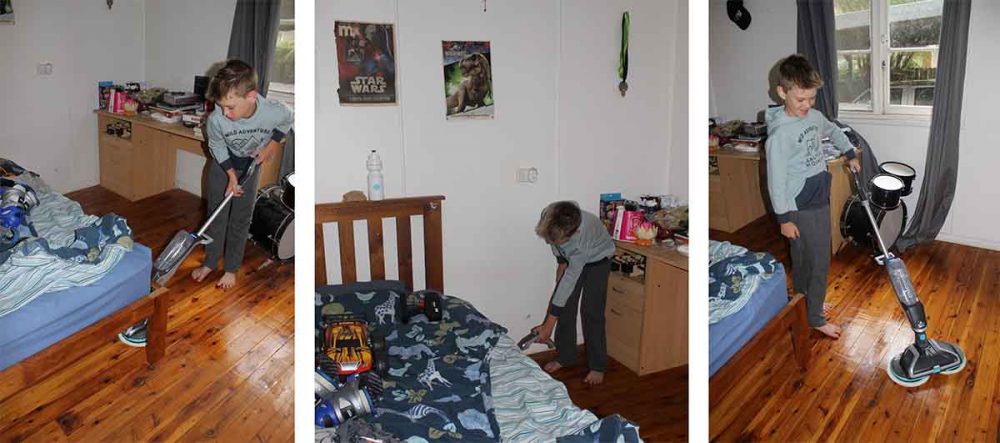 As the smallest bedroom in the house, my ten-year-old's floor can be very annoying to clean. I can't move the bed so any cleaning needs to be done around it. My son turned on the Bissell SpinWave Cordless mop and, while I was busy taking photos, moved straight into mopping under his bed. He didn't question it but I was amazed as the cordless electric mop completely disappeared under his bed and cleaned right up to the wall. What's more, this manoeuvre was achieved with my son's usual lackadaisical approach to housework. It was obvious he was enjoying himself, though. When his bedroom was done, he offered to clean the rest of the floors!
As a cordless mop for hardwood floors, the Bissell SpinWave is a real heartthrob. The spinning pads removed more dirt than my string mop ever has so my son's floor gleamed like new. It was thorough, gentle and the floor dried quickly even though it was raining torrentially. Without a doubt, I would definitely recommend the Bissell SpinWave Cordless mop for anyone looking for a fuss-free, highly effective solution for caring for hardwood floors. Nothing beats the satisfaction of watching the natural beauty of your timber boards reappear in all its glory. That satisfaction is further heightened knowing there's no heavy bucket of dirty water to tip out!
Where to buy the Bissell SpinWave Cordless Mop in Australia
All in all, I can conclude my Bissell SpinWave Cordless mop review by saying I was head over heels with how this cordless electric mop cleaned all my floor surfaces. Suffice to say, it floored me! So sorry, string mop. I'm in love with the Bissell SpinWave Cordless hard floor spin mop and this is a definite long-term relationship!
If you are keen to experience this floorcare magic, you may be wondering where to buy the Bissell SpinWave Cordless mop in Australia. Look no further than Harvey Norman! Shop online or head in to your local Harvey Norman store where our friendly, expert staff will help you discover the joys of the Bissell SpinWave Cordless mop for yourself.
Product Reviews
Keen to see what other product we've been reviewing lately? You can do so by clicking here – we'll give you a close up look at some of the latest and greatest innovations for your home.