It's no secret that Harvey Norman is a big advocate of women in sport. And everybody knows we're your number one technology specialist. So, we thought it was only natural to combine two of our great passions.
Harvey Norman – together with Garmin – surprised the players of the AFLW GIANTS team, with each of them receiving their very own Garmin Vivoactive 3 smart watch to aid their fitness and recovery this season. With so many incredible features, like activity tracking and sports apps, no wonder the AFLW GIANTS players were excited.
Mick Boman, Harvey Norman National Product & Marketing Manager for Technology – Connected Health, sat down after the presentation for a chat.    
Mick, what was the reaction of the GWS players when they received their Garmin Vivoactive 3?
The players were all blown away! Hearing some of the stories on the day — like how a single mother had to leave behind her young family in Adelaide to come and play — really just blew me away. The players are, in most cases, giving up a career to play and the Garmin Vivoactive 3 can really help them in their pursuit of a Grand Final win.
How will the Garmin help the players train?  
With travel, family, work and all the other things that the players are juggling, the new stress functionality in the Vivoactive 3 is a great way for them to reflect on how they might improve their inner self. Together with the WellteQ app (see below), the platform is being used to gather collective team data on sleep, active time, heart rate and stress. To gain this level of data and insight from a consumer wearable is amazing and it's being utilised in a professional league. This really speaks to how advanced the current off-the-shelf devices are. When coupled with the right application, like WellteQ, this technology can be utilised at any sporting level, from grassroots right up to the elite level. Commonly in player management, the strength and conditioning teams are limited to insights during training sessions or whilst players are on the field. With this device, the insights continue off-field, taking player management to a whole new level for sport.
How important is it to support women's sport?
Fortunately, Australia as a society is now working on how we can best support Australian females in their sporting endeavours. How do we attract girls to participate? How do we build the most accessible pathways?  And how do we create a platform to allow elite female athletes to shine? One of the keys to us building participation, fan-bases and audiences is to give these extraordinary athletes a visible competition and a voice.
How committed is Harvey Norman to supporting women in sport?
Harvey Norman sponsorship has been at the forefront of support for women in sport for over 12 years. The commitment is nationwide and encompasses every dimension of the business. Our franchisees and staff are personally committed – it's a company-wide initiative that everyone takes personal pride in, delivering results for both now and in the long term.
We also had the opportunity to speak with Jeames Gillett, the Chief Operations Officer of WellteQ. They've teamed up with Garmin for an exciting new development in sports technology and science.
Jeames, can you tell us about the WellteQ platform and app?
WellteQ is a digital health engagement platform which is designed to take users on a wellbeing improvement journey. With the ability to connect with your favourite wearable device, users unlock behavioural change modules in a "gamified" manner to win badges, awards and rewards. They interact with fellow participants through the wellness newsfeed and create their own community around health. For organisations, we help interpret the new wellness data footprint to surface meaningful business insights as we explore the human factors of return on investment and a journey towards human capital optimisation.   
How is this a game-changing tool in the realm of player management? 
Partnering with leading wearable companies like Garmin, we're able to gain insights into a player's health habits both on and off the field. By correlating the wearable data points with a player's physiological profiles and training/playing schedules – this assists with understanding fatigue, stress, and activity pre- and post-games. This also helps strength and conditioning staff to understand the effects travel has on a player and how to manage training schedules based on different player profiles.

The WellteQ app is being used to measure heart rate, sleep, stress, distance travelled and calories burned to keep the players informed. How else will these stats assist a professional team's training regime? 
WellteQ realises a new found wellness data footprint from players and by overlaying this with internal assets — like training, playing and travel schedules, player injuries, and performance — we're able to track, monitor, trend and analyse the correlations for a player to perform at their peak, whilst understanding the physiological effect which training, playing and travel can take on an individual. This, over time, can lead to predictive analytics to prevent or improve an event before it has occurred.

How does the WellteQ app differ for professional athletes and everyday users?
It gives a great opportunity for the elite performance management to achieve the 1% improvement needed to get an edge. For the everyday person, it gives an insight into a player's health habits, allowing them to measure how they stack up against their favourite player.
Finally, we went one-on-one with GIANTS midfielder Maddy Collier, who made her way into the football code's history books as the first ever NSW/ACT player to be selected for the Greater Western Sydney women's team.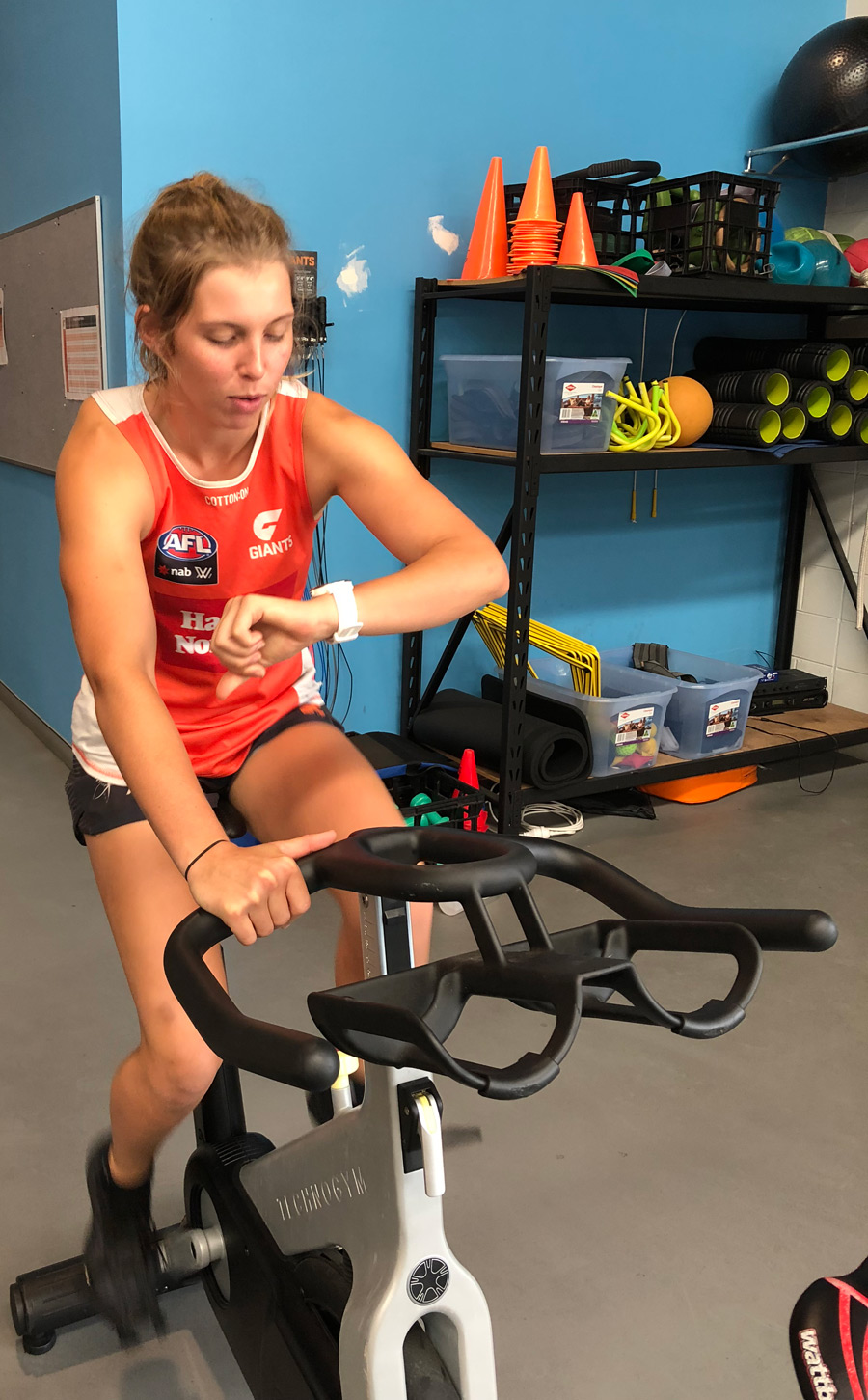 Maddy, what's your objective for this season, both personally and as a team?
My personal objective is to learn as much as possible, grow confidence in myself and my ability. Our team objective is to win the flag! But to play our brand of footy and deliver a performance we're proud of.

How is the Garmin Vivoactive 3 helping with that?
The Garmin smart watch helps because I feel confident and up-to-date with where I'm at in terms of fitness by being able to track it all. It's a great way to keep the whole team accountable.
What's the best thing about the Garmin?
The best thing I find about the Garmin is that it's basically a phone on your wrist. I can track how much I exercise, how many hours I sleep, along with my sleep patterns, and take control of my stress levels to ensure I remain balanced. Having the Garmin in-season has been a great tool for personal management. I believe in the off-season that's where the challenges will begin, to see who can cover the most kilometres and fit in the most active minutes each day!
What do you think of the GIANTS' partnership with Harvey Norman?
I personally think it's been ideal for our AFLW team to have such an incredible role model in Katie Page, who's leading the way as a CEO in a field different to our own. She can teach us so much about perseverance, hard work and the benefits of these without ever kicking a footy. The support that Harvey Norman shows across a wide range of women's sports is outstanding, and so many codes wouldn't be in the position they are today without them.
How have the players used the WellteQ data for strength, conditioning and overall training?
The WellteQ data has been predominantly used by our high performance unit this season, and they then filter the necessary information down to us to ensure we're running at our peak. It'll be great to be able to use the data in the off-season as well, as this is where most of the hard work is done!
Harvey Norman is fully committed to getting girls of all ages involved in playing sports, and so is the GWS women's team. Check out the footage from the "Train like a GIANT" day in Canberra on Saturday 10th March, where AFLW players interact with young ladies from the region, encouraging them to kick goals on the field and in their life.