The McGrath Foundation encourages all women, regardless of age, to be breast aware. As an organisation, it's working towards ensuring every Australian family affected by breast cancer has access to a breast care nurse no matter where they live or what their financial situation.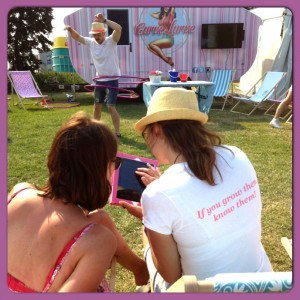 Working with leading health professionals, teachers, student and parents, the McGrath Foundation has developed Curve Lurve, a breast health education and awareness initiative for young Aussies. Curve Lurve's primary focus is to empower females to love and look after their bodies, curves 'n' all. It's all about promoting wellbeing while dispelling common misconceptions at the same time.
Eva the Curve Lurve Girl is a celebration of life, self awareness and health, with her image emblazoned across the 1950s-style Curve Lurve caravan. Affectionately known as "Curvey", it's a space in which young women are encouraged to increase their own breast awareness through activities like talking to Curve Lurve staff, learning the Curve Lurve dance and having Curve Lurve nail art applied.
Harvey Norman — a supporter of health, fitness and sport — proudly donated two iPads to Curvey so people can interact with the Curve Lurve app, which the McGrath Foundation developed for iPhone users. Available free through the App store, it provides relevant breast awareness information — like encouraging ladies to undertake regular breast awareness sessions — in a fun and interactive way.
Curvey is touring the east coast of Australia during 2013/14, attending major music festivals as well as community, cultural and sporting events. Having already done a stopover in Newcastle and the Double Bay Street Festival, it'll next be at the Glebe Street Fair on November 17th 2013, no doubt sharing the lurve!