For the twelfth year running, the Harvey Norman Women in League Round puts a spotlight on the role women play at all levels of Rugby League across the country.
Established in 2007, Women in League provides a platform to acknowledge women and celebrate their many contributions to the game.
There are over 450,000 women who are involved with Rugby League in this country. Their roles are many and varied – from administrators and players to volunteers and club members.
In addition to the Women in League Round, Harvey Norman sponsors the NSW and QLD Women's rugby league.  These partnerships support the pathways for girls, teens and women who want to play rugby league. As part of these partnerships Harvey Norman is proud to host a number of Girls Rugby League Clinics, where young girls can learn skills, practice drills from the NSW and QLD representative teams and meet some of their heroes.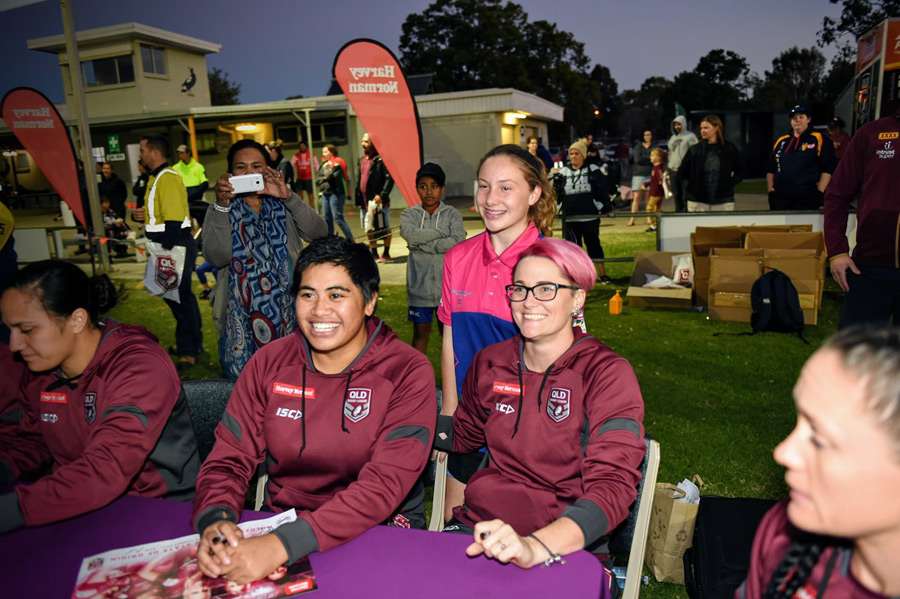 These Girls Clinics are important for a number of reasons. For some, it is often the first step taken to transition into playing either League Touch or Tackle.  They also represent a great opportunity for young girls interested in Rugby League to get involved if they are currently living in an area that is yet to develop a tackle competition.
It can also lead to some exciting new developments. In Penrith, NSW, there is now a female only tackle competition in 8s, 10s and 12s (as girls usually play with boys in 6-12 years), which is an exciting step forward for the game!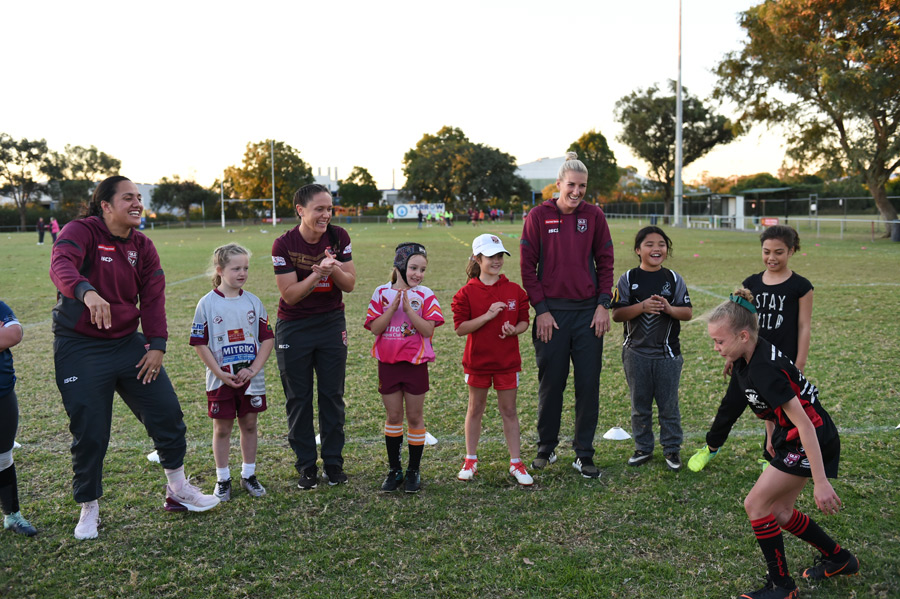 The Girls Clinics also give these young hopefuls the opportunity to meet some of the big names in the game, and to see what they too can accomplish.
Meg Ward was just one of those big-name players who recently stepped up to volunteer at the Queensland Harvey Norman Junior Girls Clinic. As a born and bred Queenslander who has represented both her country and her home state in Rugby League, Meg is a sports superstar who is passionate about the game, and giving young girls and women more exposure and opportunities.
Meg is a die-hard sports fan who has played a multitude of different sports across the years; and now she's a full-time employed Royal Australian Air Force (RAAF) fire-fighter in Darwin, who juggles her work with her demanding sports career.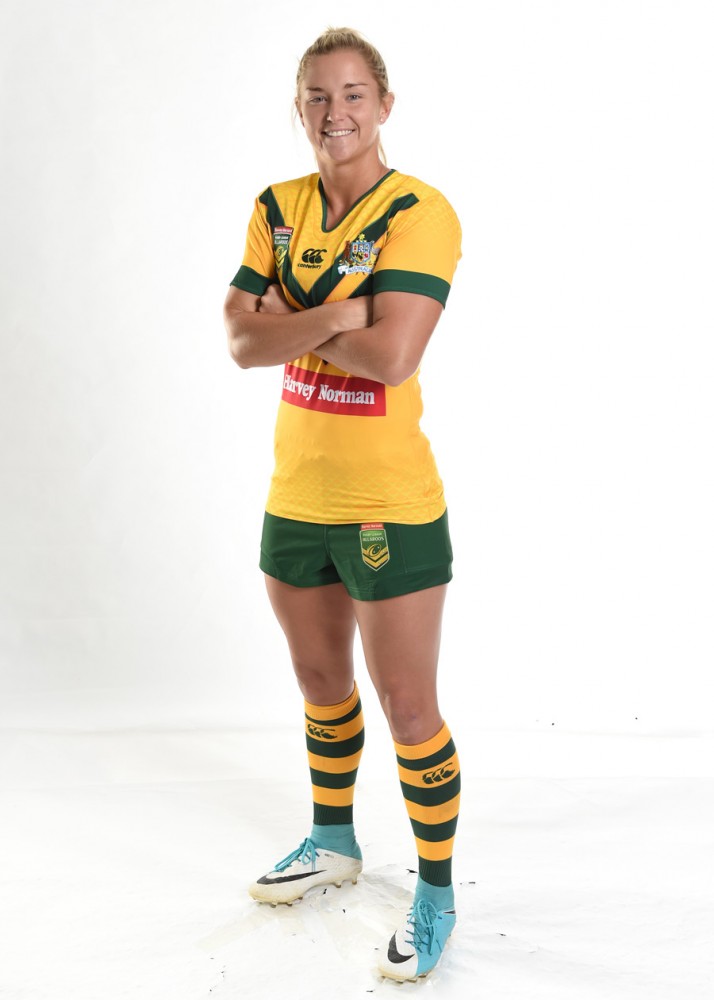 "I have always loved sport," Meg says. "Growing up, I would play any and every sport possible. I played soccer until I was 19 when I decided I needed to try something different and had a go at Rugby 7s and Rugby 15s. I played for 3 years and loved it.
"Moving to the Northern Territory with work (RAAF) I was persuaded by a workmate to go along to a trial in Katherine for Rugby League. From there I was picked up for the NT Titans and played with the Northern Sharks in Darwin… And I haven't looked back!"
But Meg says what she loves most about NRL is the people and the team environment. She has played for many different teams, and in one she says she's found a real family bond and long-lasting friendships.
With the demand to see more women in sport, especially NRL, Meg also believes it's important for young girls to participate in events like the Harvey Norman Junior Girls Clinic to learn new skills and to train with some of their heroes.
"I think it is a great opportunity for young girls to get out, have fun and be active with their friends."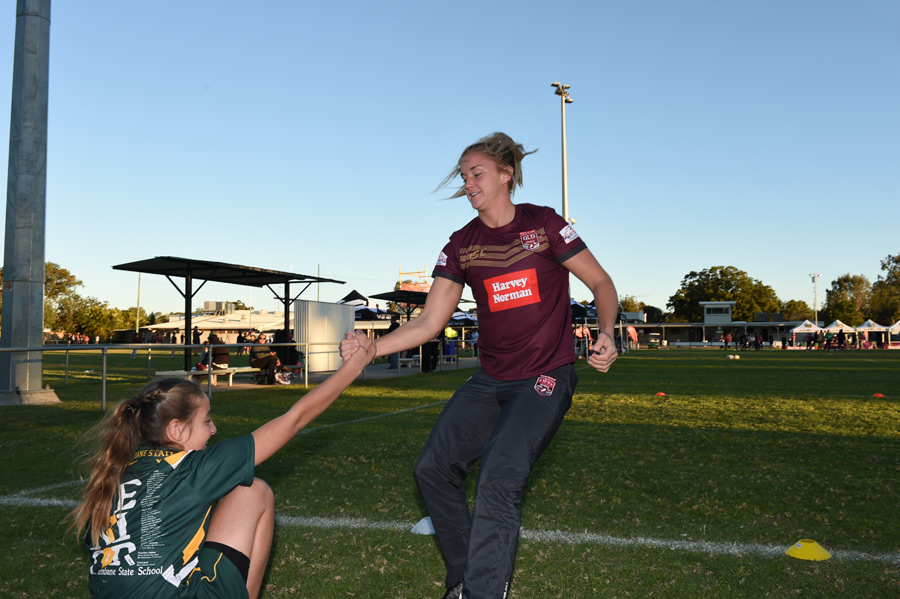 Talking about women's participation in sport, Meg says: "I believe that in last year's World Cup and this year's State of Origin the bar was raised yet again, and I have had so many people contact me and say how great the standard of the State of Origin was and how excited they are for the Holden Women's NRL Premiership."
With that kind of passion and excitement, it's hard not to get behind incredible rising stars like Meg Ward and her team mates.
Harvey Norman Women in League Round will take place between 9th and 12th August – see you there. In the meantime, read more on Women in League here.