Did you know that the Jillaroos won the 2013 World Cup in England, which makes them the reigning champions? While the Holden Kangaroos, the men's Australian rugby league team, get most of the media attention, their female counterparts are every bit as deserving of our admiration and support.
As the proud naming-rights sponsor of the Jillaroos, Harvey Norman is thrilled that Australia is starting to pay more attention to these inspiring girls. The recent internationals played against New Zealand have drawn impressive numbers of the nation's eyes towards the women's national rugby league team. The November 2014 test match resulted in 16,000 live streams on nrl.com. The three-match Auckland 9s series in 2015 fared even better, thrilling approximately 450,000 viewers. Additionally, there were over 1.1 million Facebook views of the Auckland 9s footage.

INTERSTATE CHALLENGE (WOMEN'S STATE OF ORIGIN)
If you wish to catch the hard-hitting rugby league action that Australia's best female footballers have to offer, you won't have to wait long. On 27 June 2015, the Interstate Challenge between New South Wales and Queensland will be played at 1300 Smiles Stadium, Townsville, as the curtain raiser for the men's North Queensland Cowboys vs. Cronulla-Sutherland Sharks game. The women's rivalry is every bit as fierce as what we're accustomed to seeing from the men, and with ample of Jillaroos in each side, the match will be sure to entertain as well as impress.
NRL COMMUNITY AMBASSADORS
Of the approximately 180,000 girls and women who play rugby league throughout Australia and New Zealand, the Australian Jillaroos represent the pinnacle of talent and dedication. However, a select few among this already-select sorority have been singled out for another honour; to represent the National Rugby League (NRL) as its first-ever female Community Ambassadors. They follow in the footsteps of high-profile male Community Ambassadors like Anthony Minichiello and Nathan Hindmarsh as both role models and official representatives of the game. Now, the presence of women in league will be highlighted via the efforts of the four 2015 female NRL Community Ambassadors, who are:
• Karyn Murphy – current assistant coach and former Jillaroo captain
• Tallisha Harden – 2015 Indigenous All-Star and current Jillaroo
• Renae Kunst – current Jillaroo
• Ruan Sims – current Jillaroo
As part of the Community Ambassadors' task of promoting the female contribution to rugby league, they will, together with Raelene Castle (the first female CEO of an NRL club, the Canterbury Bulldogs), attend a number of 'Women in League' workshops around Australia in 2015.
GET TO KNOW YOUR JILLAROOS
Harvey Norman Australian Jillaroos 2015 Women's Rugby League Squad:
• Kezie Apps (Bega)
• Heather Ballinger (Cairns)
• Latoya Billy (Thursday Island, Torres Strait)
• Annette Brander (Brisbane)
• Brittany Breayley (Brisbane)
• Ali Brigginshaw (Ipswich)
• Karina Brown (Gold Coast)
• Vanessa Foliaki (Sydney)
• Samantha Hammond (Sydney)
• Stephanie Hancock (Brisbane) – Captain
• Tallisha Harden (Gold Coast)
• Jenni-Sue Hoepper (Cairns)
• Casey Karklis (Stradbroke Island)
• RenaeKunst (Mackay)
• Mahalia Murphy (Sydney)
• Ruan Sims (Sydney)
• Alex Sulisi (Sydney)
• Simaima Taufa-Kautai (Sydney)
• Tarah Westera (Brisbane)
COACH: Steven Folkes
ASSISTANT COACH: Karyn Murphy (former Jillaroos Captain)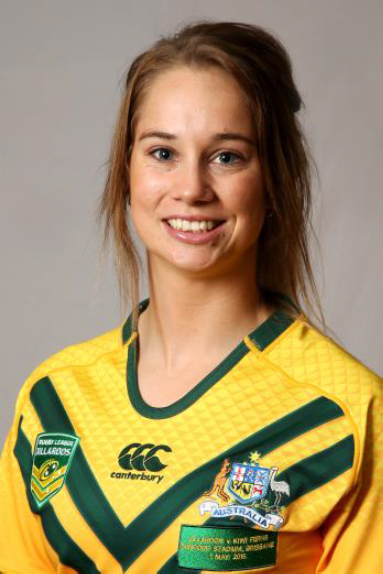 2015 Jillaroos squad member: Kezie Apps
First club: Bega Roosters, 1999
Jillaroos debut: November 2014 vs. New Zealand
Occupation: Insurance broker
Nickname: Bega
NRL team supported: Parramatta Eels
Inspirational athlete: Samantha Hammond
Favourite quote: "If you can dream it, you can achieve it."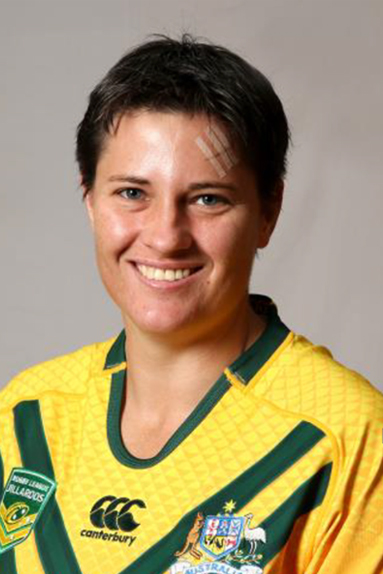 2015 Jillaroos squad member: Heather Ballinger
First club: Ivanhoes (Cairns), 2007
Jillaroos debut: Samoa Test Match 2011
Occupation: Police officer
Nickname: Hef
NRL team supported: Brisbane Broncos
Inspirational athlete: Darren Lockyer
Favourite quote: "Anything is possible if you put your mind to it."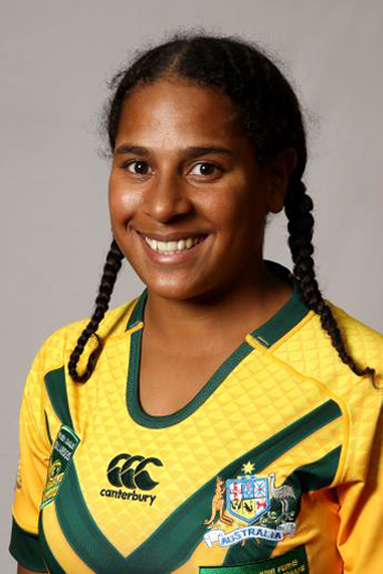 2015 Jillaroos squad member: Latoya Billy
First club: Deddeyall Gammaz, 2010
Jillaroos Debut: May 2015 vs. New Zealand
Occupation: Shop assistant
Nickname: Toya
NRL team supported: Canterbury Bulldogs
Inspirational athlete: Ben Barber
Favourite quote: "One heart, one mind."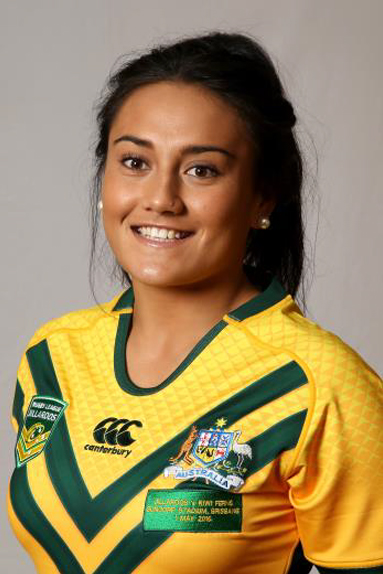 2015 Jillaroos squad member: Annette Brander
First club: Women's Sunshine Coast Sirens, 2010
Jillaroos debut: November 2014 vs. New Zealand
Occupation: Legal assistant
Nickname: Soli
NRL team supported: Brisbane Broncos
Inspirational athlete: Jarryd Hayne
Favourite quote: "Somewhere behind the athlete you've become and the hours of practice and the coaches who have pushed you is a little girl who fell in love with the game and never looked back… Play for her."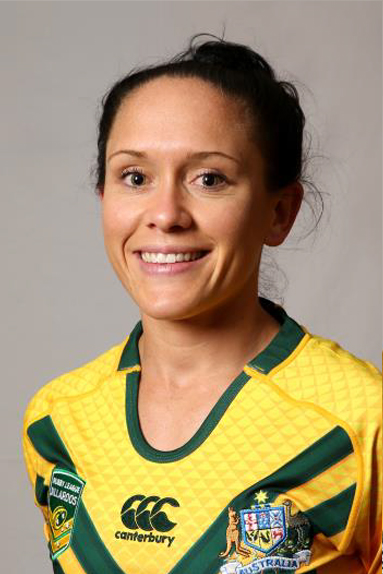 2015 Jillaroos squad member: Brittany Breayley
First club: Magpies, 2008
Jillaroos debut: 2014
Occupation: Admin assistant
Nickname: Britto
NRL team supported: New Zealand Warriors
Inspirational athlete: Issac Luke
Favourite quote: "No dream is too big."
2015 Jillaroos squad member: Ali Brigginshaw
First club: South's Logan, 2009
Jillaroos debut: 2009
Occupation: Courier
NRL team supported: South Sydney Rabbitohs
Inspirational athlete: Jonathon Thurston
Message to aspiring players: "Don't worry about what people say – girls can play rugby league, no matter what age or size. Don't give up."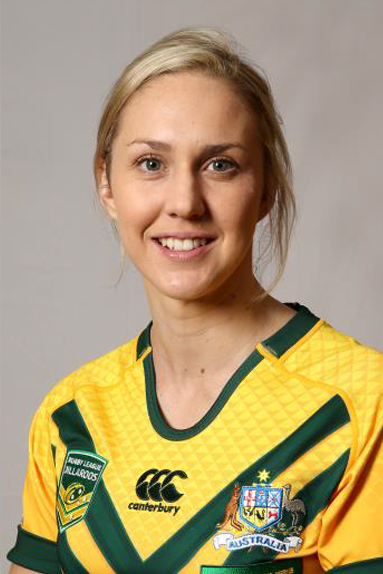 2015 Jillaroos squad member: Karina Brown
First club: Runaway Bay, 2010
Jillaroos debut: July 2013 vs. England
Occupation: Tobacco sales rep
Nickname: Goose
NRL team supported: Brisbane Broncos
Inspirational athlete: Billy Slater
Favourite quote: "The future's so bright, I gotta wear shades."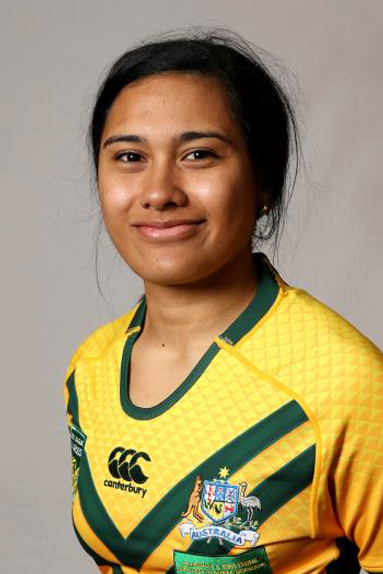 2015 Jillaroos squad member: Vanessa Foliaki
First club: Canley Vale Dragons
Jillaroos debut: Dick Smith Auckland 9s 2015
Occupation: Bar attendant
Nickname: Ness
NRL team supported: New Zealand Warriors
Inspirational athlete: Greg Inglis/Huriana Manuel
Favourite quote: "Your talent is God's gift to you. What you do with it is your gift back to God."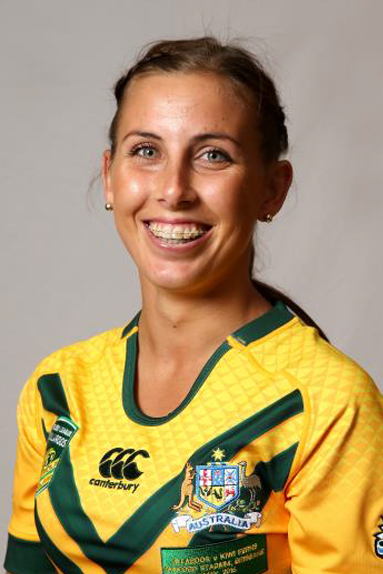 2015 Jillaroos squad member: Samantha Hammond
First club: Helensburgh Tiger Lillies, 2010
Jillaroos debut: 2013 World Cup
Occupation: NRL game development officer
Nickname: Sammy
NRL team supported: Cronulla Sharks
Inspirational athlete: Issac Luke
Favourite quote: "Always find time for the things that make you feel happy to be alive."
2015 Jilaroos squad member: Stephanie Hancock (Captain)
First club: Eastern Suburbs Hornets, 1989
Jillaroos debut: 2003 World Cup
Occupation: Police officer
Nickname: Hancock
NRL team supported: North Queensland Cowboys
Inspirational athlete: Karyn Murphy
Favourite quote: "Float like a butterfly, sting like a bee."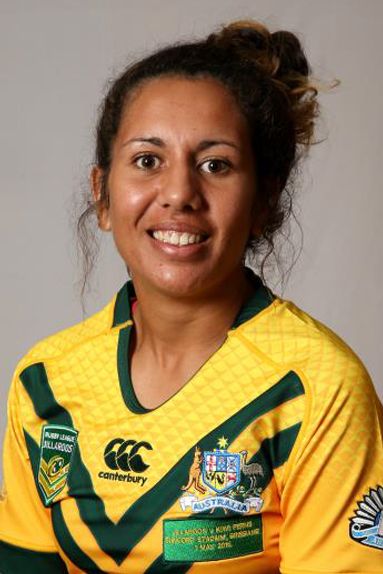 2015 Jillaroos squad member: Tallisha Harden
First club: Burleigh Bears, 2015
Jillaroos debut: May 2015 vs. New Zealand
Occupation: Shop student
Nickname: Tee
NRL team supported: Brisbane Broncos
Inspirational athlete: Anna Meares
Favourite quote: "Practice makes consistent. Perfect practice makes perfect."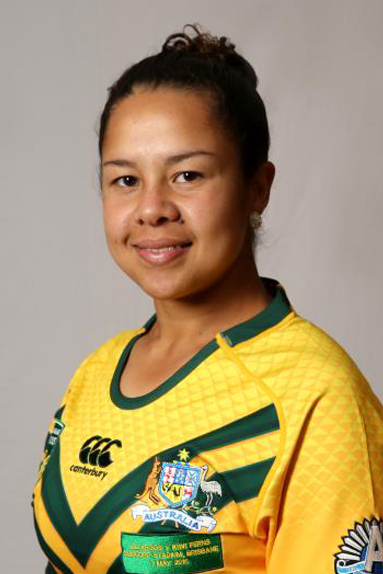 2015 Jillaroos squad member: Jenni-Sue Hoepper
First club: Cairns Brothers, 2004
Jillaroos debut: July 2013 vs. England
Occupation: NRL game development officer
Nickname: Peg -Leg
NRL team supported: South Sydney Rabbitohs
Inspirational athlete: Adam Reynolds
Favourite quote: "Do your best. Never give up. Stay strong."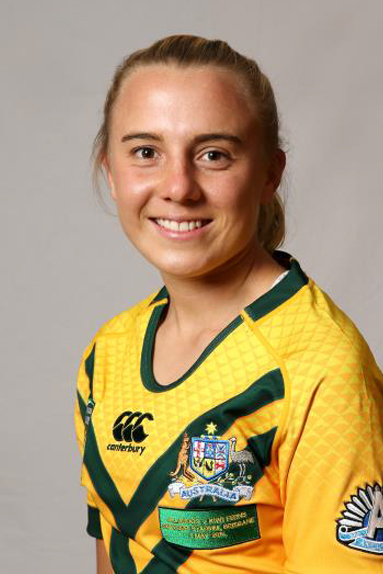 2015 Jillaroos squad member: Casey Karklis
First club: Straddie Sharks
Jillaroos debut: May 2015 vs. New Zealand
NRL team supported: Brisbane Broncos
Inspirational athlete(s): Karyn Murphy, Ben Hunt, Shaun Johnson
Message to aspiring players: "Work hard for what you love, be passionate, loyal and a good role model."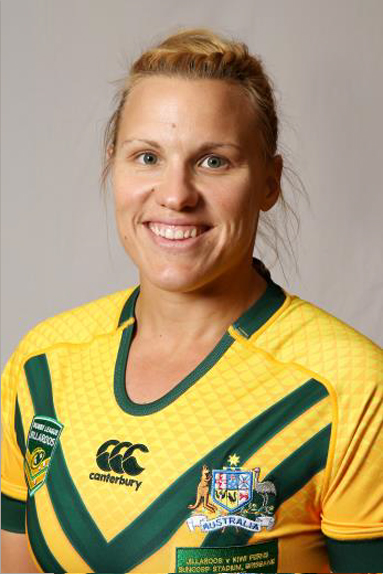 2015 Jillaroos squad member: Renae Kunst
First club: Mackay Magpies, 2008
Jillaroos debut: 2008 World Cup
Occupation: NRL game development officer
Nickname: Kunsty/Nae
NRL team supported: North Queensland Cowboys
Inspirational athlete: Cooper Cronk
Favourite quote: "It's hard to beat a person who never gives up. Losers quit when they are tired, winners quit when they've won."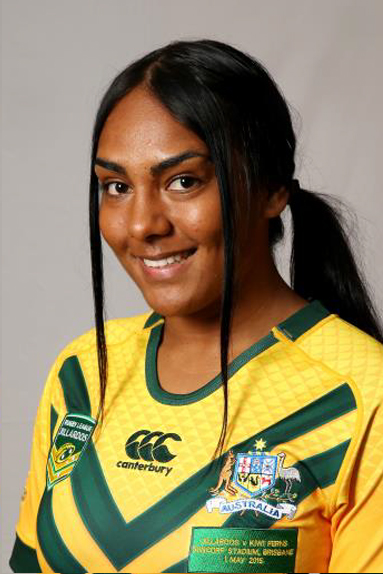 2015 Jillaroos squad member: Mahalia Murphy
First club: Doonside Roos, 2005
Jillaroos debut: May 2015 vs. New Zealand
Occupation: Waitress/program supervisor (after-school care)
Nickname: Marly
NRL team supported: South Sydney Rabbitohs
Inspirational athlete: Greg Inglis
Favourite quote: "Today's pain is tomorrow's strength."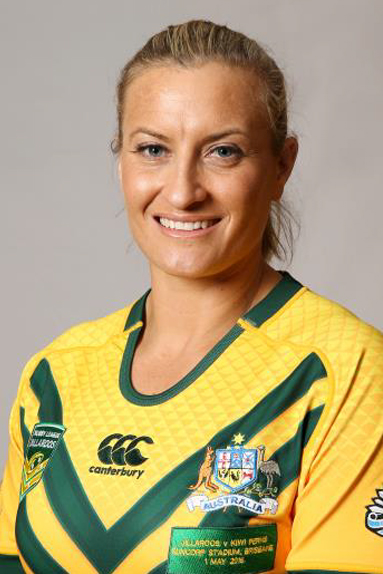 2015 Jillaroos squad member: Ruan Sims
First club: Penrith Waratahs, 2012
Jillaroos debut: July 2013 vs. England
Occupation: Firefighter
Nickname: Ru/Simsy
NRL team supported: Newcastle Knights
Inspirational athlete: Michael Jordan
Favourite quote: "Success is the sum of small efforts, repeated day in, day out."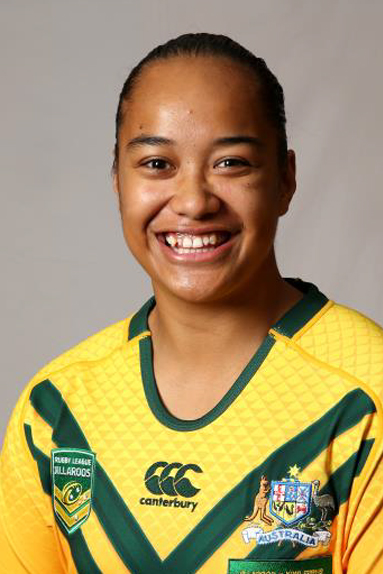 2015 Jillaroos squad member: Alexandra Sulusi
Born: 13/11/1993
First club: Canley Vale Dragons, 2014
Jillaroos Debut: 2011 vs. Samoa
Occupation: Student
Nickname: Leki
NRL team supported: Sydney Roosters
Inspirational athlete: Sonny Bill Williams
Favourite quote: "Work hard, stay humble."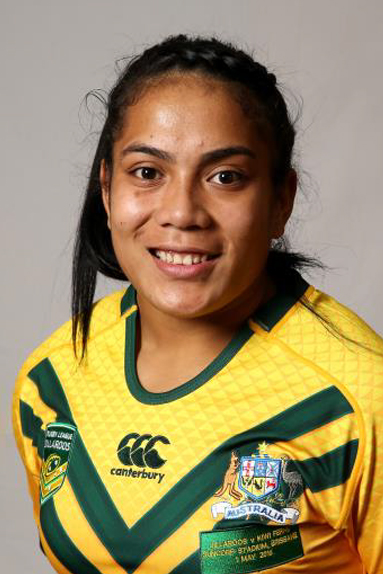 2015 Jillaroos squad member: Simaima Taufa
First club: Blacktown Workers, 2013
Jillaroos debut: November 2014 vs. New Zealand
Occupation: Bar attendant
Nickname: Maima
NRL team supported: New Zealand Warriors
Inspirational athlete(s): Richie McCaw and Greg Inglis
Favourite quote: "Hard work beats talent when talent doesn't work hard."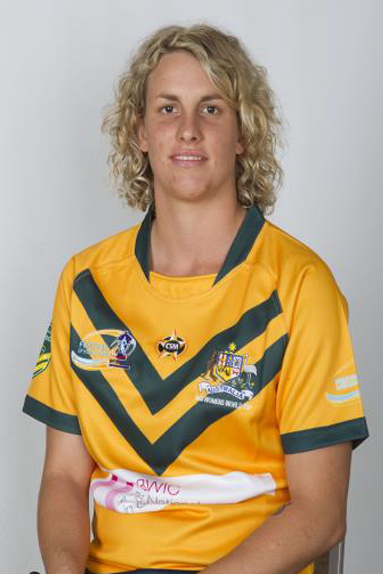 2015 Jillaroos squad member: Tarah Westera
First club: Nambour Crushers, 2001
Jillaroos debut: 2003
Occupation: QLD Ambulance
Nickname: Curly
NRL team supported: North Queensland Cowboys
Inspirational athlete(s): Karyn Murphy and Shaun Fensom
Favourite quote: "Winners are not those who never fail but those who never quit."