Autism — a neural developmental disorder characterised by impaired social interaction and communication — affects lots of Australians, including famous ones. Media personality Chloe Maxwell and her husband, former NRL player Mat Rogers, spoke publically about their son Max's autism.
The groundswell of support and assistance was so great they started the charity 4 ASD Kids. The goal is to improve the lives of families with children battling with an Autism Spectrum Disorder by offering early intervention treatment; this is critical to giving these kids the best chance at reaching their full potential and leading a normal life.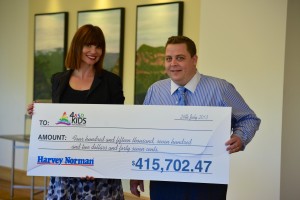 At the Harvey Norman National Franchisee conference in Queensland's Surfers Paradise on Wednesday 24th July 2013, 4 ASD Kids accepted a $415,700 donation from Harvey Norman. It was presented to Ms Maxwell by Ben McIntosh (both pictured right), Harvey Norman General Manager of Technology and Entertainment. The funds were raised at the bi-annual Harvey Norman Technology and Entertainment charity night held in February this year, attended by franchisees and business partners.
Harvey Norman's donation will help 4 ASD Kids implement early intervention programs across Australia, expand the capacity of special education facilities, plus provide innovative learning technology such as iPads. "Mat and I are extremely grateful for Harvey Norman's support of 4 ASD Kids," said Chloe, "The donated funds will be distributed amongst many families in need and make a huge impact in the wider community".