Karyn Murphy — the World Cup winning Jillaroos Rugby League captain and a Police Investigator to boot — has been named as one of the six finalists for the 2013 Harvey Norman Women in League Award.
Queenslander Murphy joins fellow finalists Yolande Morris (Northern Territory), Connie Dallas (New South Wales), Karen Sassine (New South Wales), Sharon Sellers (South Australia) and Charmain Acton (Queensland) in vying for the prestigious honour. It's presented to the woman who has demonstrated outstanding support in the advancement of females in Rugby League.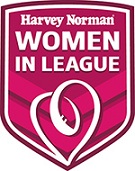 The winner will be announced at the seventh annual NRL One Community Awards at Sydney's Town Hall on Monday 30th September. Kicking off the Telstra Premiership Grand Final Week, it'll be an evening of celebration for Rugby League's unsung heroes, from grassroots to the elite level, including volunteers, clubs, teachers, students and NRL players. There's a One Community Awards prize pool of over $50,000 across eight awards, with Harvey Norman providing $2,500 to the winner of the 2013 Women in League award.