Wednesday 16th October 2013 is National Ride2Work Day, a year-round program encouraging Aussies to get on their bikes and cycle to their place of employment. It's all about including regular active travel into your work day and making a significant statement within your local community.
This initiative, run by the Bicycle Network together with state and territory cycling organisations across Australia, has a strong influence. When surveyed five months after last year's National Ride2Work Day, 47% of newly registered riders were still pedalling to work, with more than 10,500 commuters now riding to and from their jobs more often.
There are lots of advantages to taking your bicycle to work: it's fun, inexpensive and great for your health. We spoke to Andrew Feneley, Harvey Norman's National Product and Marketing Manager for Printing and Imaging and a super-keen cyclist, about all things "pedal power".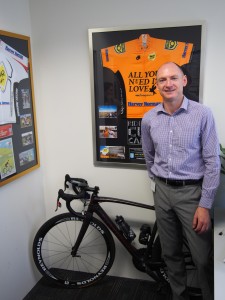 Harvey Norman: What is it that you love most about cycling?
Andrew Feneley: You can see and hear the world up close. Personally, I don't consider riding as "exercise". Fitness is a great bi-product – cycling just happens to be healthy. Cycling is very social these days, so many people are taking it up – it's the new golf! The great thing is that anyone can ride a bike!
HN: How far do you cycle?
AF: I ride 170-300 kilometres per week; the commute to and from work is 48 kilometres a day, from Sydney's North Shore over the Harbour Bridge, Anzac Bridge and through Five Dock to Homebush – this is a very busy route with commuters. It's a great way to start the day!
HN: How do you stay safe when riding on the road?
AF: When I commute in traffic it's quite busy, so I'm focussed on riding a very straight line and staying predictable. Keep to the left — but not too far — and never go through red lights. Thanking drivers is important to promote goodwill between cyclists and drivers. Cycling in a bunch is safe; we ride "2×2" to create a drafting effect in the pack and we rotate the lead riders who are working harder. It's also social as you can have a normal conversation when not under too much load. We usually ride as early as 5.15am to keep traffic disruption to a minimum.
HN: What is your advice to anyone looking to get on their bike?
AF: Start riding at a park or bike track, like Centennial Park or Sydney Olympic Park. It's best to gain confidence on the bike and to become familiar with the bicycle and your equipment in a safe environment, then you can progress to safe, low-traffic roads. Riding confidence and quick reaction times is the key to safety.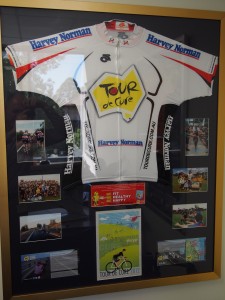 HN: What sort of gear do I need?  
AF: Lycra is a must if riding more than, say, 20km per week. Not only is it comfortable, it also prevents chaffing. Once you get used to how you look, it's normal! Using properly fitted "clip-in" shoes will help with your pedalling technique and overall performance as you tend to push and pull the pedals in a complete stroke. Good lights are imperative – they're very high tech these days, with rechargeable batteries. Get yourself a decent cycling computer that monitors heart rate, speed etc – Harvey Norman sells health, fitness and sport gear, like Magellan and Garmin bike computers. It's great to be able to monitor your heart rate and know your limits so you don't overdo it.
HN: What do you think of initiatives like National Ride2Work Day?
AF: To me this is about promoting health and also awareness of bikes. Ninety-nice percent of cyclists are drivers too, and it would be great to see more consideration of both on the roads. Everyone should ride a bike, especially if you can commute because if you're time poor, it's a great way to fit in some exercise. Riding from the North Shore to Homebush takes me about 55mins. It takes 45mins in a car!
HN: How important is bike-riding in the community?
AF: Cycling is a sport which raises millions of dollars every year via various charities. I'm a member of Tour De Cure, which raises over $2,000,000 each year to find a cure for cancer. We visit schools on the actual tour, which is over 1,500 kilometres in ten days each year plus smaller state tours. It's incredible to be able to give back via a sport you love; you feel as if you're changing lives. With the help of Harvey Norman suppliers via Tour de Cure support I've raised over $150,000 for cancer research, prevention and support projects and clinics.