Coloured by creativity and inspiration, from 24th May to 10th June 2013, between 6pm and midnight each night, Vivid Sydney will take over the city and transform it into a magnificent canvas of light, music and ideas.
Presented by the NSW Government and Destination NSW (the State's major events and tourism agency), Vivid Sydney provides an international stage for local artistic, creative and business communities. It's one of the city's biggest and most extravagant public events promoting its world-class creative industries.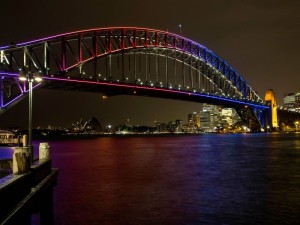 The "piece de resistance" is the illumination of one of Australia's most internationally recognisable landmarks – the  iconic Sydney Harbour Bridge is the centrepiece of a new interactive light installation. In its third consecutive year as a presenting partner, Intel Australia has teamed up with Sydney-based lightwork innovators 32 Hundred Lighting to create a world-first immersive projection. No less than 100,800 individual programmable LEDs light up the bridge, which is controlled by the public from an interactive touch screen on the Luna Park boardwalk.
Vivid Sydney will reach more people than ever before, with the Harbour Bridge installation visible from as far as Balmain, North Sydney and a number of Harbourside vantage points on the western side. "Technology is the digital paintbrush that makes installations like this possible", said Intel Australia's Managing Director, Kate Burleigh.
(For great deals on computers, including Intel-powered machines, you can't beat Harvey Norman)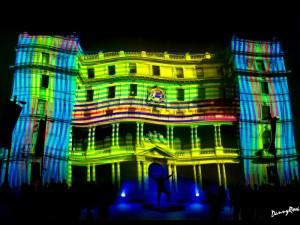 Other landmarks to receive the "lights on" treatment after dark include the Museum of Contemporary Art, Customs House and Darling Harbour. The epic light show will be scored by performances from local and international musicians at Sydney Opera House, like Empire Of The Sun, Kraftwerk and Bobby Womack. Vivid Ideas features public talks and debates from leading global creative thinkers, with the goal of turning inspiration into action.
Join the festival of light, music and ideas – it's Vivid Sydney!