February is in full swing, and what better way to embrace the year ahead than to clear out last year's cobwebs and update your home?
It's time to give your bedrooms a 360° makeover. Say goodbye to old, rickety bedroom furniture, limp mattresses and dusty bed sheets. Stop hanging on to overused, damaged and uncomfortable furniture that has lost its appeal.
Say hello to new bedroom furniture with form and function, and look forward to comfort and support that leads to better sleep for you, your kids and your guests! It's so important to fill your surroundings with whatever brings you joy to lead to a feeling of wellness, and the bedroom is where that begins.
Bed frames, mattresses, pillows, quilts, covers and more, you'll find everything you need to bring new life into any tired old bedroom with Harvey Norman's bedding collection. We've chosen our top picks from our collection to help you update every bedroom in your home.
MASTER BEDROOM
Your master bedroom should make a statement of your personal style and be a welcoming haven you can truly unwind in at the end of a long day. To achieve this, you will need a showpiece bed frame that is both soothing to the eye and versatile. Consider the customisable, Australian made 'Herringbone' Queen Bed. Contemporary design and the beauty of natural materials combine in this bed to create a masterpiece worthy of the master bedroom. A large bedhead steals the show with its beautiful parquetry display in contrasting timber tones. You can choose from a selection of Silvertop Ash timber stain colours (pictured here in our newest hue, 'Cameo'), and you can even customise your bed to have storage drawers in the side or at the foot end to suit your needs. Add the 'Herringbone' Tallboy, Dresser and Bedside Tables with a matching pattern to complete the look.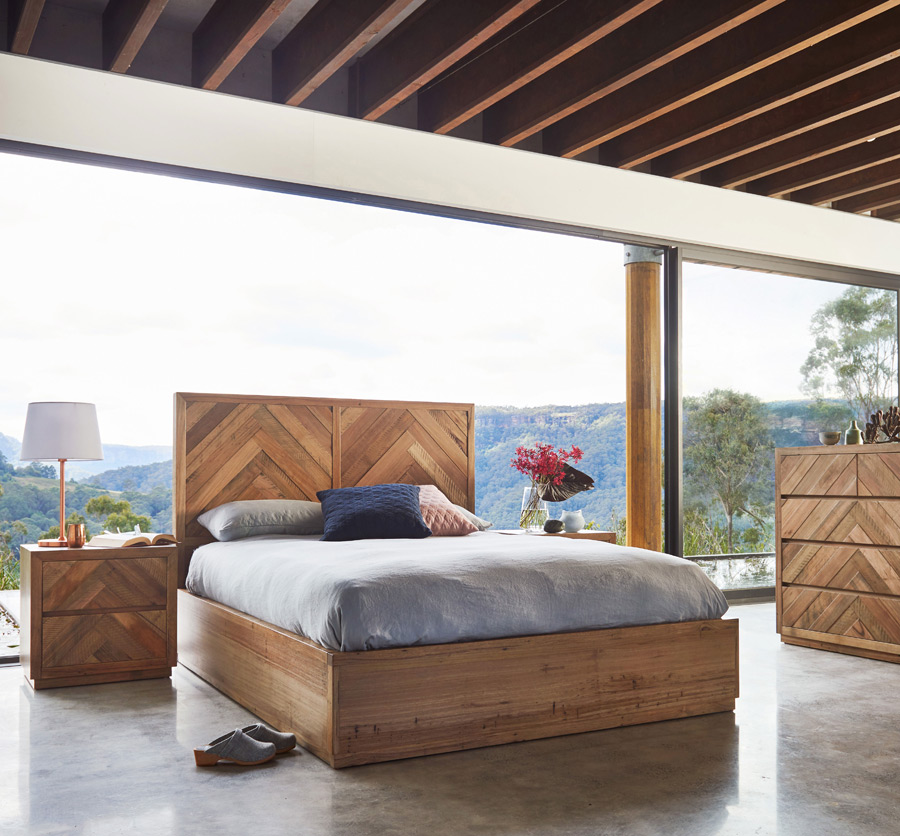 Top your new bed frame with the Beautyrest Gold™ 'Ignite Medium' Queen Mattress for rejuvenating sleep. Made in Australia using Ultra-Fresh Protected Comfort Layers and Aircool™ Memory Foam as well as Micro Pocketed Coil®, the 'Ignite' mattress promises premium comfort and support. Plus, it comes with a 10 year warranty for your peace of mind, and is available in four comfort feels – super firm, firm, medium or plush – and with a matching base.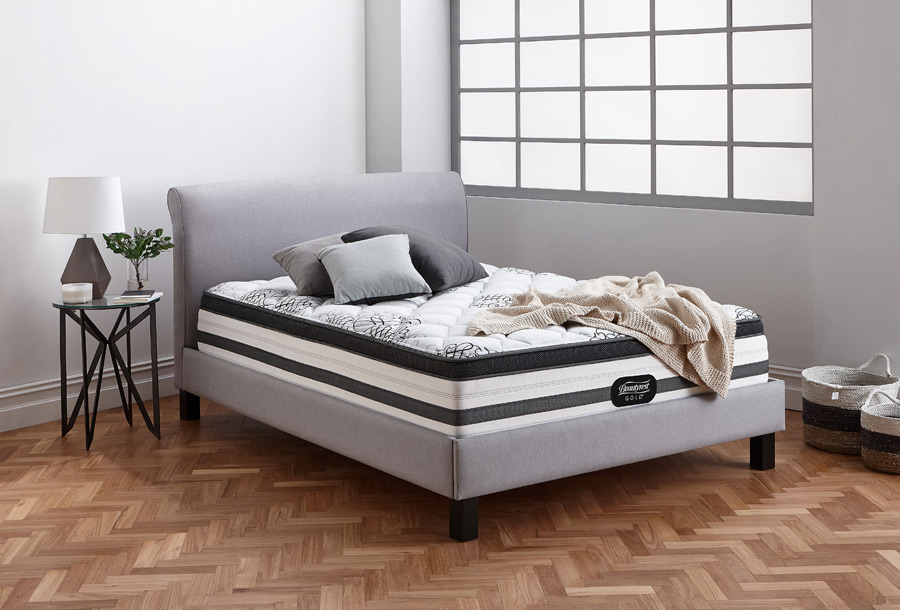 Take your sleep to the next level with a quality quilt, like the 'Matilda' Wool Quilt. Filled with 100% Australian Downs Wool, the 'Matilda' carries the Woolmark Gold Label – the highest accreditation from the Woolmark company – so you can be sure you've invested in the finest quality when it comes to quilts. You can choose from four weights – light, high super loft or All Seasons. Plus, these quilts are fully machine washable with a 7 year guarantee.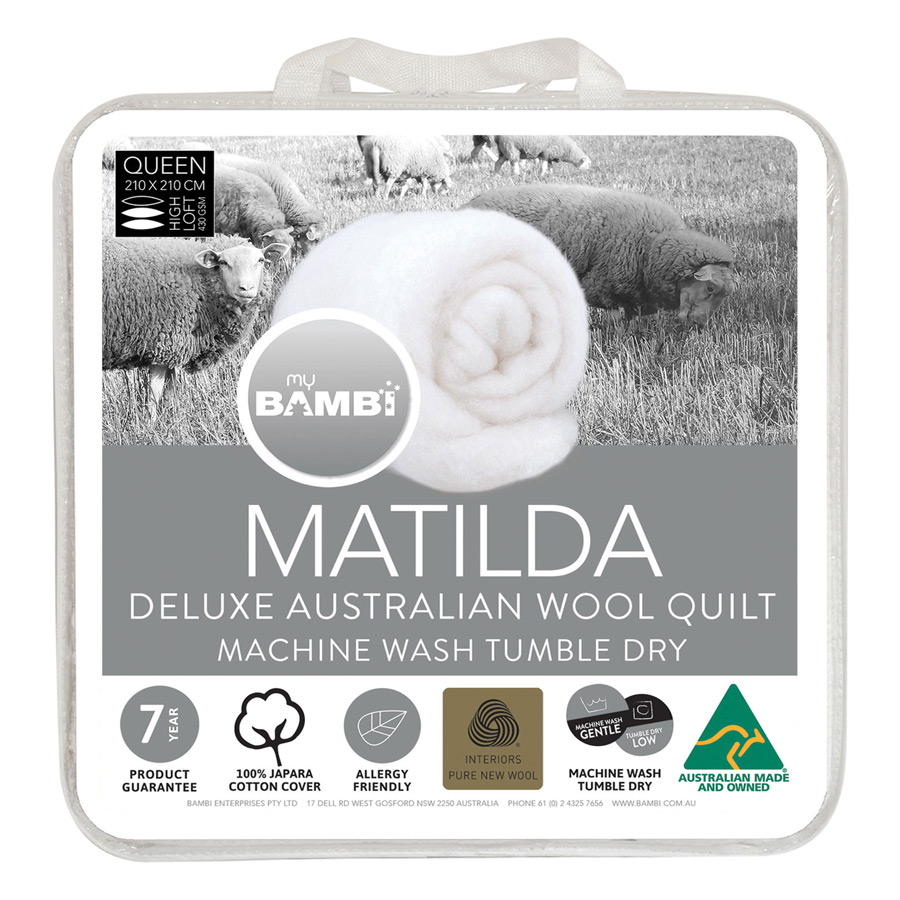 Complete your supreme sleep experience with the Beautyrest Black™ Memory Foam Standard Profile Pillow. A cashmere blend surround and pressure-relieving memory foam core combine to offer superior softness, support and luxury. Specifically designed to mould to the contours of your head and neck, this comfortable pillow ensures that you have the correct support in your sleep, night after night. Cleaning your new pillow is as easy as removing the cover and throwing it in the washing machine!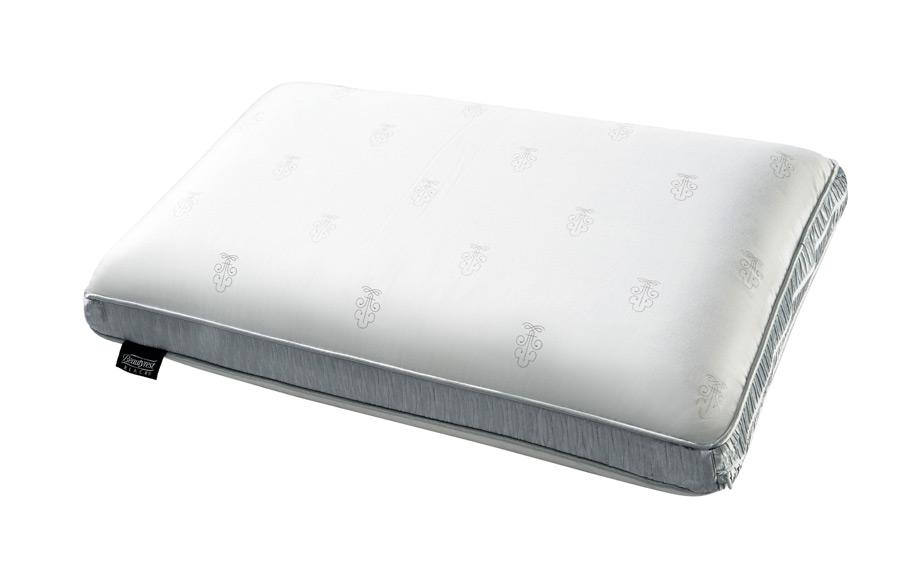 Less is more when it comes to styling your bed, so dress it up modestly with a clean, simple quilt cover that can match any home décor. The 'Brooklyn' Quilt Cover Set is available in a range of neutral shades including Charcoal, White, Dusty Pink or Light Grey, so feel free to accessorise with patterns and textures that will give your master bedroom both character and dimension.
KID'S BEDROOM
When it comes to furnishing your kid's bedroom, look for furniture that gives more, such as the versatile 'Maxi' Bed Frame with Gas-Lift Storage and Pull-Out Drawer. The perfect choice for a child's room, the 'Maxi' not only features a large, pull-out drawer at the foot of the bed for all your kid's favourite toys, it also offers extra storage under the bed which is easily accessible via a gas lift function. Plus, it has a storage bedhead with a hidden compartment – the perfect little spot to store bedtime story books and your child's cherished little treasures. Add coordinating accessories to complete your kid's bedroom in a sleek, white finish.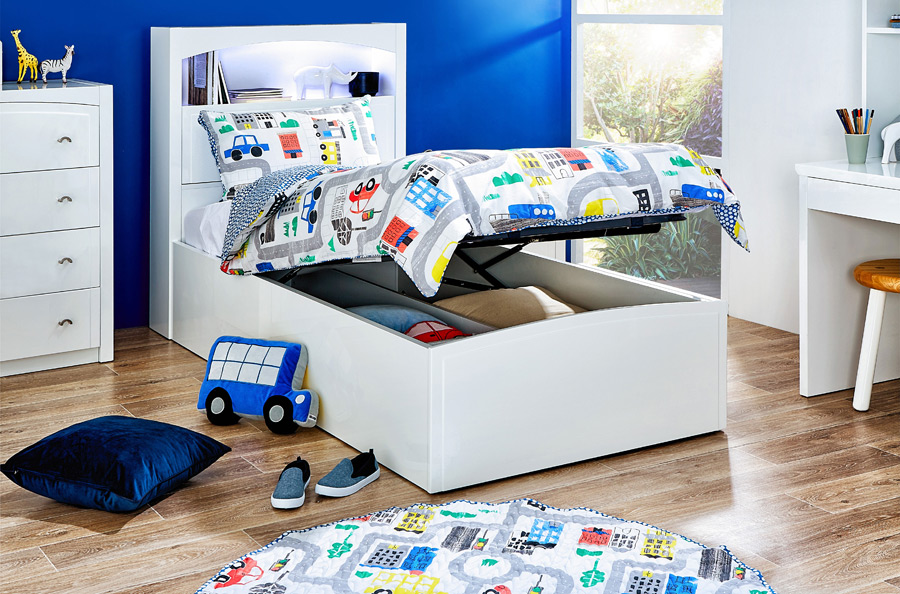 Do your kids have trouble falling asleep? Do you sit by their bedside going through storybook after storybook, hoping they'll drift off to dreamland sometime soon?! Do yourself a favour and deck their bed with a top quality mattress like the Sealy Posturepedic 'Maverick Medium' Single Mattress. Available in firm, medium or plush feels and with a matching base, the Australian made 'Maverick' mattress features EuroTop construction, premium and convoluted quilt foam quilt layers and the SRxII® support system for premium comfort – a great investment for your kid's bedroom. Plus, enjoy peace of mind with a 10 year guarantee.
Support healthy sleep for your child with the Herington Kids Quilt. Perfect for growing bodies and designed for all seasons, this quilt is filled with a 350gsm 60% cotton 40% Australian wool blend – highly breathable natural fibres which support asthma and allergy sufferers for a healthy night's sleep. The Herington Kids Quilt also features a self-piped cotton cover and is fully machine washable – available in Single and Double sizes.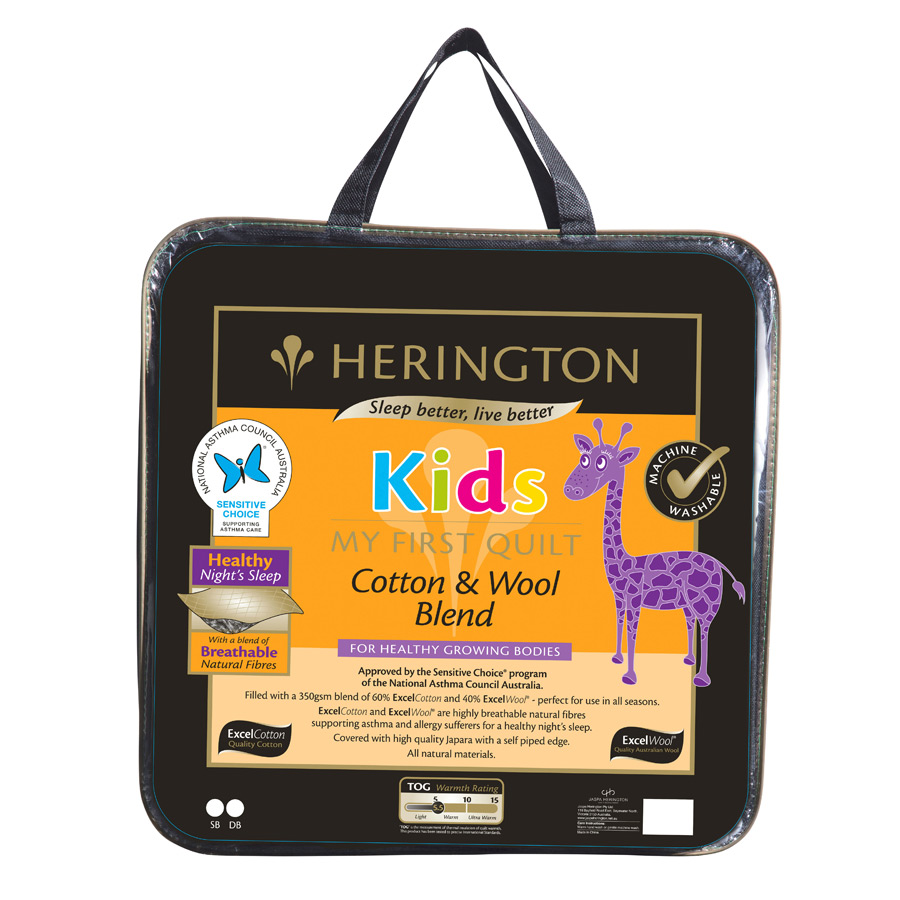 Pair your kid's Herington Quilt with the Herington Kids Pillow, which is ideal for small heads and growing bodies. This low-profile, allergy-sensitive pillow provides support for smaller frames, while a soft and cuddly ExcelMicroFibre filling made from specially enhanced, low allergy polyester fibres provides luxurious, down-like comfort. This pillow also features a cotton cover which is machine washable.
Inspire colourful dreams of adventure with the 'Townies' Blue Quilt Cover Set. Painted, cut and collaged, this kid's quilt features a cityscape of automobiles, ships, planes and trains in vibrant, primary colours, with a spot print on the reverse.
GUEST BEDROOM
Make your guest bedroom one to remember when you add bedroom furniture that says understated elegance and delightful simplicity. The charming 'Santino' 2-Drawer Bed Frame will give your guests the feeling of being home away from home with its fuss-free, inviting design. Constructed from Acacia timber, this queen bed offers two storage drawers at the foot of the bed, which is perfect for storing spare linen and blankets for your guests, and can double up as storage space for your guests' belongings. Add matching 'Santino' Bedside Tables and the 'Santino' Tallboy to complete your guest bedroom.
Impress your guests with the King Koil 'Conforma Essence Plush' Queen Mattress. Made in Australia, this mattress features Pocket Coil technology, which is designed to conform to the contours of your body to provide all-over support and pressure relief while minimising partner disturbance. Choose from four comfort feels – super firm, firm, medium or plush – with a matching base, and rest easy with a 10 year guarantee!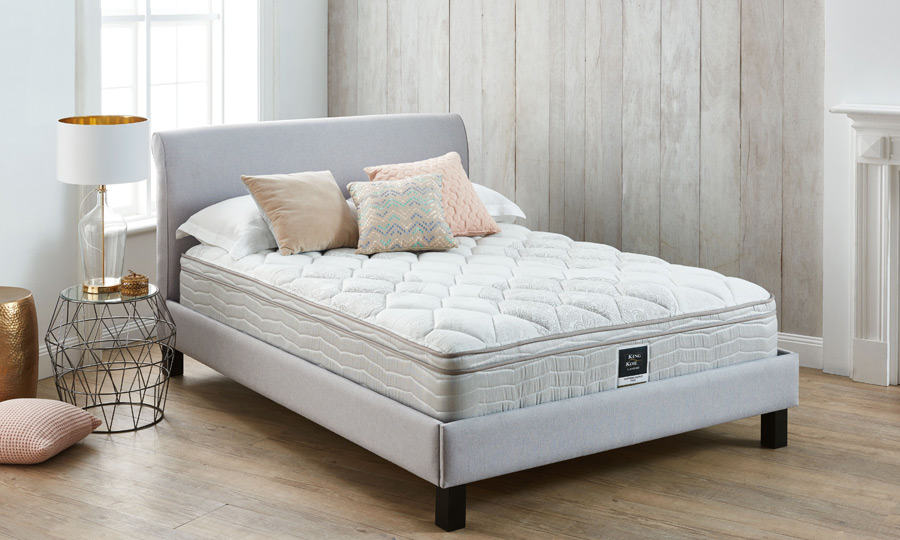 The Herington 'Excel' Microfibre Queen Quilt is a true comfort sensation and once your guests have experienced its luxury, they'll never want to leave! Recognised by the National Asthma Council Australia, the 'Excel' mattress features a 400gsm super-soft, low-allergy microfibre filling so it's ideal for allergy and asthma sufferers. A luxurious cotton cover provides all-season sleeping comfort so you can accommodate for guests at any time of the year. The 'Microfibre' is available in Single, Double, Queen or King size.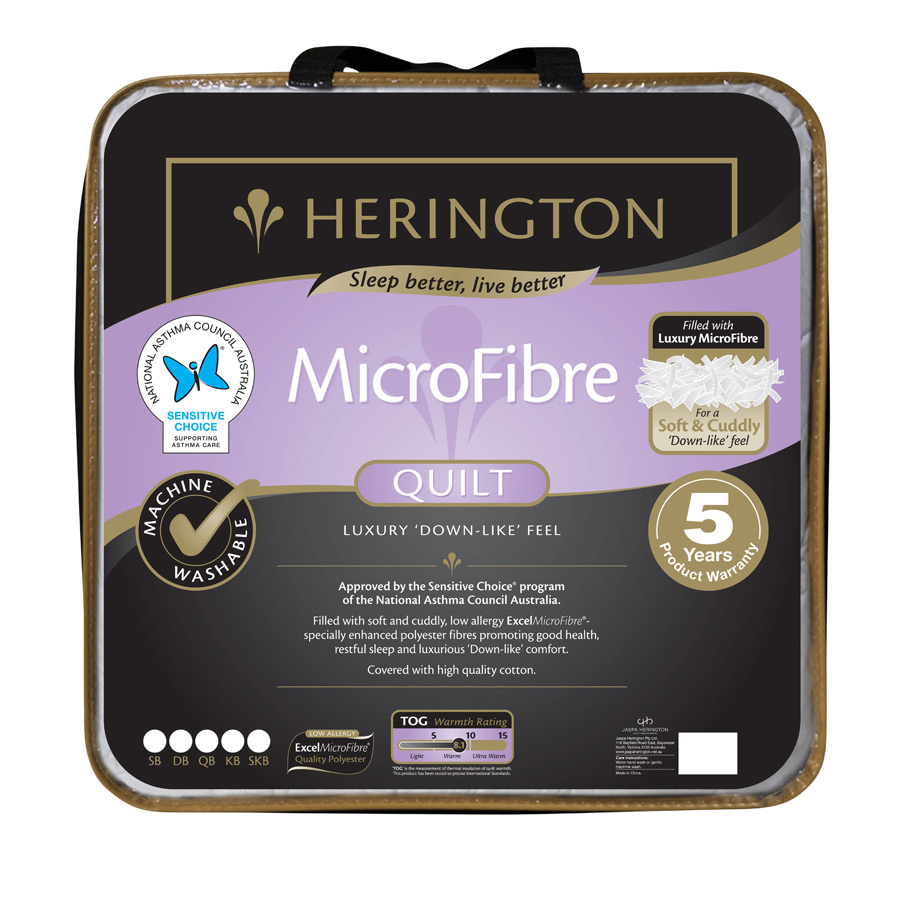 Cater to all your guests' needs and offer a personalised sleep by dressing the guest bed with Herington Gusset Pillows in all the feels – high firm, high soft, low firm and low soft. Made from low-allergy polyester fibres, this range of comfortable pillows is suitable for asthma and allergy sufferers so your guests can enjoy a comfortable sleep.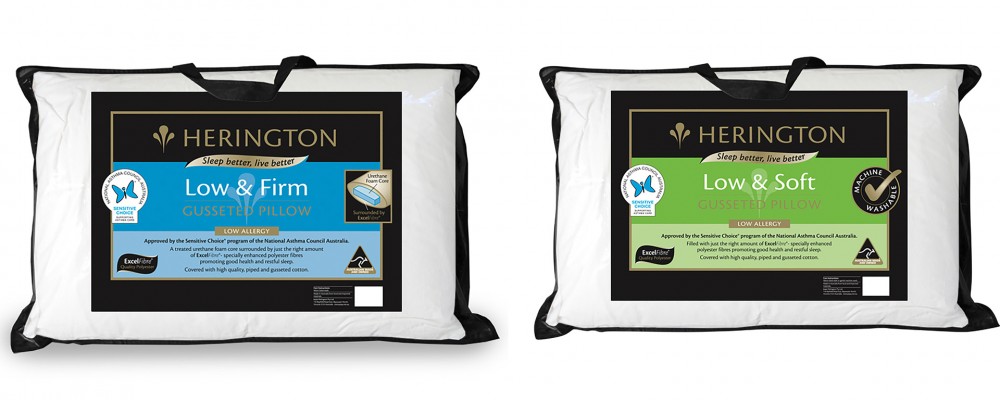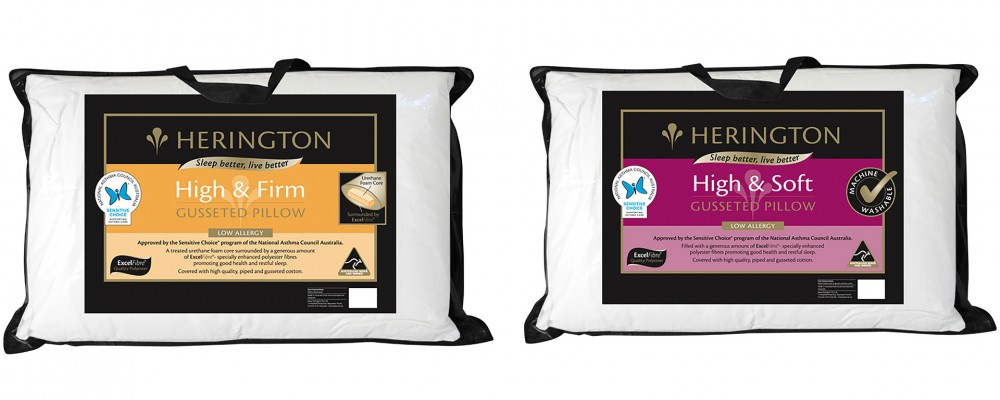 For the finishing touch, fit out your guest bed with the 'Lumiere' Queen Quilt Cover Set. Made from 100% cotton chenille, with an elegant, diamond pattern, the 'Lumiere' gives a sense of captivating nostalgia with its timeless, classic design and textured feel.
It's time to let go of the old, and bring in the new. Start planning your bedroom makeovers today, and discover what new bedroom furniture and bedding can do for you. Browse our bedding collection online or head to your local store and chat to our friendly bedding experts.