Autumn is a time of change – the weather turns cool, the leaves gradually change their colour and float to the ground, the wildlife begin their winter hibernation rituals, as do us humans!
What better place to start feathering the nest than your bedroom? When the temperature starts dropping and the days get shorter, we all know there's nothing more relaxing than curling up in a bed laden with sumptuous layers of bed linen.
The easiest, quickest and most affordable way to achieve a fresh new look – reflective of the new season – is with beautiful manchester. We've picked out our top five favourite looks available at Harvey Norman, all of which showcase the best bed linen trends of 2018 – they're so good, you'll want them all for your home!
1. Go nude
The 'Anya' Quilt Cover Set is a beauty in a medium nude hue. The soft, hushed tones add an air of luxury – and it feels that way too. Made from soft, plush velvet, the reverse fabric is cool natural cotton, offering a breathability that will keep you warm without overheating.
Thanks to the neutral palette of the 'Anya', it's easy to add a touch of pastel prettiness – think millennial pink. Tactile textures are also great as they offer depth and complexity. We'd recommend a simple floral arrangement or a fluffy decorative throw, but be careful not to go overboard – just one accent piece or two is plenty.
The 'Anya' collection is available in Queen, King and Super King sizes, with matching European pillowcases and cushions featuring a piped detail finish.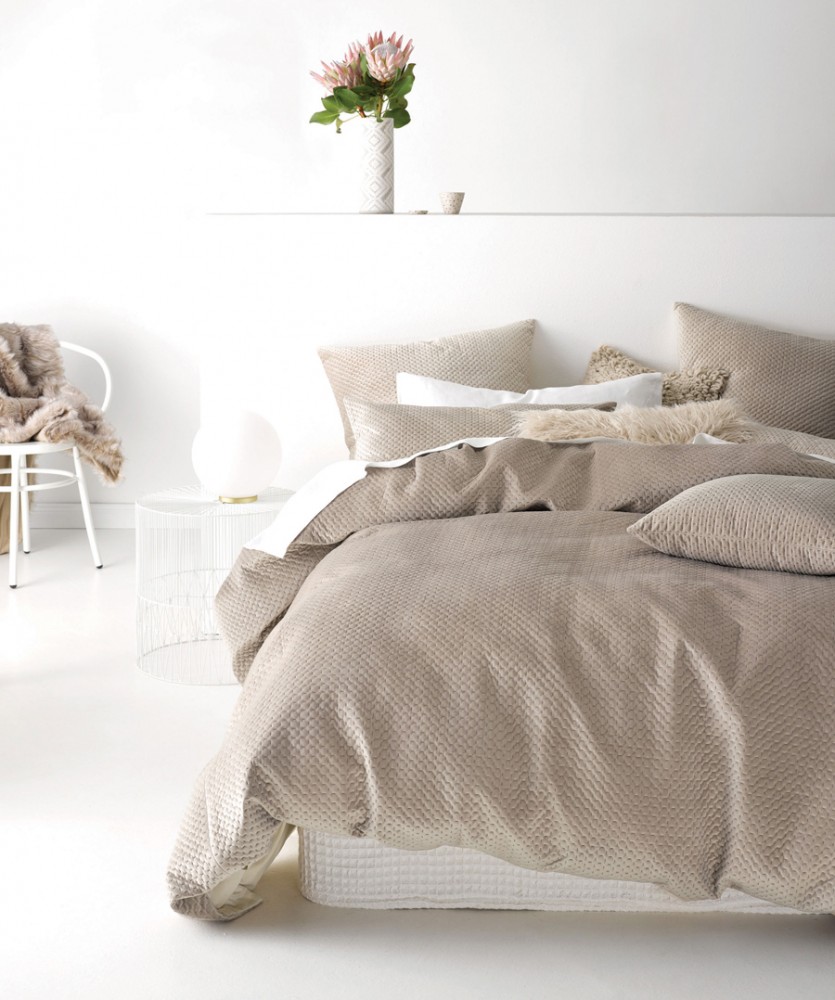 2. See the world in black, white and grey
There's nothing quite as elegant as a well-executed black and white look. For a bedroom style that is both flawless and timeless, the 'Tonette' Quilt Cover Set truly delivers. With a classic monochrome palette and stunning floral design, the overlapping layers of black and grey floral and foliage on the white are a sight to behold. Plus, the 100% cotton percale has a soft grey reverse: simply fold back the top to create a solid contrast.
If you're really looking to give your bedroom a makeover, consider pairing the 'Tonette' with the Australian made 'Coral' Bedhead – the stitch design forms a worthy backdrop to the black and white manchester masterpiece.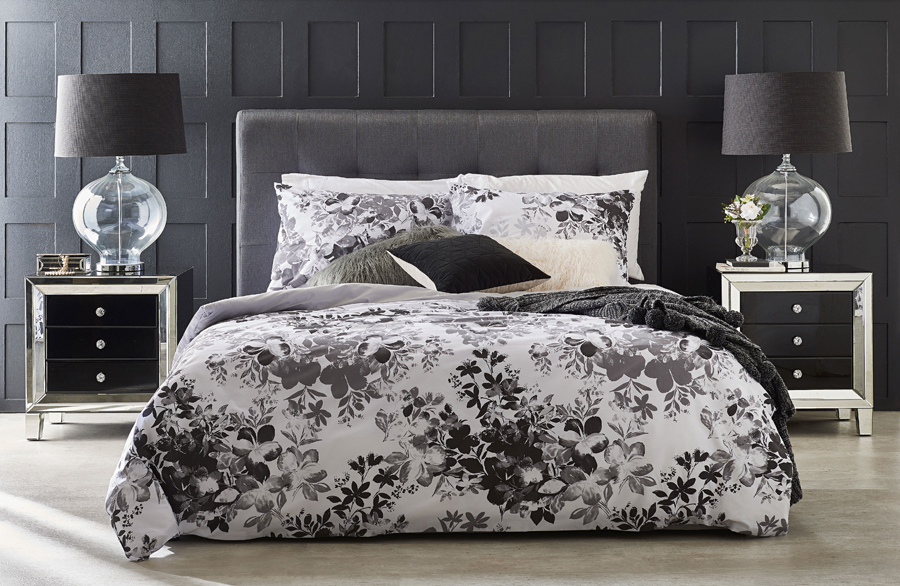 3. Rekindle the romance
Sometimes matches are made in Heaven – and other times, they're made right here at Harvey Norman. The 'Isabella' Bed features a tall, tufted bedhead that creates a fantastic space to lean against and read your favourite blog (hint, hint) before drifting off to sleep. Its pared back palette is the ideal backdrop for the 'Isobel' Plum Quilt Cover Set. The cotton rich percale print showcases dark tones interspersed by a pale floral design, combining to achieve dramatic décor.
With some rich timber pieces to match the legs of the bed, a pair of scatter cushions in lush tones and a textured throw (like the Lark Throw), you'll have the perfect bedroom for dreaming big and revelling in those tiny moments that make life so worthwhile.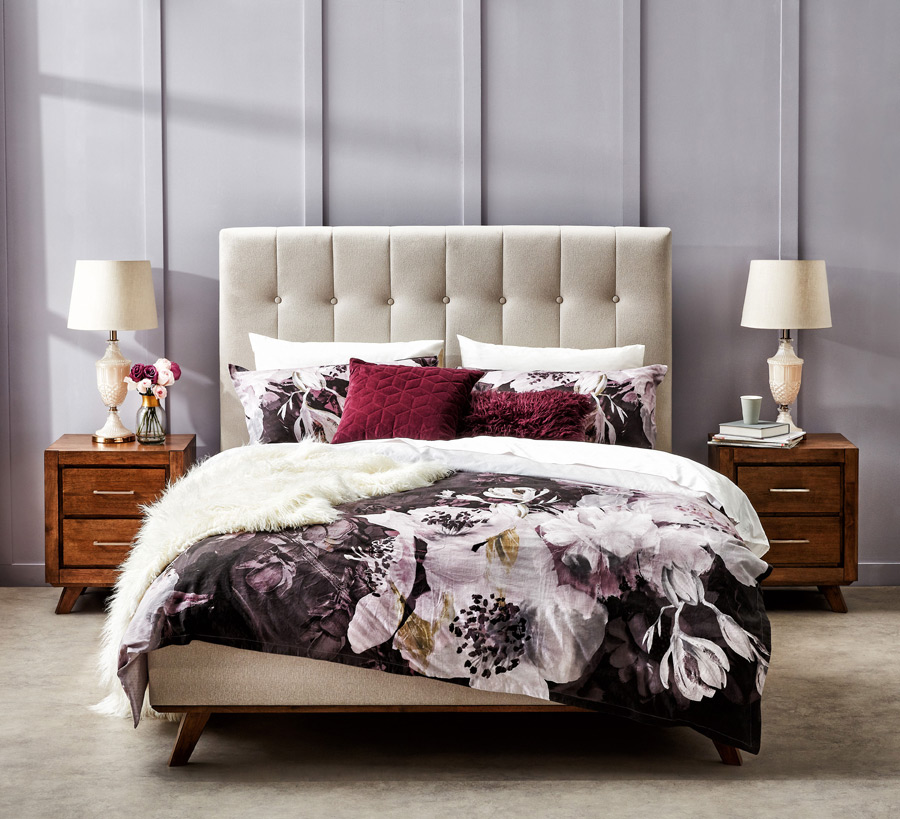 4. Add a touch of drama
The magnificent design of the 'Winona' Quilt Cover Set takes old world opulence and refreshes it in line with the bed linen trends of 2018. The print uses beautiful flowers taken from historical documents, which have then been recomposed and styled to create a stunning pattern in rich tones of deep red, blue and green. The soft cotton slub creates a soft and cosy fabric that is just right for snuggling during those cooler months. The effect is eye-catching without appearing ostentatious.
Paired with the Australian made 'Donna' bedhead's pale linen colouring, the 'Winona' really comes to life in exquisite detail.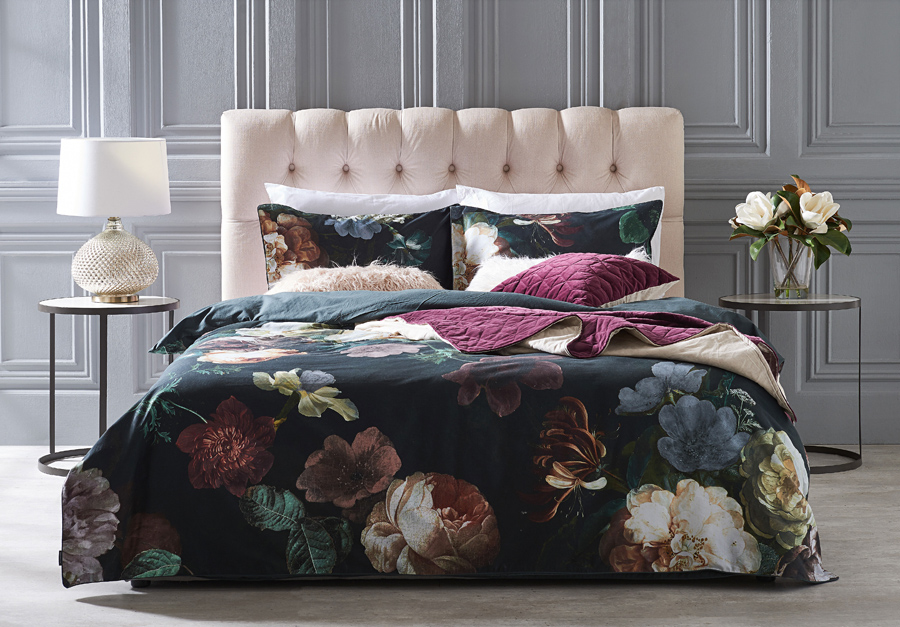 5. Choose a clean slate
The 'Marcella' Quilt Cover Set in brilliant white will be at home in any existing bedroom décor. The traditional elegance boasts a beautiful cotton jacquard weave that gives the fabric a surprising depth while still maintaining its versatility with a range of interior decorations. The matelassé design has great definition, creating a textured look and feel.
Paired with the 'Donna' Bed Head, the mild hues combine to create a clean and polished look. Add a pop of colour with a decorative throw and stylish cushion (or two) to really liven up your space. Think cool, crisp shades of blue, green or purple for a calm and welcoming space.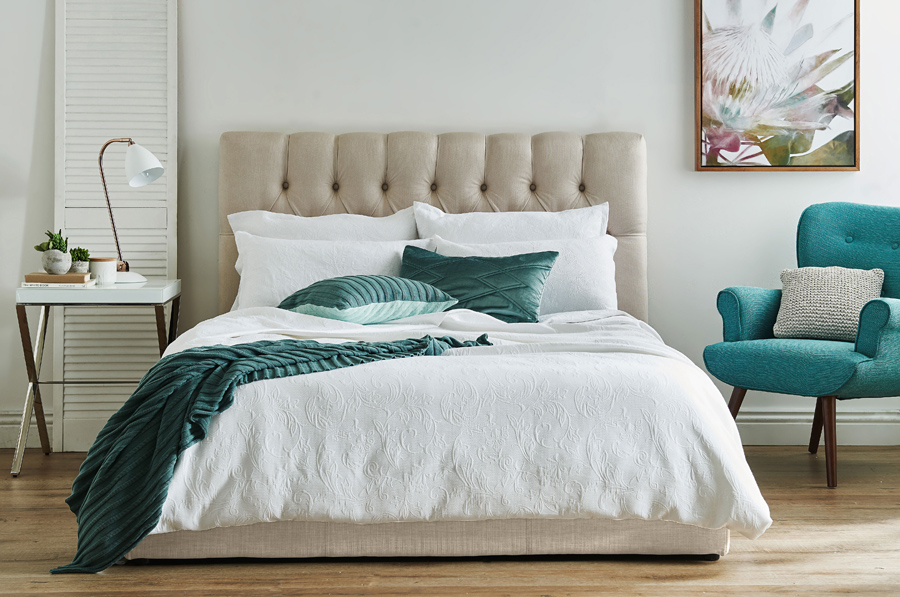 No matter style of bed linen you're drawn to, the right accessory can change the look and feel of your bedroom. This season is all about colours and textures – layering plains with feature pieces, mixing soft textures with rustic weaves, and combing florals, rich colours and fun prints to add warmth and express creativity. Your bedroom is a representation of you, after all.
Harvey Norman has plenty of manchester options to choose from – find out more online or head in store where our friendly bedding experts can help you out.