Step into Harvey Norman on any given day and you'll find people enthusiastically perusing the extensive furniture range. What is it they are looking for?
Comfort and support is of course at the front of mind – as is aesthetic style. In recent times, however, another vital element has come into the collective conscious: functionality.
The appeal of furniture with function has coincided with the ever-surging popularity of minimalism. Inspired by the likes of decluttering queen Marie Kondo, home-owners and renters are seeing the virtue of space-saving furniture that can offer functionality such as hidden storage, built-in power chargers  or simply the ability to vary its size to suit the occasion.
To help you discover the possibilities, we've put together a list of our favourite functional furniture options from Harvey Norman. Beautifully designed, the following combine those all important cornerstones of comfort and style with functionality, resulting in pieces that will enhance your home with both charm and convenience.
Functional Furniture Option #1: A Space-Saving Solution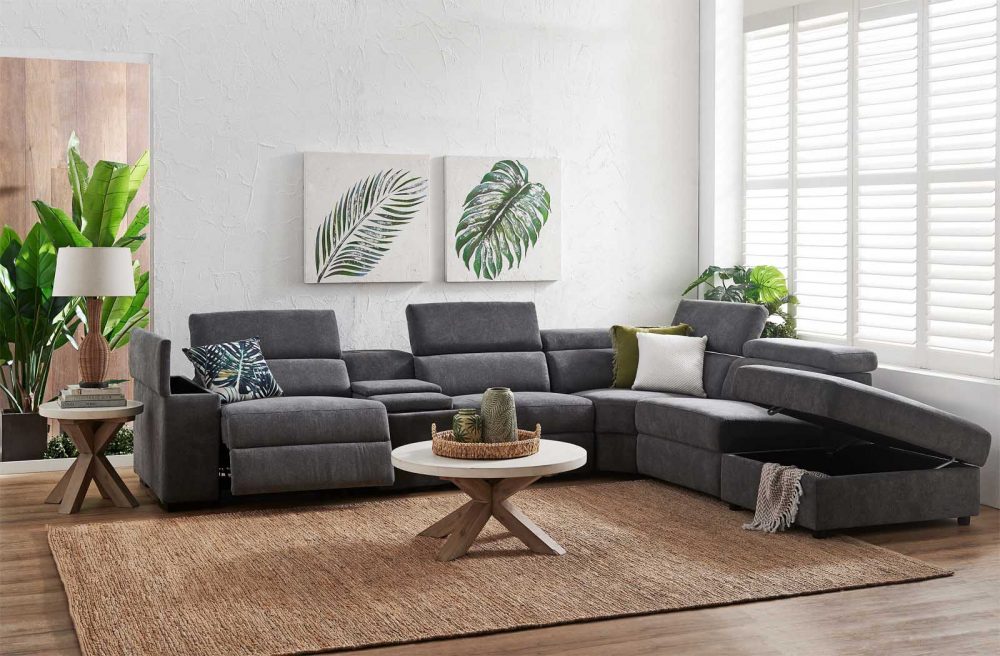 Whether you're low on storage space or you want a functional lounge suite that does it all, look no further than the 'Carnaby' 6-Seater Fabric Modular Lounge Suite.
With its modern style and velvety-soft upholstery, the 'Carnaby' comes with plenty of practical functions to keep your home looking presentable while also converting your living space into a more convenient place to relax. The storage armrests, pull-out drawers and storage ottoman provide an abundance of space to stash extra throw blankets for the upcoming winter months.
The built-in home theatre console is equipped with power point and USB charging ports for keeping all your devices topped up, and cup-holders so your drinks are always close by. The powered recliner end and adjustable headrests are a luxurious addition for providing maximum comfort and support.
Functional Furniture Option #2: Do More with Less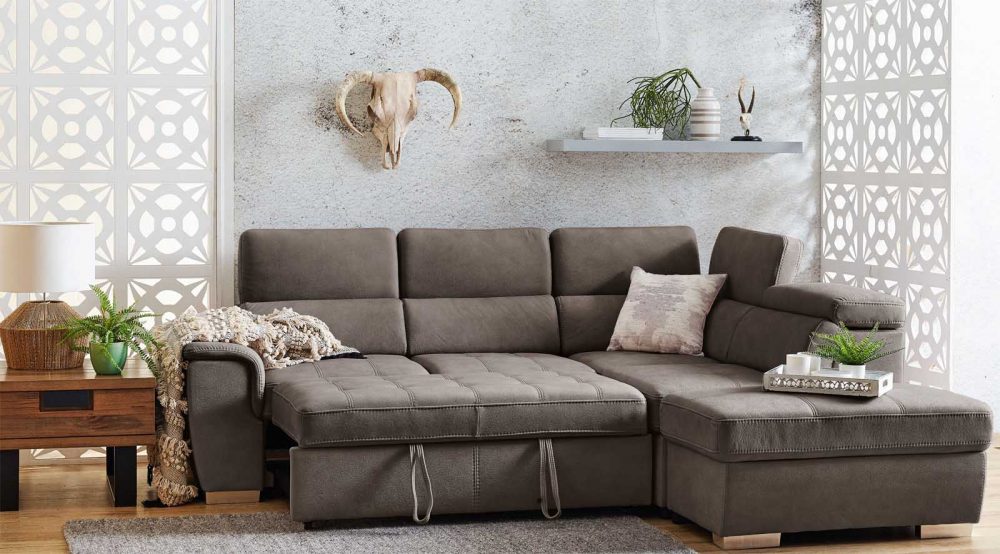 If you are the kind of person who offers to sleep on the couch when guests come knocking, this is the couch you'll want to have waiting in your living room!
Easily converted into a pull-out sofa-bed, the 'Capri' Fabric Corner Modular Sofa with Chaise is the ideal lounge for when spare bedrooms are in short supply or if your legs are just aching for some extra space. The chaise, available in left- or right-hand facing options, provides more legroom, whilst the ottoman provides space with a lift-top for storing magazines, games, and other items. The five adjustable headrests make relaxing and reclining even easier whilst providing exceptional neck support.
The 'Capri' Modular Lounge Suite's sturdy Pine frame is reinforced with a spring/webbing seating support system, while the cosy fabric upholstery's accent stitching creates a contemporary and inviting design sure to suit your space.
Functional Furniture Option #3: Expand When the Moment Is Right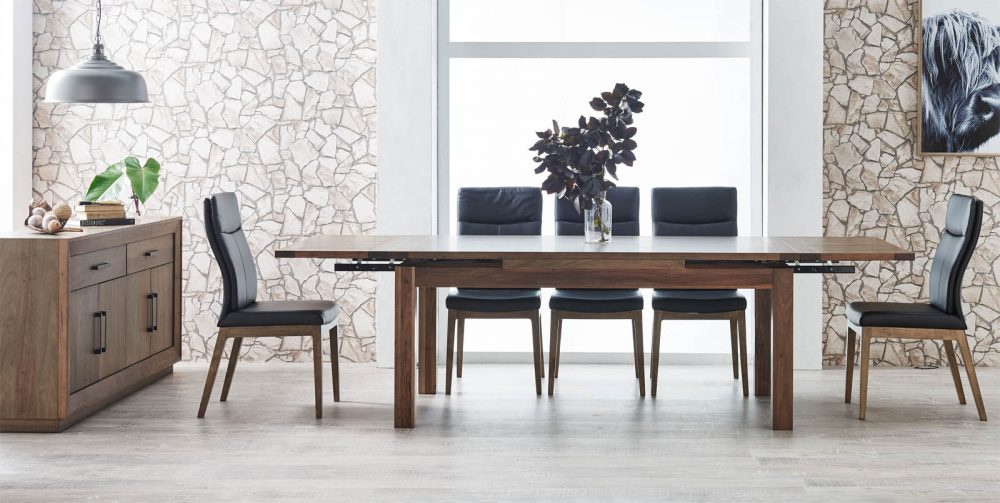 When living in a smaller home or apartment, minimising the amount of furniture around you is essential for maximising space. Functional furniture for small spaces play an important role in accommodating more people when the time is right, whether you have a growing family or you like to entertain.
The great news is that we think we've found the ultimate dining option to both save on room and make sure everyone has a seat at the table: the 'Riverland' 9-Piece Rectangular Dining Suite. This extendable dining table is capable of expanding from just 180cm to an incredible 280cm wide! Simply retract the tabletop when not in use to give your space extra room.
The 'Riverland' features trending square and flat line designs to make it appear slimmer and is accompanied by durable Polyurethane upholstered dining chairs, which makes maintenance a breeze.
Functional Furniture Option #4: The Tech-Infused Sofa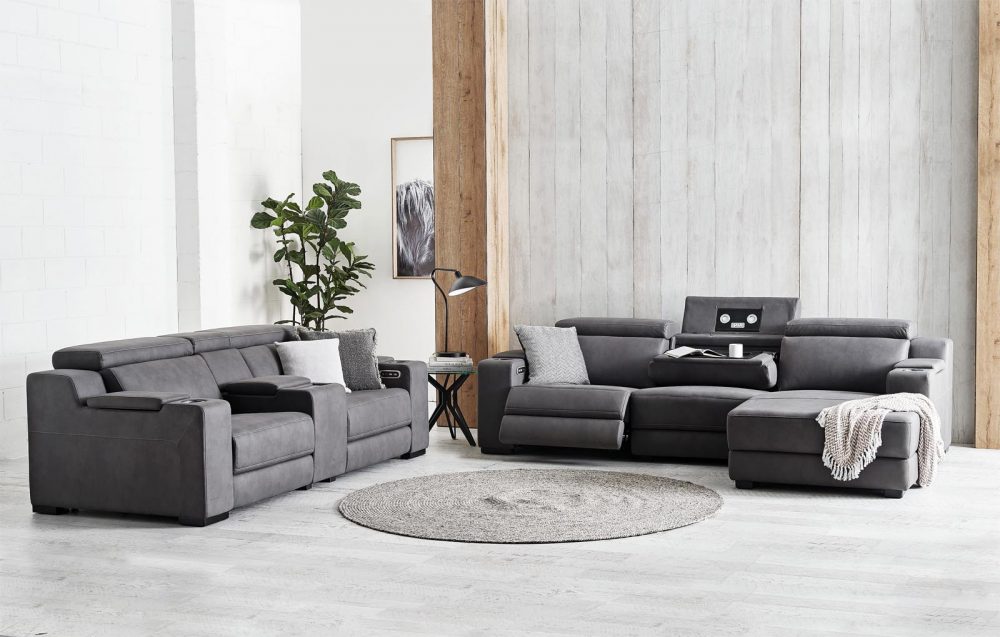 Boasting the ultimate setup for movie buffs, gamers and entertainers alike, the 'Seattle' 3-Seater is a contemporary design packed with so many creature comforts you'll never want to leave the couch again!
Constructed from durable hardwood timber and Zig-Zag springs, the 'Seattle' features generous full-width seats so guests have plenty of space to spread out.  Create the perfect cinema-like experience with built-in power headrests, a powered recliner and luxurious plush Cantara suede upholstery.
LED reading lights and LED-lit cup-holders, available in seven different shades, mean you won't spill your beverage when the lights are down! The drop-down tray table also features storage in both armrests and a USB charger so stoping the movie to search for your power cord becomes a thing of the past. With all these functional features built into your recliner sofa, you'll be wondering what you were doing without them!
Functional Furniture Option #5: Kick Back, Relax and Store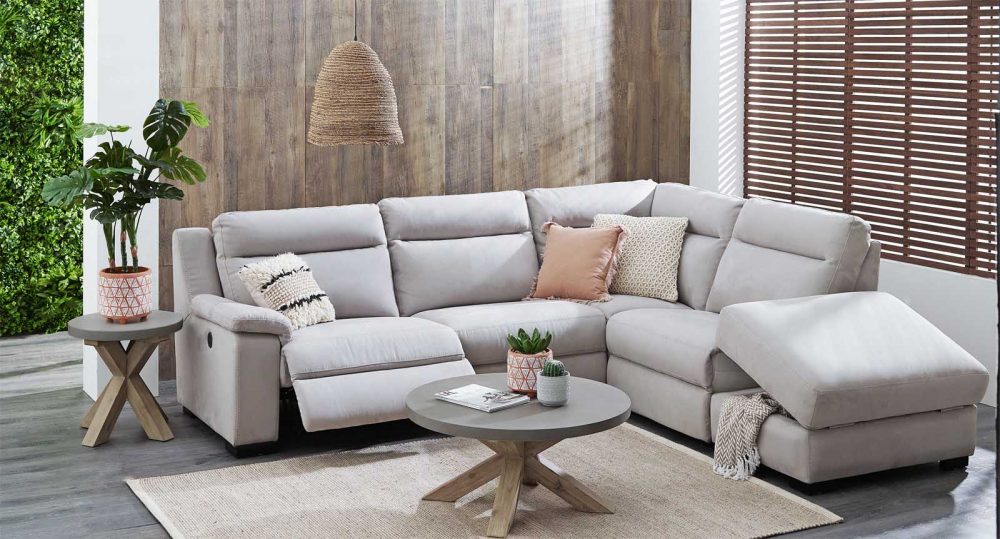 The picture of plush, luxurious comfort, the 'Boulevard' 5-Piece Modular Sofa with Chaise combines a snug, modern look with a multi-functional design.
Featuring a quality timber frame and cushioning upholstery, the 'Boulevard' comfortably seats five people who will be sure to adore its softly rolled head cushions and armrests, as well as powered reclining seat. The included chaise provides extra leg-room and doubles as a lift up storage space for cushions, books or throw rugs.
Contemporarily casual yet versatile, the 'Boulevard' allows you to make the most of your living space thanks to its adaptable modular design, which is available in left- or right-hand facing options. If you're after a functional sofa that can suit and fit any space, then this is indeed a superb choice.
Functional Furniture Option #6:  Boom! Declutter The Room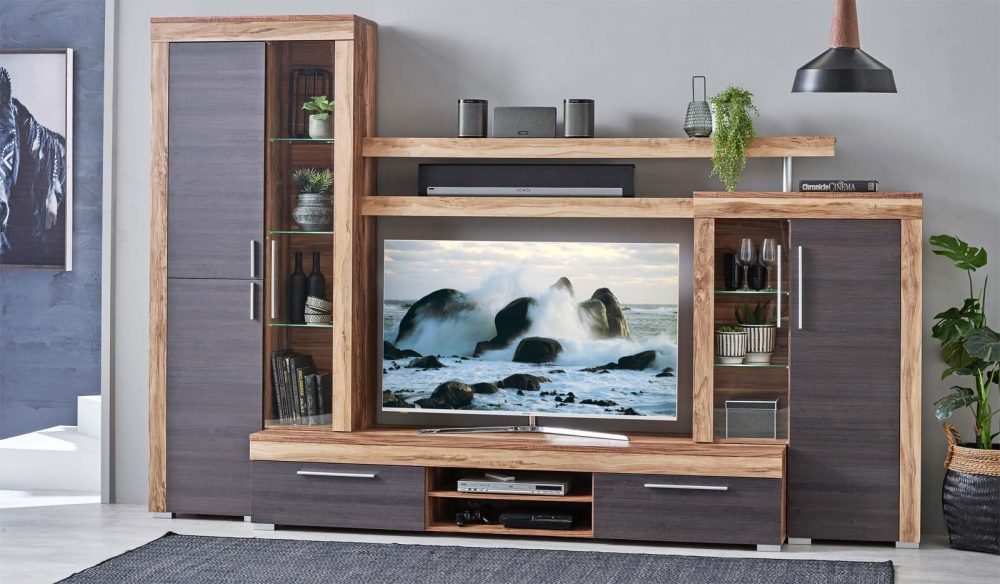 The 'Boom' piece is more than just a TV unit. Rather, it's the epitome of functional furniture.
The decorative timber-toned shelves have been made for displaying your favourite decor items while the storage drawers and open shelving towards the base of the unit can house an array of consoles or media players.
The stylish semi-transparent tempered glass display case, with glass panel shelving and LED lighting, is ideal for proudly showing off collectables whilst still protecting them against dust and clumsy hands. With the ability to fit up to a 76-inch television, the 'Boom' is a versatile storage statement piece that is available in three different sizes – meaning you can match it to your space.
If you're after an alternative colour to match your home decor, the great news is that the 'Boom' Home Theatre Unit is also available in grey and white.
Where To Buy Functional Furniture
Want to discover more clever functional furniture options for your home? Browse Harvey Norman's furniture with function online, or shop the range by heading into your local Harvey Norman store. Our friendly staff will be on hand to offer you expert advice and make your customer experience as smooth as can be.