For a teenager, the two most important places in the house are the fridge, and their bedroom. And while you can try your best to keep them out of the fridge, you'll be hard pressed to get them to leave their room once their door is closed. A teen's bedroom is the ultimate escape, where they are free to chill out and just be themselves.
As your kids grow and develop it's essential that their room gets updated to reflect their changing needs, and moving into a new school year is the perfect time to do so. New friends might be influencing their style, new classes will influence their study needs, and perhaps they're experiencing the inevitable growth spurt that means a final farewell to their childhood bed.
As most parents will tell you, staying on the same page as your teenager can be difficult at the best of times. So when it comes to something as precious as their bedroom, it's important to get it right. If you're stumped for inspiration for teen bedding ideas or simply wondering what is the best bed for teens, don't stress. At Harvey Norman we have an amazing range of girls and boys beds, and we've put together a look at 6 of our best Teen Beds that both you and your kids will love! Read on to see our favourites for the New Year.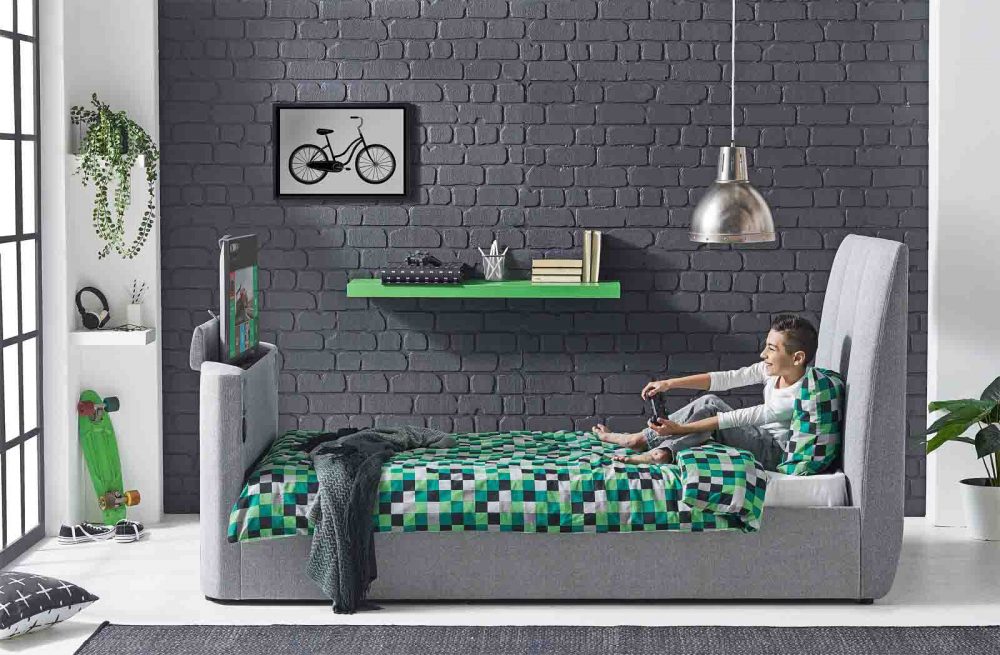 The ultimate teenage escape, the 'Fort' bed is an entertainment lover's dream. This generously sized teen bed has everything needed for your youngster to chill out in style. They can relax up against the comfortable bed head, upholstered in light grey fabric, plus as a king single it provides room for even the tallest teens to stretch out.
The 'Fort's' crowning feature however is the built-in hydraulic TV lift with Bluetooth speakers, which can hold a 32" TV! Connecting a TV to the bed's audio system is so easy with the supplied optical cable, while gaming consoles, streaming devices and other accessories can be connected via additional HDMI cables. When not in use, the hydraulic function can neatly hide their TV away.
This contemporary bed for teens looks great with the 'Pixellation' Quilt Cover Set, with bold colours inspired by the world of gaming, truly making this set up a gamer's delight.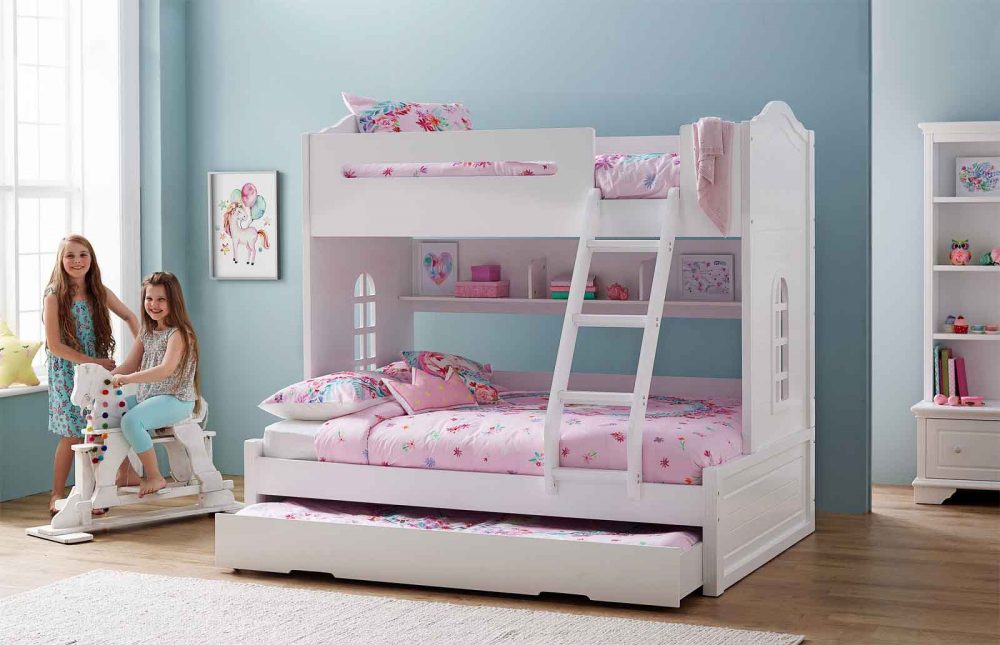 With a spacious double bed on the bottom, a single on top, and optional single trundle underneath, the 'Luna' Bunk Bed will make your young teen the true queen of the sleepover. Also a great option for  siblings sharing a space, this teen bed has a fresh, white finish and sweet, old school charm that can also be styled to suit modern and Beach Chic home decor. A built-in bookshelf on the bottom level also makes for a cosy reading nook, the ideal hidey-hole for young book worms. With a sturdy frame and ladder, you can rest easy knowing this bunk for teens holds the FURNTECH Orange Tick certification.
Complete their room with the matching 'Luna' Bookcase, a beautifully designed piece featuring ample storage space.
3) 'Nest' Bed for teens who want to chill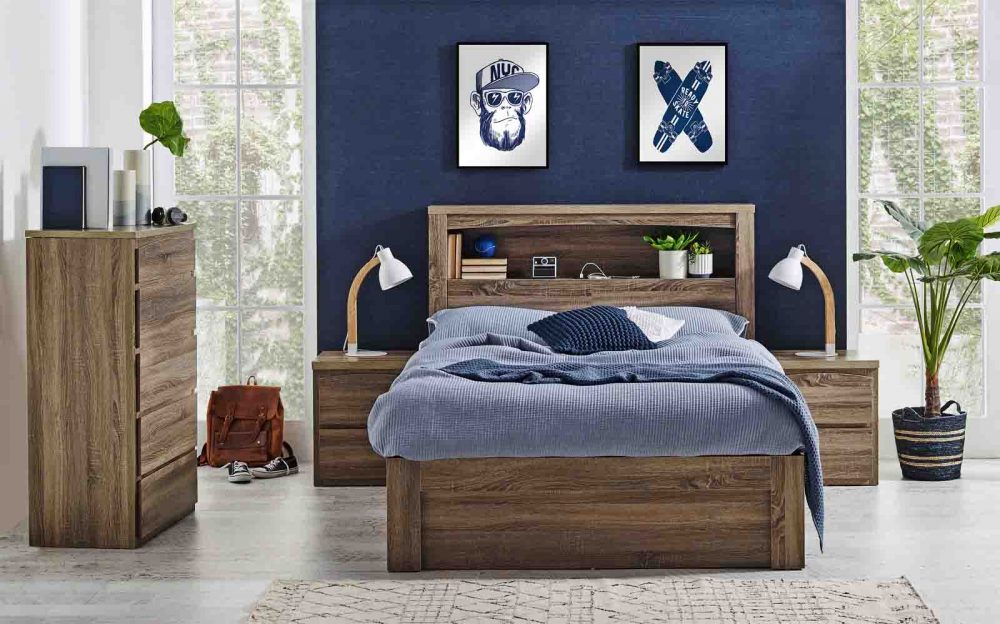 As your teen grows towards a young adult, their bed and bedroom style should develop with them. The 'Nest' bed in Oak colour is a great design to serve them through the years, with a contemporary style that is available in all sizes from Single to spacious King. The stunning statement headboard features a handy shelf, plus LED lights for night-time reading, a wireless charger and USB port.
This bed for teens is also a storage dream, with handy under-bed compartments that are easily accessible via a safe and convenient gas lift mechanism. Alternatively, it's also available with storage drawers if gas-lift is not your preference. With the 'Nest' Bed as the hero of the room – and the matching Bedside Tables and Tallboy completing this teen bedroom collection – they won't have any excuse not to keep the floor tidy!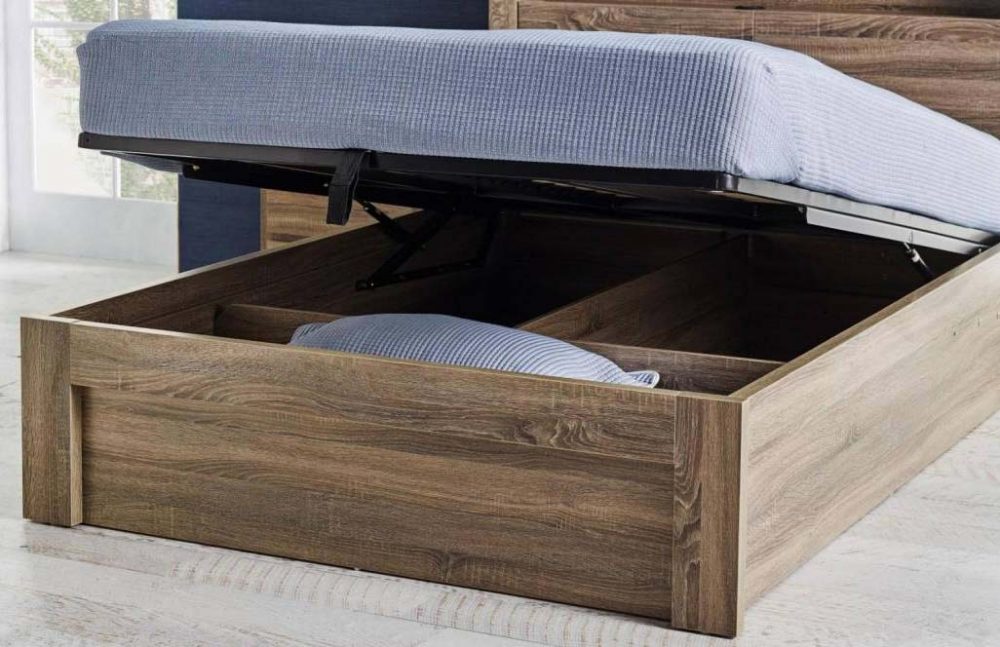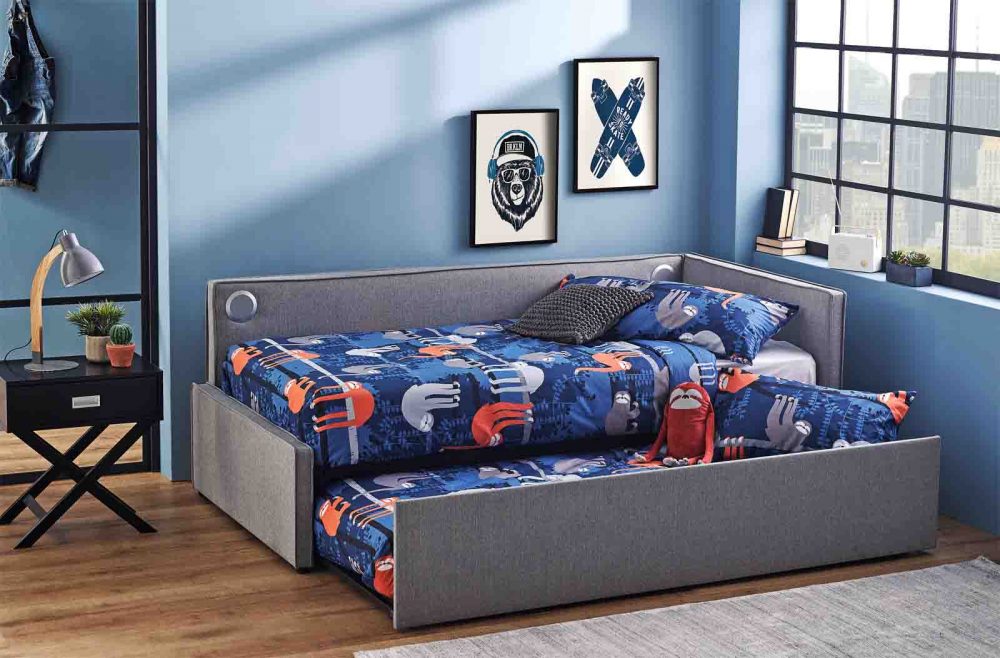 With a relaxed day bed look and feel, the 'Elm' will be irresistible to your sleepy teen. Featuring a built-in trundle, the 'Elm' is the ultimate option for overnight guests creating two comfortable king single beds for teens. Pop-up legs mean this bed can also join and transform into a large King Size bed, for your teen to sprawl in total comfort. It also houses great features such as handy in-built Bluetooth speakers and a USB charger, making connecting their devices and enjoying their favourite music so easy.
The 'Elm' King Single Trundle Day Bed is pictured here with the 'Lazy Days' Quilt Cover Set, featuring an eye catching design and a lovable sloth theme perfect for your sleepy-head.
5) 'Denmark' Bed for teens who are after sophistication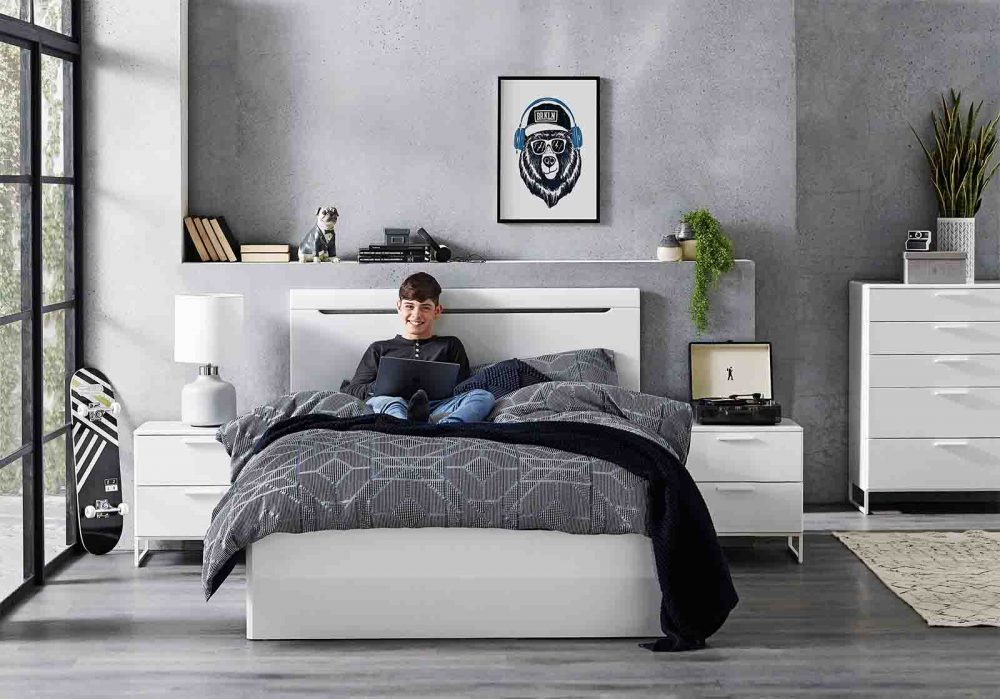 With a stunning modern white gloss finish, the 'Denmark' bed is ideal for bringing a touch of contemporary sophistication to your teen's bedroom that will take them through to adulthood. Made from sturdy engineered board with a generous frame, this spacious teen bed also features concealed storage drawers on either side. The 'Denmark' will effortlessly suit any decor, no matter your teen's taste and is a fabulous backdrop for them to experiment with their style over the years to come.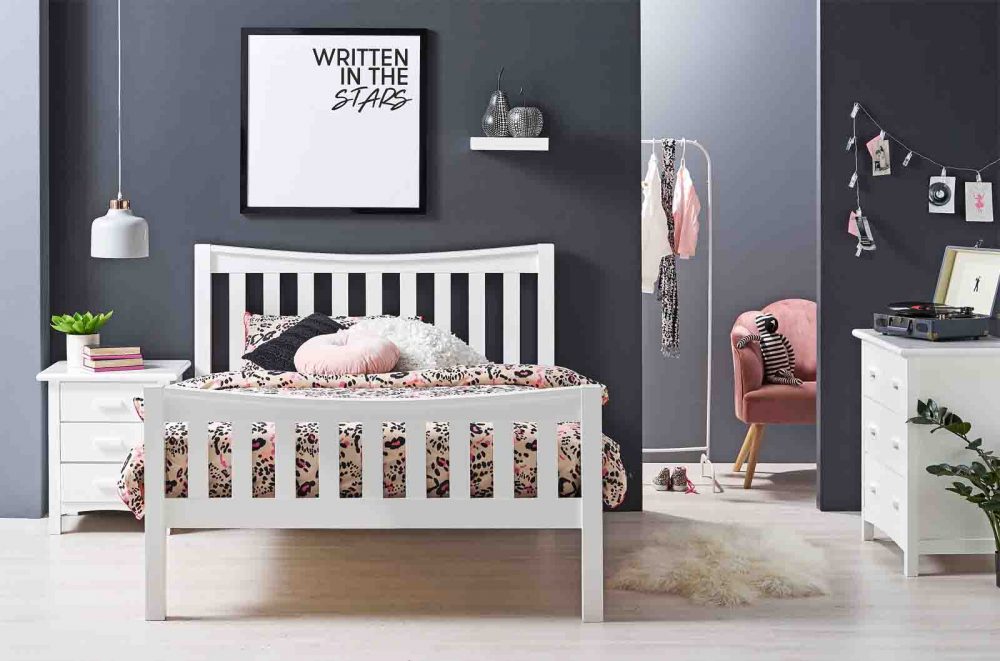 With an all-time classic look, you can be sure your teen won't out-grow the 'Melody' bed any time soon. The stunning Hampton inspired design in white will be the centre piece of the room, plus with other great pieces in the 'Melody' range including a dresser and a desk, you can create a calm and cohesive space for both work and play.
The 'Melody' is pictured here with the sassy 'Animal' Quilt Cover Set, a great addition that will revamp your teen's bedroom and keep them in the latest print and style trends.
Discover More Beds for Teens
Whether your child is just entering teenagehood, or is moving towards a young adult, it's essential that their bedroom is somewhere they can sleep, study and relax in total comfort.  Whatever their style preferences, you'll find something both you and your child will love with Harvey Norman's extensive range of teen bedding. View these styles and many more awesome teen beds and bedroom ideas online, or visit us in-store today to chat to our friendly expert staff.
On-Trend Beds for Younger Kids
If your kids aren't yet teens, you should definitely check out our look at On-Trend Kids' Bedding for the year ahead. You'll discover some of the best kids' beds and Manchester for the juniors, all of which will spark your inspiration!