The art of bedroom decluttering has taken the world by storm – and it's all thanks to Marie Kondo! From her inspirational Netflix series, Tidying Up with Marie Kondo, to her bedroom organisation hacks which can be found all over social media, Australia is falling in love with the idea of living a decluttered lifestyle.
At the heart of Marie Kondo's bedroom decluttering philosophy is one simple question: does an object spark joy? If not, out with it.
As someone who personally loves both a good clean-up as well as the Japanese-influenced clean and minimal bedroom style, I was curious to see what results this test would have in my own place. Two ruthless hours, four full-size garbage bags of junk and one much neater, tidier and straighter bedroom later; I'm certainly a firm believer in the Marie Kondo method.
The challenge is now to keep it that way, as those of you who have already decluttered will know. The rate at which possessions start to re-appear can be astonishing. Storage options – like those from Harvey Norman – are the best way to ensure things stay organised. So, to help you keep on top of your bedroom decluttering game, here are 6 tips for maintaining an organised stress-free bedroom.
1.     Use your under-bed space wisely!
Under the bed isn't just a place for monsters to hang out. It's a vast and often unused space that is great for storing things away and out of sight. Beds with integrated storage are simply fantastic for making use of this room.
One such innovative bed storage solution is Gas-Lift.  This opens up the entire area under your mattress, letting you take advantage of the ample storage space. A fine example of this is the stylish and versatile 'Remi' – available at Harvey Norman. Its optional gas-lift base lifts your mattress up to reveal a cavity that's ideal for storing your pillows, blankets and sheets. It's a great bedroom organisation hack!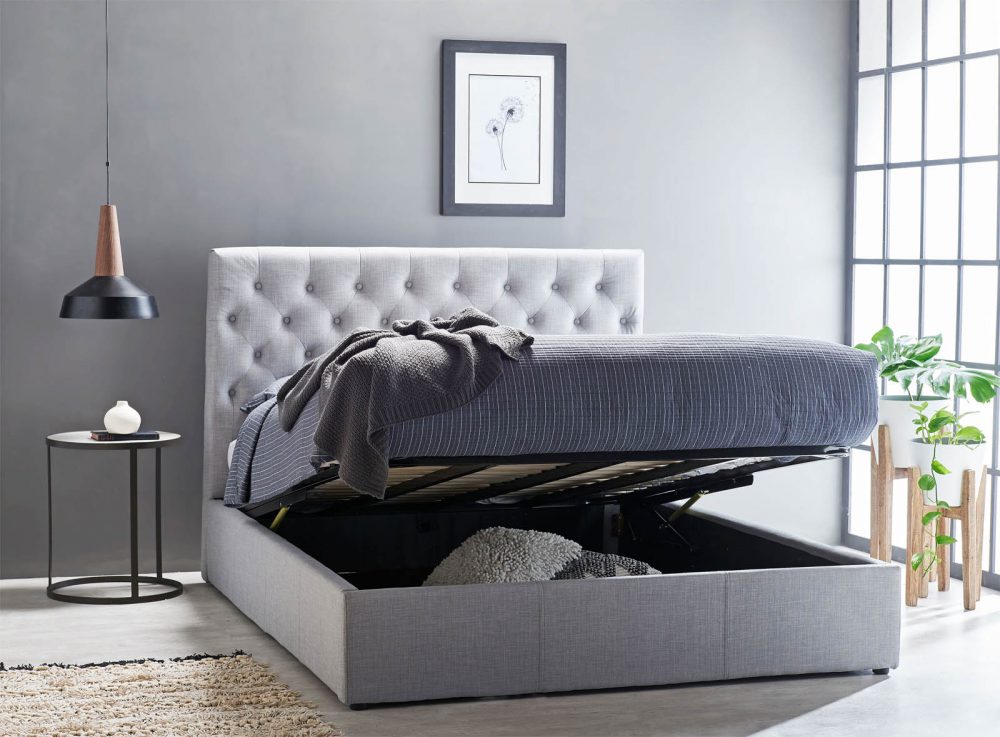 Electric lift beds are an option that makes it even easier to access your hidden storage space underneath! Take our 'Rhyne' electric-lift bed for example:
The 'Rhyne' also comes with some other hidden tricks. Pockets on the underside of the base let you store important documents or small items. Meanwhile, the base can also lock closed, making it a secure place to store valuables.
Do it with Drawers
Drawers in the base of the bed are another inspired under-bed storage option. They're great for organisation, allowing you to dedicate one drawer for pillows, one for blankets, and so on.
Drawers aren't just a feature of timber beds. Fabric bed drawer options are available too, and you can also choose between two drawers or four. A great example of this is the 'Caren', a sleek and modern fabric bed offering a huge four drawers' worth of storage space. If you have a lot of things that spark joy, this large-capacity bedroom storage solution is for you.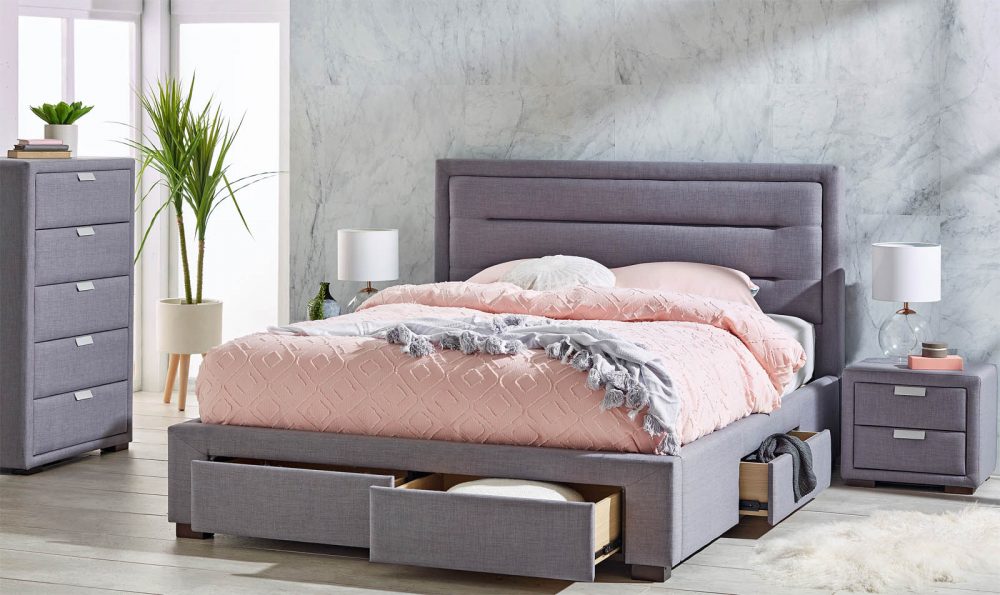 The 2-drawer 'Tiffany', resplendent in a classic white timber design, is another fine storage bed option.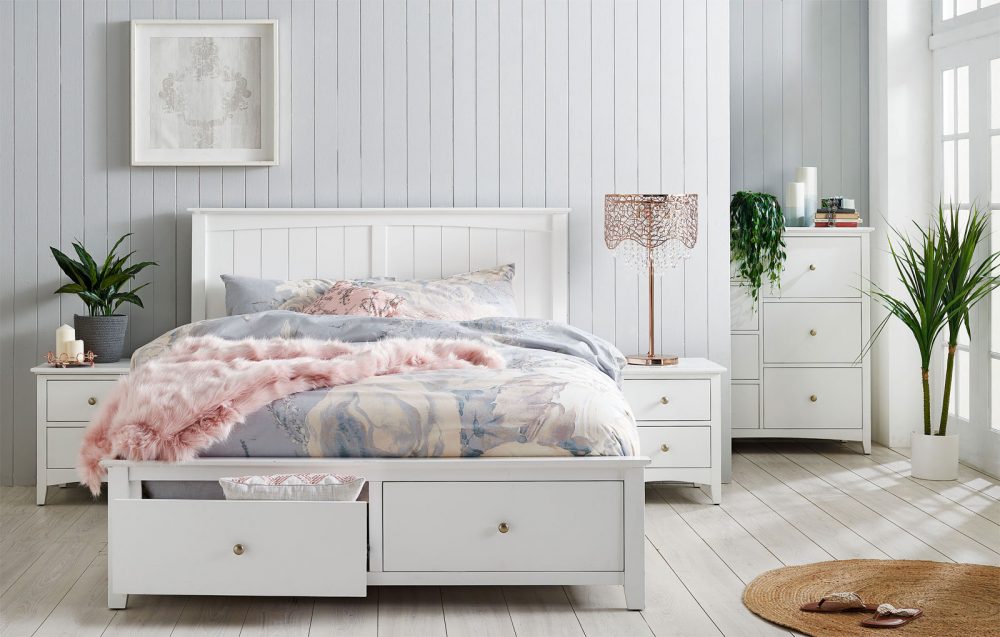 2.     Vertical Storage: Up And Away!
If you live in a major city – or even the suburbs – you'll no doubt have seen an abundance of apartment towers lately. There's a simple principle behind this: when land area is at a premium, the only way to go is up. You can apply this philosophy to your bedroom. When floor space is limited and you're looking for a clever small bedroom storage solution, a smart choice is a bed head with vertical storage.
For instance, the 'Delta' bed's integrated shelving in the bed head is a great place for your books, devices and other trinkets (as long as they bring you joy, of course). Again, it doesn't consume any extra floor space.
An option with even more space is the 'Dove', which features enough room in the bed head for your throws or even a blanket or two. A much better alternative than the floor, which is where those kinds of things often seem to hang out!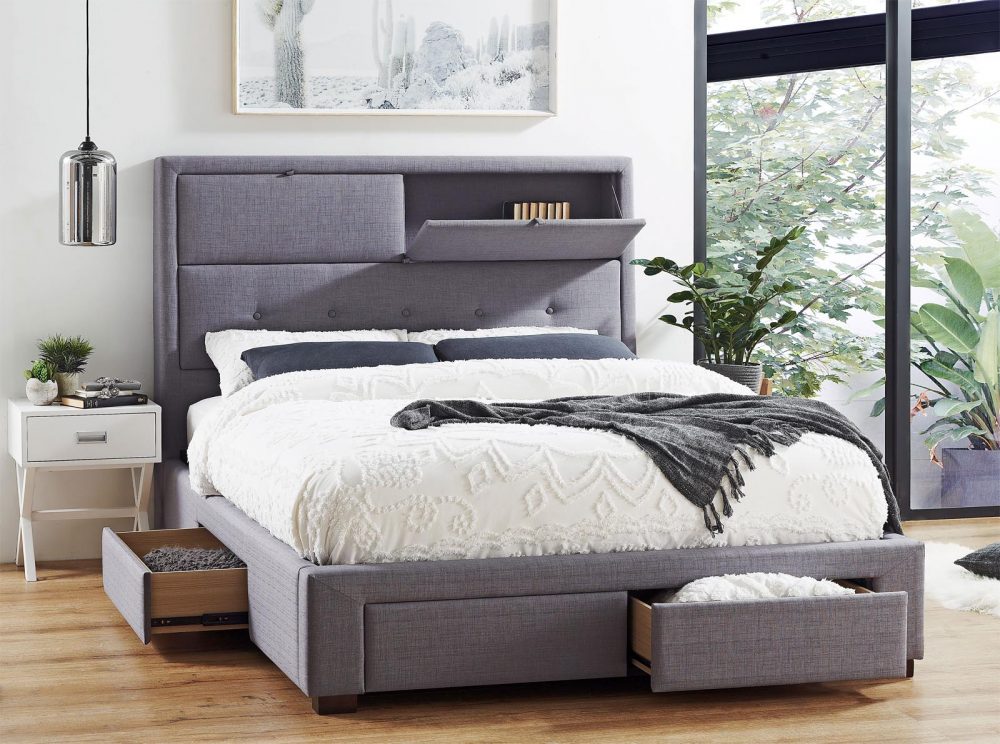 3.     Spacious Storage
We have superb bedroom storage solutions for small rooms. However, bedroom furniture organisation becomes a lot easier when you have space to play with. A larger bedside table such as the classic timber 'Topaz', seen below, offers the option of large, deep drawers.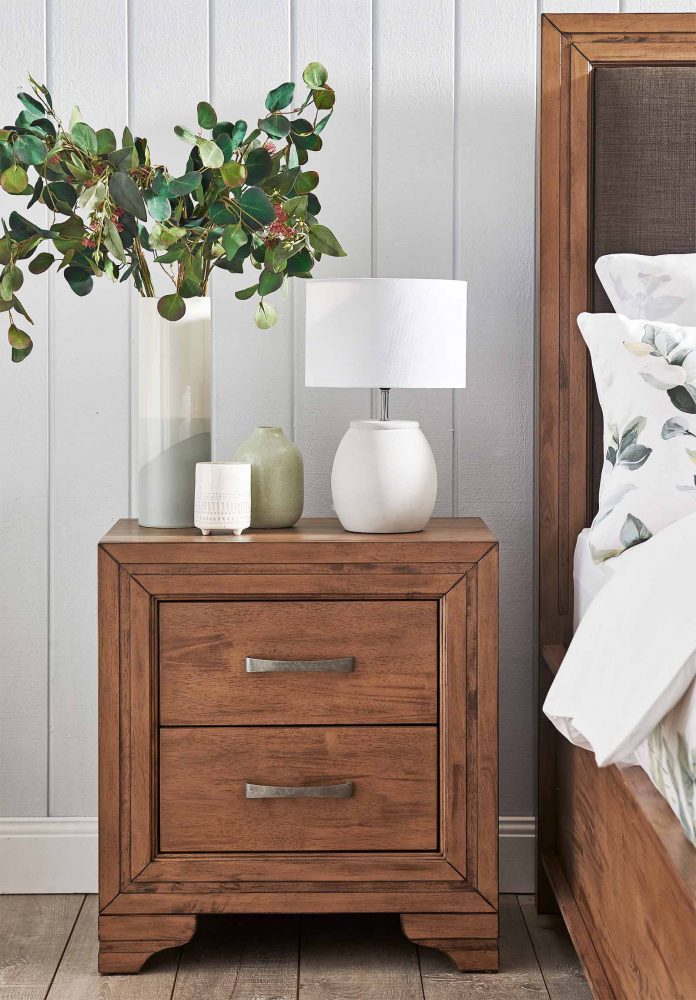 A bigger bedside table, like the gorgeous 'Alaska', opens up the possibility of having multiple drawers that let you easily categorise.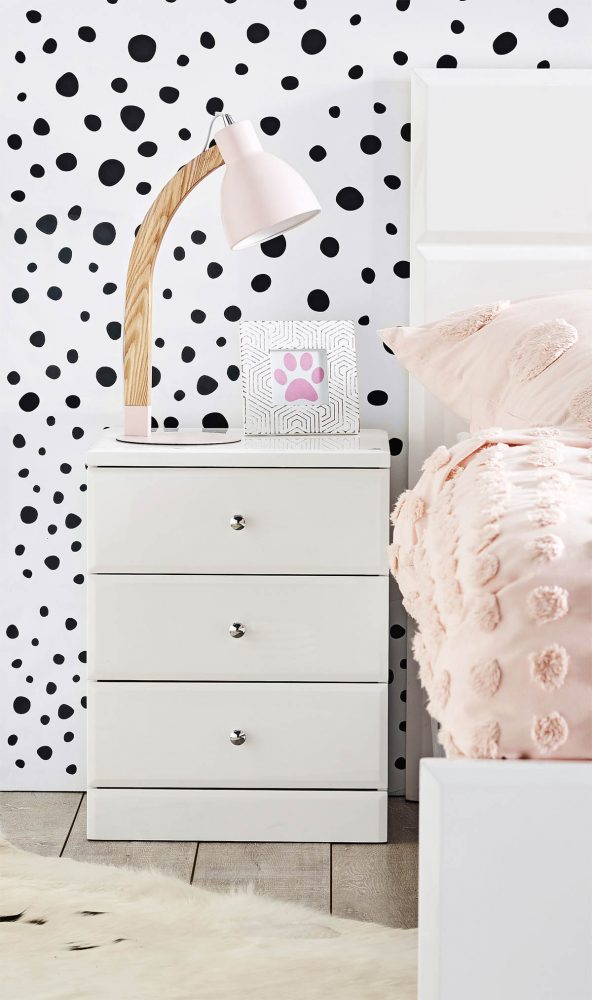 Meanwhile, the 'Alison' is great for those looking for a bolder style, and can be matched with a 5-drawer tallboy.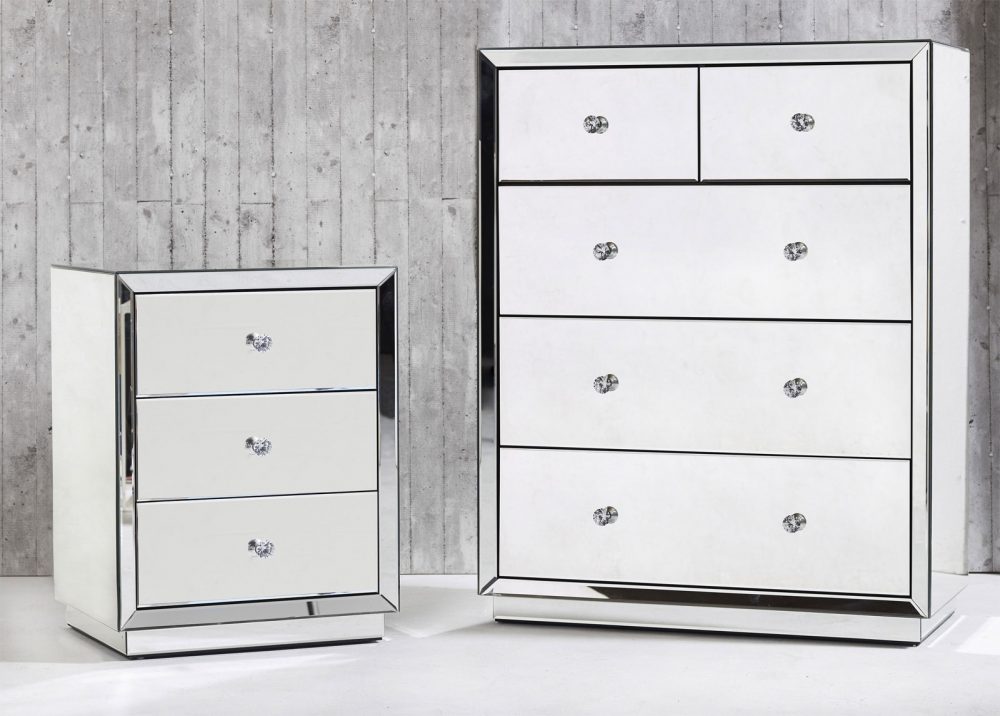 4.     Multi-function: Have Your Furniture Work For You
To achieve that next level organisation feng shui, you want furniture that can multi-function.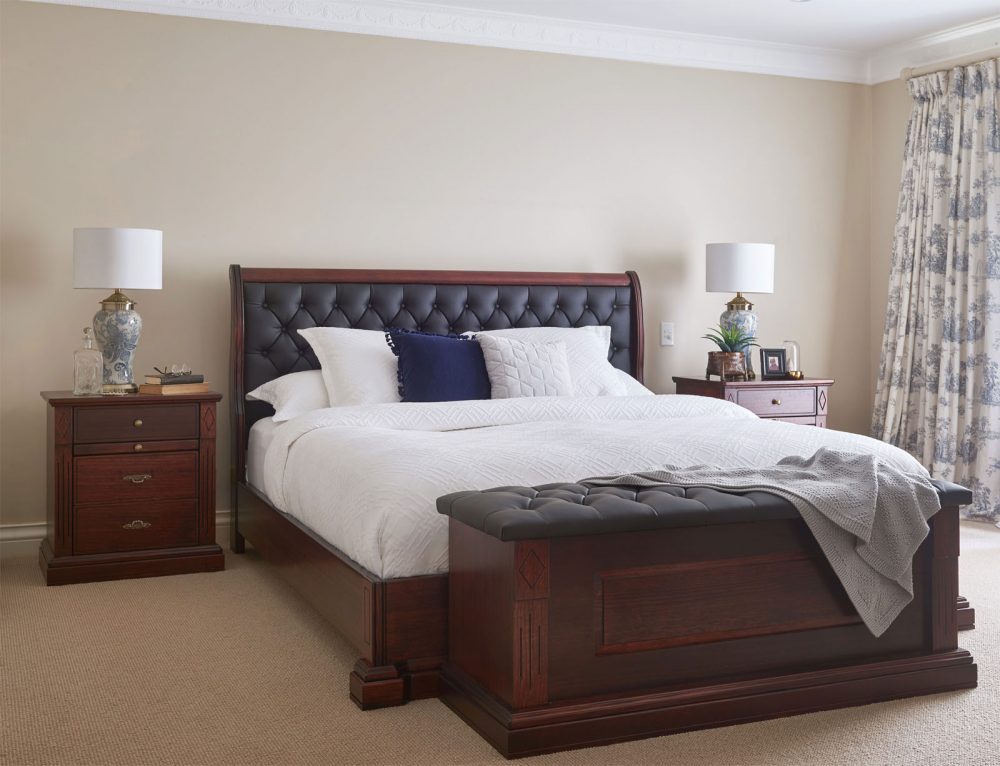 A foot-end storage box, such as the 'Charlotte' pictured above, is a terrific multi-functional piece. A storage box will not only provide a place for your extra linen, cushions, shoes and umbrellas, it is also a great place to sit and have a cuppa or read a book.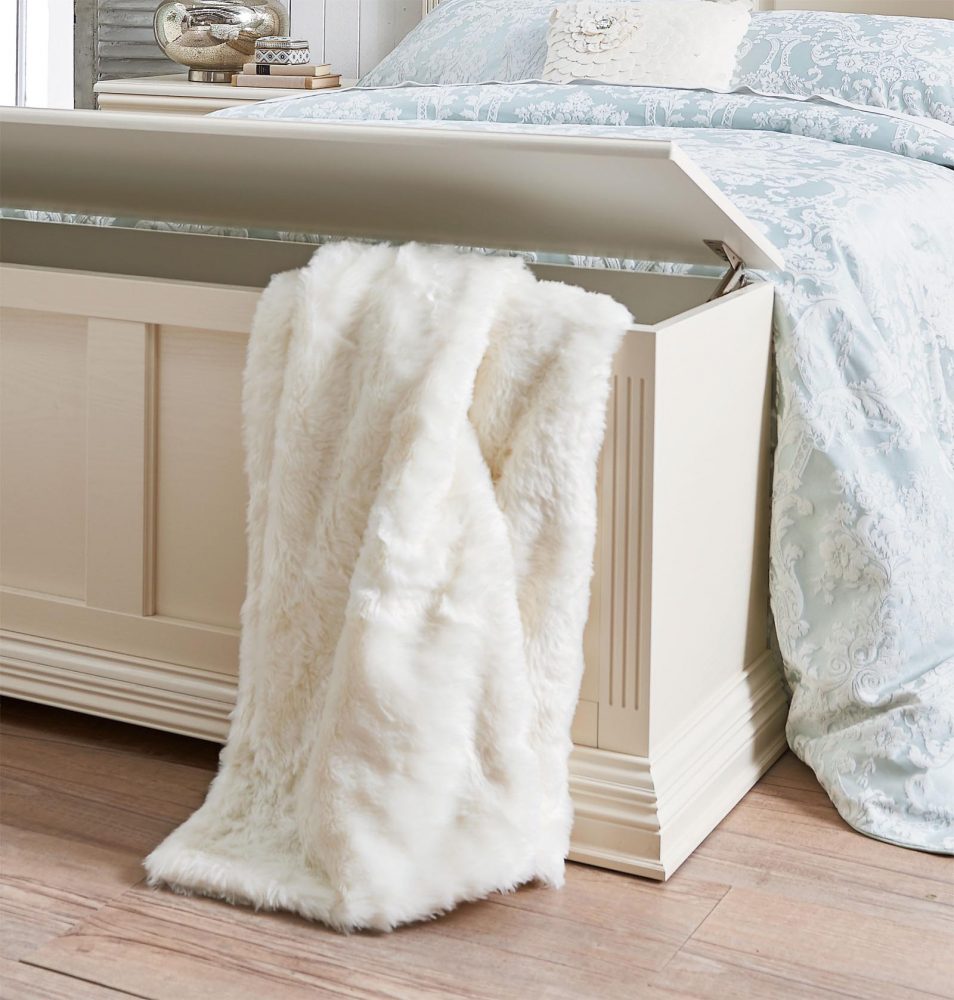 A storage box doesn't necessarily need to sit at the end of the bed. Pieces like the 'Victoria' (above) are more than stylish enough to stand alone.
Here's some out-of-the-box thinking: why not put one underneath a window, and create a peaceful haven for you to hang out and relax.
5.     Bunks Are Best
Going back to the theme of making the most of your vertical space, a bunk bed is simply essential for your children if they share a room. Two beds in one room will eat space like nothing else and prevent any sense of organisation. A bunk will free the floor space for additional storage furniture, as well.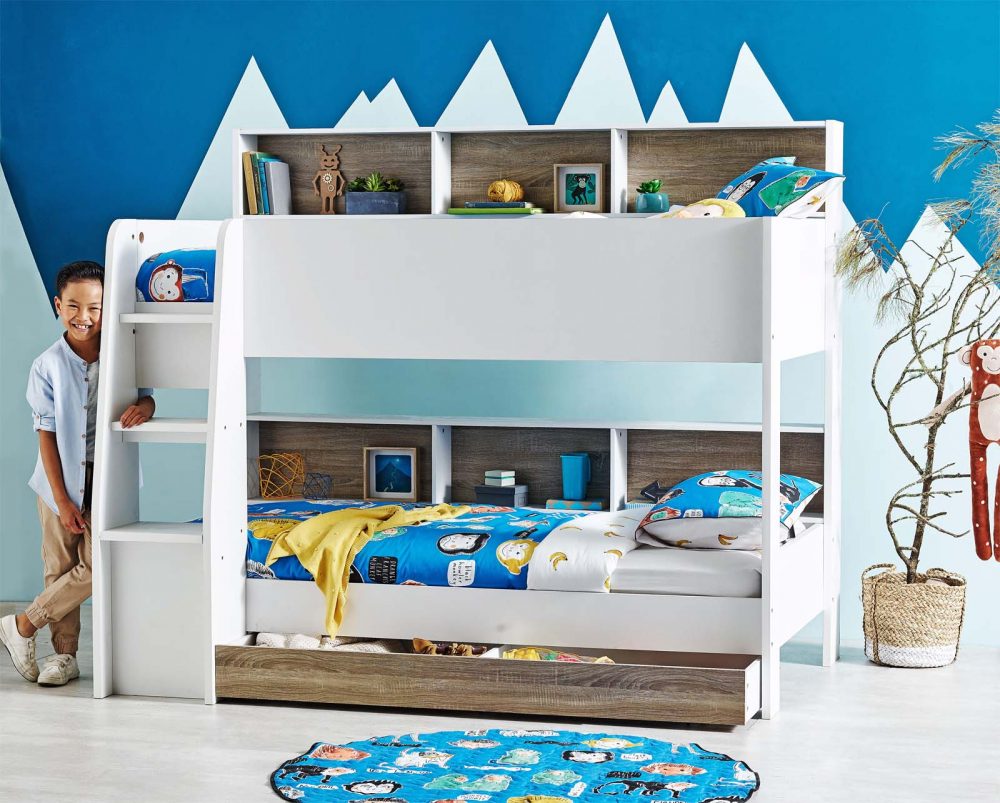 The 'Biblos', above, features a minimalist white aesthetic plus plenty of storage for their books and toys – another great example of multi-function furniture.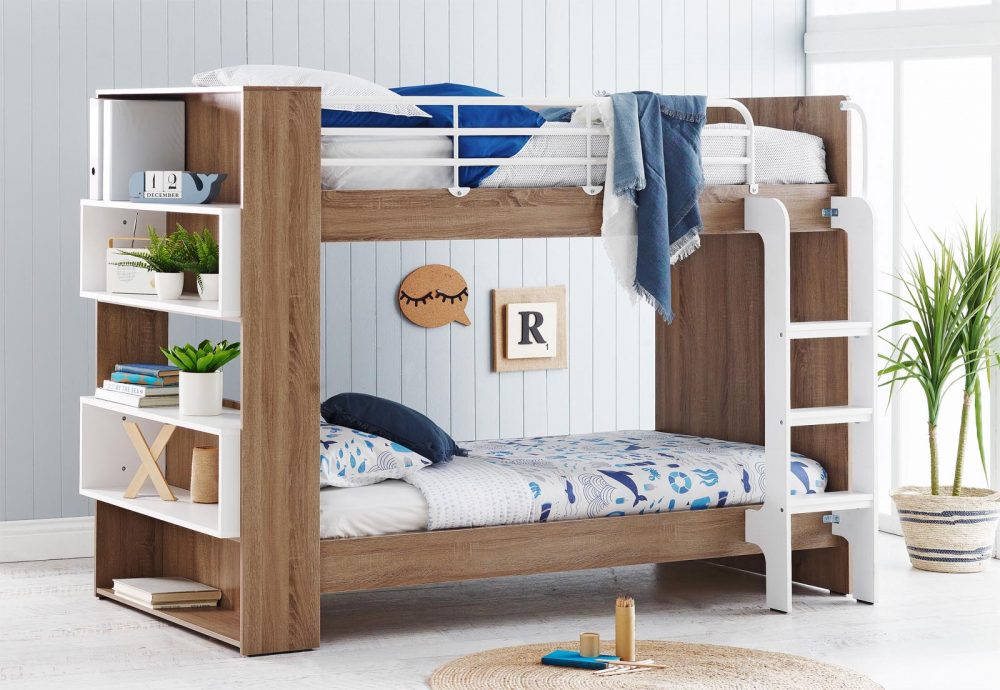 The 'Jayden' features a classic timber look, combined with clever shelving in white for a very stylish and practical result.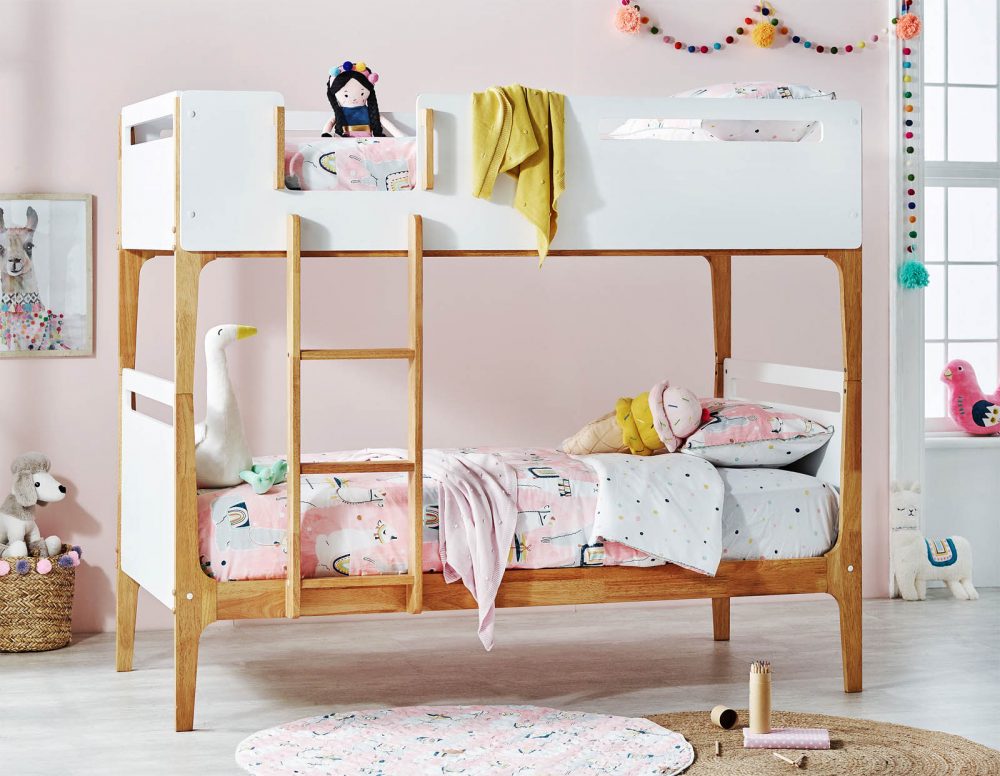 'Ava' is a nice and compact option for the little ones that will give you plenty of space to work with for storage furniture.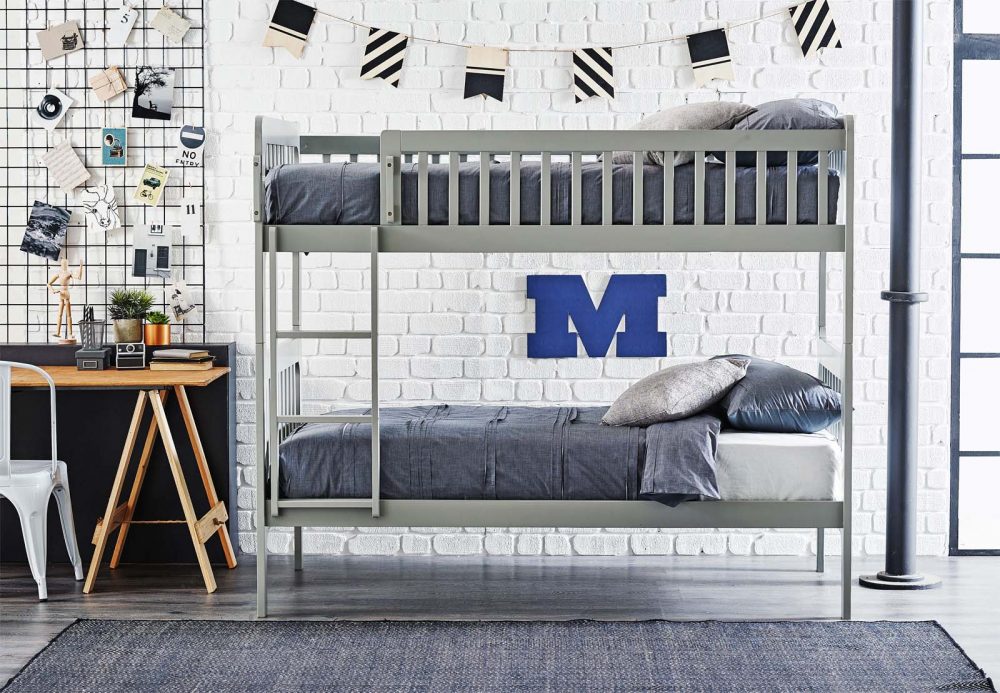 Meanwhile, 'Apollo' features stylish, lunar-inspired tones in a minimal, clean frame.
6.     Chairs Are For More Than Sitting!
Unfortunately, the biggest, easiest and most tempting storage space that most of us have is the floor. How easy it is to just dump something on the ground when you're tired and not in the mood for bedroom decluttering. However, let's be honest, a floor full of clothing is not exactly something Marie Kondo would approve of.
If you're a dyed-in-the-wool 'dumper' who knows deep down that you'll never have the drive to sort, organise and declutter on Kondo levels, a simple option for a cleaner room is a bedroom chair. It's easier to pick things up off a chair (the floor is further down, of course), and a chair full of clutter might well entice you do a quick tidy up more often. After all, you'll want to enjoy a relaxing moment on your beautiful bedroom chair, where you can admire your now-organised bedroom.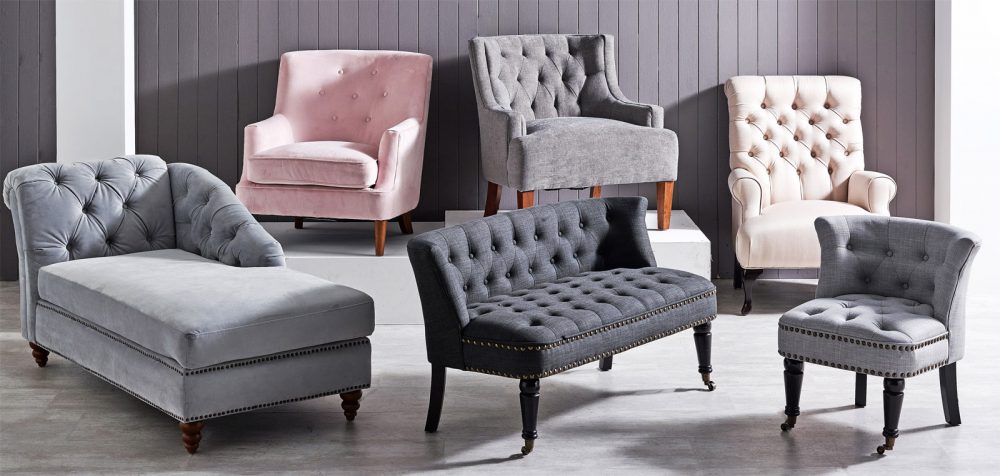 Shown above, 'Memphis', 'Beatrice', 'Etienne', 'Cherie' and 'Sarah' are just a few of the bedroom chair options available at Harvey Norman. Plush, comfortable and stylish, they are guaranteed to look terrific either on their own or adorned with piles of your possessions!
Keep Your Decluttered Bedroom Organised
There's plenty of ways to get your bedroom organised. Whether a big overhaul of your room is needed or you're just after a few simple ways to get a bit more bedroom feng shui happening, you can browse our storage solutions online or head to your local Harvey Norman store, where our friendly, expert staff would love to offer you some Marie Kondo-style storage inspiration and help with any questions you may have.