Autumn is all about the great indoors.
Shorter days and crisper nights see our homes becoming our sanctuaries. The place we gather and tell stories, the spot we go to relax and dream.
Given the extra special significance our homes take on, it should come as no surprise that at this time of year so many are inspired to make a seasonal change. With the right sofa or dining table, our homes can feel invigorating and warmly comforting all at once.
Of course, what the right piece of autumn furniture is will differ depending on whether you live in an apartment or a house. What feels perfect in one, may not necessarily translate to the other. That's why it was a privilege to hear from two of our very own interior design devotees at Harvey Norman – David and Joseph.
David is an apartment dweller, while Joseph lives (to decorate!) in a house. We got the pair to share their top autumn furniture picks and also to tell us a little about what the season means to them.

3 Autumn Furniture Picks for Apartments
by Harvey's HQ writer David
I'm an autumn baby, so it really feels like my natural state of being. The gentle warmth of the day, the coolness of the night, and those stunning autumn colours! Each year I look forward year to seeing the leaves of the trees change from green to deep orange.
Autumn is also that transition period where the days start getting shorter, and therefore entertaining becomes an indoor proposition. Foremost in my mind are comfort, practicality and style. My apartment needs to be a place where people can gather and feel welcome and content, but without making the space feel too small or crowded. In terms of style, I always look for something that has a sense of history – with mid-century modern, Art Deco and Scandi styles being my favourite touchstones of inspiration. I also prefer a colour scheme that is versatile enough to go with the other pieces in my apartment, while using a few complementing accessories to tie the look together (love a red cushion!).
With all that in mind, here's my top three furniture picks for apartments. Each one has that autumn feeling, but will also look at home throughout the rest of year to come.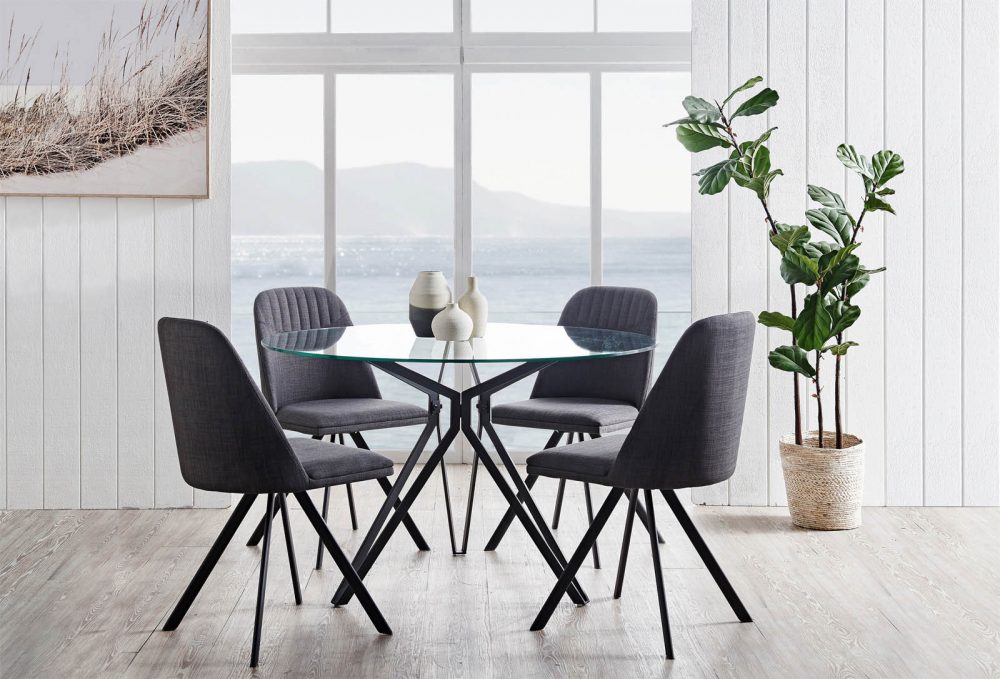 For my first autumn furniture pick, I'm starting with the all important dining suite – and the 'Moon' 5-Piece Round Dining Suite has that quintessential modern style that I love. The round table is a stunning addition to any apartment, and the glass tabletop makes it feel like it doesn't take up much space at all (which it doesn't, coming in at just W120 x D120 x H75cm). It's a cosy piece that's great for an autumn dinner with friends or a board game night. It seats four comfortably together with padded backrests and the swivel chairs are the cherry on top.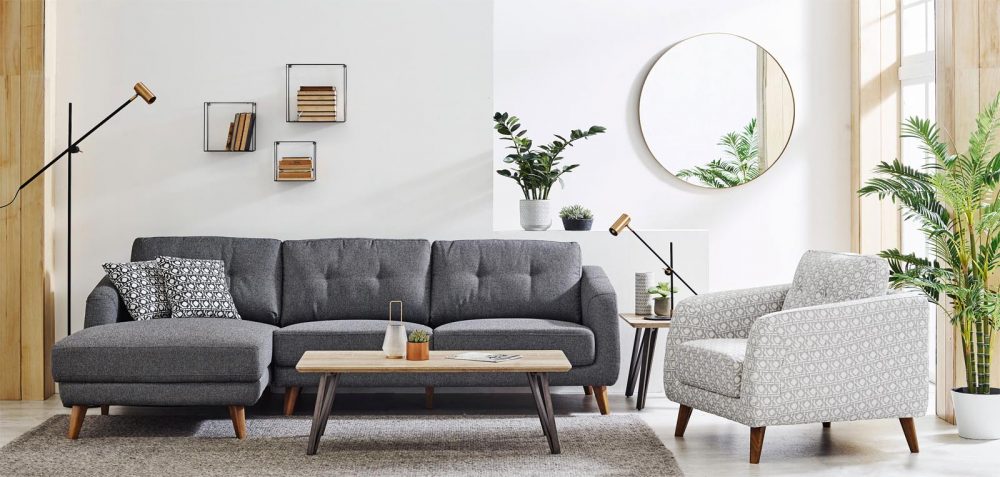 With the dining table sorted, my next autumn apartment furniture picks are sofas – and I've got two great options to share.
First is the 'Eleanor' 3-Seater Fabric Sofa with Chaise, which is upholstered in a resilient woven fabric and features a sturdy Pine frame and legs to give that classic Scandanavian style in a low profile. It nicely complements the retro style of my previous pick, the 'Moon' Dining Suite (check out all those angular legs!). Available with either a left or right-facing chaise, you'll be able to select the perfect option for your apartment – whether you plan to sit it in a corner, against a wall or more out in the open. The 'Eleanor' can also be purchased as a 2.5-seater sofa and in an armchair option, so choose what suits your needs. I personally love the grey fabric shown above, as it goes well with everything and you can add some splashes of colours with cushions (why not match the season with earthy autumn tones) or let your wall decoration provide the 'pop' you're after.
In the above image we've completed the look with the stylish 'Dixon' Floor Lamp and Table Lamp. They continue the minimalist, Scandi theme of the 'Eleanor', tying the look together with the use of sharp geometric shapes accentuated by slim black lines. The gold-plated heads on the lamps add a touch of class without being gaudy.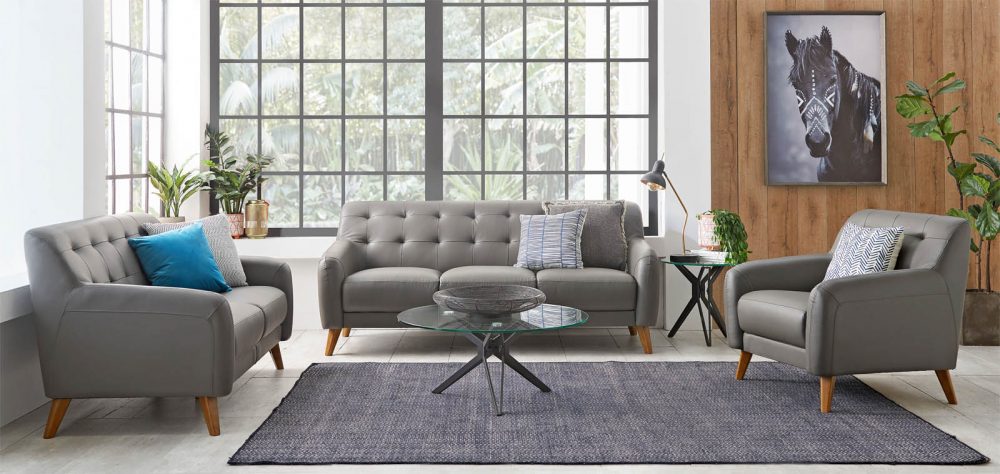 For my final autumn furniture pick, I've elected to choose another sofa range that will work well with the design aesthetics mentioned above. While the 'Eleanor' has a distinct Scandinavian look, the 'Fairfax' 3-Seater Leather Sofa has a more modern feel to its design. Boasting a similarly sturdy timber frame and legs for lasting strength and support, the 'Fairfax' also provides you with a quality full-grain Pagani Leather alternate to the fabric of the 'Eleanor'.
The foam seats feature built-in webbing and pocket coil springs to deliver premium comfort for you and your guests. Also available in 2-seater and armchair size options, you can choose the right sofa to suit the space in your apartment.
3 Autumn Furniture Picks for the House
by Harvey's HQ writer Joseph
In many ways, I feel autumn is the most underrated of all the seasons. Fresh air, cloudless skies and the brilliant warm colours of the season are a delight to experience – as is the comfort of home.
To me, autumn in a house is really about choices. Catching the mild afternoon sun on the deck as the leaves fall is just as much a part of it as cosy nights in on the sofa – you have your pick of how to experience the season best.
To help make the most of it, you'll of course want to choose the right autumn home decor. That may involve matching your dining suite to the earthy tones outdoors or choosing a sofa that exudes warmth. With these thoughts at the fore, here at my top three autumn furniture picks for the house.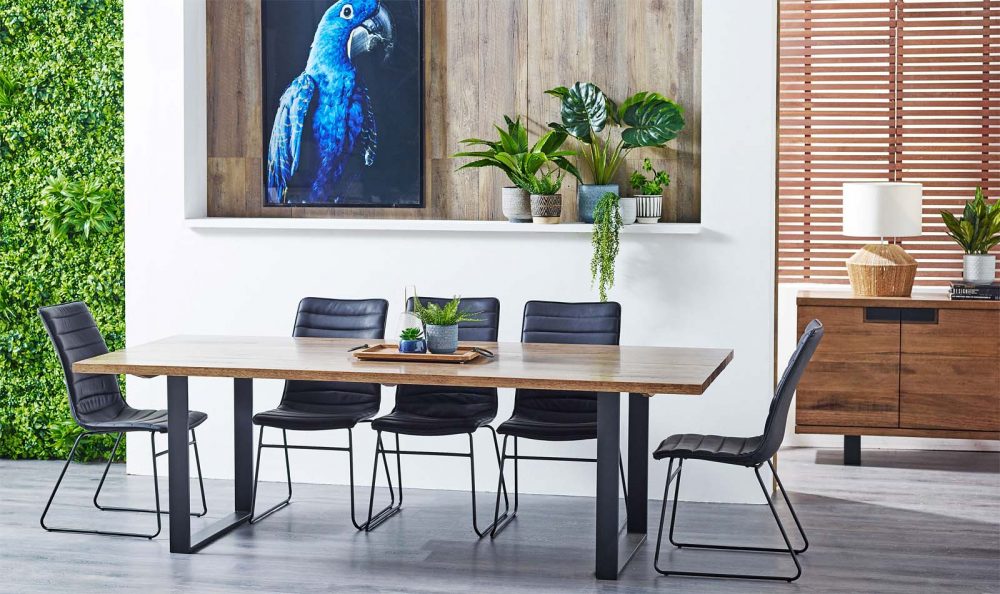 My first autumn furniture selection is the wonderful 'Strand' 9-Piece Rectangular Dining Suite. Made from quality timber that matches those lovely autumn tones, the 'Strand' is sure to add a contemporary charm to your home. I am a big fan of sleek, modern lines like those of the 'Strand' – the minimalist look most certainly remains on trend this autumn. The dining table's timber construction not only gives it that classic refined aesthetic, it's also strong, durable and requires little maintenance.
The stylish and comfy dining chairs are available in grey, tan or black, giving you plenty of options to find a look that suits your space. With a large tabletop area and eight included dining chairs, there's lots of room on offer for a cosy catch-up with friends over tea. It's the perfect autumn dining suite.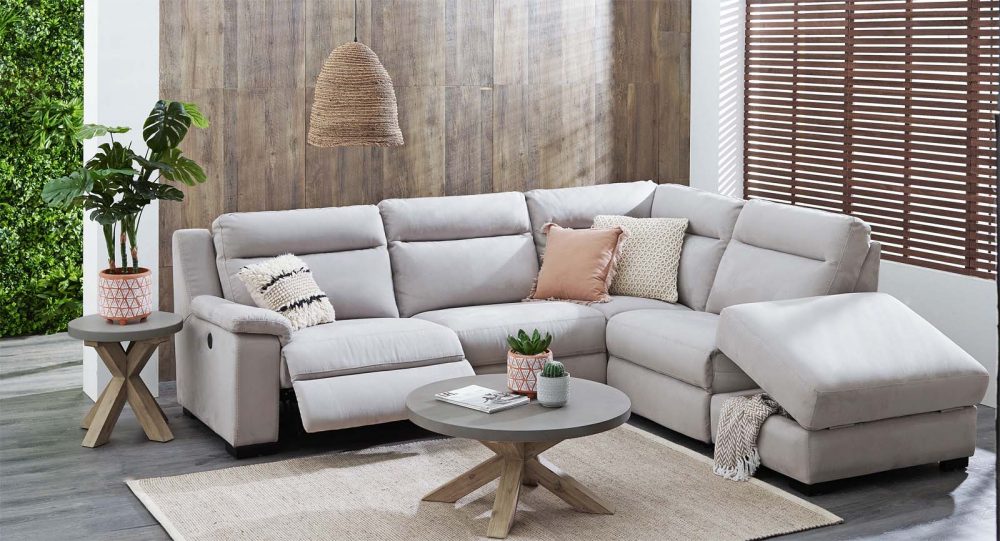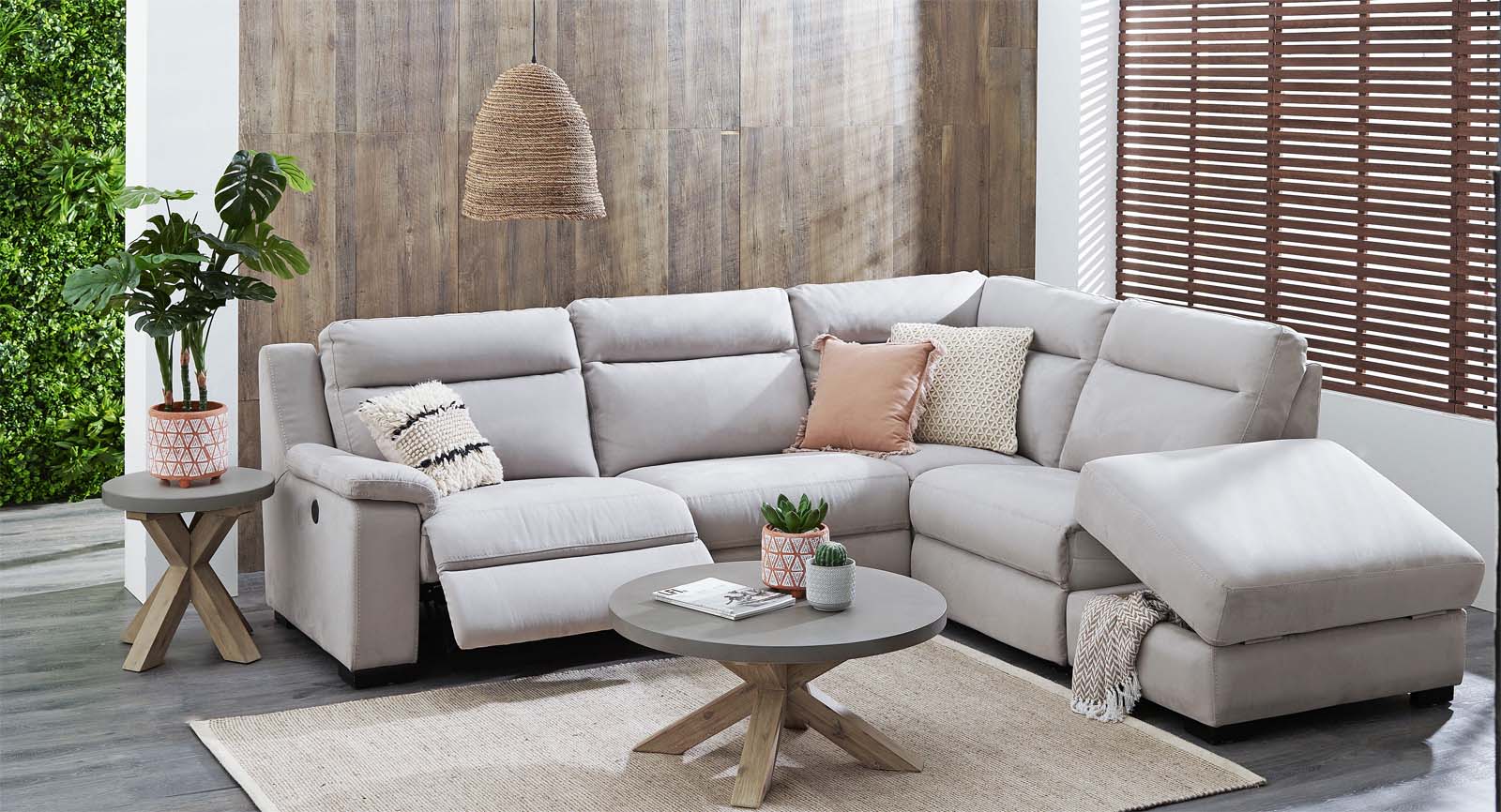 To many of us, movie night is an essential part of autumn living. Key to that experience is a sofa that provides you with ample comfort, looks great in your living room and fits neatly into your space.
Enter the 'Boulevard' 5-Piece Fabric Powered Recliner Suite.
This plush suite is the ideal sofa for autumn. It's packed with tremendous features, starting with the powered reclining seat that is just wonderful for unwinding with a book. The included ottoman is a fantastic second prize for those who miss out on the recliner seat, and also doubles up as storage to keep things neat and tidy. It's available in left or right-hand facing options, so you can tailor it to your home.
I'd suggest that its casual, contemporary design is also a perfect match to the look and feel of autumn, especially when crafted in the soft, inviting tone shown above. Softly-rolled head and arm-rests provide plush comfort, while the durable timber frame ensures this sofa will remain a key part of your autumn home decor for many seasons to come.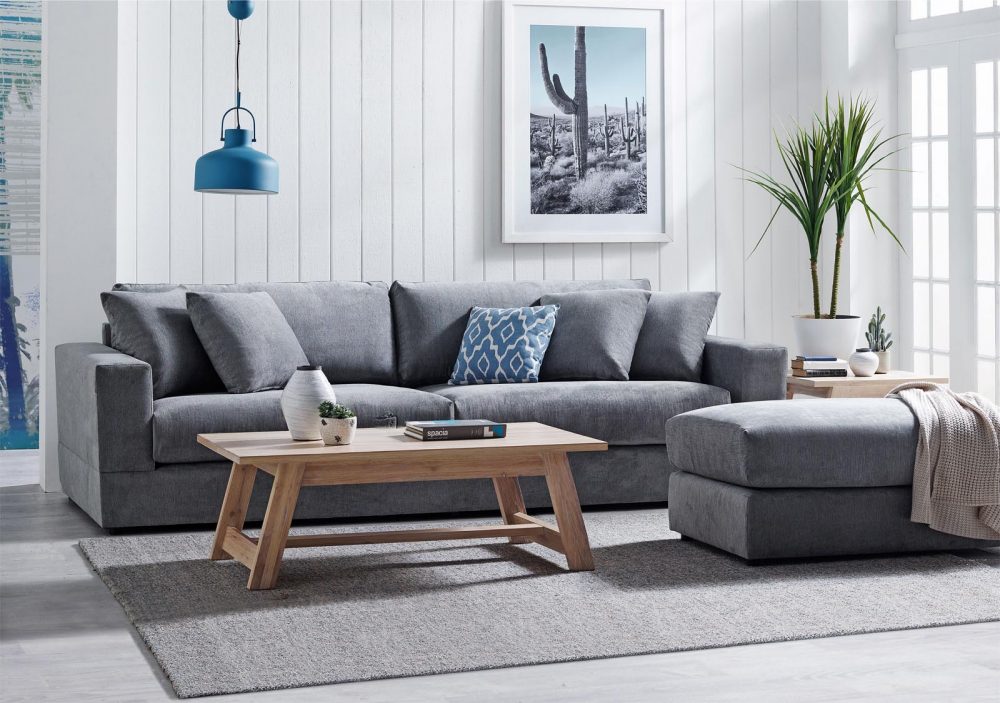 A key element of autumn interior trends is making things cosy and intimate. That's why my final autumn furniture pick for houses is the 'Eastern' 4-Seater Fabric Sofa – a sofa that will give you a warm sense of security as the temperatures fall.
A terrific autumn furniture decorating idea, the sofa's optional ottoman lets you put up those tired feet and relax as the evening chill sets in. The four included matching scatter cushions (as pictured) really add to that cushy, cosy vibe that the 'Eastern' conveys. Meanwhile, a sturdy timber frame and 10-year structural warranty on this locally-made piece means you can rely on the 'Eastern' to provide that sense of autumn comfort to your home well into the future.
Transform Your Home This Autumn
If you are interested in more ideas for updating your house or apartment for autumn, visit your local Harvey Norman store and speak to our friendly, expert staff about the very latest autumn interior design trends or view our furniture range online. See for yourself how the right home decor can help you make the most of apartment or home living this autumn.