Scrolling through your Instagram feed, you see a bedroom that looks like it has come straight out of the pages of a top designer mag. It's chic, stylish and impossibly perfect – right down to the morning dew on the fresh vase of flowers and the adorable Pug at the end of the bed.
Even as you're admiring the design, you're thinking, "no one's bedroom looks that perfect!" and feeling just a twinge of envy. But an insta-worthy bedroom isn't as far-fetched as you might imagine. We've compiled a list of top tips on easily creating a bedroom that not only looks picture-perfect, but also reflects your personality while providing a comfortable and relaxing sanctuary.
This gorgeous bedding selection from Harvey Norman is all you need to breathe fresh new life into your bedroom. And, with a range of designs to suit all lifestyles and personalities, there's sure to be something that appeals to your unique sense of style.
1.    Invite Nature Indoors With Greenery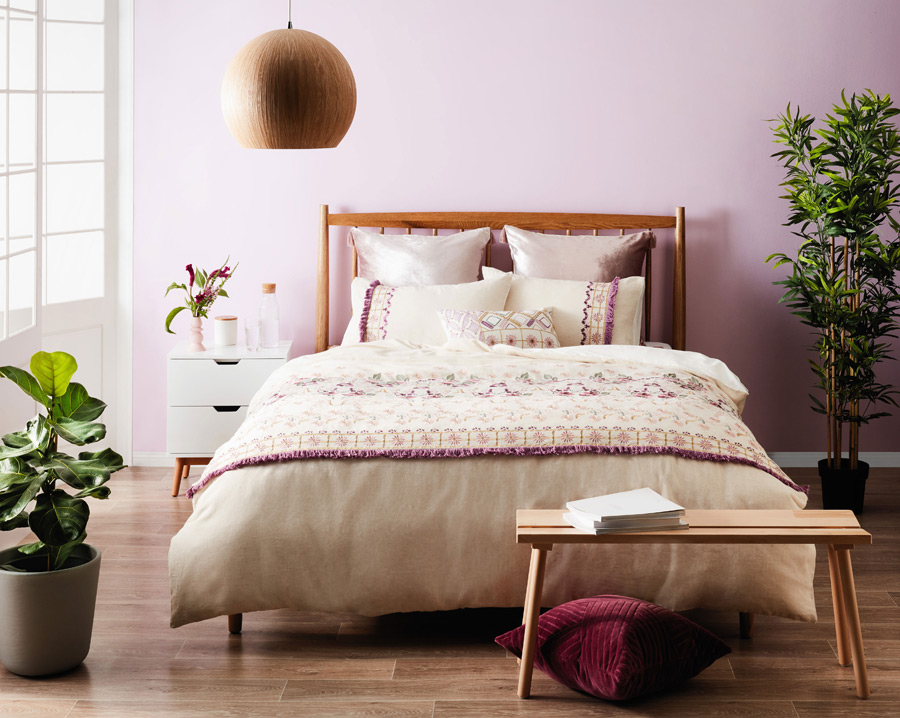 Bring the outdoors inside by adding a little greenery. There have been countless studies over the years that proclaim the many benefits of indoor plants. Not only can they help improve indoor air quality, but they can also help boost your mood.
If you don't have much of a green thumb, search for a list of low-maintenance indoor plants online – we hear Snake Plant, Devil's Ivy and even Aloe Vera make great houseplants! You can also pick up some convincing faux plants – there are are some pretty realistic ones out there.
Finish off the natural look with timber tones and pretty floral patterns. The 'Luxe' Bed and 'Nordic' Pendant Lamp are the ideal way to tie it all together and lend a light and airy atmosphere to your room.
Complete the look with the sweet style of the serene 'Fifi' Quilt Cover Set. Featuring a trellised floral design and embellished with pretty fringing – the soft colours of sage, plum and pink with highlights of gold are spot on.
2.    Let Natural Light Shine In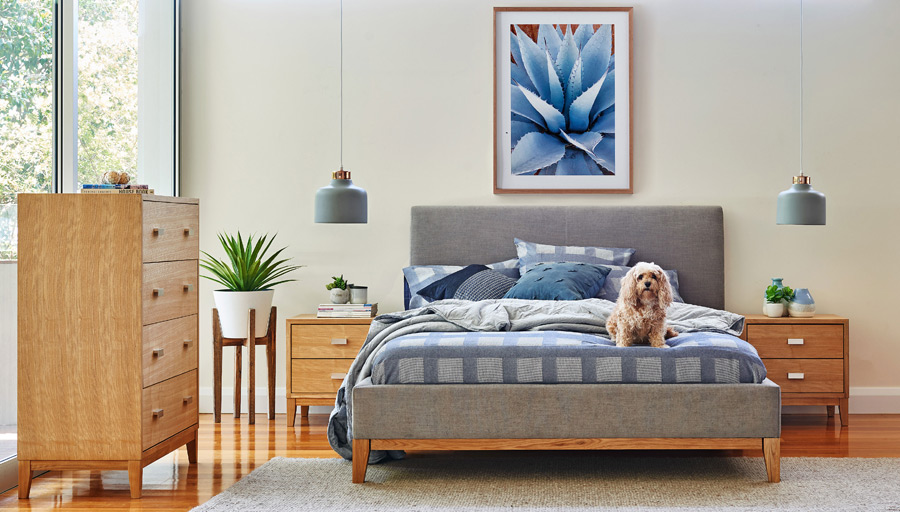 Give thanks to Mother Nature and throw back your curtains and let the sunshine brighten up your bedroom. Allowing natural light to stream through will let the beautiful furniture and décor in your bedroom shine bright.
The beautiful 'Toronto' Queen Bed features a timber frame and an immaculately upholstered bedhead and foot. Its soft grey fabric upholstery gives it a sense of style that will complement almost any kind of bed linen – whether you prefer something with a simple pattern or big, bold colours.
But when the sun goes down and you need to turn on the lights, accessorise with the 'Jamie' Pendant Light in grey. Whether you want to hang them high or low, a pair of these luxurious pendant lights in your bedroom will add Insta style.
3.    Create a Focal Point With Metallics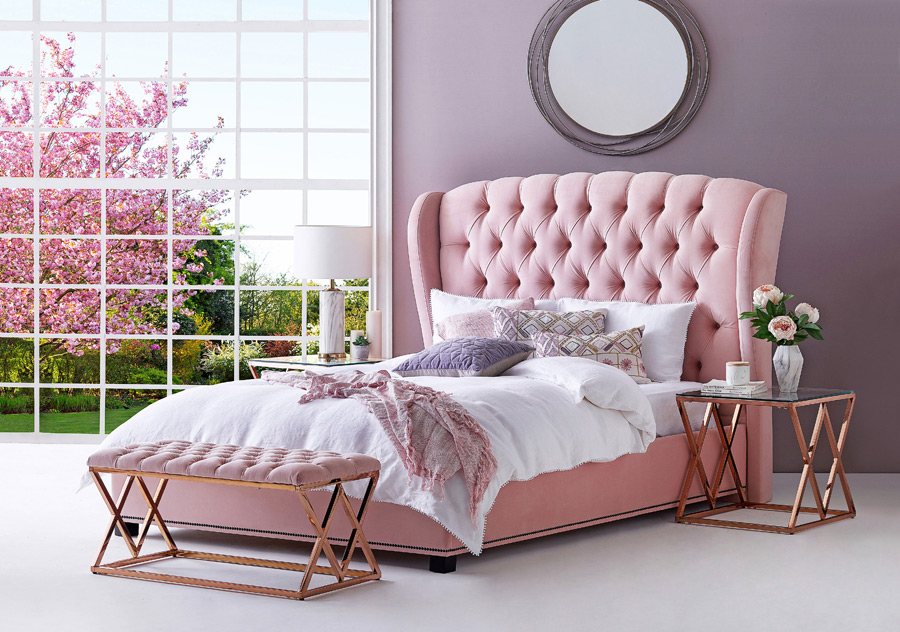 Metal makes a statement in any room. Whether you want something as chic and elegant as rose gold, or something as bold as brass, adding a metallic feature to your bedroom will add Insta sophistication.
Plus, you don't have to stick to just one type of metal – mix it up by combining different types and styles. Just make sure you don't totally overdo it. Refine this edgy look and imbue warmth with plush throws or rugs and candles or vases in a soft and subdued colour palette – think lavender, lilac, petal pink and sage green.
Include a hint of timeless marble and benefit from its staying power – we recommend the classic elegance of the 'Milly' Marble Table Lamp, which is pictured above with the breathtaking 'Beatrice' Queen Bed. With its beautiful button-down design, winged bedhead and millennial pink hued upholstery, the 'Beatrice' oozes opulence and will see you waking up feeling pampered every morning.
So as not to overshadow the stunning 'Beatrice', be sure to choose a simple quilt cover set, such as the 'Boden' that will enhance the vibe in your room, not distract from it.
4.    Decorate With Art You Love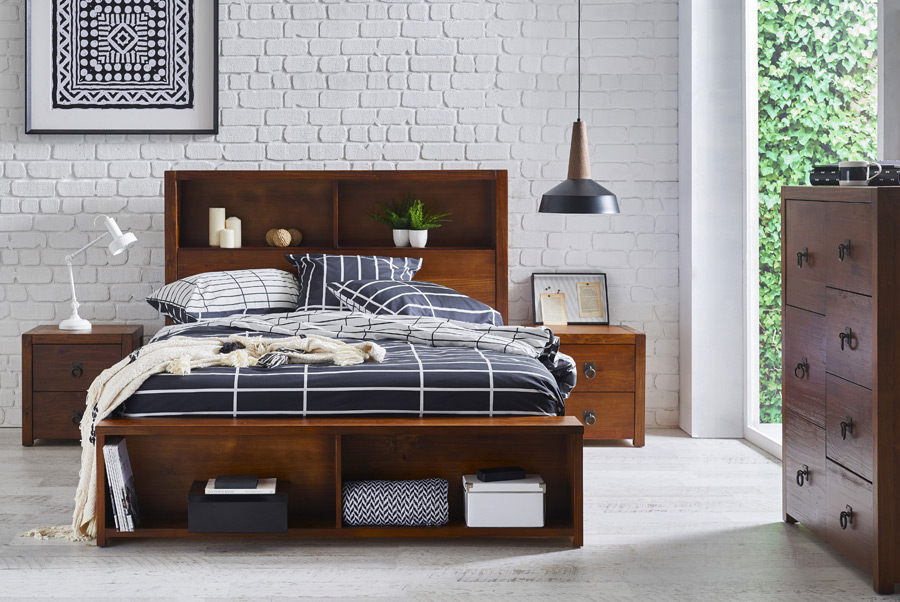 Displaying framed prints and canvas art on your bedroom wall is a clever way of personalising your space and the first rule for choosing art is: pick something you like. This may sound obvious, but there's no point buying a piece because you think other people will like. You should find something that really speaks to you, whatever your style may be.
You don't have to spend an absolute mint at an art gallery, either. Find out where your nearest arts and crafts markets are happening and go along to find some unexpected gems. There is plenty of great local talent out there; you just need to look. You'll also find some inspiring artwork at Harvey Norman.
The simple yet artistic design of the 'Manning' Study Lamp resembles sculptural art that will be a great addition to any bedroom. It's straight to the point, functional, and doesn't overcomplicate your décor. It's also the perfect design for those who love to read in bed!
Showing an equally simplistic yet stylish silhouette is the 'Luxe' Wooden Pendant Light. This pendant light features a timber and metal construction that's urbane, edgy and artistic – making it a must-have for any contemporary bedroom.
Then there's the 'Knoll' Queen Bed, which we absolutely love with its dark and decadent timber stain. This modern bed offers both bedhead storage and footend storage – perfect for art lovers who want to show off their collection of photos, postcard-sized prints and jumble of curios.
5.    Create Your Own #Shelfie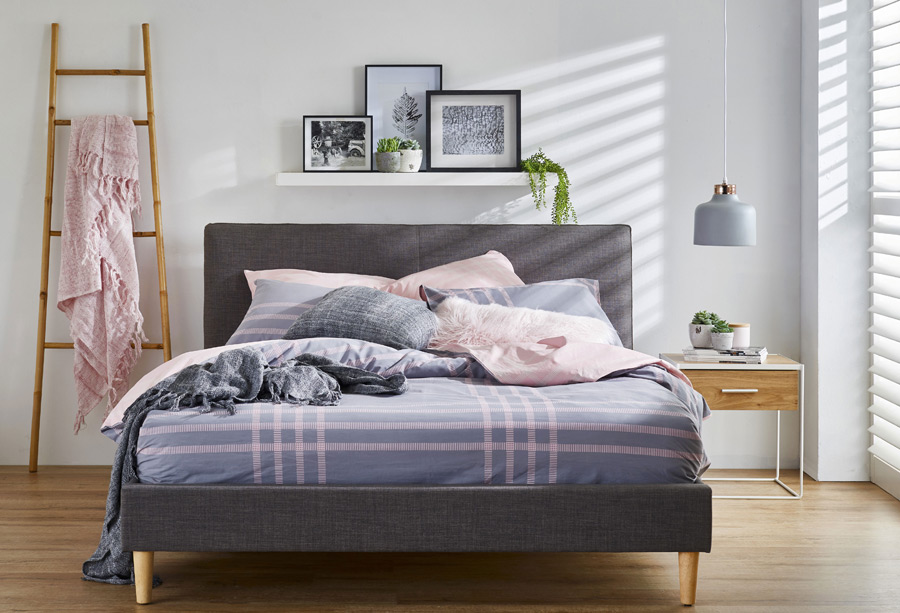 The idea of snapping a shot of your beautiful bookcase or display unit of favourite reads isn't a new one. The shelfie hashtag is no longer just restricted to bookshelves, but other displays, too.
Your #shelfie might include your favourite books arranged in a particularly creative way along with photos of your favourite holiday destination, candles, plants, souvenirs and other personal touches that combine to create the perfect vignette.
To get a totally Insta-worthy shelfie going in your own bedroom, collect together a selection of books (whether they're your favourite reads, have particularly special jackets or come in a rainbow of colours) and complement them with photos, greenery and collectables. Play around with different heights and colours to get the look you want.
We love the sublime shelfie that's pictured with the uber comfy 'Luca' Queen Bed in the image above. Upholstered in a muted grey fabric, the Nordic feel of this bed is further accentuated by its light blonde tapered timber legs. And the addition of pastel pink bed linen complements the mellow mood in this room, making the shelfie pop even more.
6.    Get Your Glow On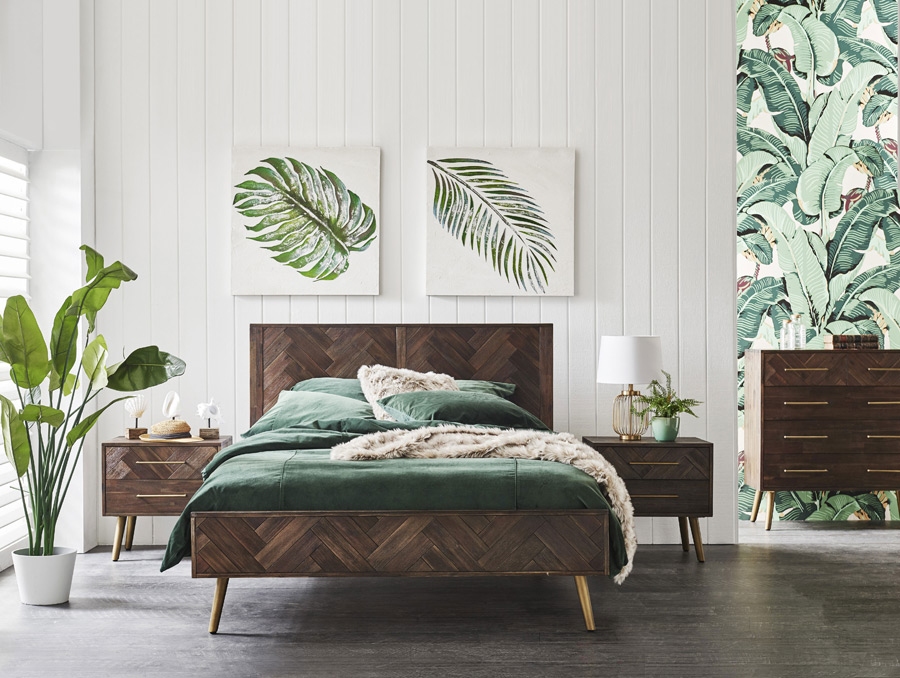 Choosing the right lamp to give your bedroom a point of interest creates an effective focal point for your space. Plus, it can create a soft ambience that's conducive to an evening of 'gramming.
Lamps come in all shapes and sizes – the trick is finding the one you love, that also fits in nicely with your decor. You'll find something suitable at Harvey Norman.
We love the 'Miranda' Gold Bedside Lamp with its retro design that looks great with the dark timber tone of the exquisite 'Sedona' Queen Bed. With its intricate parquet detailing and metallic legs, the 'Sedona' will give your bedroom a fashionable art deco vibe.
7.    Layering Different Textures
Mixing up different layers, fabrics and textures follows similar rules to mixing metals: remember that not everything will go together, and don't overdo it. That said, don't be afraid to experiment with different designs and layers to conjure the look you want.
Fabrics like velvet, chenille and faux fur are great for achieving a layered look. Cushions and throws are also a great way to add a pop of colour to your palette. And don't just restrict yourself to different textures of fabric – you can also mix things up by combining different patterns (just make sure they share a common colourway to avoid ending up with a garish eye sore).
Shown with the striking 'Eva' Queen Bed is the 'Anya' Queen Quilt Cover Set with its rich velvet look and feel. This indulgent quilt cover set comes just in time for winter – and is the perfect way to add a layer of warmth to your bed. Complement your textured layers with the cool and neutral styling of the calm and collected 'Jamie' Bedside Lamp.
8.    Keep Styling Simple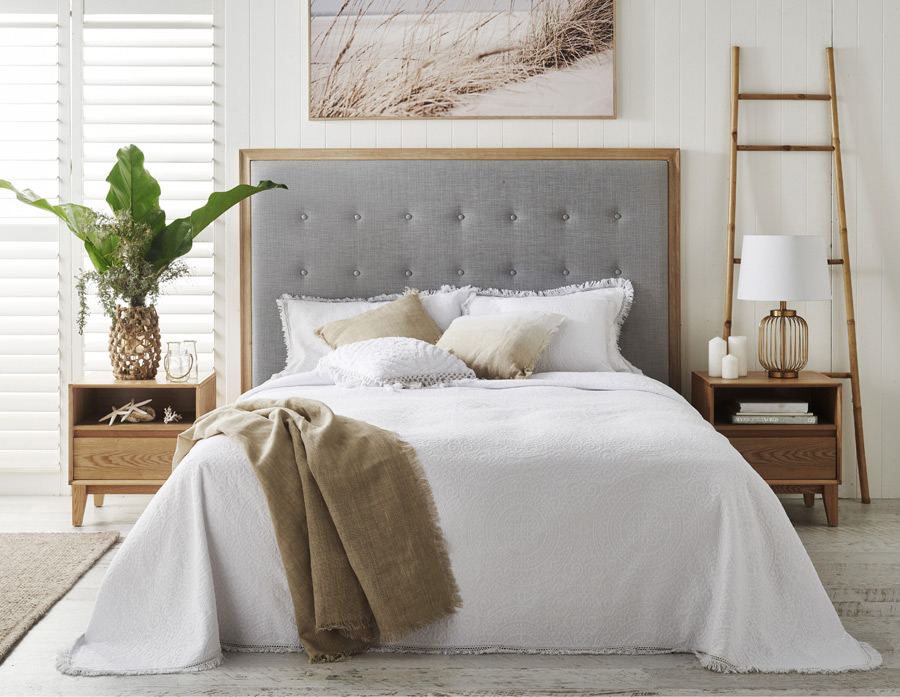 When it comes to styling your bedroom, you don't have to overthink it – keep things casual can still work, just remember to make the bed every morning! Creating an Insta-worthy bedroom can be as simple as adding different cushions and throws to freshen up the look and feel of a room from season to season.
The elegant 'Webster' Queen Bedhead is a calming masterpiece in bedroom furniture and doesn't need much embellishing , with its subtle button-down detailing on a dove grey fabric panel that's framed by a neat timber border.
Match the 'Webster' with the 'Cove' Ombre Throw in Natural and 'Cove' Bold Cushion in Natural. With their boho fringing and sandy colouring, these manchester pieces offer an easy solution to creating a cohesive atmosphere in your bedroom.
Are you feeling Insta-inspired to go out and create the ultimate Instagram-worthy bedroom?
Check out more bedding online or find your local store to view the range in person and chat to our friendly staff about finding the right bedroom furniture and accessories for your bedroom.