We may love a sunburnt country, but there's something about the cooler season that fires everybody's imagination. Winter evokes the softness and silence of a snow-covered landscape or the cool light and crisp air of a city street on a July morning. But one thing everyone's winter sensibilities have in common is the feeling of anticipating a warm and cosy reception indoors. We've put together three lovely interior design ideas to help you make the most of your space this winter with quality furniture from Harvey Norman.
Leather Luxury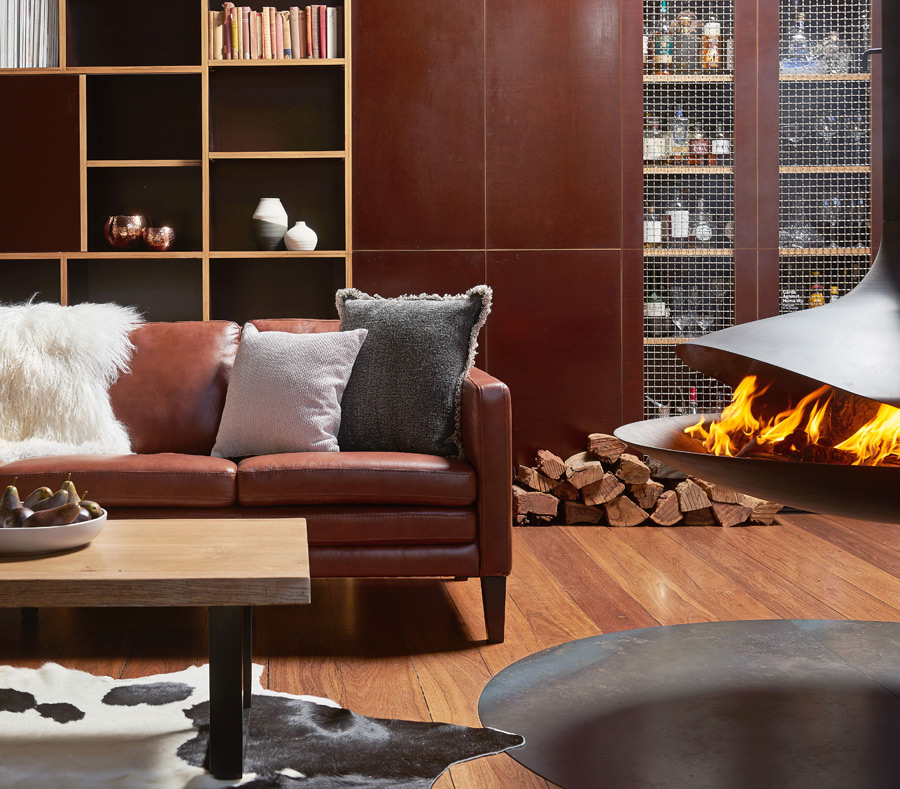 You may not be able to escape the drudgery of winter while outside, but you can experience the welcoming warmth of a thoughtfully styled space as soon as you step in through your front door. Inspired by ski chalets that dot the snowy Swiss Alps, this look can be brought to life with the inclusion of a roaring fireplace.
Your chilled bones will thank you for the simple yet stylish presence of the 'Capurso' 3-Seater Sofa with its buttery soft and supple leather upholstery. The softness of a genuine cowhide rug underfoot and a fluffy throw paired with a couple of your favourite cushions is all that's needed to raise the comfort quotient of this winter wonderland.
The rustic style and clean lines of the 'Strand' Coffee Table balances the rich brown of the 'Capurso'. When it comes to accessorising, opt for a monochromatic palette of blacks, whites and greys with a touch of copper here or there to further enhance the warmth of this look.
Snowscape Chic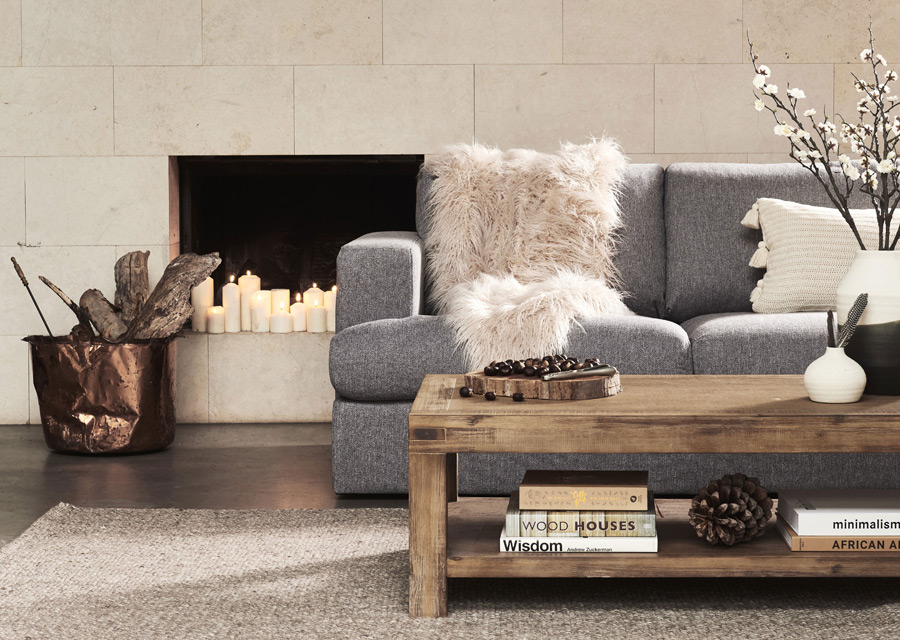 Bring the delicate and peaceful atmosphere of a frosted winter landscape indoors with nature-inspired accessories – sparse twigs displayed in vases, chopped firewood stored in a statement-making vessel, and some strategically scattered pinecones.
Choose muted colours for furniture, such as the plush 'Dahlia' 4-Seater Fabric Sofa, which is big enough for the entire family to huddle together on as they enjoy their favourite TV show. The winter-sky grey of the 'Dahlia' is a perfect backdrop for plump cushions and faux fur throws in a palette reminiscent of ethereal snowscapes. The winter-woodland feel of the 'Emerson' Coffee Table further adds to this aesthetic.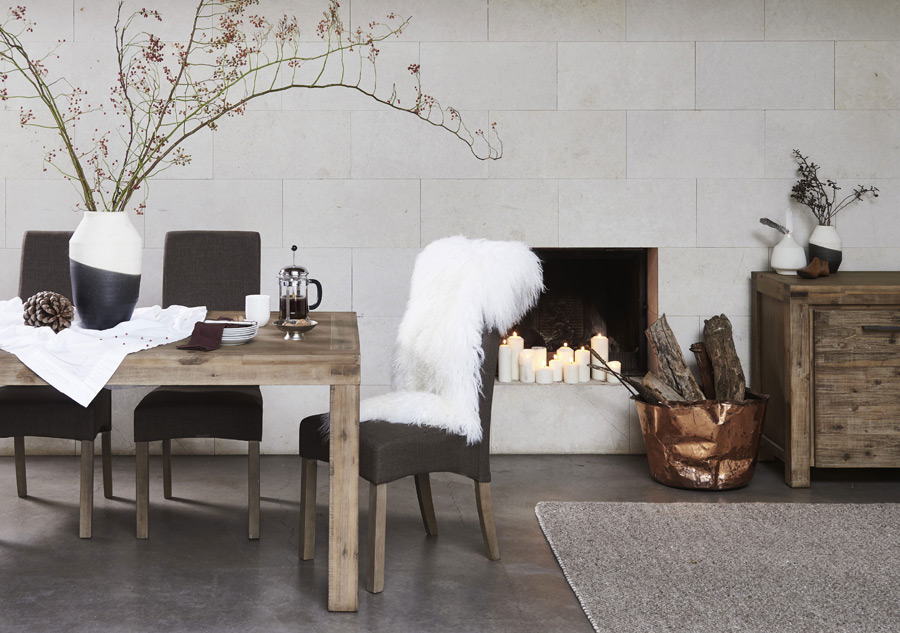 The homely, rustic timber look of the 'Emerson' 7-Piece Dining Setting will perfectly complement the look of the sofa suite mentioned above in any open plan living area. With a refined silhouette in an Acacia finish, the table is matched well with ultra comfortable dining chairs that warm chocolate brown fabric upholstery.
Evoke the stillness and serenity of a winter forest in the comfort of your home while adding warmth with pillar candles in varying sizes. Complete this look with a long-haired throw casually draped on chairs, and a simple tablecloth. Be sure to create a seamless flow from the dining to the lounge area by maintaining a cohesive colour palette across all your accessories.
Subtle Style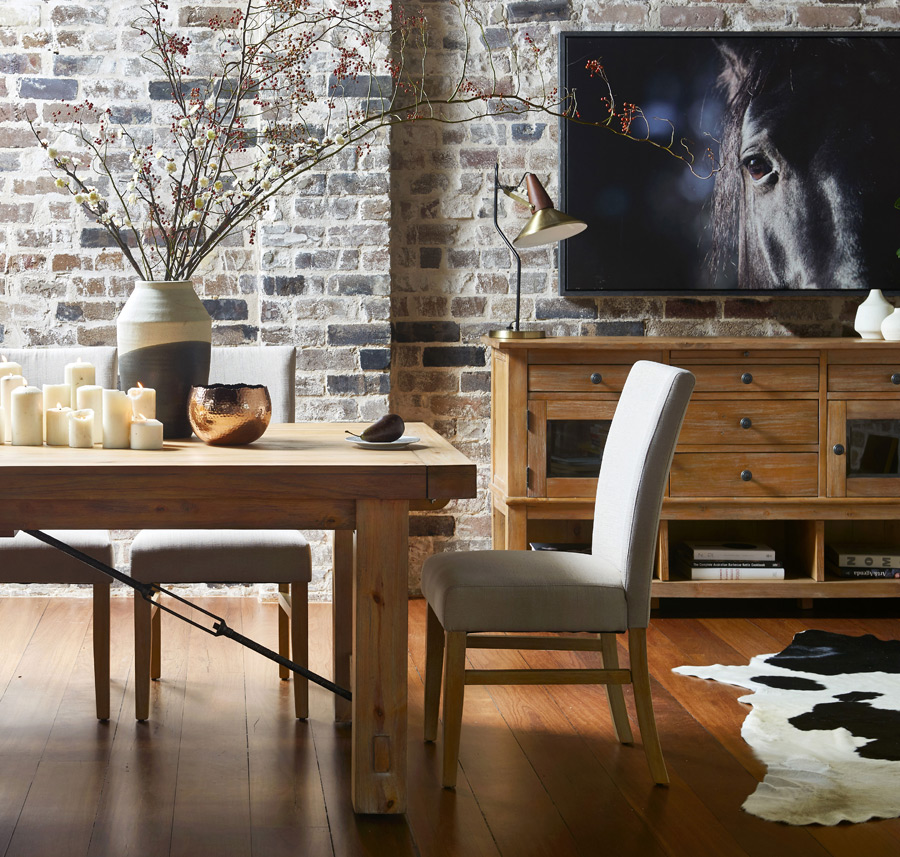 Winters are all about hearty soups, casseroles, tagines and roasts shared with loved ones. Whether it's a quick weeknight meal or a long and luxurious dinner party over the weekend, the simplicity of this look will lend itself well to any occasion.
The 'Vineyard' 9-Piece Extension Dining Suite features comfortable fabric dining chairs with high back support, and extends to a larger size so the whole clan can gather round for a heart-warming feast.
A pair of low-hanging pendants lights, your favourite framed artwork on the wall, and a little piece of the outdoors in a simple yet striking vase will really bring this look together.
If you're looking for plenty of storage to stash all your winter essentials and display your favourite curios, then the 'Vineyard' Buffet is a must-have. Its quality craftsmanship means this buffet won't require much embellishment, so something as subtle as the addition of the 'Cameron' Table Lamp, with its antique-inspired brass body, is all that's needed to uplift the mood in any room.
A fresh décor can be just the thing to chase away the winter blues, and these winter-inspired interiors will remind you of everything you love about winter whenever you come home. Browse more sofa and dining settings online or head in store and chat to our friendly furniture experts.