Whether your bedroom is the size of a broom cupboard – a la Harry Potter – or you're simply short on a place to store those extra blankets and throws, we have the solution to your storage (or lack thereof) woes. When it comes to smart and stylish storage, look no further than your bed. Yep, that's right, beds are more than just a comfy place to rest your head and proudly display your collection of scatter cushions. Beds with storage are the perfect place to cleverly tuck away bed linen, pillows and yes, even those beloved scatter cushions, without taking up valuable space in the bedroom.
Harvey Norman's beds with built-in storage are available in a wide range of designs and drawer/shelving combinations -including beds with storage underneath and bed frames with built-in shelves – so you can make the most of your bedroom space.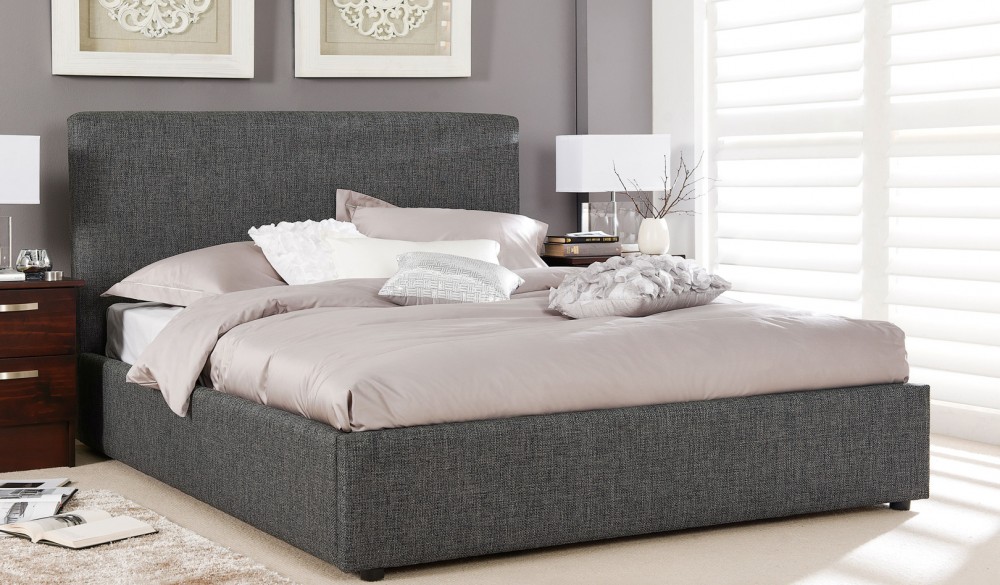 The fabric upholstery and soft lines of the gorgeous 'Hugo' bed with gas lift storage create a warm and inviting ambiance in the bedroom with plentiful storage tucked seamlessly underneath. Discover how satisfying it is to make use of a bed with underneath storage, as you minimise clutter and create a calming sense of organisation in what should be the most relaxing space in your home.
Bedhead and base are available to order separately.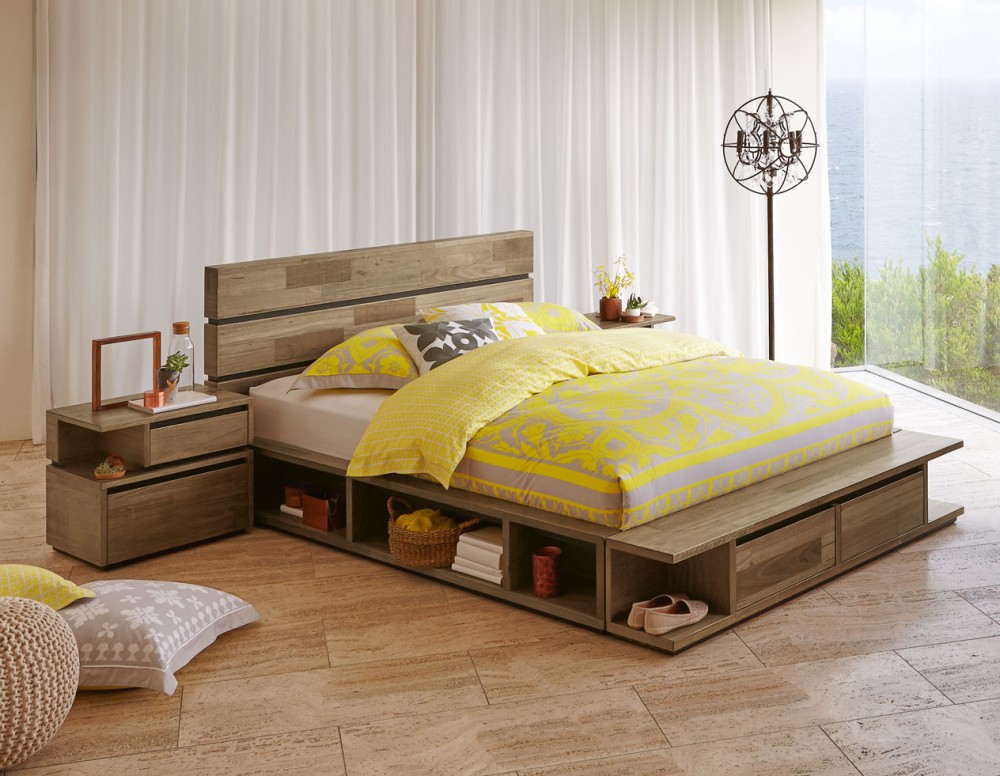 When you want to lie low, the 'Random' is the perfect choice. Expertly crafted from Australian Silvertop Ash timber for a natural and modern look, this unique bed with storage provides a stealthy place to hide things away in the form of built-in shelves at the base. Make the most of the out-of-sight storage drawers at the foot of the bed while giving your most treasured items pride of place on the built-in shelves that run along the length of the bed.
You can also choose the colour finish that suits your decor, with a selection of aged smoke (pictured), aged barley or aged wheat. King size and high bedhead options are also available.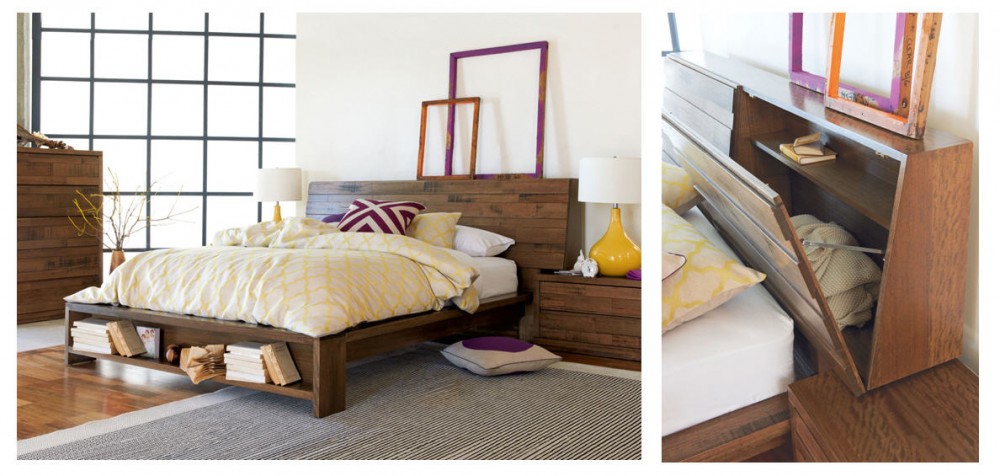 Love relaxing in bed with a good book at the end of the day? Then this is the bed with storage for you. Imagine yourself all warm and cosy under the covers with a mini library at arm's reach. Bliss!
Totally on trend with its combination Victorian Ash timber styling, the 'Macedon' bed frame with built-in shelves takes design to a whole new level, making the most of every available inch of space. With storage areas cleverly crafted within the bedhead and foot end, this beautifully hand-stained timber bed is all about partnering built-in storage features with contemporary style.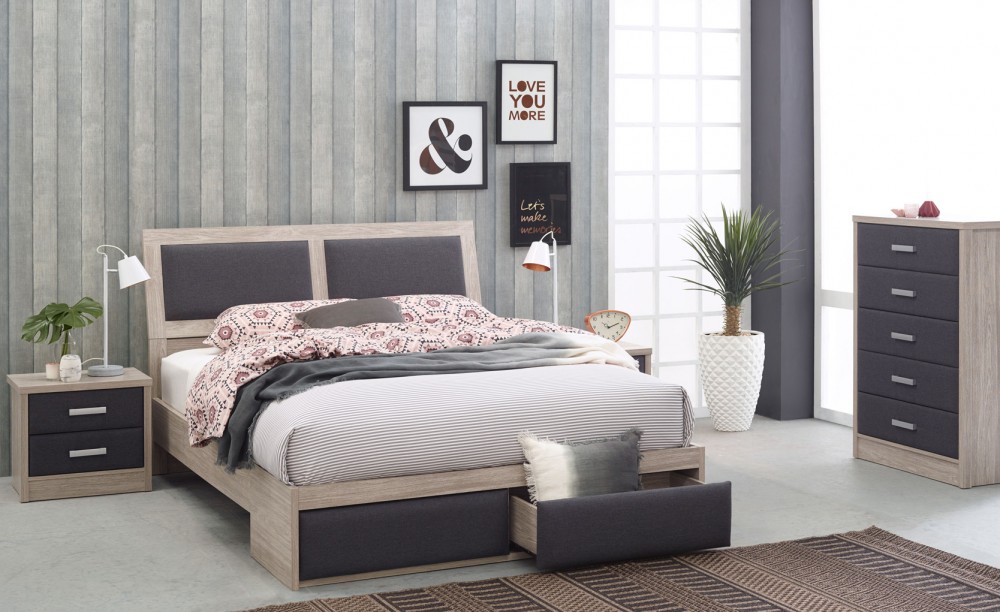 Sending out a refined and relaxed vibe with its eye-catching, two-toned style, the exclusive 'Beacon' bed with storage drawers successfully unites form and function within the bedroom. Simple and sleek, the upholstered bedhead and foot end provide a stunning contrast to the timber frame while the handy drawers in the foot end provide the perfect place to neatly store pillows, sheets and blankets.
The 'Beacon' is also available as a double. Tallboy, bedside table and dressing table with mirror are available to order separately.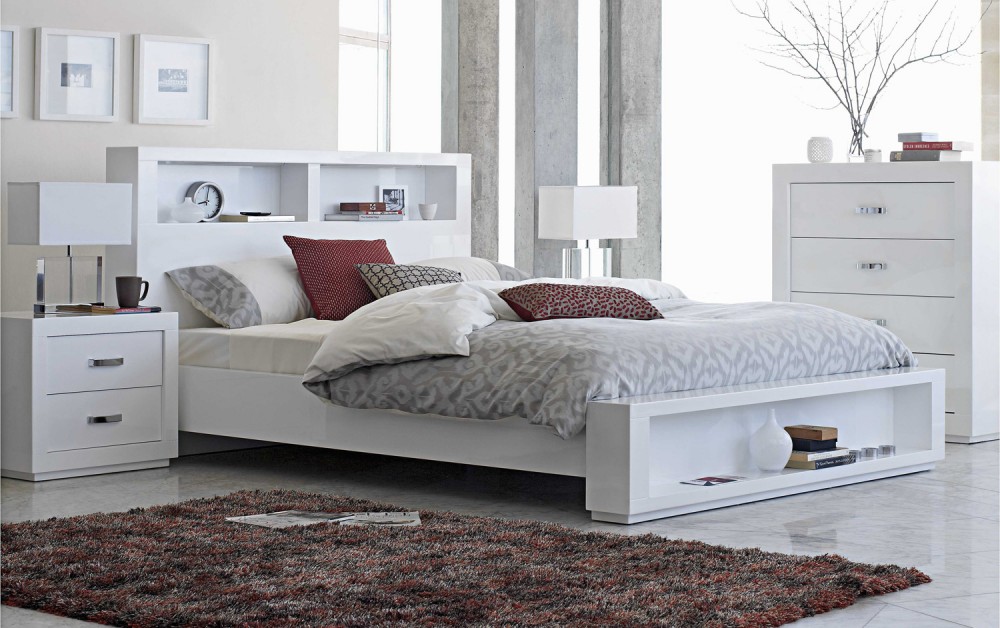 The white gloss look is what's hot right now, while still offering a classic style that will always be on point in the bedroom. Clean and sleek, it provides a simple canvas on which to add your favourite personal items as well as strategic pops of colour with which to enliven your decor. But what truly makes the striking 'Summit' bed unique is the generously proportioned bedhead with bookcase and built-in lights, not to mention the marvellous storage foot end, ideal for tucking away books and accessories.
This bed-with-storage-masterpiece is available in your choice of queen or king size.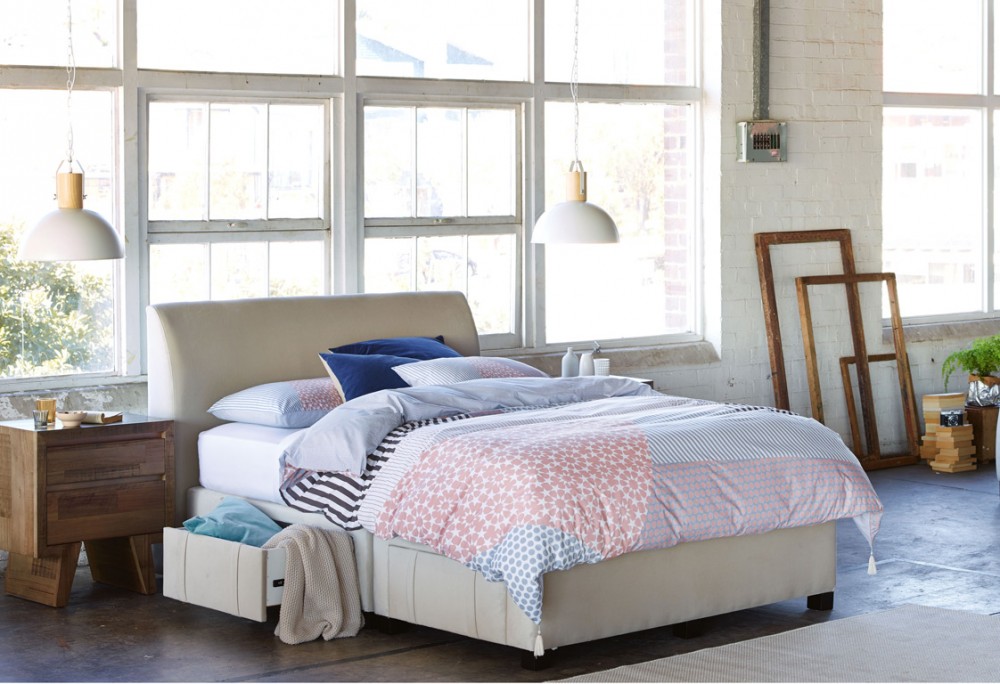 If you want to keep your bed storage totally discrete and low key, this classically styled bed with storage drawers is the way to go. With a storage drawer seamlessly integrated into the base, no one else has to know what's hidden underneath. The 'Jett' also allows you to personalise your bed by giving you the option to select the fabric and colour that suits your decor.
Shy or showy, a bed with storage is the perfect solution for those short on cupboard or shelf space. Whether you prefer to have your favourite items on display on a bed frame with built-in shelves, or tucked away discreetly in a bed with storage drawers, these innovative examples of space-saving design are so beautifully simple, you can find the perfect storage solution in your sleep!
Feeling inspired? Head down to your local Harvey Norman store or jump online to view our extensive range of beds with storage.