Our land down under is awash with beauty, from unspoiled coastlines to lush tropical rainforests to our famous Red Centre.
The splendour of these amazingly vast and varied landscapes offer a wealth of inspiration for the interior design world. This influence can be seen throughout the range of Australian made living room furniture available at Harvey Norman, which looks to pay homage to our rich, natural heritage and is designed to help you recreate the beauty and wonder of the Australian landscape in your home. From the exotic flora and fauna of this magical country to the sparkling waters off our coasts, you can bring the great outdoors to you wherever you are.
The talented team at Bauer Media Group have beautifully captured Australia's extraordinary landscapes utilising Australian made furniture from Harvey Norman, which will be featured in the May edition of House & Garden, Real Living, Belle and Gourmet Traveller magazines.
Drawing interior inspiration from the colours, textures and natural beauty of the great outdoors, there are three unforgettable styles, celebrating Australian made craftsmanship, design and quality at its finest.
Rich & Rare Red Earth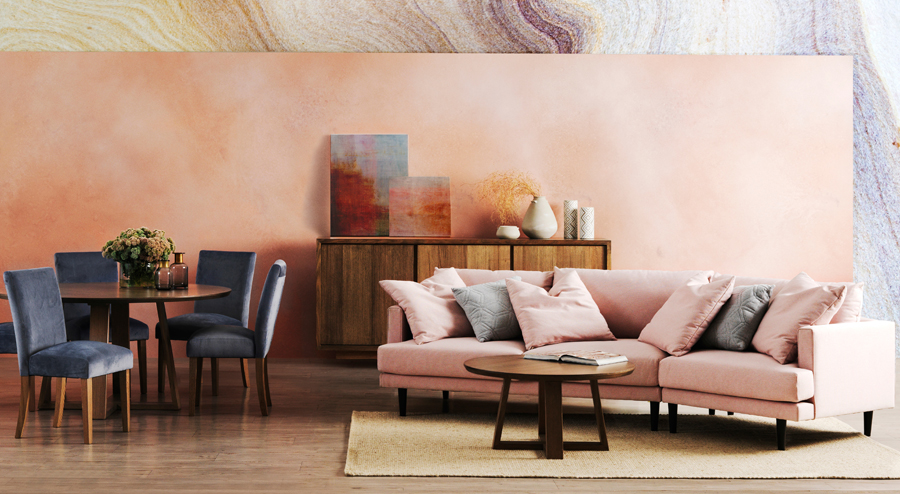 Bring the heart of Australia home in a warm and welcoming style that is right on trend for winter. Inspired by the desert at dusk, this look pays tribute to a style that is rich, rare and uniquely Australian. A warm colour scheme reminiscent of dusty red earth under a starry evening sky is what this look is all about.
Furniture in millennial pink should take centre stage. We love the locally made 'Broadway' 2-Piece Fabric Sofa with its fuss-free design, tapered timber legs and luxurious seat cushions. Create a cohesive style in your living room and dining area by opting for the 'Ezio' Round Dining Table, which is crafted from smooth Victorian Ash and Tasmanian Oak with a warm cocoa finish. Pair it with 'Ezio' Dining Chairs, featuring velvet textured fabric upholstery in Warwick 'Mystere Delft'. You can customise the 'Ezio' dining and the 'Broadway' sofa range from a selection of timber stains and fabric colours to suit your style.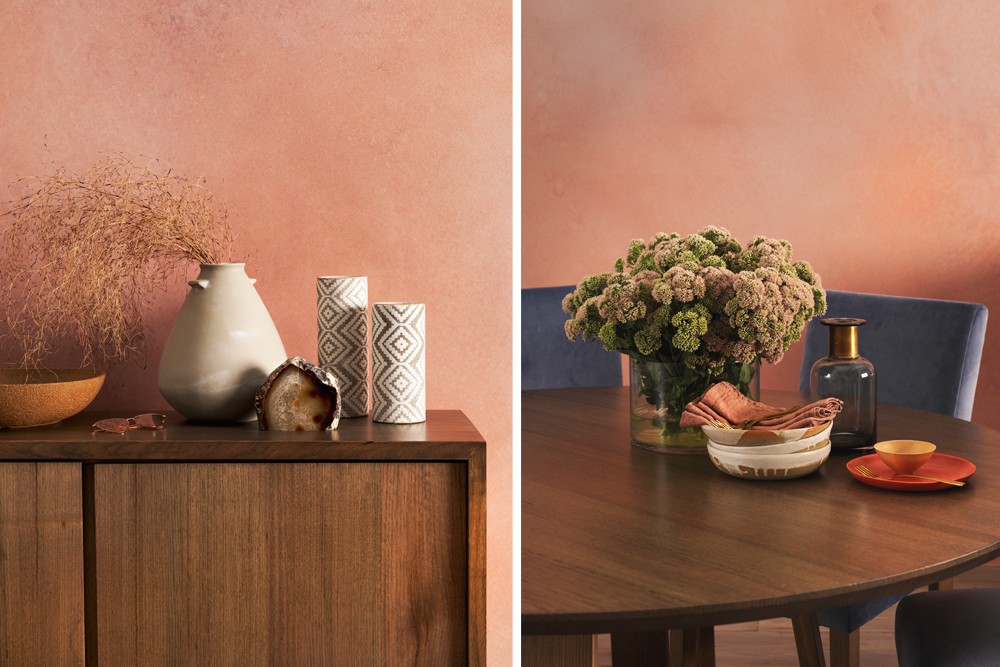 Sparkling Seas & Sandy Shores
Did you know Hyams Beach in Jervis Bay, NSW, has the whitest sand in the world? Australia is known for its shimmering waters and sandy beaches, and the relaxed yet robust lifestyle that comes with living by the coast. Even those of us not living in a beach house can introduce some of that seaside style to our space to enjoy a nuanced, nautical look in our homes.
An invitingly plush sofa in ocean grey, like the 'Spacey' 3-Seater Fabric Sofa, is an excellent starting point. Available in a range of fabric colours and sofa sizes, the 'Spacey' features firm and supportive seating, and is wrapped in Devon fabric upholstery, which gives the sofa a plump, fuller look with softer edges.
Continue your coastal-inspired décor by choosing statement pieces in Cameo stained timber, like the 'Herringbone' Buffet, Coffee Table and Lamp Table. Offering plenty of storage space, a striking parquetry design and a variety of timber stains, the 'Herringbone' range will easily complement your living space.
For the finishing touch, deck out your living room with coral-inspired sculptures and under-the-sea inspired artworks. Add soft rugs evocative of sand underfoot and textured pendant lights and cushions to add depth and dimension to this look.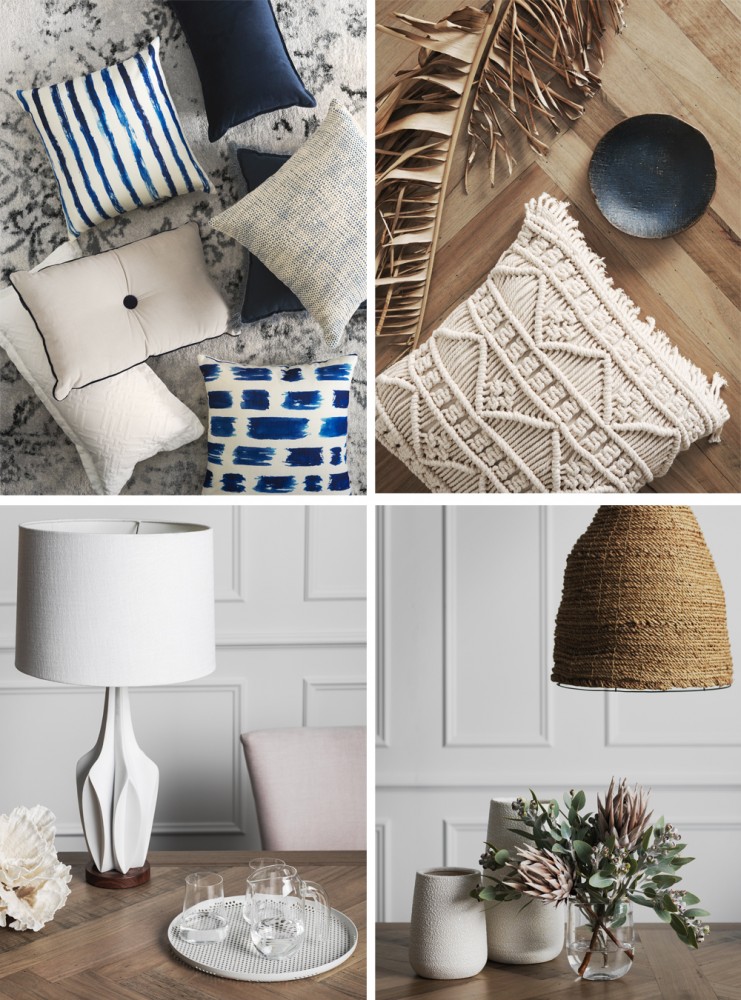 Lush & Lively Tropics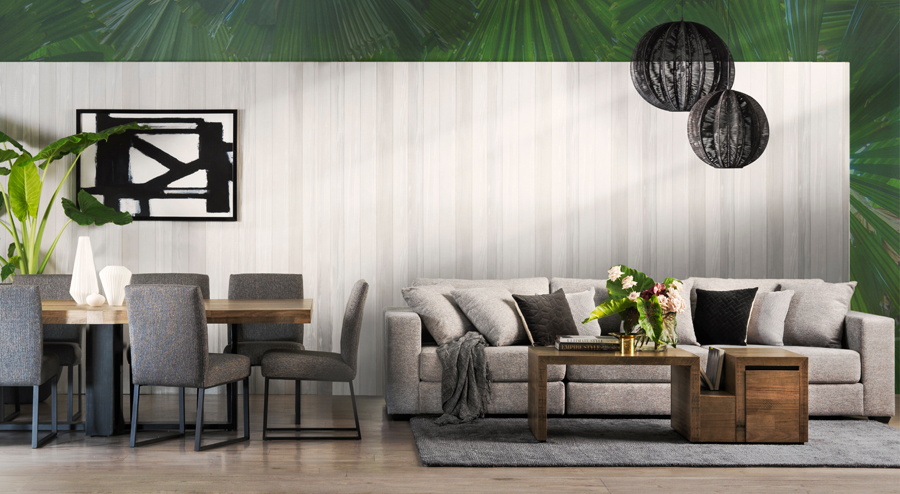 Australia has some of the oldest and largest rainforest expanses in the world, so it's only natural that we take inspiration from these magical places and recreate them in our homes. Fashion a subtle and understated look, consisting of white, misty grey, and raven black, which takes its colour cue from exotic Australian fauna such as the black cockatoo and currawong. Bring the look to life with pops of forest green to enhance your dramatic, monochrome colour scheme with the natural allure of hardwood timber.
We'd recommend a large modular sofa in misted rainforest grey, like the 'Calvin' 3-Seater Sofa. You can customise the 'Calvin' from a range of fabric and size options, plus you can add modules to suit your space and seating needs.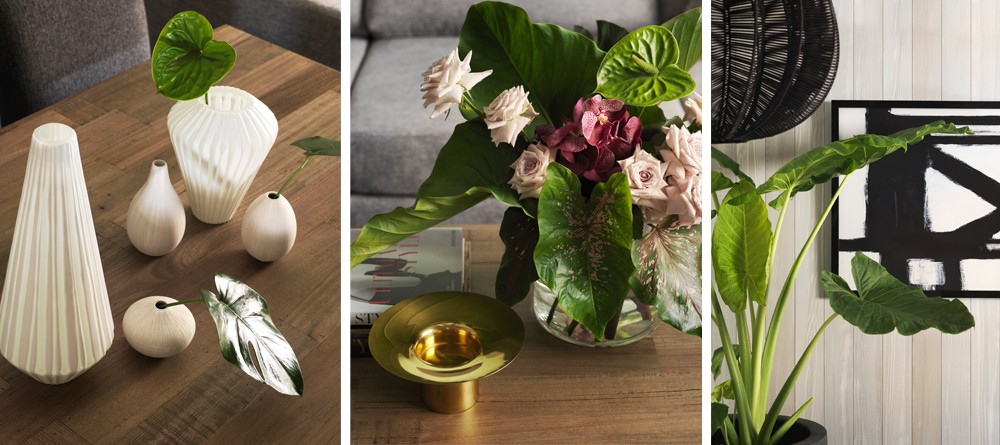 With Harvey Norman's range of Australian made furniture, it's easy to capture the beauty of the Australian landscape and enjoy Australian craftsmanship, design and quality at its finest. Visit Harvey Norman online to find out more or head in store to chat to our friendly furniture experts about Australian-inspired furniture for your home.