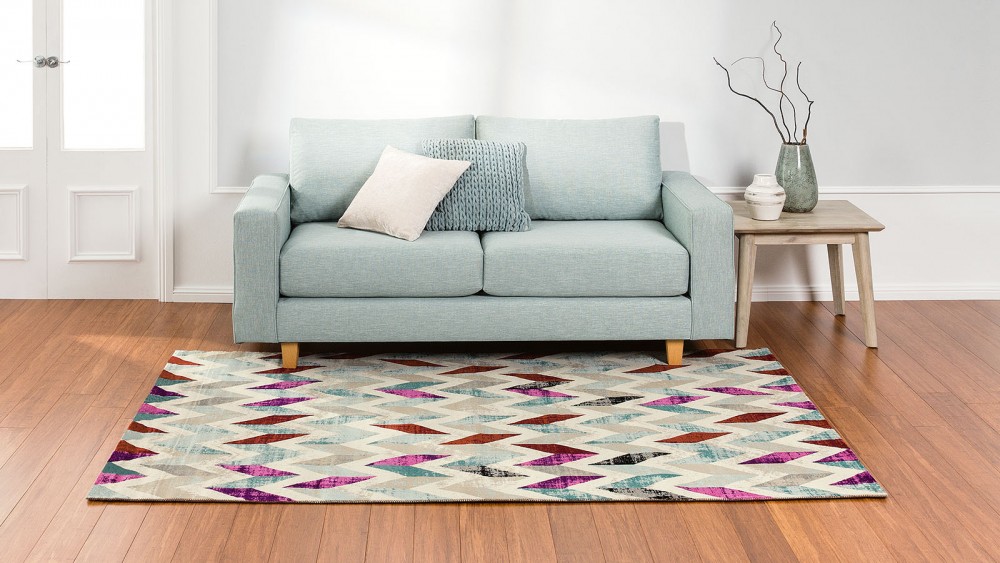 Is your living room in dire need of a style update? Is your bedroom or dining décor screaming out for a splash of colour and a dash of character? Transforming a room from drab to fab doesn't have to take a lot of work or time. The answer could be right in front of you – or rather, under you. Perfect for an instant refresh and for creating that 'wow' factor, the addition of a stylish rug will bring texture and colour to any interior. Evoking an atmosphere of comfort and warmth, rugs can humanise and add a welcoming appeal to a space which may have otherwise felt bland or sterile.
Available in store and online from Harvey Norman, here are some of our favourite contemporary rug designs that will inspire you to give your home a mini makeover.
A Touch of Velvet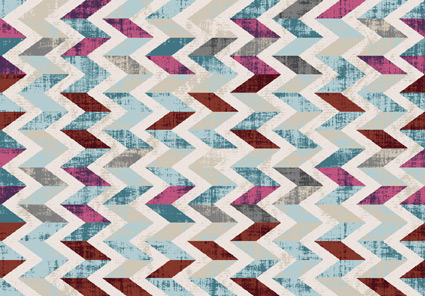 Give your lounge room a fresh new look with on-trend geometric shapes, as featured on the 'Velvet' 313/990 rug. With a fashionable palette combining to produce a bright and cheerful effect, this quality rug is as pleasing to the eye as it is soft to the touch. As seen in our feature image at the top of this post, the 'Velvet' could be the missing piece of the puzzle that will really make your room sing.
Rug Up Outdoors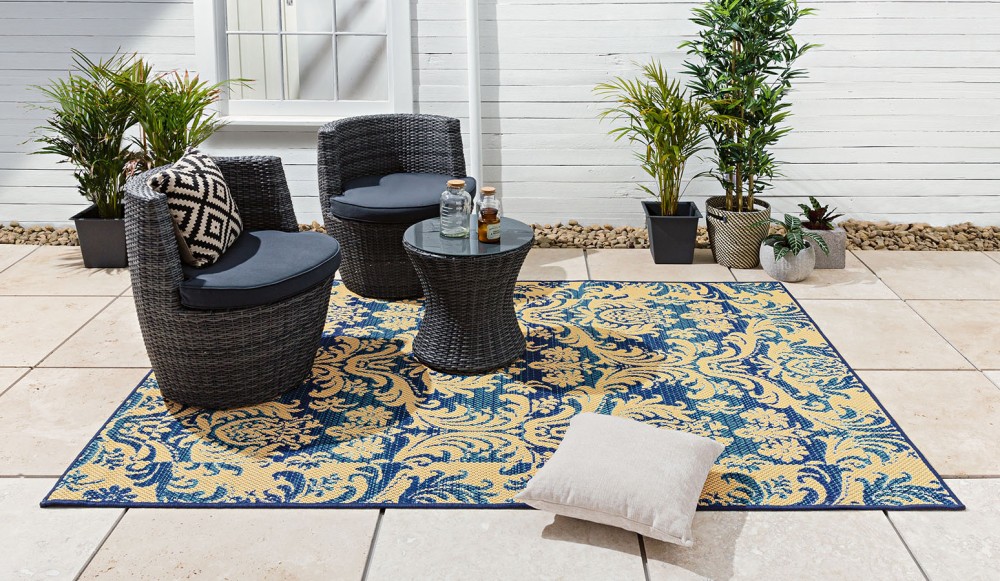 Who says rugs are only for indoors? If your home has an outdoor area, quality rugs can be used to help define the space and add comfort underfoot. Whether it's a quiet retreat where you can unwind or a place for the family to gather and enjoy the fresh air, your choice of rug can help add a sense of character. Seen above, the 'Scope' 4447/H rug brings modern and classic influences together to create something special. The moody blue and cream colours create a striking contrast, while the flatweave loop pile construction provides the durability you desire for long term outdoor use.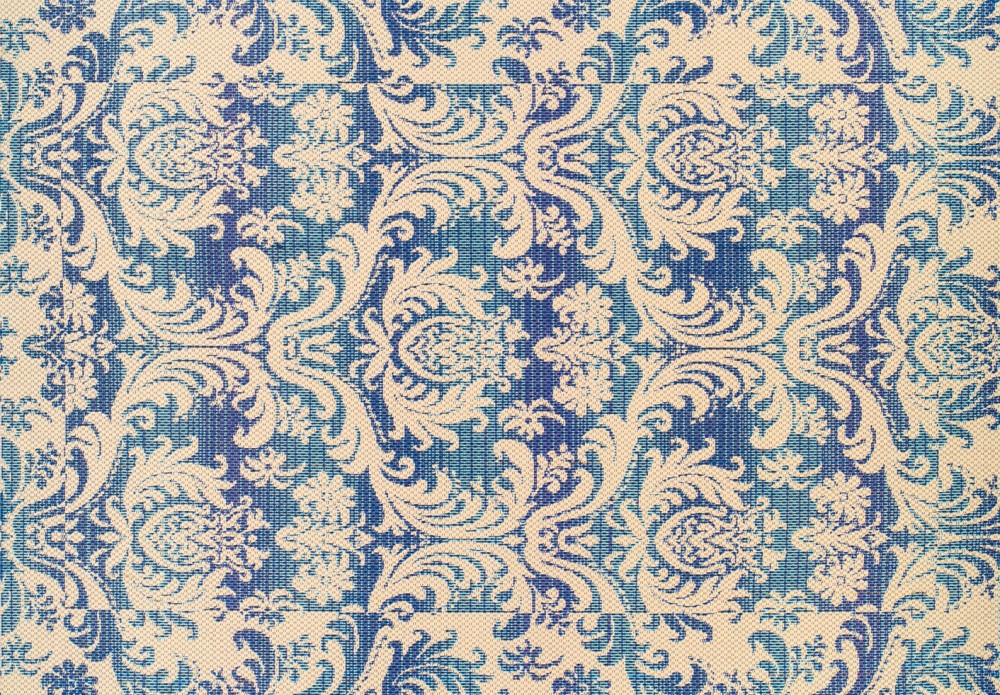 Thoroughly Modern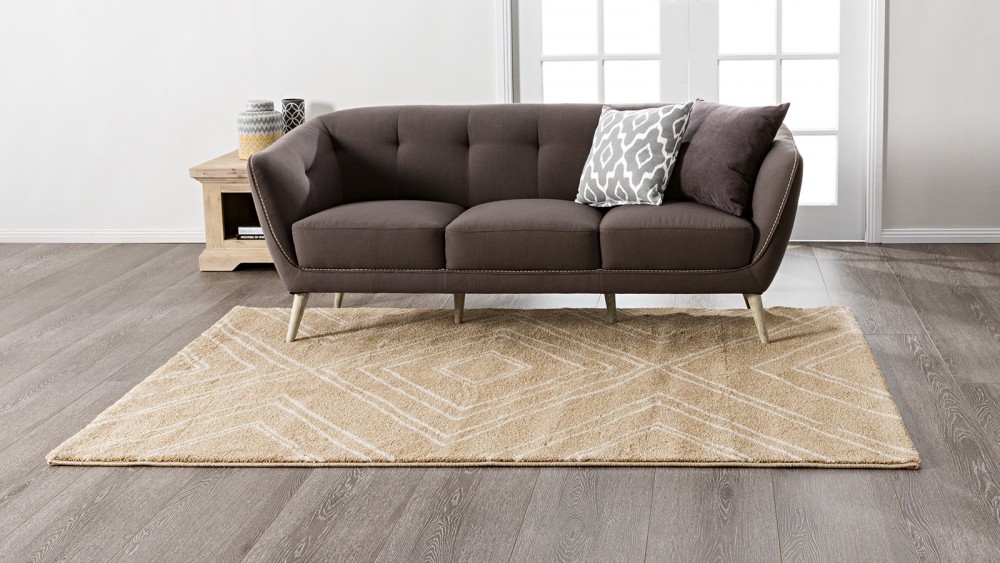 If your home décor favours a modern influence, the 'Catalina' 57532/660515 rug will provide the perfect finishing touch to your room. The neutral hues of beige and cream lend a versatility that will work with a wide range of palettes and looks, while the edgy pattern and thick pile add texture and depth. Whether you're adding a touch of comfort to a tiled surface or dressing up timber floorboards, the 'Catalina' will work well with any surface. Resilient against wear, easy to maintain and delightfully sumptuous underfoot, you'll enjoy this quality rug for years to come.
Back to Nature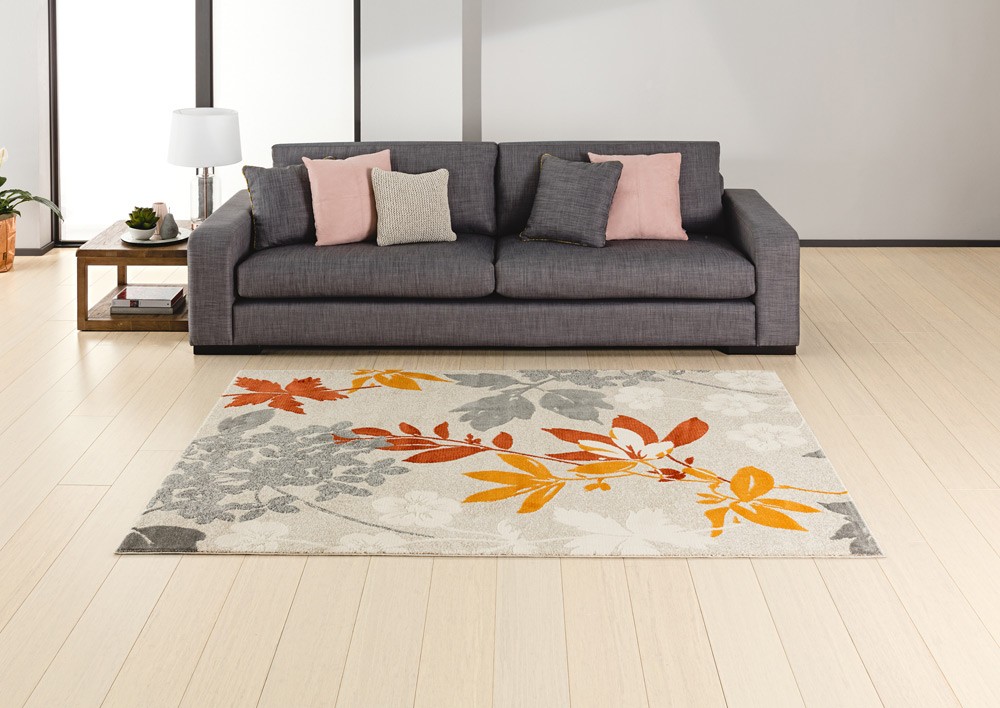 Want to really freshen things up? This contemporary rug, featuring a striking floral design, will instantly enliven your lounge room. The autumnal palette of the 'Bronte' 20203/063 will make a sophisticated addition to both a modern theme and something more colonial in aspect. The outdoors/indoors design will create a sense of unity between the natural world and the comforts you enjoy. Soft underfoot and easy to maintain, this rug is a stunning decorator choice for your retreat.
Fancy Some Zing?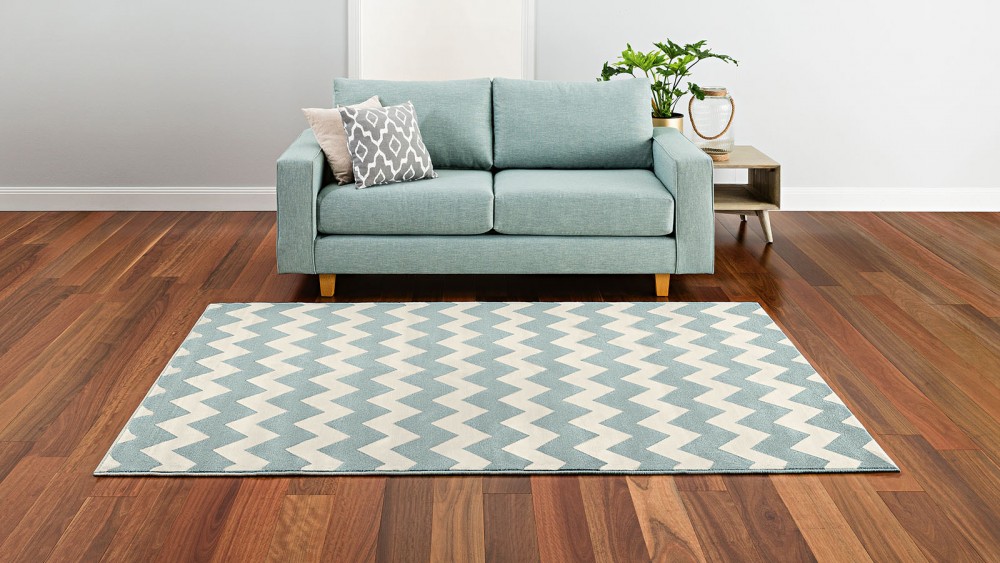 The fashion-forward chevron style of the 'Louvre' 1030/I rug combines with sophisticated teal and cream colours to bring a truly contemporary feel to any room. As seen in the image above, when placed in contrast with timber flooring the zig-zag design really makes an impression. The soft Egyptian fibre will feel so sumptuous underfoot that your toes will wriggle with delight. This timeless look makes a great companion piece to a diverse range of different styles.
An Exotic Touch
With rich, warm colours that make a statement in any room, the 'Nifti Style' 79705 rug could be the exotic touch you've been looking for. Bound to capture the attention of your visitors, the intricate detailing in the design displays the exquisite craftsmanship behind this eye-catching creation.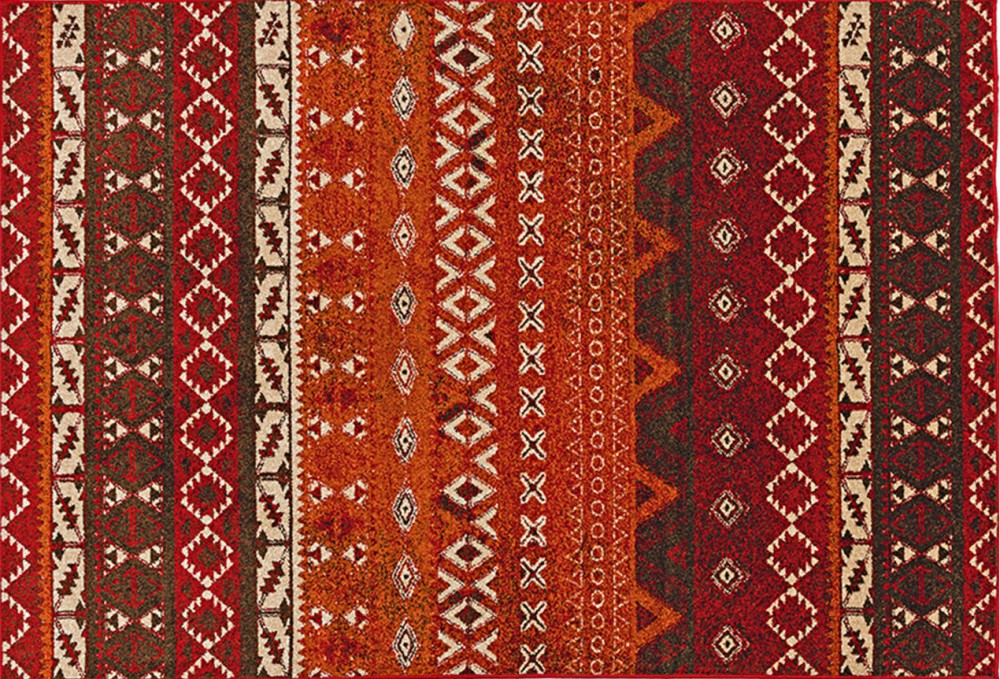 Bold and Bright in Black and White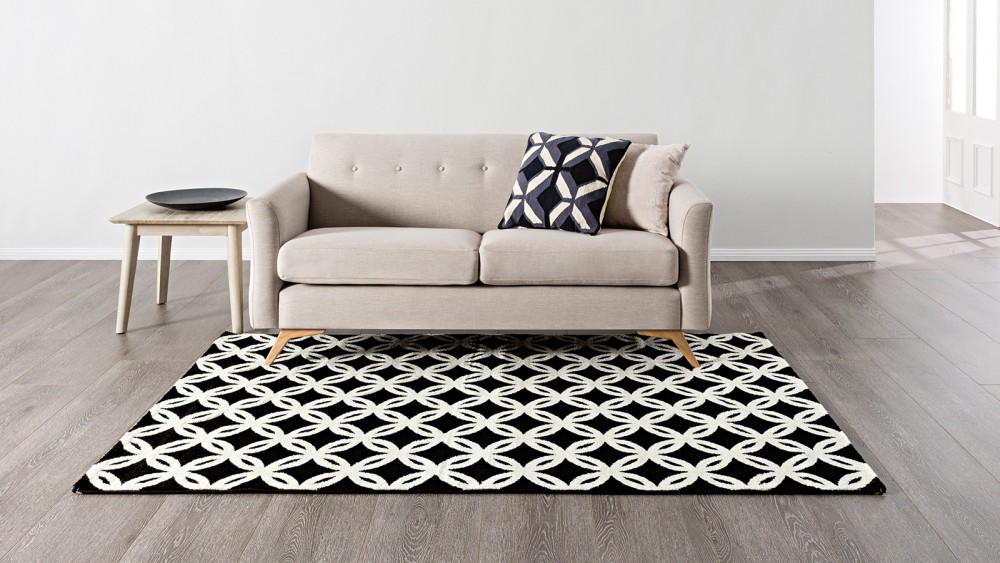 If you're after something that is as chic as it is bold, then the smart monochrome look of the 'Ariana' 57401/649232 rug is what you desire. This statement-maker features a dramatic geometric design that will make it the focal point of your living area. Team with furniture in neutral hues and anchor the theme with coordinating accents in cushions and homewares. Soft and comfortable underfoot, the 'Ariana' range is durable and designed to last.
Strike a Pose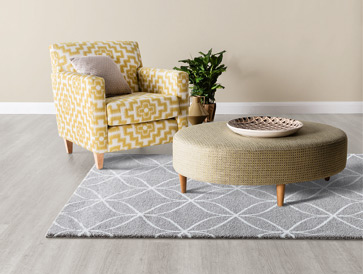 Exclusive to Harvey Norman, the Smartstrand series of rugs features stunning designs, a luxuriously cushioned texture and the revolutionary Triexta fibre that provides built-in stain protection and exceptional durability. The versatile 'Vogue' 3838/0925 rug (shown above) features a classically neutral shade that works well with most colour palettes, letting it serve as a contemporary canvas on which you can build all manner of looks. The elegant design conveys a timeless appeal that will endure for years to come.
Feeling Inspired?
As you can see, the addition of a rug can really elevate the atmosphere of your space. It's important to note that most rugs come in a choice of sizes, so if you'd like a few tips on choosing the right size for your room be sure to check out our handy buying guide here. You can find the range available in store at your local Harvey Norman, and now you can also buy rugs online. Want to get 30% off* the price of your new rug? Simply purchase a selected rug online before December 11th and enter the promo code 30OFFRUG when you check out.*
Don't delay, find the rug you've been dreaming of and transform your space today.
*Discount is off the normal ticketed price. Promotion is not available in conjunction with any other offer. Promotion valid from 04/12/15 to 11/12/15. Excludes Mandalay, Rubix and Prestige rugs.