Your home should feel like an escape from the pressures of the outside world. If this seems more an ambition than a reality, you'll be pleased to know that some simple style choices can instantly transform your space from hum-drum to heavenly. Even better, you don't need to break the bank. Styling your home with key statement pieces such as a marble table or leather lounge from Harvey Norman's high-end furniture range is a potent way to escape the mundane and heighten the pleasures of everyday living.
Remaking a space to feel luxurious requires high-end furniture that combines quality materials with sophisticated design. In particular, marble and leather are two materials that effortlessly uplift the ambience of a room. Not to mention, a high-quality marble dining table or leather lounge constitute investment pieces you'll be excited to showcase for years to come.
If you are unsure how to incorporate these mighty materials into your space, then read on! Here, we take a look at how to successfully style a majestic marble dining table or classic leather lounge in the contemporary home. Armed with this know-how, you could soon be experiencing the transformative effect of everyday luxury for yourself!
Luxury Marble Dining Tables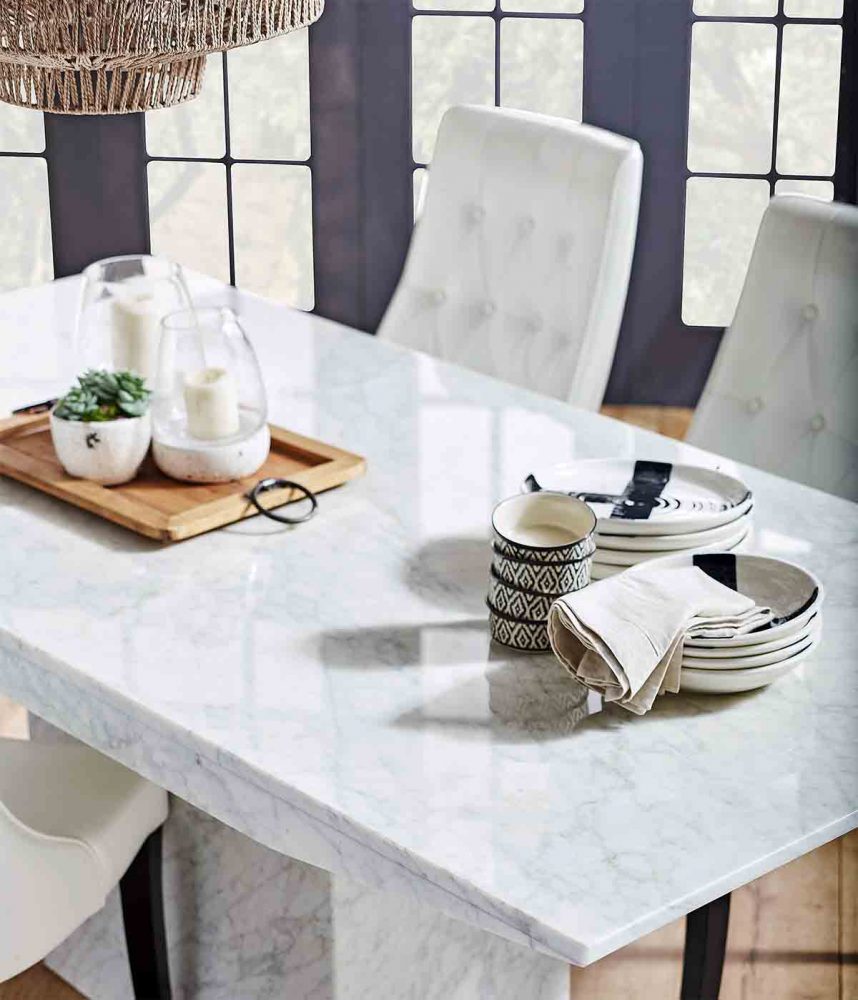 Marble is one of the first materials to spring to mind when thinking high-end furniture. Venerated since ancient times, polished marble retains associations of opulence and grandeur that allow a marble piece to speak for itself. In other words, if you are seeking to transform your space from so-so to splendid, cleverly working marble into your scheme can achieve the desired effect while minimising the danger of over-styling.
A marble table top is the ideal starting point for graciously integrating marble into the contemporary home. Remember, incorporating luxury materials through functional pieces ensures your look remains clean and contemporary. For this reason, we recommend a high-quality marble dining table for instantly uplifting your style. A marble dining table will make certain your beautiful new marble is admired daily even as it serves its purpose!
Here, we have chosen the 'Shabayer' marble dining table and 'Elba' marble dining table for some serious inspiration. As premier examples from Harvey Norman's high-end furniture ranges, these versatile investment pieces are suited to all contemporary living spaces.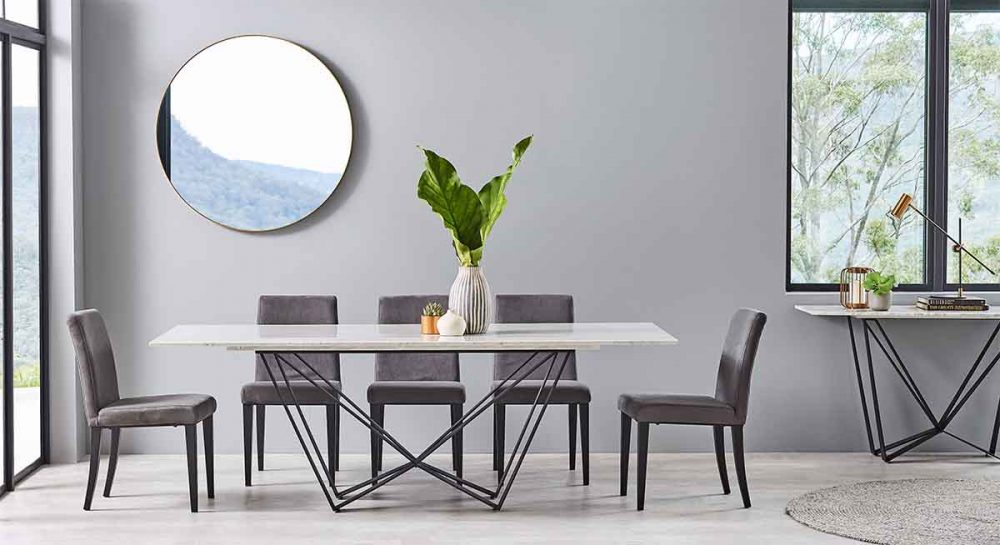 To successfully showcase marble in your space, take your cue from the art world. After all, marble adroitly rendered in potent design is a timeless symbol of high culture – just think Michelangelo's 'David'! At a more practical (and attainable!) level, the 'Shabayer' 9-Piece Dining Suite demonstrates that breath-taking marble design can be an everyday experience.
Indeed, the 'Shabayer' marble table could easily be mistaken for a contemporary art piece with its striking lines fashioned from juxtaposing materials. On a minimalist steel base sits the table's exquisite talking point – a white Bianco Carrara marble table top. This luxurious stone is quarried exclusively in Carrara, Tuscany, and is widely considered the pinnacle of marble. Renowned for its exceptional organic white grain with soft grey veining, the natural properties of Bianco Carrara marble ensure every 'Shabayer' marble table top is, like all the best artworks, truly one of a kind. Michelangelo would be proud!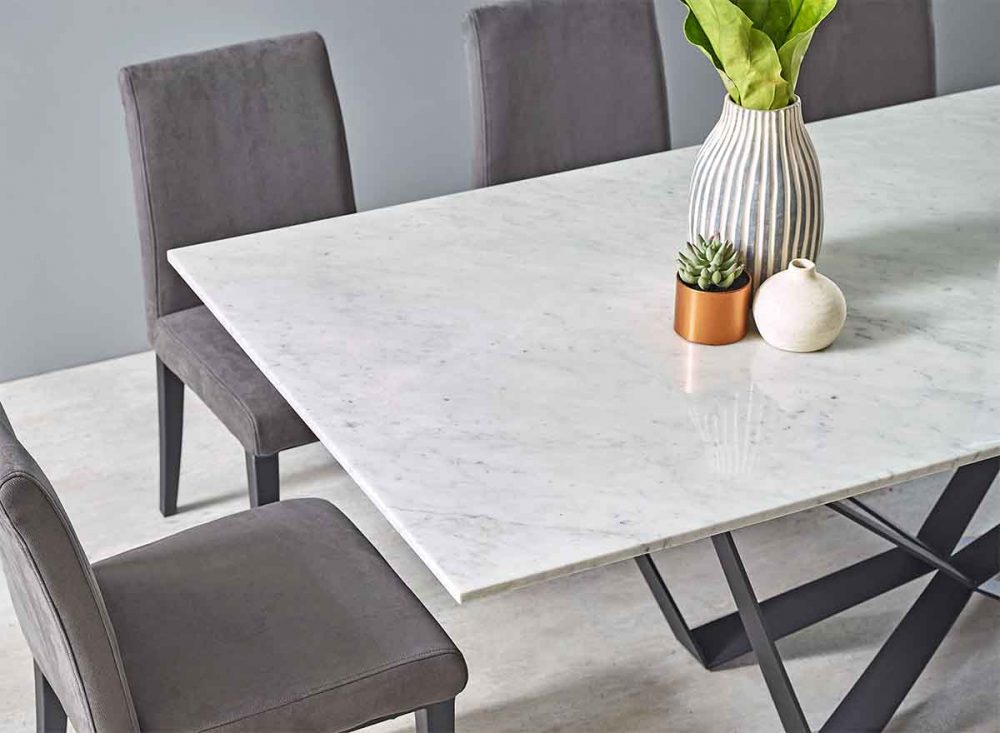 Completing the 'Shabayer' Dining Suite is the slimline and comfortable 'Lottie' Dining Chair. Upholstered in high quality fabric, the 'Lottie' chair provides a welcoming warmth to offset the coolly structural 'Shabayer' marble table. Also available in Light Grey or Black, we've chosen the sauve Dark Grey for our setting. Neutrals effortlessly add distinction, so no artistic talent is required to bring out the potential of your new dining suite. Selecting your 'Lottie' chair colour is simply a matter of personal preference!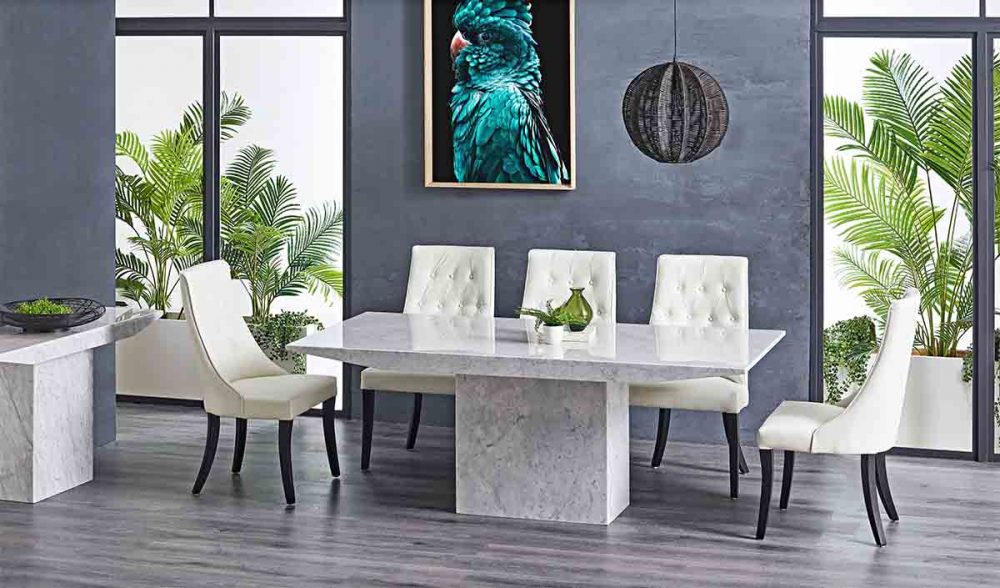 For the ultimate marble statement piece, the sumptuous 'Elba' Dining Table is a timeless and worthy investment. Evocative of a classical architectural column, this marble table retains the ancient design ethos of strength, order and balance in a contemporary minimalist form.
Interestingly, this link with classical tradition is more than aesthetic. The 'Elba' marble table is expertly handcrafted in Italy from high quality white Bianco Carrara marble – the same type of marble used in Ancient Rome. Nevertheless, what keeps this marble dining table firmly in the twenty-first century is its emphasis on elegant simplicity. The ultra-clean profile of the 'Elba' is perfectly suited to open-plan spaces where flow of movement demands economic design. This means the 'Elba' marble table is equally at home in an apartment or a house, and, destined to attract attention no matter its position, will slip comfortably into the contours of your space as required.
Once in place, however, don't be alarmed if your new 'Elba' marble table suddenly inspires you to whip up a lavish Roman-style banquet! Naturally, this raises an important question – how to seat your guests in complementary style?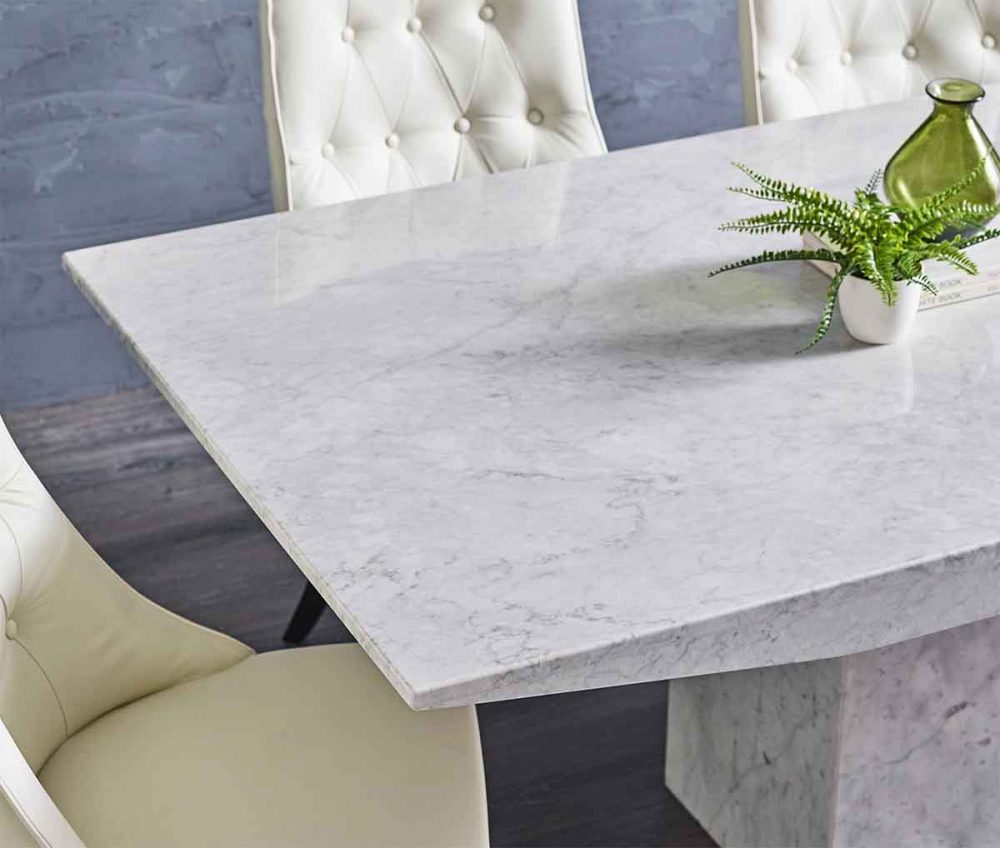 Unlike the Ancient Romans, twenty-first century guests favour feasting upright on ergonomically-designed chairs that comfortably support long hours of conversation (and maybe a post-feast board game or two!). Luckily, the 'Ambrosia' Leather Dining Chair delivers the comfort, style and sophistication to make it an elegant companion to the 'Elba' marble dining table. Upholstered in full cowhide leather, the 'Ambrosia' features vintage button-tufting offset by chic curves flowing down to the tapered legs. More than pleasing to the eye, this curved design offers adequate back support while imbuing the frame with strength and durability.
The 'Ambrosia' is available in a range of versatile leather colours including white, black, grey, brown or taupe.
Luxury Leather Lounges
If marble reigns supreme as a luxury material for hard surfaces, then leather is the undisputed equivalent for soft furnishings. As the premier choice for luxury goods, leather maintains a recognisable status as classic, exclusive and effortlessly stylish. A well-chosen leather lounge is an expression of contemporary sophistication that can lend your space distinct poise. And don't underestimate how the sleek touch of leather can elevate your mood! Its sensuous appeal is one of the many luxurious properties ensuring leather's enduring desirability.
Natural and durable, leather is an easy-to-clean upholstery option that increases in softness and suppleness as it ages. This means a leather lounge is a true investment piece you will enjoy for years to come. To make the right choice when choosing from the many leather lounges in Australia, it is thus necessary to consider the long-term needs of your space and lifestyle. At the forefront of these considerations are size, style and colour.
If all this seems daunting, never fear! We've selected two of our favourite leather sofas – the 'Platini' and the 'Kemp' – to spark your imagination. These two leather sofas epitomise the comfort, flair and durability you can expect from Harvey Norman's high-end furniture range. We particularly love how these sofas combine fresh contemporary design with the timeless refinement of high quality leather. Incorporating these pieces into your home is a win-win for luxurious style and comfort!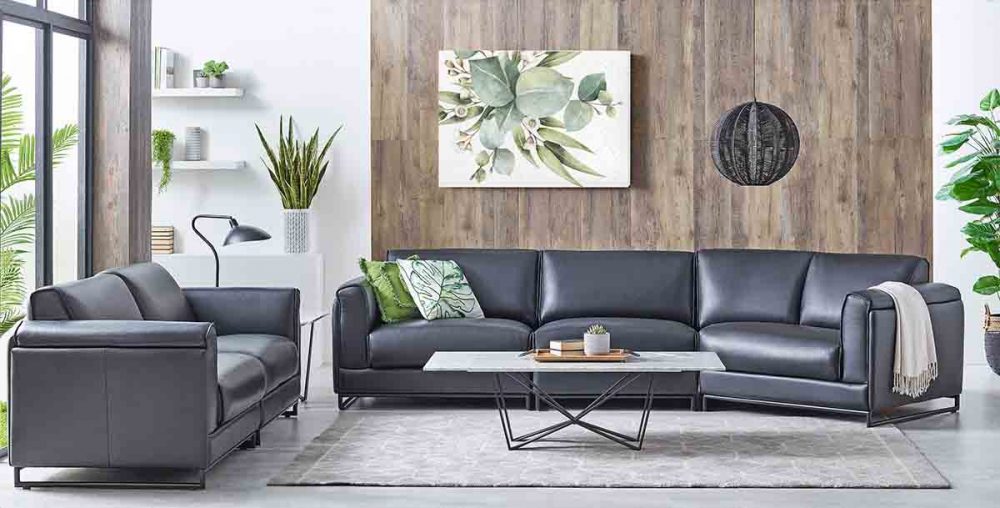 As we have seen, successfully styling a contemporary living space with luxury materials is all about prioritising function over fussiness. The 'Platini' Leather Sofa collection, pictured here in a 2-seater sofa with angled chaise (right) and a 2-seater (left), is also available in a range of alternative sizes and configurations so you can select the perfect option to suit your room.
Deliciously understated, the 'Platini' delivers comfort with generous seating in a timeless mid-century low profile design. Beneath the surface, a sturdy metal sled base houses the zig zag spring support system that gives the 'Platini' the structural durability to withstand years of usage. What you'll notice, however, are the plump seat cushions filled with feather and foam. If its luscious leather and sleek form are visually magnificent, then the quality of comfort offered by the 'Platini' is the experience of luxury itself!
We've featured the 'Platini' in 'Villa' Black leather from the large range of leather colours available in store. As a general guideline, neutrals are the safe choice for instilling a timeless, sophisticated ambience. However, don't be afraid to explore bold colours if you are working within an existing interior scheme or simply prefer a particular colour. Luxury furniture pieces are intended to remain a much-loved feature of your home for many years to come. It therefore makes perfect style sense to choose the colour most pleasing to you – it will only make your luxury leather sofa more comfortable in the long run!
Also featured above: 'Shabayer' Coffee Table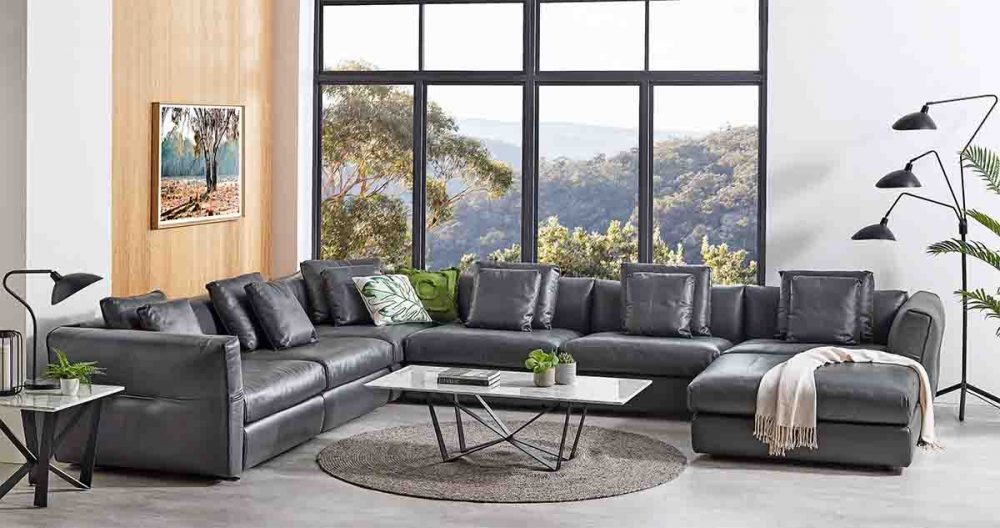 Executive and commanding, the 'Kemp' Leather Corner Modular Lounge Suite wields all the confidence and charisma you'd expect from one well-dressed in leather. This modular sofa includes three leather chairs with one arm, three leather chairs with no arms and a leather ottoman.
Like a true power-broker, this premium leather sofa flaunts abundance with deep, spacious seating. Feather and foam blend cushions sit atop a resilient zig zag spring support system for enduring comfort.
Ultimately, however, the true power of the 'Kemp' belongs to you! The modular pieces are available individually so you can customise the ideal leather sofa to fit your living space or rearrange to suit the situation. Plus, adjustable ratchet armrests give the flexibility to lounge in any position you desire. The true essence of luxury!
Also featured above: 'Shabayer' Coffee Table
Transfom Your Home with High-End Furniture
Inspired to make luxury part of your everyday or curious about the investment potential of high-end furniture? It's time to take a closer look at our marble dining tables and leather lounges.
To do so, browse online and head into your local Harvey Norman store where you can view our entire luxurious, high-end furniture range. Our friendly, expert staff will be more than happy to help you on your journey towards everyday contemporary luxury!