When it comes to choosing quality furniture, you don't have to look beyond our own backyard. Because who better understands the lifestyle and needs of Australians than Australians themselves?
Investing in Aussie-made furniture is a smart choice. Why? Because furniture made in Australia is produced according to the highest manufacturing standards so you can be sure of the quality. Buying Australian also supports local industry and jobs so you can give back to the community – and that's a good thing for all of us. Did I mention that Harvey Norman's range of Australian-made furniture can be customised with a wide selection of fabrics, colours and timber stains so you can create the interior style of your dreams?
Whether you're looking for a comfortable and stylish lounge, or searching for the perfect dining suite with which you can dine in style, Harvey Norman has it all. Check out some of our top picks from our impressive range of Australian-made furniture and discover home-grown craftsmanship at its best.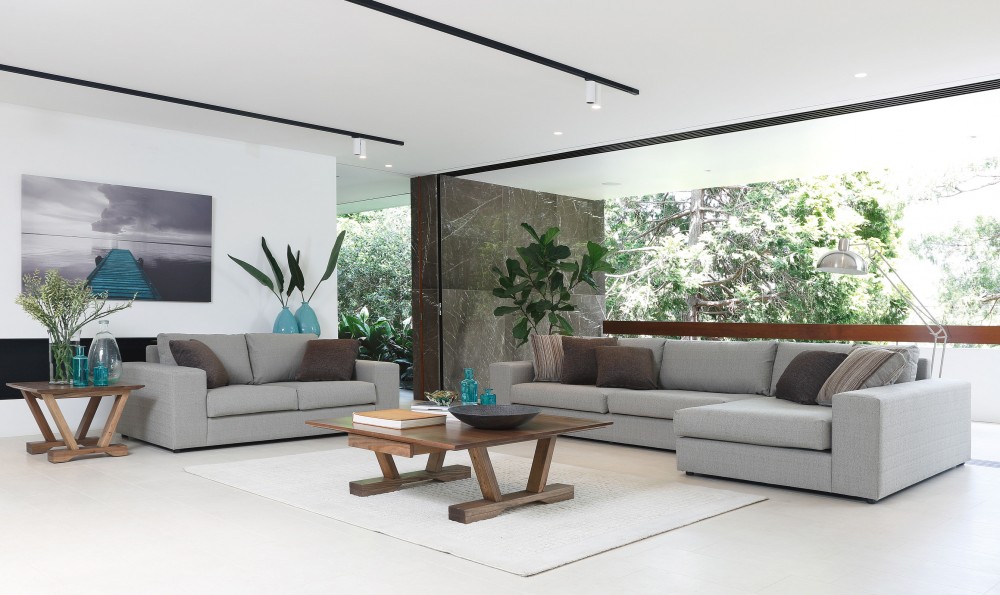 The 'Canyon' 3.5-Seater Fabric Lounge with Chaise is the epitome of contemporary elegance. Proudly manufactured in NSW, this modern lounge combines an understated design with a neutral tone and spacious seating to add a touch of grace and warmth to any living room. With plenty of room to entertain guests and a luxurious chaise to unwind on at the end of the day, you'll love having the 'Canyon' around. Adorn your lounge with the included scatter cushions (pictured) and choose your favourite fabric colour to add contrast and texture. Complete the look with the 'Terrace' Coffee and Lamp tables for a stylish finish.
This 'Canyon' Fabric Lounge is also available as a 2.5-seater. Choose your fabric from Mirage, Pumice, Smoke and Steel.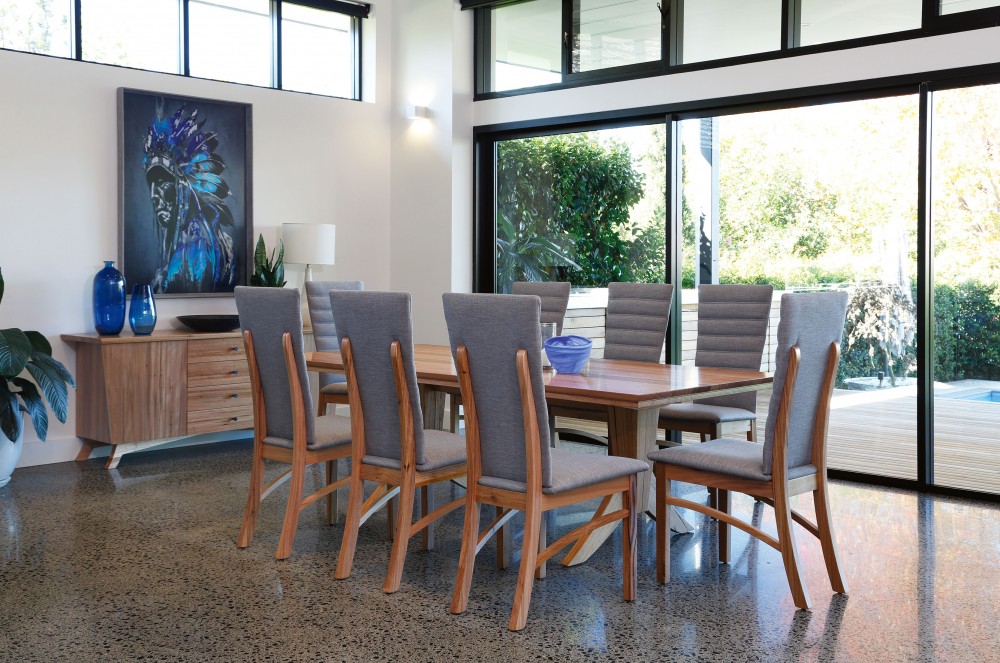 For a splash of contemporary style in the dining room, consider the Australian made 'Odeon' 9-Piece Dining Setting. This sturdy timber dining table features a naturally striking design and measures a generous 2400mm so there's plenty of room for everything on your menu. Eight high-backed chairs with coordinating timber frames and fabric upholstery provide plenty of seating for you and your guests, delivering an elegant and comfortable finish. Customise
your dining setting with a choice of stains and fabrics to complement your decor, and add a matching 'Odeon' buffet, coffee table and lamp table to complete the look.
The 'Odeon' Dining Table is available in a range of stains including Clear Lacquer, Messmate and Gippsland Oak. The 'Odeon' Dining Chairs are available in a selection of fabrics including Almond, Anthracite and Ebony.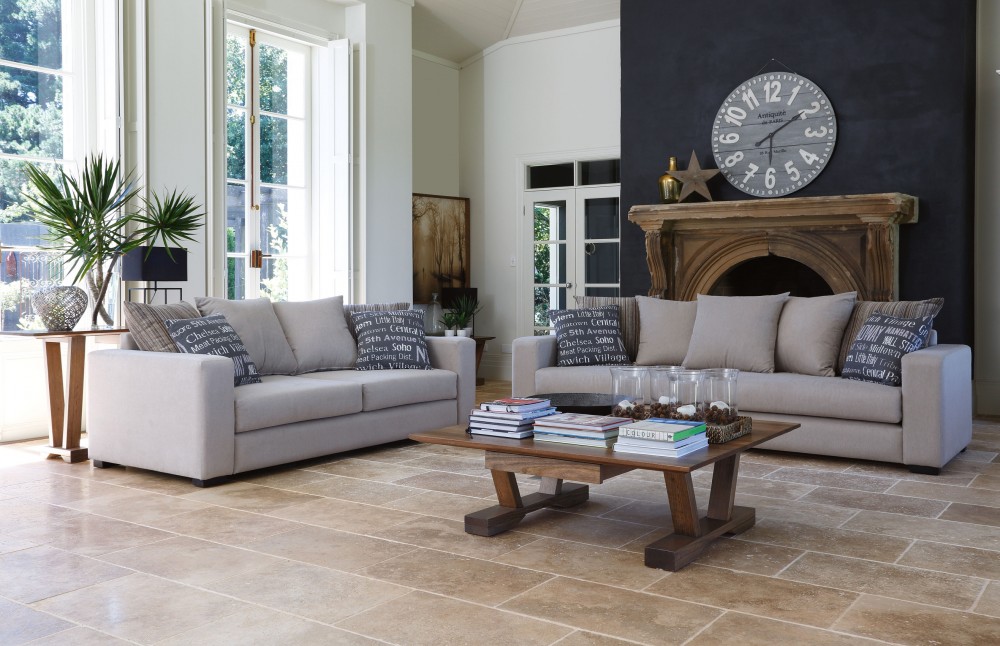 Aussie country charm meets modern design in the 'Reynold' 4-Seater Fabric Lounge. This quality lounge has been manufactured in our own backyard and is sure to bring timeless style and welcoming warmth to your living area. With plentiful space to accommodate visitors, it's perfect for entertaining – or keep
it all to yourself and stretch out and relax. Both the lounge and included scatter cushions (pictured) are available in a selection of fabric colours so you can mix and match to your taste, and complement these with the 'Terrace' Coffee, Lamp and Hall tables for a rustic look.
The 'Reynold' lounge is also available as a 3-seater (pictured) and in a range of fashion-forward fabric colours including Prague Mink and Prague Nougat. The co-ordinating scatter cushions are available in Soho Grey and Pueblo Earth fabric colours (as pictured).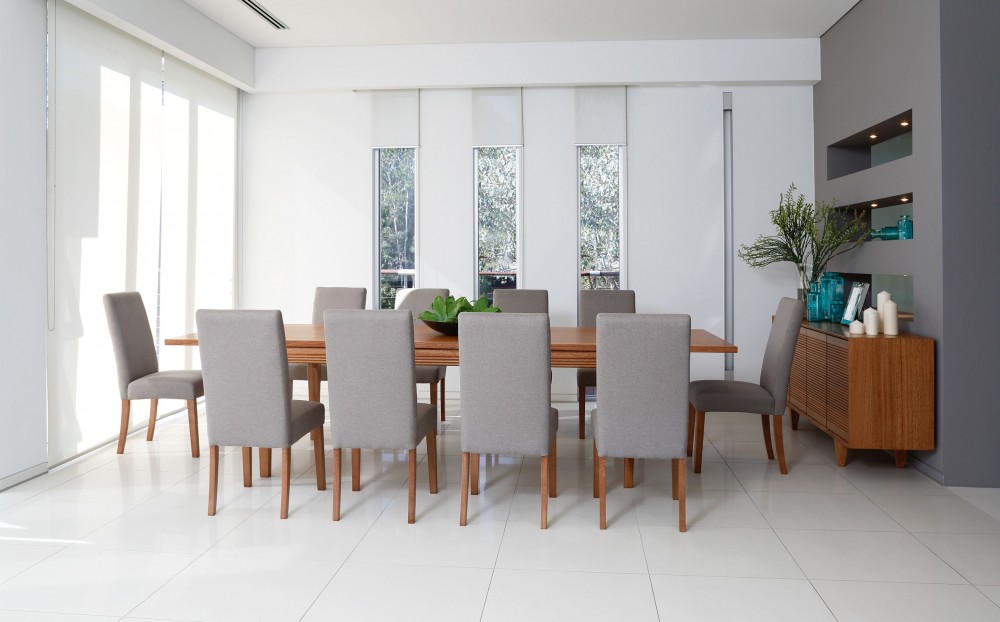 Sturdy and stylish, the 'Oakdale' 11-Piece Extension Dining Suite showcases the best in Australian dining furniture. Perfect for large families or passionate entertainers, the 'Oakdale' dining table extends from 2100mm to 3100mm so you'll have plenty of room to fit whoever comes over for dinner. Impress your
guests and dine in style thanks to the natural beauty of timber stains, while the ten matching chairs upholstered in customisable fabric provide premium comfort. Complement the 'Oakdale' dining suite with coordinating decor including a buffet, entertainment unit, and coffee and lamp tables.
The 'Oakdale' dining table is also available in 2400mm, 2100mm, 1800mm and 1500mm sizes, and in 1050mm square size. The 'Oakdale' dining setting is also available as a 9-piece, 7-piece and 5-piece setting. Choose from a selection of timber stains including Polished, Slate, Acacia, Banksia and Cottage Teak. Customise your dining chairs with a choice of fabric colours including Shadow, Elephant, Ink and Pebble.
Discover the beauty and quality of Australian-made furniture. Head down to your local Harvey Norman store to browse our impressive collection of dining and lounge room furniture, and our wide selection of fabrics and stains to help you create your own style. Want to read more about our extensive range of furniture? Check out our recent blog post on the versatility of modular lounges.