When it comes to bedroom furniture, choosing Australian made has many benefits. Not only can you be sure you're investing in quality products made to the highest manufacturing standards and that you're supporting the local industry, you also have the ability to customise your bedroom suite.
That's right. Harvey Norman's range of Australian-made bedroom furniture can be customised with a wide selection of fabrics, colours and timber stains so you can create the interior style of your dreams. Plus, with a huge range of quality mattresses from the biggest brands available in different sizes and feels, it's so easy to find the perfect bed for you. The power is in your hands!
Be inspired to create your new bed to suit your personal taste and decor. Check out some of our favourite customisable beds from our impressive range and discover the possibilities.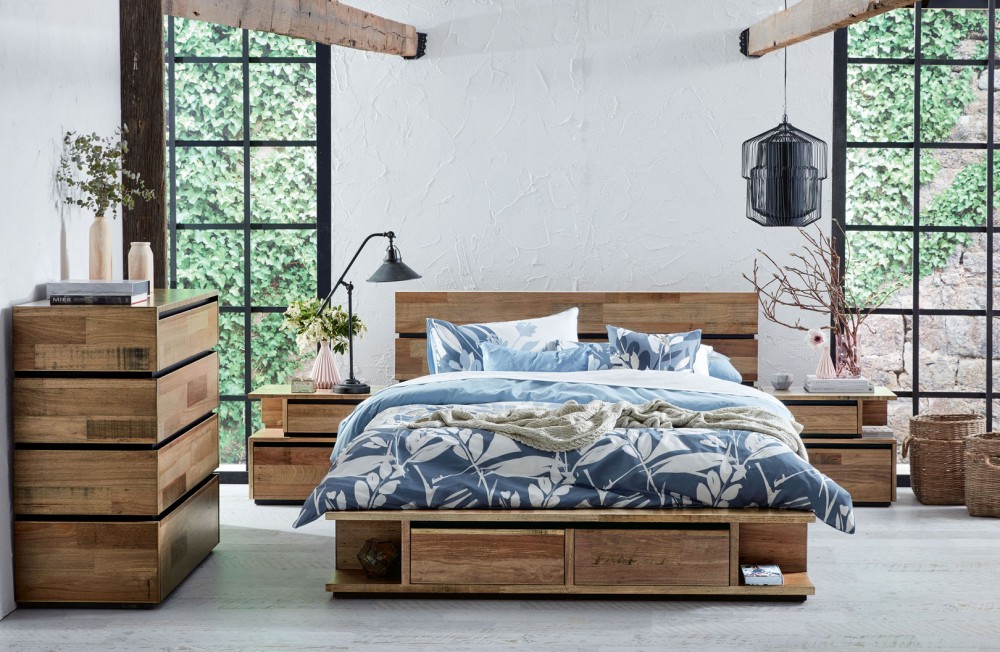 Fall in love with the space-saving solution that is the 'Random' Low Queen Bed. Constructed from quality Silvertop Ash timber, this sublime bed is a combination of rustic beauty and versatile design that is perfect for your bedroom. Spacious shelves line the sides and corners of this bed so your bedtime reads are never far from reach, and two storage drawers sit tucked away at the foot end to keep your clutter out of sight. Customise with a choice of colour stains including Aged Smoke (pictured), Aged Barley and Aged Wheat. Complete the look with the optional bedside table and tallboy. The 'Random' is also available in king size and with a high bedhead.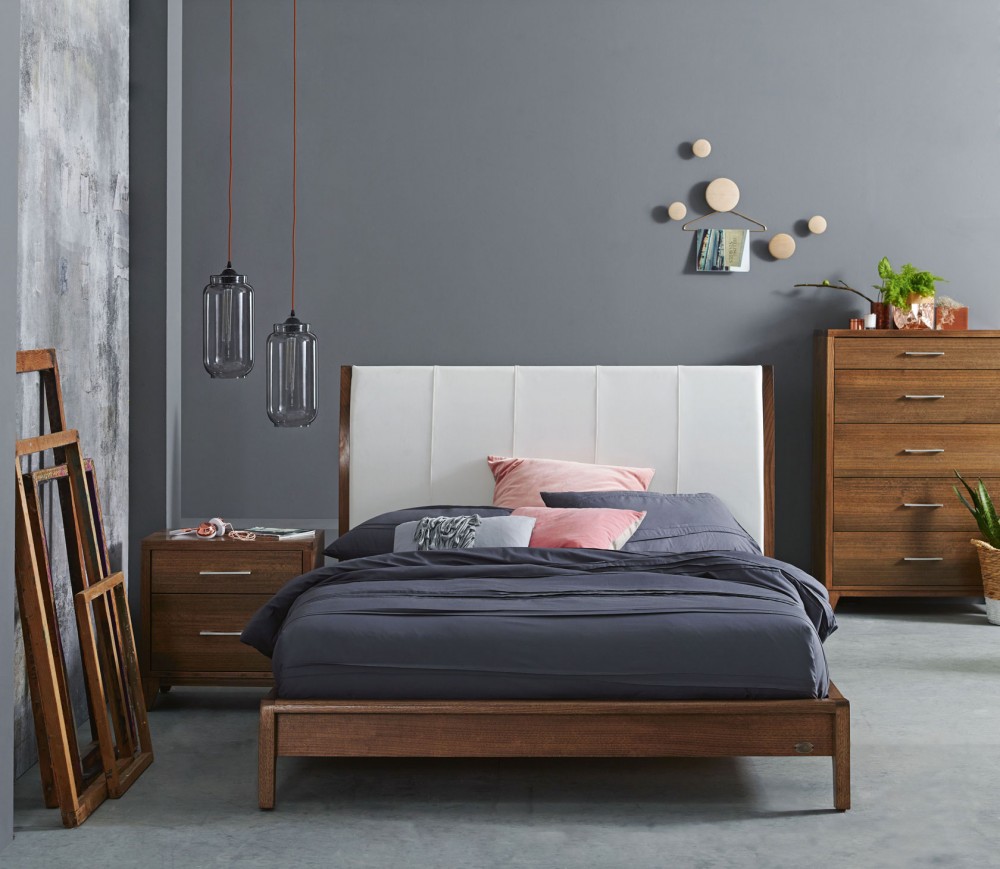 Make a bold statement in your bedroom with the 'Brooklyn' Queen Bed. This beauty demands attention with its quality craftsmanship and contemporary sleigh design in combination Victorian Ash timber which contrasts nicely against the crisp white of the upholstered bedhead. Available in a fine selection of stain colours including dramatic Mahogany and classic French Provincial, this refined range can be customised to suit your existing decor or to create a fresh new look. Also available in king size, with a matching bedside table, tallboy, dresser and mirror available to order separately.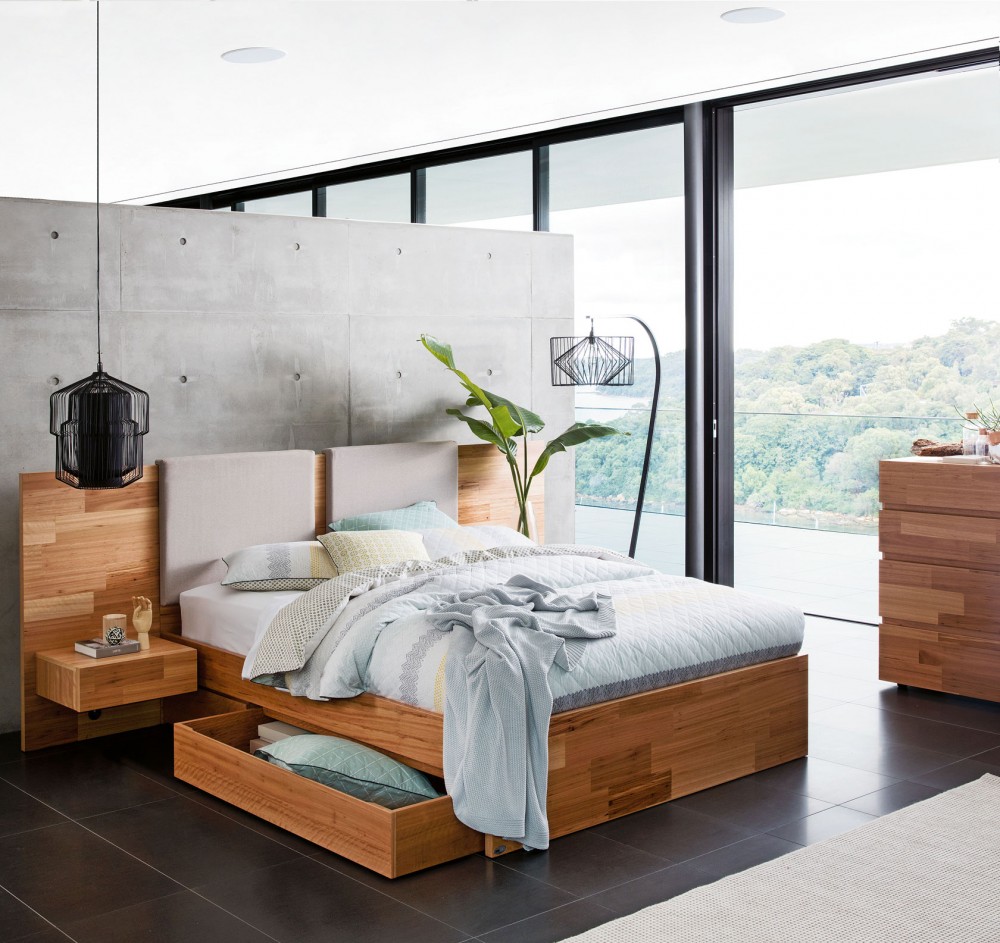 For a clean design with a trendy edge, look no further than the 'Lucido' Queen Bed. Showcasing a beautiful Blackbutt Veneer in a contrasting tile pattern, the light and airy 'Lucido' boasts a modern aesthetic that is sure to integrate seamlessly with any decor. The unique bedhead features removable panels with fabric upholstery for added head and back support. Select from an array of colour stains, sizes and fabric upholstery options. You can even choose to have the bed made without upholstery. Plus, there's an exciting array of optional extras for you to choose from, including a large underbed storage drawer and a bedside table with USB charger and a sensor light. Also, if you order two bedside tables, you will receive an extended bedhead (as shown in the image above).
Not only should your bedroom look beautiful, it also needs to serve its purpose. A good night's sleep is crucial to our health and well-being, so it's very important to find a mattress that supports your body, provides comfort and leaves you feeling refreshed the next morning. Here are some of our top picks from Harvey Norman's extensive range of mattresses from leading brands, which are available in various sizes and feels to suit your specific needs.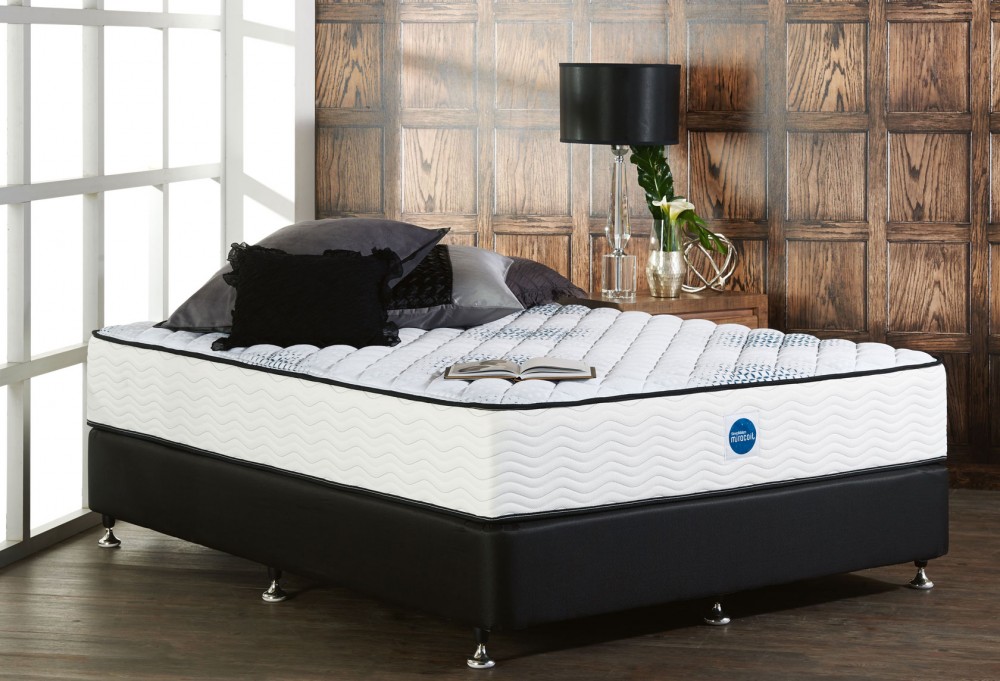 Get a good night's sleep with the SleepMaker Miracoil® 'Support' Queen Ensemble. Combining pressure-relieving Memory Foam, Australian made Dunlop Foam comfort layers, and a breathable Climatex® Quilt sleep surface, the 'Support' offers cushioning comfort that conforms to your body to provide restful sleep. This ensemble also features the famous Miracoil Advance 5® support system with five graduated zones that cradle the hip region to give your body the support it needs. Choose from a selection of sizes and feels of your ensemble to achieve the best possible sleep. The SleepMaker Miracoil® 'Support' is available in super firm, firm, medium and plush comfort levels in single, long single, king single, double, queen or king sizes as a mattress or ensemble, backed by a 10 year warranty.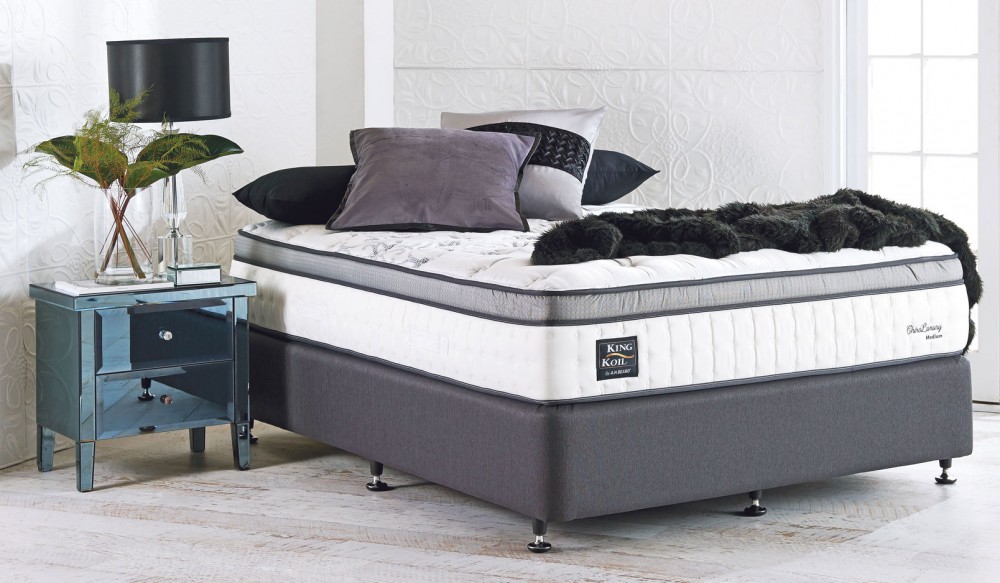 Experience luxurious sleep with the King Koil 'Chiro Luxury' Queen Ensemble. Designed in conjunction with and endorsed by the International Chiropractors Association, the 'Chiro Luxury' features the King Koil Reflex MAX support system – an advanced coil system that responds directly to your weight and shape to provide extra support where your body needs it. Memory Foam conforms to the curves of your body for pressure-relieving comfort, and with different mattress sizes and feels to choose from, you can enjoy a good night's sleep. The King Koil 'Chiro Luxury' ensemble is also available to order in super firm, firm, medium and plush comfort levels, in single, long single, king single, double, queen or king sizes.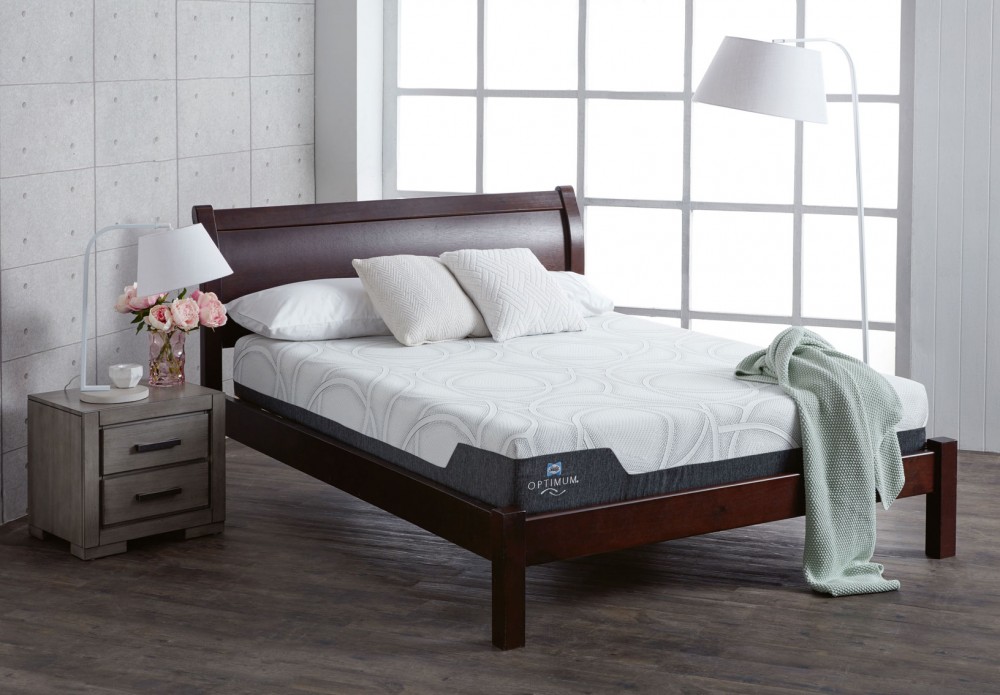 Give your body the restful sleep it deserves with the Sealy Optimum® 'Contour' Queen Mattress. Designed to conform to you and your partner's individual needs, this mattress is a fusion of high-quality Particle Gel Visco Elastic with extra deep high density Visco Elastic and high resilience foam which conforms to the body to relieve pressure points and reduce tossing and turning as well as partner motion transfer. The mattress also features non-stretch fabric with a temperature management system for a truly comfortable sleep. With different mattress sizes and feels to choose from, you're sure to find a 'Contour' mattress that's right for your body so you can experience the finest sleep. The Sealy Optimum® 'Contour' Mattress is available in queen and king size, in firm, medium or plush feels.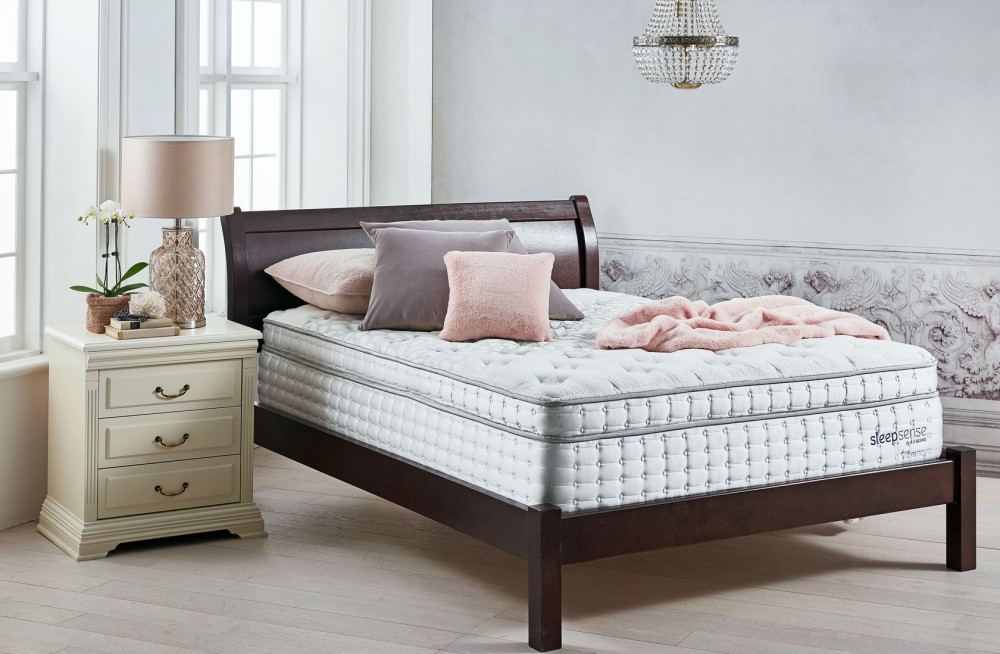 Revolutionise your bedroom and your sleep with the innovative Sleepsense 'Vibrancy' Queen Mattress by A. H. Beard. A smart bed that changes with you, the 'Vibrancy' mattress combines the breathability of AeroWeb technology, pressure-relieving Memory Foam and Sleepsense Sleep Tracker technology (optional extra) to provide luxurious, personalised comfort. You can customise the firmness of your mattress on each side of the bed with a remote control or the smartphone app at any time to meet your changing needs so you and your partner can enjoy different levels of comfort. With the ability to change night after night at the touch of as button, the 'Vibrancy' mattress is sure to help you discover the luxurious sleep you've been dreaming of. The Sleepsense 'Vibrancy' Mattress is available in long single, king single, double, queen, king and super king sizes.
Feeling inspired to custom-create your bedroom? Head down to your local Harvey Norman store to browse our impressive collection of Australian made bedroom furniture, fabrics and stains and put together an ensemble designed for you, by you!