Nothing beats hanging out with friends and family – especially when it's in your very own home theatre! And, excitingly, the dream of creating your own home theatre has never been as accessible as it is today.
A big screen and immersive sound are a part of the puzzle – but it's really only half the story when it comes to designing a home theatre setup that delivers that 'at the movies' feeling. Finding home theatre furniture that sets the right tone and creates a plush, inviting setting is equally as important.
From electric recliners to clever storage solutions, the following home theatre lounges and TV entertainment units are some of our favourite furniture pieces to consider when creating a home theatre setup. All available from Harvey Norman, these home theatre furniture options will help make a home movie night feel like a special occasion every time.
Home Theatre Lounges
A comfortable home theatre lounge is a must when it comes to creating a space that's at once both relaxing and tailored towards you immersing yourself in stories on the big screen.
With that in mind, we've curated a range of home theatre recliner lounges, each of which is specifically designed to provide the ultimate in relaxation, so you and your guests can settle in and enjoy the entertainment.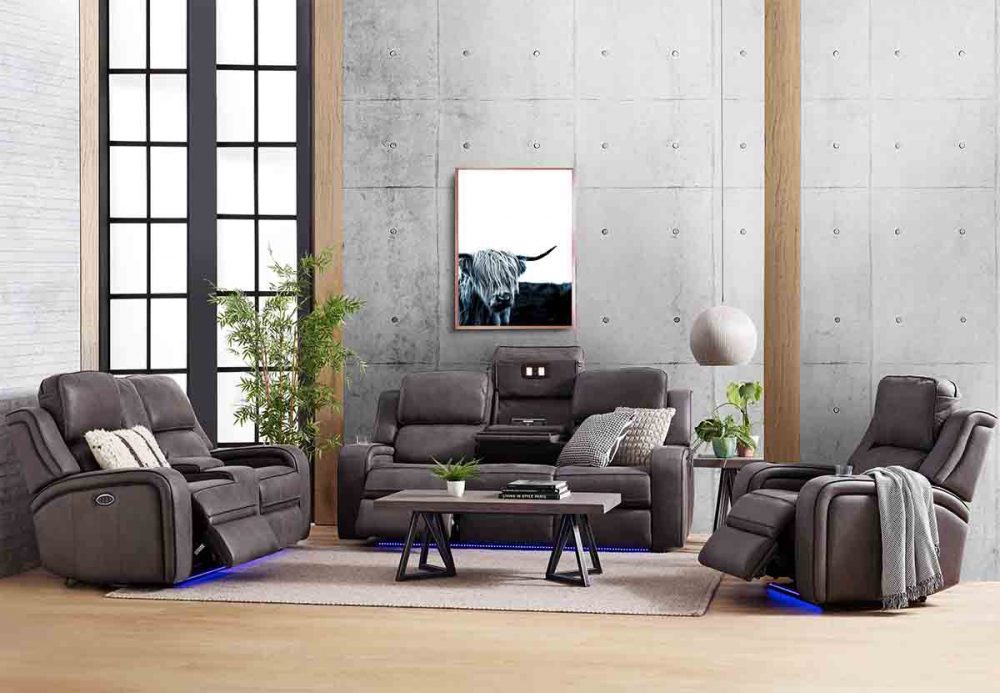 The 'Bradford' Powered Recliner Sofa combines stylish design and quality materials with a comprehensive range of deluxe features to guarantee an indulgent experience. Powered reclining actions make it easy for everyone to find the lounging position that perfectly suits them. Additional lumbar support promotes spinal health and helps you stay comfortable, even over the course of a TV binge or longer feature film.
From snacks and drinks to remote controls, everything you need is at your fingertips with this home theatre sofa, thanks to a fold-out compartment featuring cup holders, charging ports and overhead reading lights. LED base lighting evokes a genuine cinema atmosphere without overpowering the screen display or causing reflection, providing just enough light that you won't trip when you do need to get up.
Available as a 3-seater, 2-seater or armchair, in fabric or leather options, the 'Bradford' home theatre lounge offers all the options you need to keep family and friends comfy and entertained for hours.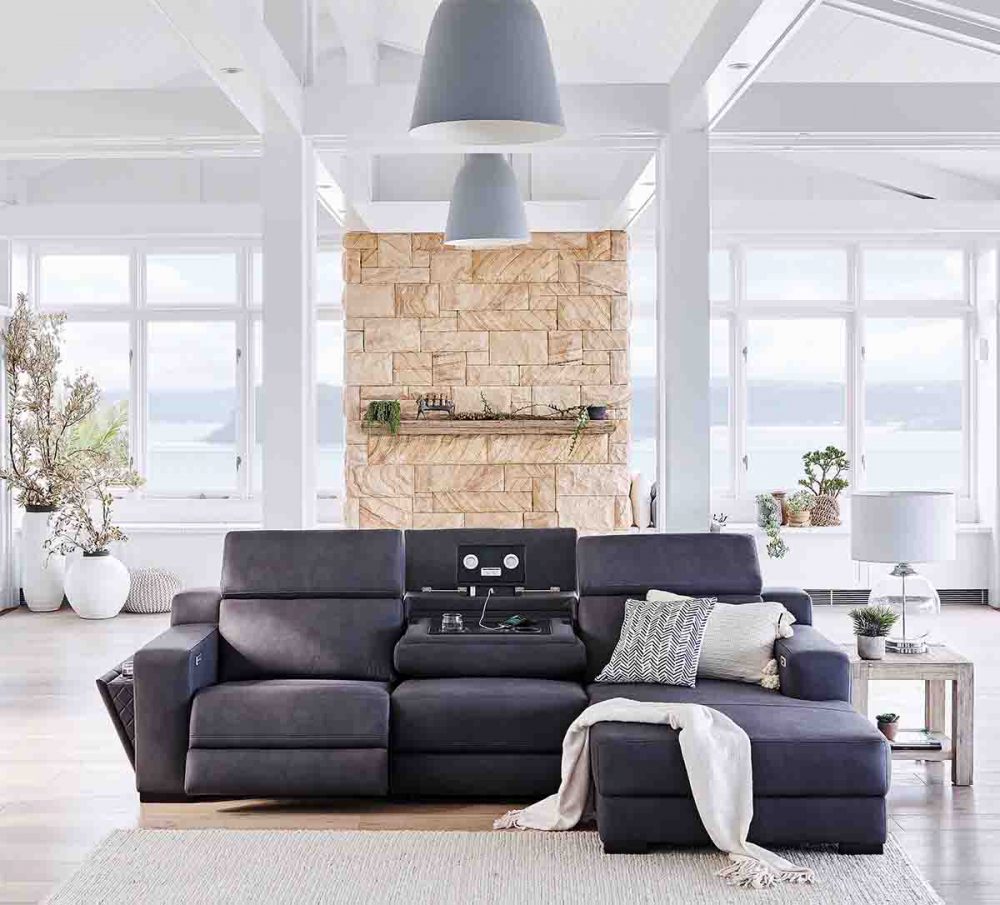 A great home theatre lounge doesn't have to sit in a dedicated home theatre room. For many of us, it makes sense to utilise a well-designed piece to enhance the appeal of our living room. Especially when the home theatre lounge in question is the 'Brooklyn' Powered Recliner Sofa with Chaise.
With a streamlined, contemporary design, the 'Brooklyn' indeed promises to complement the look of any modern living space. And, when it's movie time, this ultra-chic home theatre sofa reveals an impressive range of entertainment features. A drop-down tray table offers lights, cupholders, a power station and USB outlet. Meanwhile, discreet, cleverly designed armrest storage provides an extra cupholder and an excellent place to keep magazines.
Powered recliners and adjustable headrests reinforce the idea that there's no need to sacrifice comfort when you're looking for the best in style, while a chaise provides all the space you could want when it's time to really stretch out and unwind.
The versatile 'Brooklyn' is available in fabric or leather upholstery in a range of colour options to suit your personal taste and the existing décor in your room. This home theatre lounge is also available in a range of sizes and configurations, making it easy to find the perfect match for your space.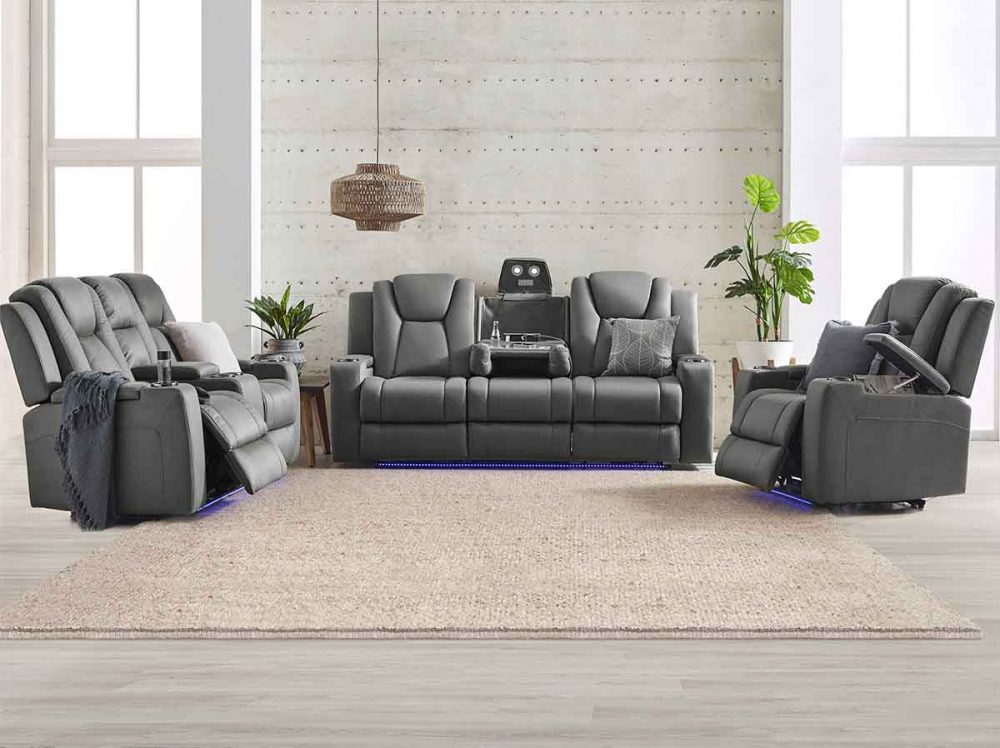 The moment you set eyes on the 'Whitehaven' Fabric Powered Recliner Sofa, you know what it's all about. If you're committed to the ultimate in comfort and relaxation, then this home theatre lounge is a must-have.
Soft and generous padding provides the ideal cushioning for all-night screen sessions, with a mix of plush foam, webbing and zig zag spring support that will keep you comfy for hours on end. This home theatre lounge's powered reclining action includes headrest motion, helping you effortlessly find the perfect position for total relaxation.
Naturally, the 'Whitehaven' comes equipped with a complete range of premium home theatre recliner features, including cupholders, charging stations and overhead as well as underfoot lighting. Lift-up armrests provide a clever extra storage option – perfect for keeping things tucked away.
All in all, this is one home theatre lounge option that's sure to recreate all the luxury and ease of a gold class cinema experience, right in your own home. Your family will adore it and your guests won't want to leave!
Home Theatre TV Entertainment Units
A key ingredient in any quality home theatre setup that often goes overlooked is the TV entertainment unit. More than just a way to keep your TV off the ground, the right home theatre TV entertainment unit can transform the style of a room and help make the management of cables and devices a breeze.
Home Theatre TV Entertainment Unit #1: 'Boom'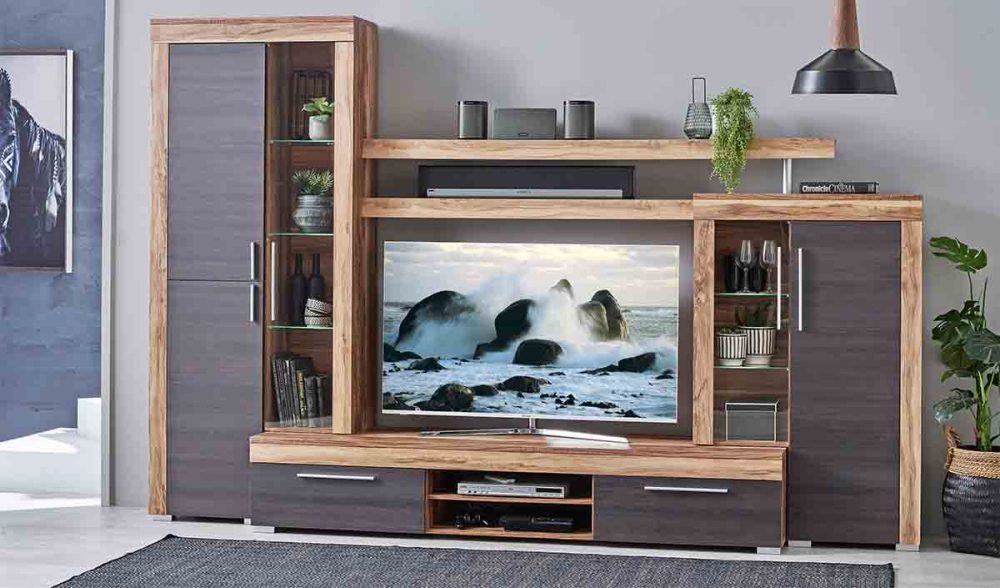 For an all-inclusive luxury entertainment solution, look no further than the 'Boom' Home Theatre Unit.
More than just a TV/AV unit, the 'Boom' is a great place to store a range of other items from books to barware, making it a true entertainment hub. Stylish glass cabinets and open shelves are perfect for displaying prized possessions, while closed drawers will keep extra devices, cables and other potential clutter out of sight where they belong.
A unique, contemporary design and beautiful veneer (available in Apple or White timber stains) make this a stunning home theatre centrepiece you'll be proud to show off – and not just when the TV is on!
Home Theatre TV Entertainment Unit #2: 'Marlow'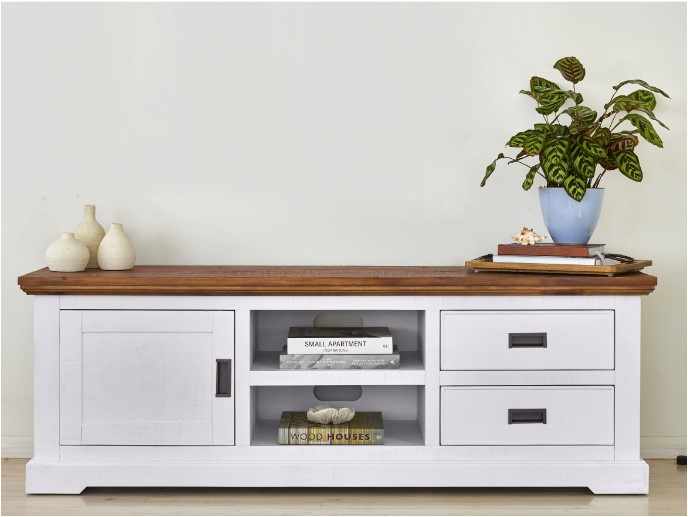 If your space won't accommodate the grand dimensions of the 'Boom', the 'Marlow' Entertainment Unit is a more lowkey and traditional but no less impressive option.
A sturdy, high-quality pine construction makes this a particularly durable and dependable home theatre TV entertainment unit. The 'Marlow' is an investment in the future that will stay with you through any number of changes in TVs and interior styling fashions.
A classic, Hamptons-inspired design with a pleasing white finish will complement a wide range of spaces and lend this home theatre unit an understated sophistication. A mix of drawers, open shelves and a spacious cabinet provide plenty of room for all your entertainment essentials and make it easy to keep cables tucked away.
Home Theatre TV Entertainment Unit #3: 'Charleston'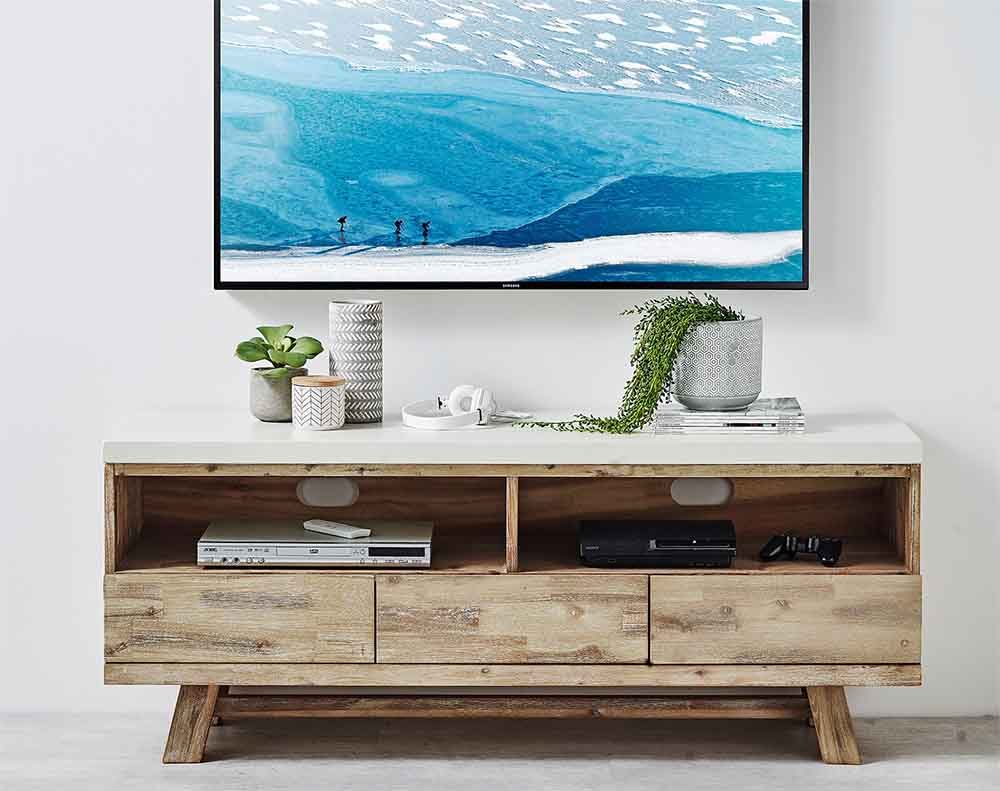 The perfect piece to round out a casual and stylish modern living space, the 'Charleston' Entertainment Unit makes sitting down to relax in front of the TV feel like a holiday getaway.
A premium acacia timber construction with a beautiful natural finish lends the 'Charleston' a relaxed, coastal vibe. A minimal, geometric design adds a layer of contemporary cool, while a durable concrete top offsets the organic appeal of this home theatre unit with an industrial edge.
Two open shelves and three stylish handle-free drawers provide a versatile and attractive storage solution that maintains the clean, streamlined profile of the TV entertainment unit. As easy on the eyes as the 'Charleston' is, its minimal design also means it won't distract from the screen while movies are on, allowing your TV to be the centre of attention when the time is right.
Find the Perfect Home Theatre Setup for You
This has been just a small sampling of the amazing range of home theatre furniture options on offer at Harvey Norman. If you've been inspired to start designing the home theatre of your dreams, you can view our full range of home theatre lounges and TV entertainment units online, or head to your local Harvey Norman today, where our friendly, expert staff will help with all of your queries.