With the winter chill settling in, it's becoming even more tempting to spend nights indoors curled up on the lounge. But your couch is so lumpy and frayed, offering none of the comforts it used to. And your TV continues to balance precariously on a make-shift entertainment unit that's seen better days. But fear not! At Harvey Norman we have a large selection of innovative furniture pieces in an array of styles, designs and configurations to revamp your entertainment space into your own personal cinema.
Savvy Storage Solutions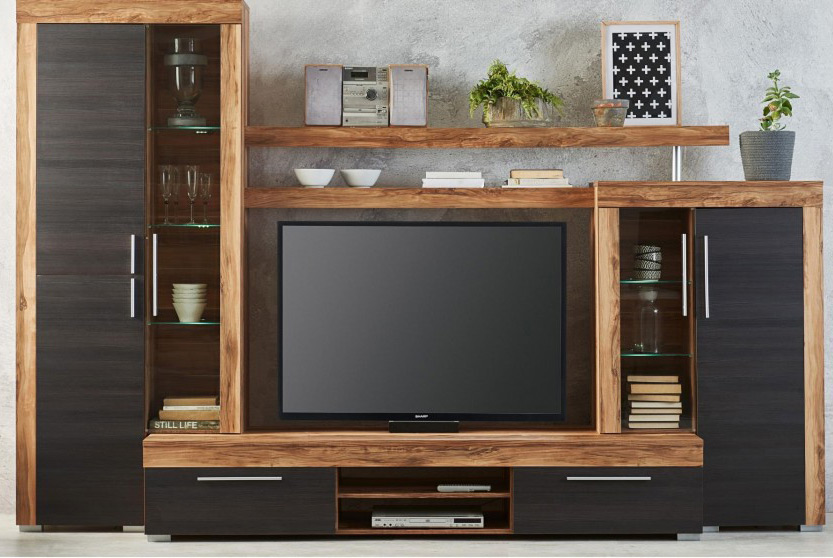 Much like you, your TV needs a place to live; somewhere stylish to hide all those unsightly cords while housing your ever-expanding movie collection as well as proudly displaying your favourite family photos, artworks and books.
Enter the 'Boom' Home Theatre Unit. This is more than a piece of furniture; it's a storage solution, a feature piece, a display cabinet, a conversation starter and an interior designer's dream. There are endless possibilities when it comes to decorating this piece, especially with its glass cabinets featuring built-in LED lights and abundance of storage space. The 'Boom' Home Theatre Unit is available in timber tones (as pictured) or with White and Grey.
Lap of Luxury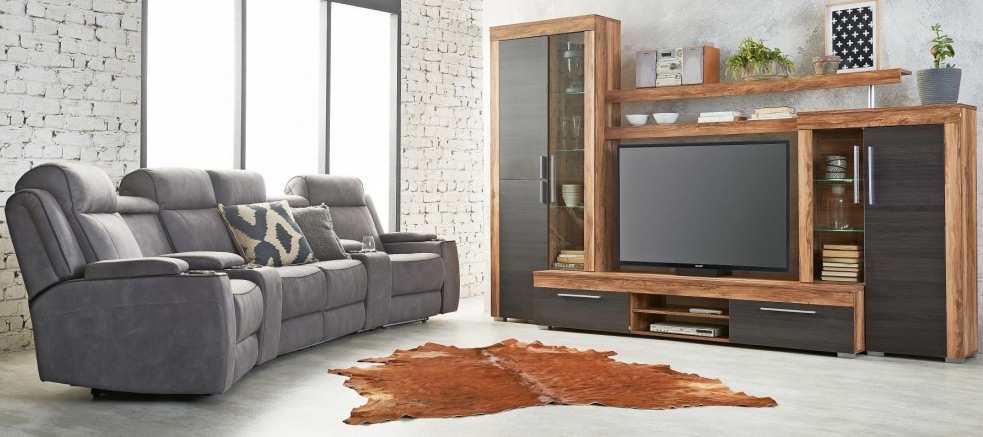 One of the most popular comforts of the luxe cinema experience has to be the seating. The plush cushions, powered headrests and various recline options are just the tip of the iceberg. Add in storage consoles for your snacks, a place to charge your devices as well as overhead and base LED lighting and you've reached the peak of relaxation! And we're not talking about the movies.
The 'Thorndon' 4-Seater Powered Fabric Recliner Sofa combines all these features and more to give you that premium theatre feel right in your very own living room. Never again will you fumble for the remote or need to leave the room for more snacks – this gorgeous sofa has you covered! Paired with the 'Boom' Home Theatre Unit and you have a winning combination.
Contemporary, Cinematic, Chic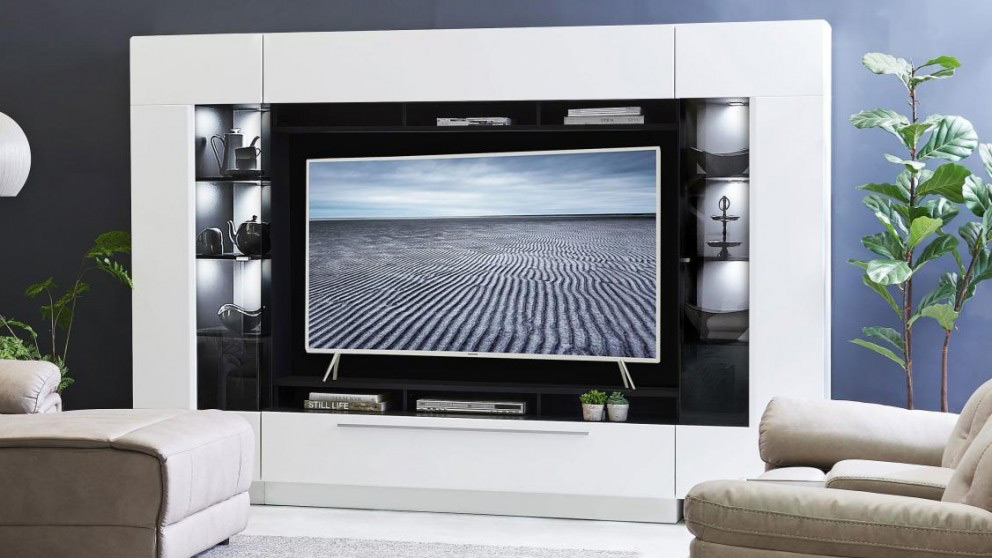 Bring a touch of European chic into your living space with the 'Delta' Home Theatre Unit. Definitely more on the high end of the style spectrum, this piece makes an 'I have a premium Netflix subscription' statement about whoever owns it.
The smooth lines and minimalist palette cleverly keeps the attention focused on the centrepiece that is your TV, making it the ideal unit for a distraction-free viewing experience. Its open-shelving both above and below the TV cavity are perfect for storing media devices, while the softly illuminated LED display allows you to showcase the collectibles you're most proud of. There is also an additional storage drawer at the base of the unit for even more space! Enjoy lounging in luxury when you pair up the 'Delta' with the 'Gato' 3-Seater Powered Recliner Sofa.
The Centre of Attention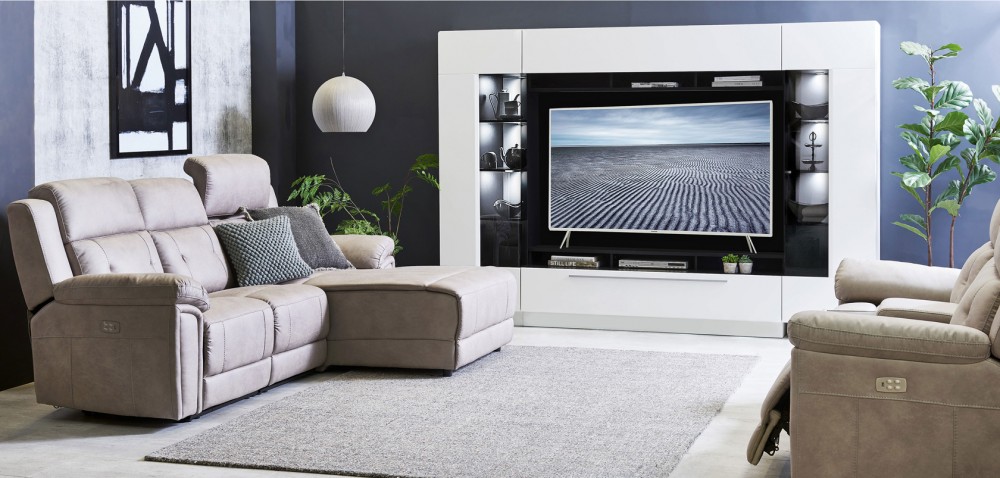 If you find a 4-seater too over-the-top for your living situation, don't be discouraged. You don't have to sacrifice clever gadgets for a smaller configuration.
The 'Gato' 3-Seater Powered Fabric Recliner Sofa is the perfect blend of luxury features and comfort. Featuring reading lamps for the book lover in the family and a drink table for the entertainer, the 'Gato' has something to offer everyone. USB charging ports will keep you connected to the outside world while the twin powered reclining actions and powered headrests will remind you why you're escaping it in the first place.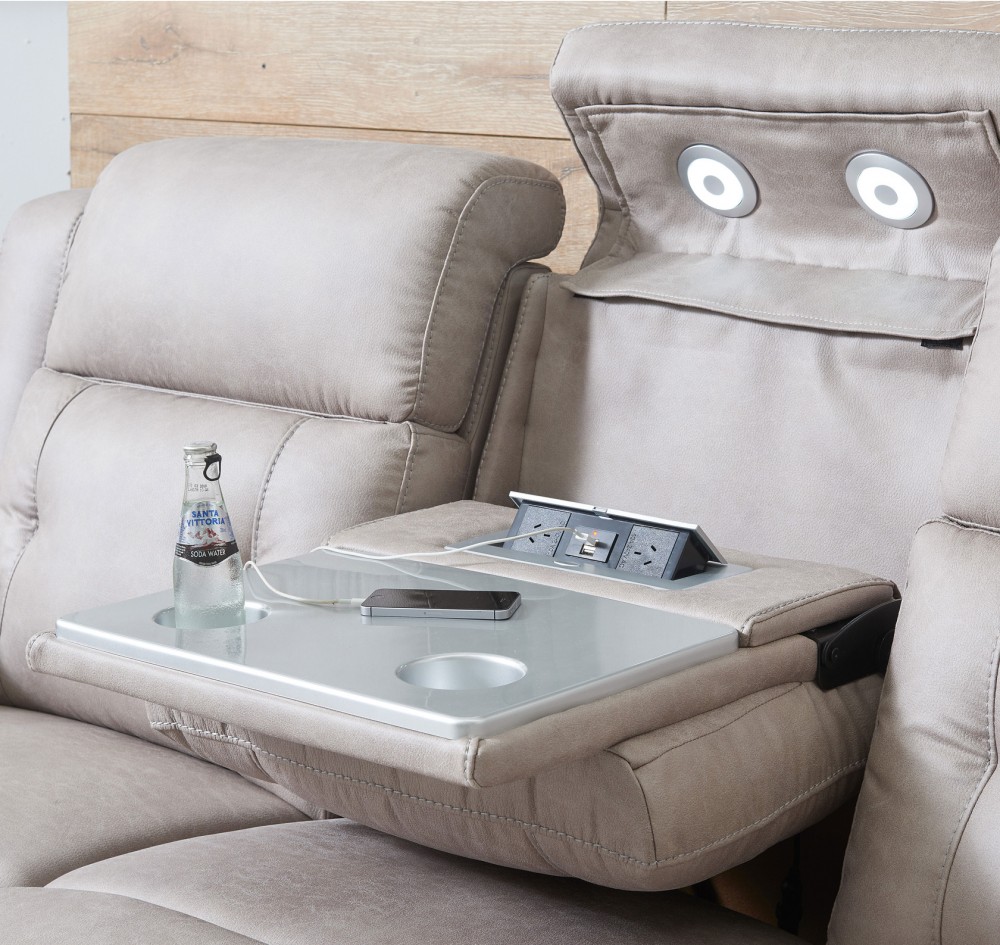 Entertaining Essentials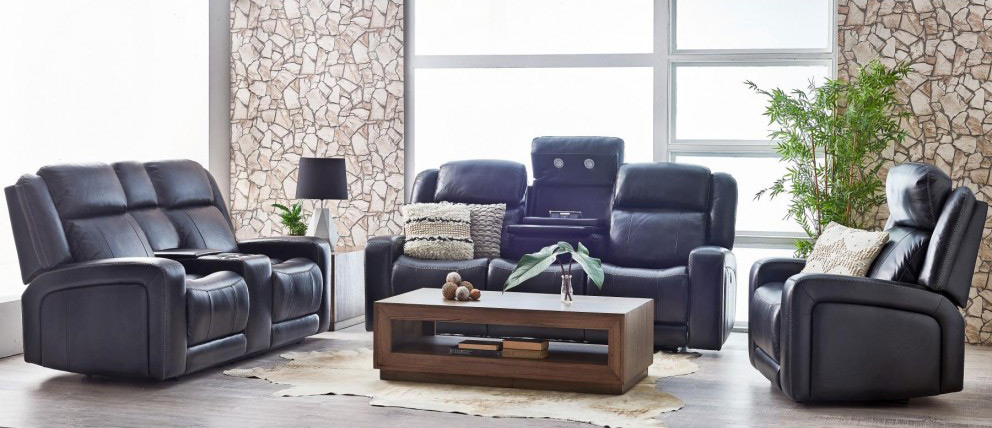 Perhaps fabric recliners aren't your style. Maybe you just can't go past the quality of supple leather seating. Premium in both construction and tech, the 'Hampden' 3-Seater Powered Leather Recliner Sofa won't disappoint with its luxurious genesis leather upholstery and subtle cross-stitching.
Completely customise your home theatre seating position with a press of a button using the easy-function LCD screen. Powered headrests, lumbar and recliner mechanisms mould to create the perfect fit while the middle seat also transforms to reveal a table complete with a charge station and reading lights.
If you're a big sports fan and are planning on catching all the upcoming football action, the 'Hampden' range also features a 2-Seater and an armchair – so you can make room for all your friends as you cheer your favourite team to victory.
Entertainment Units for Every Home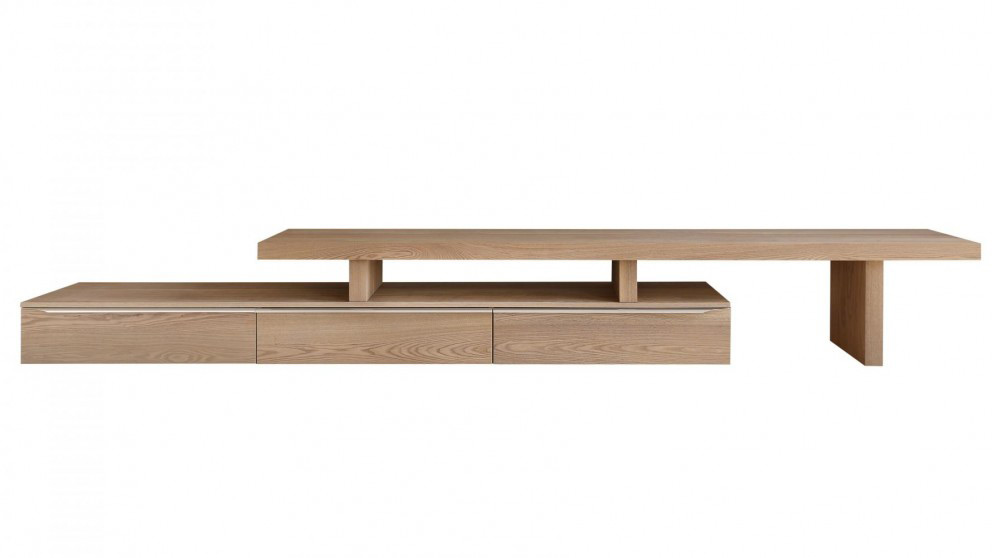 Whether you're trying to conserve space or recreate a minimalist look, the clean lines and modern arrangement of the 'Felix' Entertainment Unit make it the go-to living room addition. Its two tiers and three storage drawers are deceivingly spacious, inspiring endless decoration possibilities, and as a bonus 'Felix' is available in either timber (pictured) or black and white.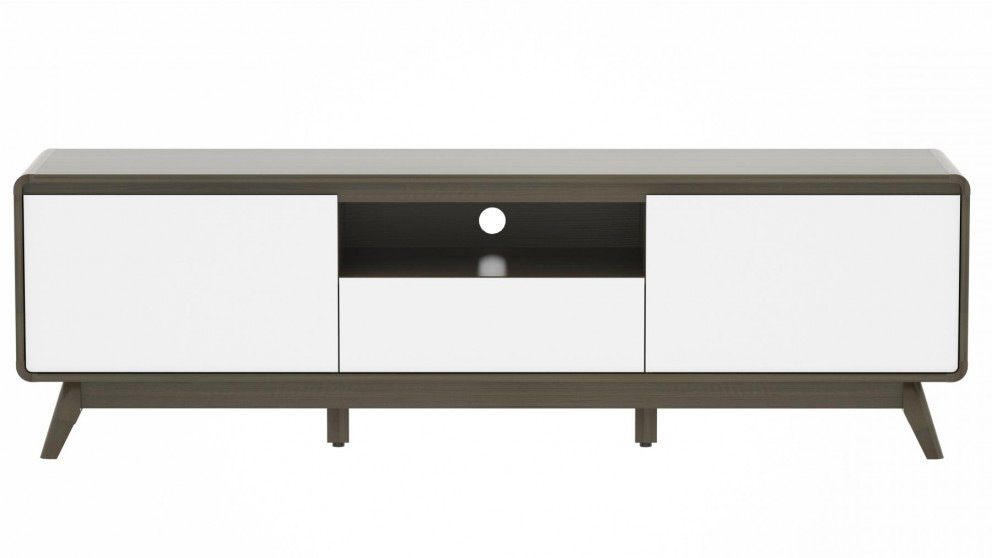 If you're seeking a statement piece on the trendier side then the 'Harry' 180cm Entertainment unit is the piece for you. This entertainment unit features a sensible design with all the functional bonuses. Store essentials in the two spacious doors and drawer, and if you find the 180cm model isn't quite right, it comes in a range of other sizes too. The walnut tone instantly adds a touch of class to any entertainment space.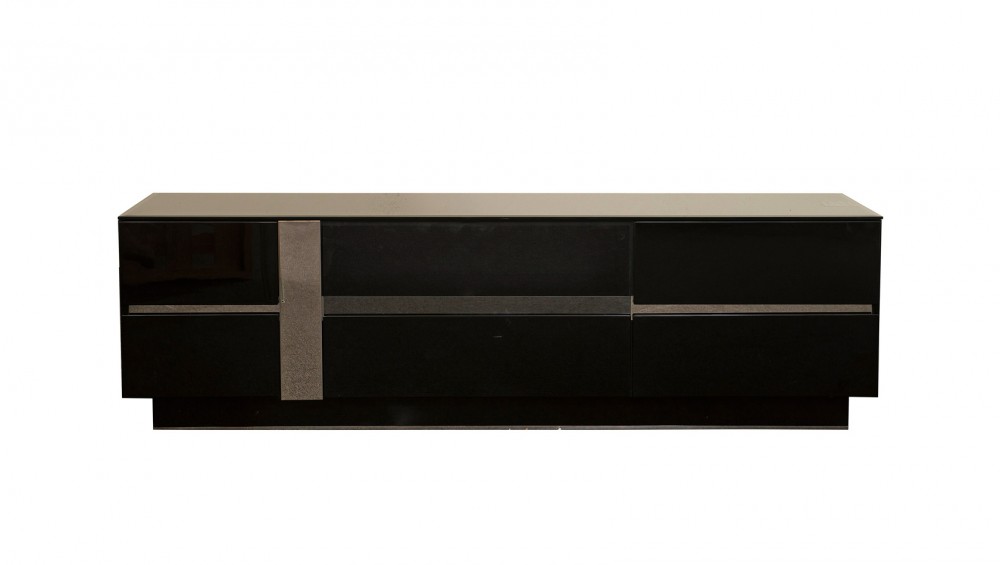 If you're the proud owner of an edgy inner-city apartment, the 'Santorini' Entertainment Unit will be hard to go past. This is the final piece of the décor puzzle you have been dying to solve with its modest glass-construction and sleek design. The 'Santorini' proves not all TV units need to be intricate storage solutions or designer pieces; sometimes they just need to make your TV the hero.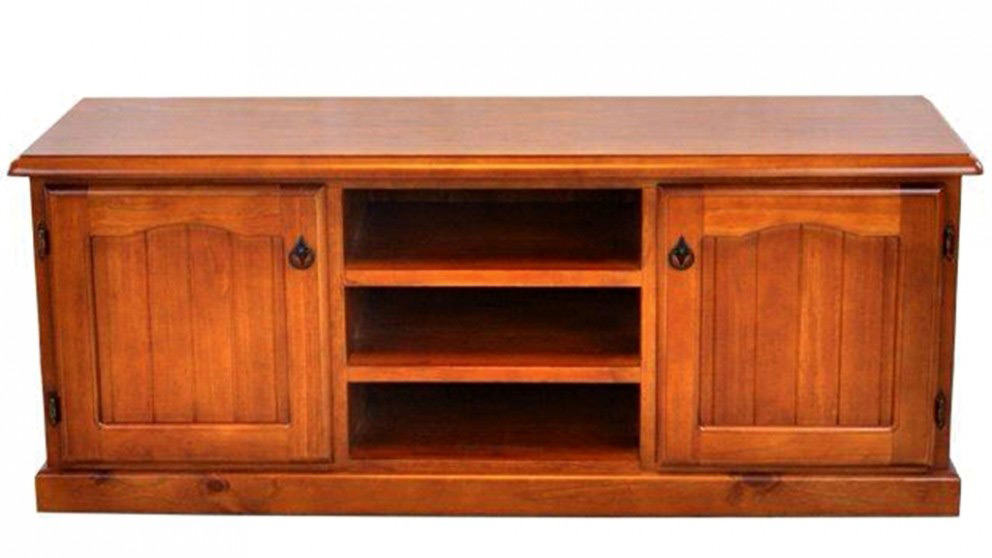 For a more classic look, the 'Revesby' 150cm Entertainment Unit is certainly the top choice.
The sturdy timber design creates a sense of warmth this winter and the spacious construction allows for plenty of hidden storage space as well as open shelving for multiple media devices. The 'Revesby' is also available to order in various other sizes, so you can pick the perfect size for your home.
As an added bonus the 'Revesby' belongs to a range that can be matched with a wide variety of other furniture pieces including a dining, buffet, coffee table and lamp table.
Make this winter a wonderland of cinematic entertainment for you and the entire family. Explore the wide variety of entertainment essentials and home theatre furniture online or head in store to start a conversation with our furniture experts who will guide you in the right direction.