There's so much to love about Easter. For many, it's a joyous and important celebration of faith, and for everyone else, it's an excellent excuse to enjoy an extra-long weekend! Wherever you go, the air carries the sweet smell of freshly-baked hot cross buns slathered with butter. Supermarket shelves become colourful displays of chocolate eggs and bunnies of varying sizes and flavours. Kids ready their baskets for a playful Easter egg hunt, while the kids-at-heart flock to the Royal Easter show. But perhaps the best and most important part of Easter is when family and friends come together at the table to share an eggcellent meal (pardon the pun!) or play a game of egg tapping.
Have you thought about how your table will look this Easter? Do you need inspiration when it comes to Easter entertaining ideas and dining furniture?
Whether you're hosting a relaxed family brunch, an intimate lunch or a large and lively dinner party, dress your table in true Easter fashion this year with the aim to impress. We've styled three gorgeous dining settings from Harvey Norman with trending looks especially for Easter to bring you fresh ideas that will make your celebration truly one to remember.
1. Gorgeous Greenery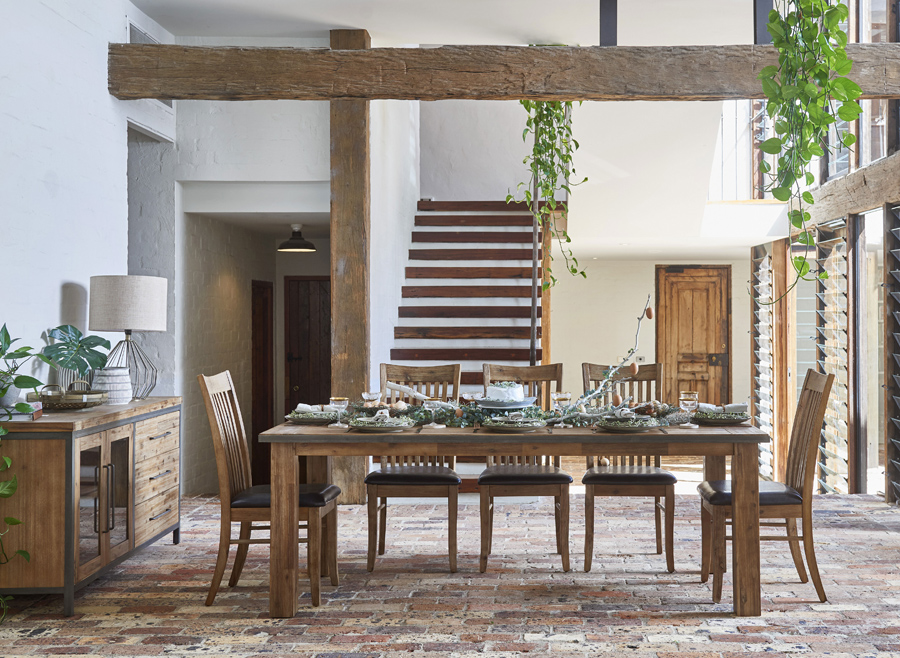 For a woodland-inspired theme, bring the great outdoors inside to create a beautiful, verdant setting. Simply adorn your table with an abundance of leaf vines, moss and sprigs, wrapping delicate scions around serveware. Drape hardier plants on branches acting as a centrepiece runner on the table, giving the setting a touch of into-the-woods fairytale enchantment. The kids will enjoy turning over every leaf in search of hidden Easter eggs, while your guests will fall in love with the lush beauty of the greenery. Complement your dining table decoration with serveware in a fresh palette of nature-inspired greens, and cutlery with subtle gold accents.
The Forge 9-Piece Rectangular Dining Setting is the perfect dining furniture for this look. Cushioned seating provides comfort for your guests, while the natural timber tone and striking silhouette of the Acacia construction completes the whimsical woodland feel.

2. Pastel Prettiness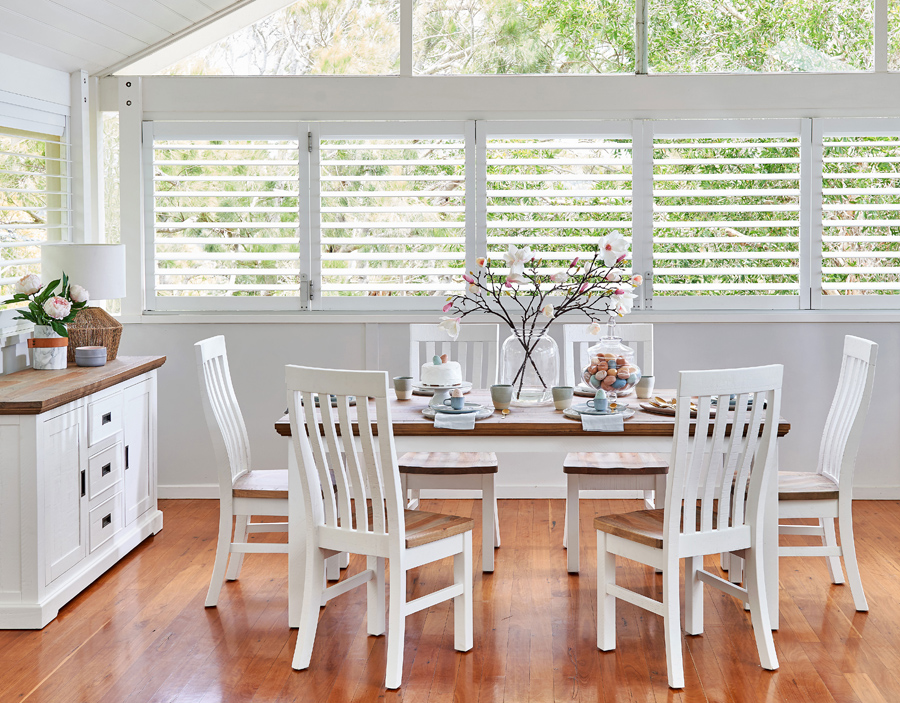 It's so easy to create an Easter dining setting that offers a classically traditional aesthetic, while being on-trend and relevant. Avoid loud colours that shout for attention, drowning the atmosphere around the table. Instead, opt for watercolour pastels in soft blush, lilac and lavender, with a touch of duck egg blue. In true Easter spirit, dye hard-boiled eggs in this hushed colourway (a fun activity to involve the kids in!) until you have a full nest, and pair with mismatched serveware in similarly subdued shades to create a light-hearted and inviting focal point. Consider metallic cutlery in lustrous gold to contrast brightly against all the pastels.
You can easily build this look with the Marlow 7-Piece Rectangular Dining Setting. The trendy, two-toned timber design of the dining table and chairs easily achieves a harmonious balance of contemporary and classic style. Complete the look with a floral centrepiece featuring long-stemmed magnolia or cherry blossom in a clear crystal vase.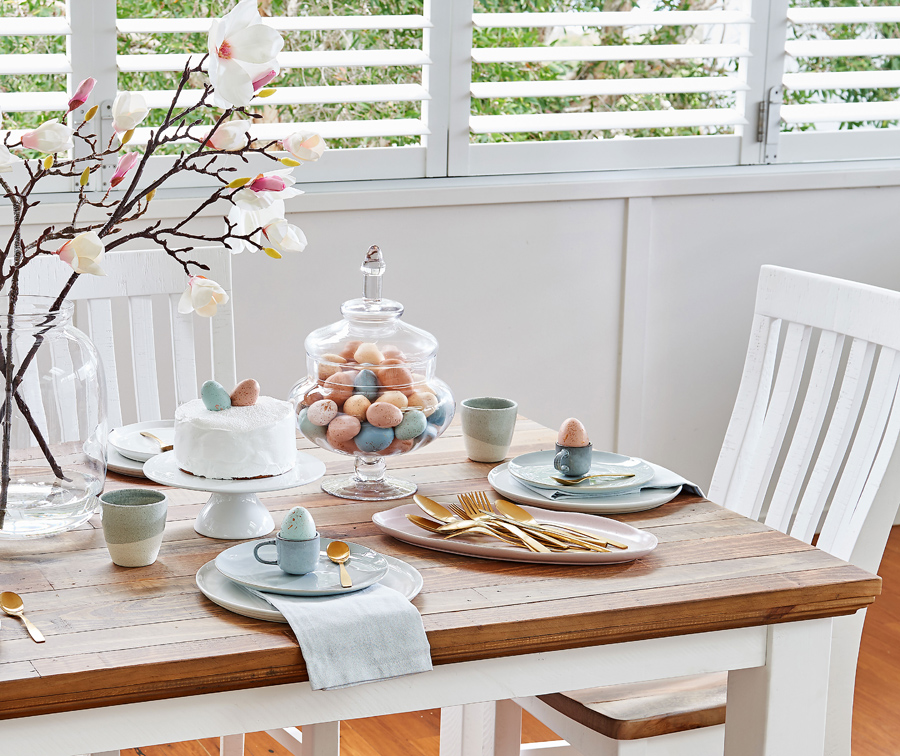 3. Nice & Natural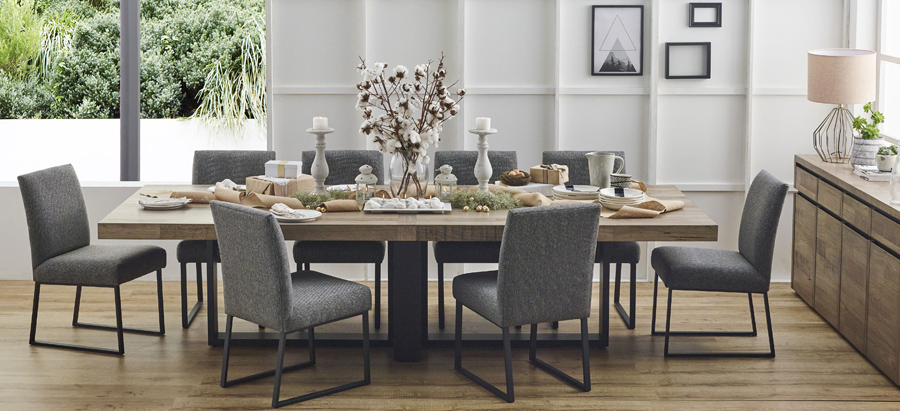 If you prefer a casual, understated dining setting for close family and friends, a natural look is the way to go. Use a combination of neutral shades, such as beige, taupe, snow white and dove grey to create a fresh, modern look.
Set the scene with the beautiful Brandon 300cm Dining Table. Made in Australia and showcasing the natural beauty of Silver Ash timber, the 'Brandon' measures 300cm long so there's plenty of room for the entire clan. Create a sublime setting by pairing the table with incredibly comfortable fabric-upholstered dining chairs. Slide your best set of ceramic dishes onto the table, roll in some stoneware, fold up cotton napkins and embellish your table with tactile fabric like tweed or burlap for an added dimension of texture. Illuminate your table with lanterns or hurricanes housing dainty tea lights and ornate candle holders topped with pillar candles.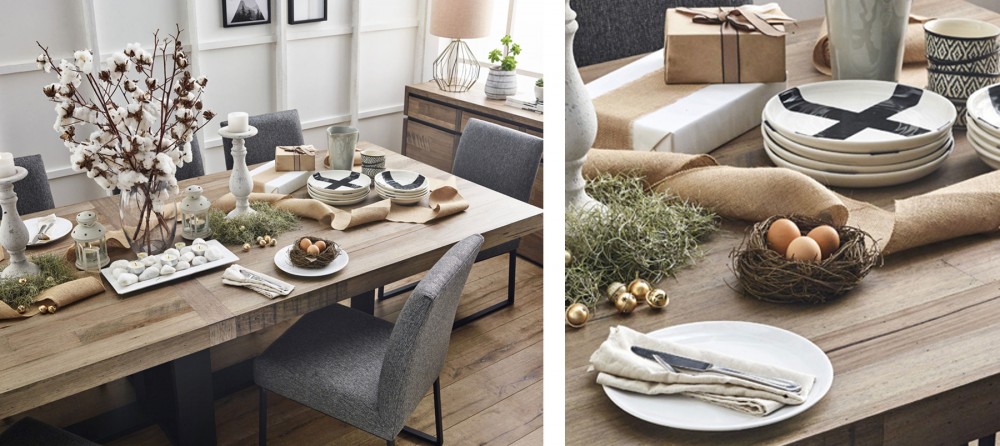 Brimming with Easter entertaining ideas for your home? Whether you like pale pastels, greenery or a more refined and elegant look, Harvey Norman has a huge range of dining settings ready to be transformed into Easter wonderlands. To find out more, visit our website or head in to your local store to chat to our friendly furniture experts.