The winter chill has settled in, which means it's the perfect time to brighten up our surrounds.
One of the best ways to do so is by creating a personal oasis with warm and enlivened bed linen. For inspo, many of us scour Pinterest and Insta for the latest bedding trends – but we'll let you in on a little secret: this season's key bedding looks can all be found at Harvey Norman! In particular, the vibrant new 'Luxotic' Manchester range leads the way.
Designed in Australia and exclusive to Harvey Norman, each Luxotic quilt cover set has been inspired by the beauty found in nature. From floral and botanic to playful pineapples, Luxotic's Sydney-based designers have embraced these natural elements to produce original quilt cover artworks that will invigorate every winter.
The following is Luxotic at its finest.
Tropical Dreams
One of the biggest bedding trends to emerge this season is Tropical Island Living. Inspired by palms, pineapples and hibiscus, Luxotic's tropical quilt cover sets see an infusion of bright colours and exciting prints that will give you those tropical holiday feels all year long.
Tropical Quilt Cover Set #1: 'Leilani'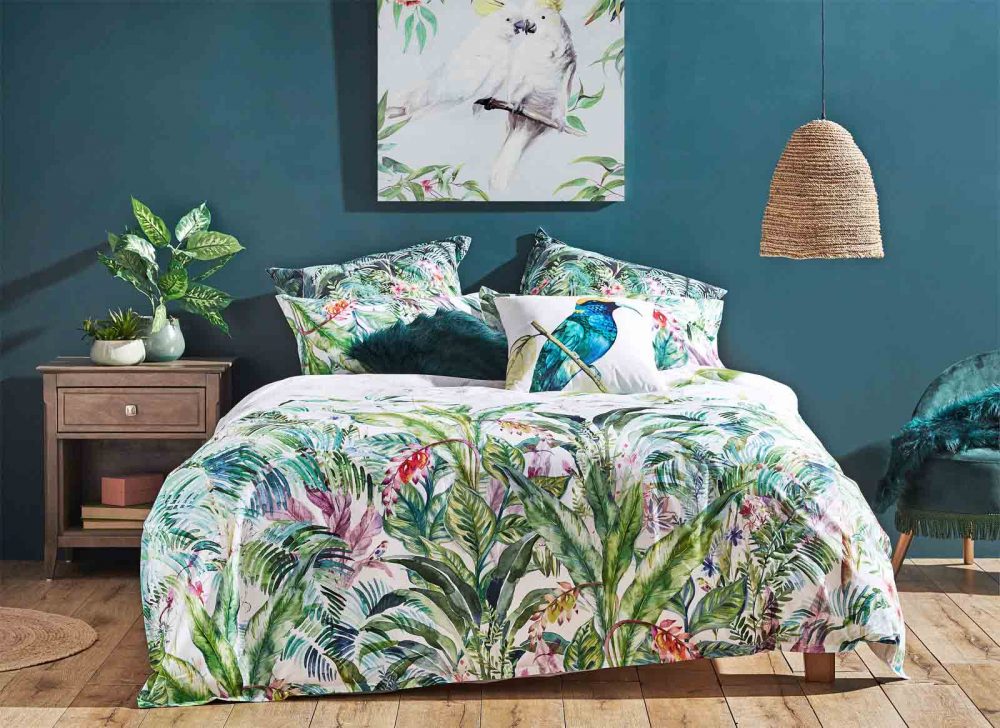 Welcome nature and all its beauty into your home with the tropical 'Leilani' Quilt Cover Set. Featuring striking greenery and bright foliage (and a contemporary reverse stripe), this bold botanical aesthetic is one of our leading bedding looks this season.
Tropical Quilt Cover Set #2: 'Havana'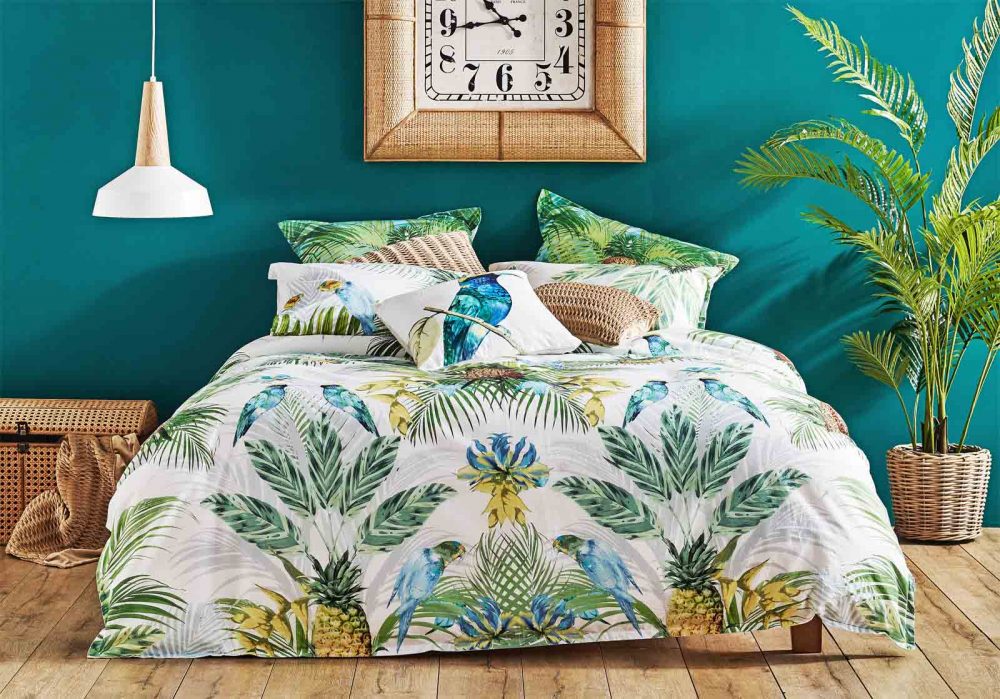 Fauna. Flora. Fruit! Hibernation is not an option with the striking 'Havana' Quilt Cover Set. Brimming with life and colour, this exciting design will give your bedroom a bold and ever-lasting summer feel. Highlighted by a refreshing sprinkling of sequins, waking up in paradise is the perfect way to start a glimmering day.
Tropical Quilt Cover Set #3: 'Daintree'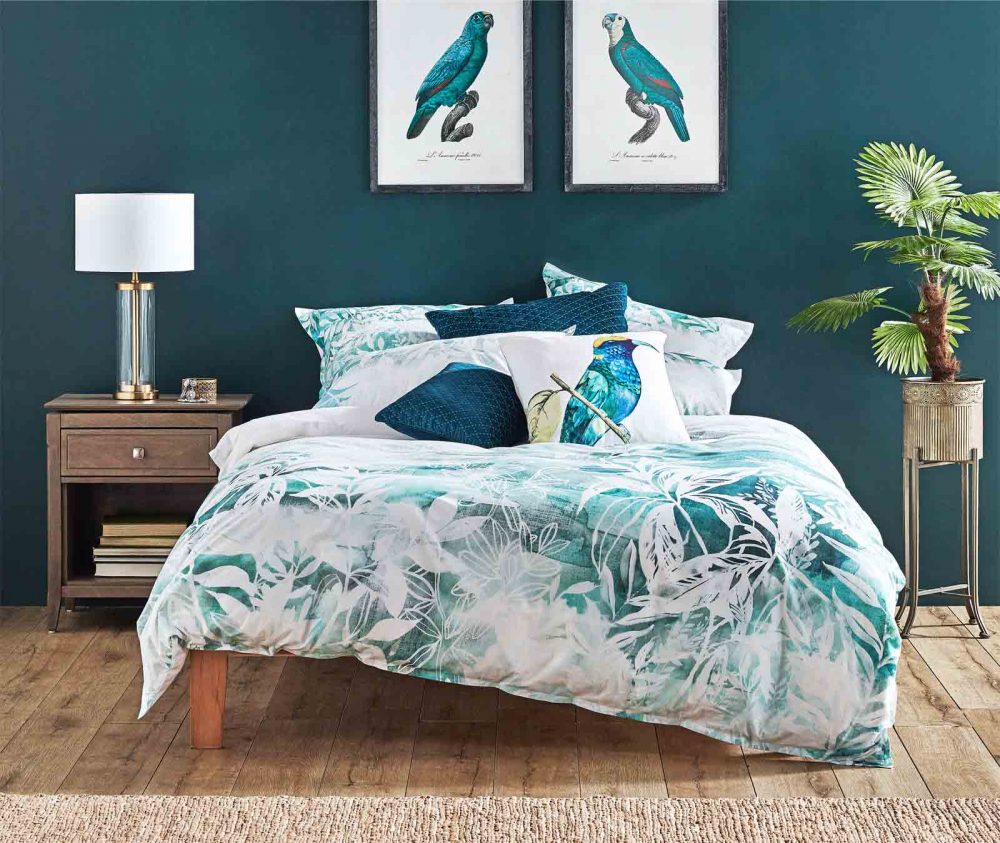 Featuring a contemporary take on tropical design, Luxotic's 'Daintree' Quilt Cover Set has been inspired by the allures of Far North Queensland. Its hand-painted watercolour pattern exudes a laid-back vibe. This is a tropical getaway in your own home – served with a side of artistic flair.
Floral Charm
Whimsical, vivid and gracious – floral quilts are a versatile on trend bedding theme, ideal for quickly adding colour and style to any space. The following floral quilt cover sets from Luxotic take aspects of the traditional and fuse them with modern, resulting in designs that are perfect for every boudoir!
Floral Quilt Cover Set #1: 'Zahara'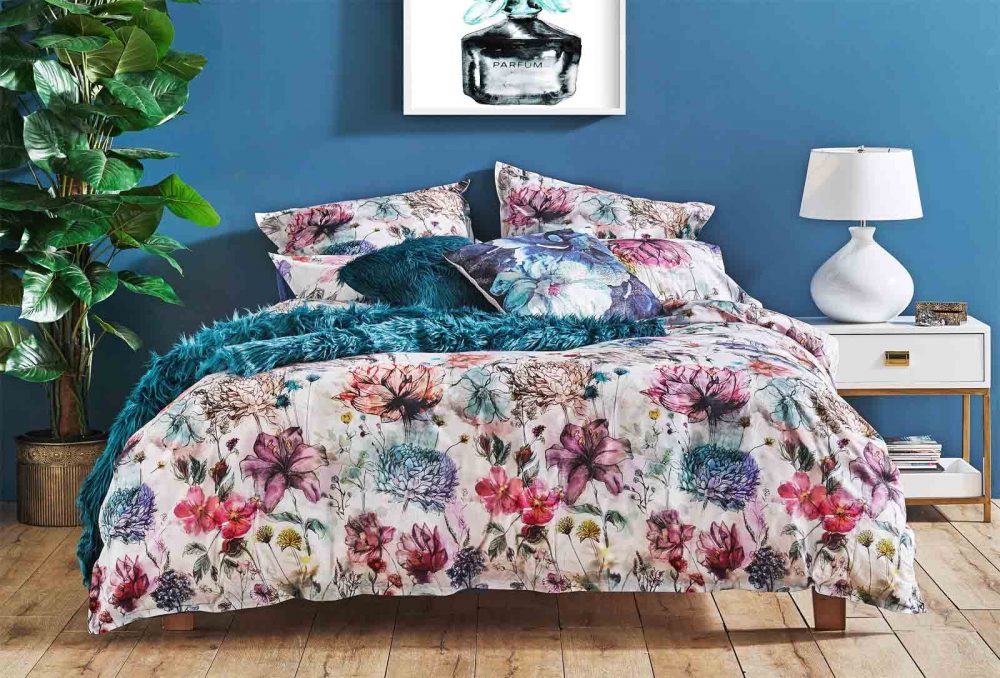 Invoke a romantic, soft-worn feel in your bedroom with our exclusive 'Zahara' Quilt Cover Set. The elegant hand-drawn florals overpainted with splashes of vibrant watercolours exude a delicately playful aura. This is contemporary design at its thriving best.
Floral Quilt Cover Set #2: 'Charlotte'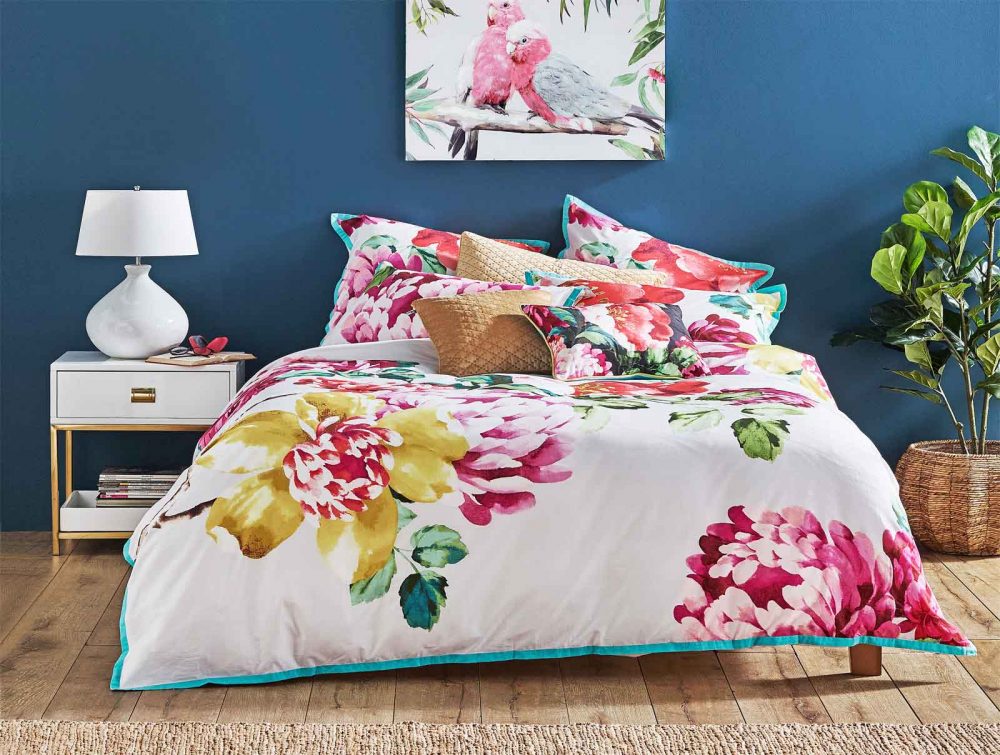 If you're after energetic bed linen, you'll find nothing more invigorating than the 'Charlotte' Quilt Cover Set. Your mind will be instantly transported to an island oasis thanks to the lively native floral set against a crisp white background. The stunning teal flange tailored edging ties the whole design together. Dreaming of escaping back to warmer climates each night? This is the quilt set for you!
Floral Quilt Cover Set #3: 'Arabella'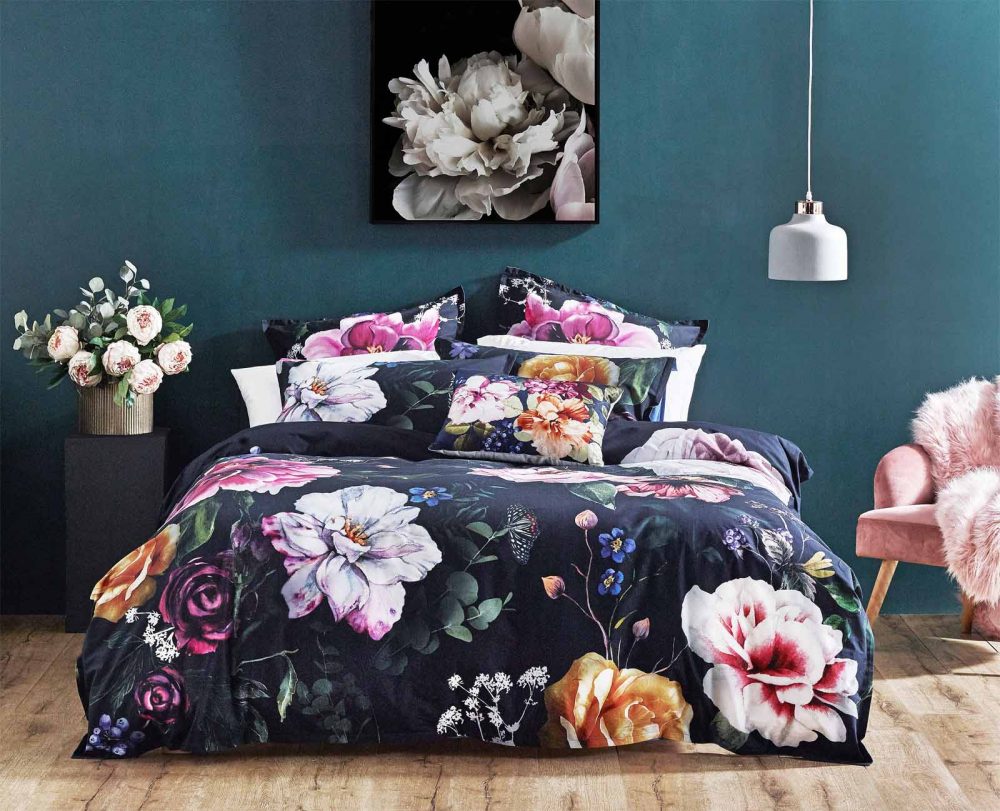 No matter the weather, florals are forever – and the 'Arabella' Quilt Cover proves just that. Large pops of colour in the form of stylish botanicals are the instant pick-me-up your bedroom craves in the cooler months. Vibrant splashes of oranges, pinks, blues and greenery – set against a dark backdrop – will breathe new energy into your bedroom, while adding a feminine touch.
Beautiful Blues
The following nature-themed Blue Quilt Cover Sets from Luxotic are all about bringing peaceful vibes to your bedroom. Soothing for the soul, these are the keys to a beautiful winter.
Blue Quilt Cover Set #1: 'Aviana'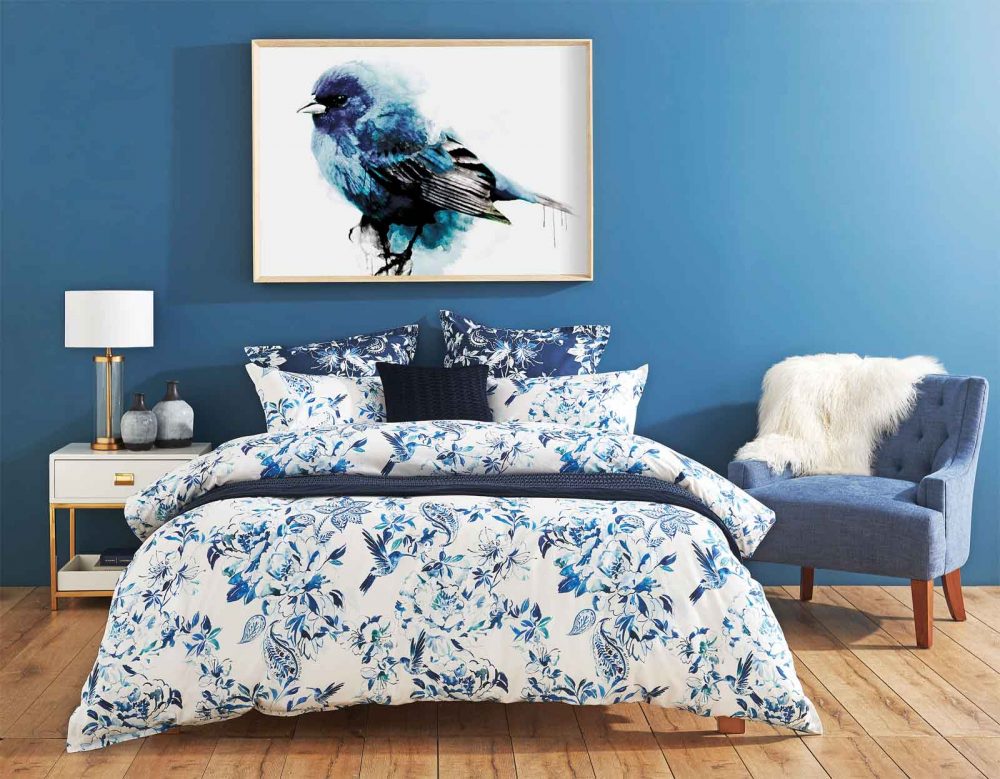 Featuring tropical flowers with hummingbirds in calming blue tones, Luxotic's 'Aviana' Quilt Cover Set is a subtle yet gorgeous way to add just a splash of colour. Drawing inspiration from the tropical Amazon, this quilt cover set will have your guests flocking to you for bedroom inspiration!
Blue Quilt Cover Set #2: 'Cordelia'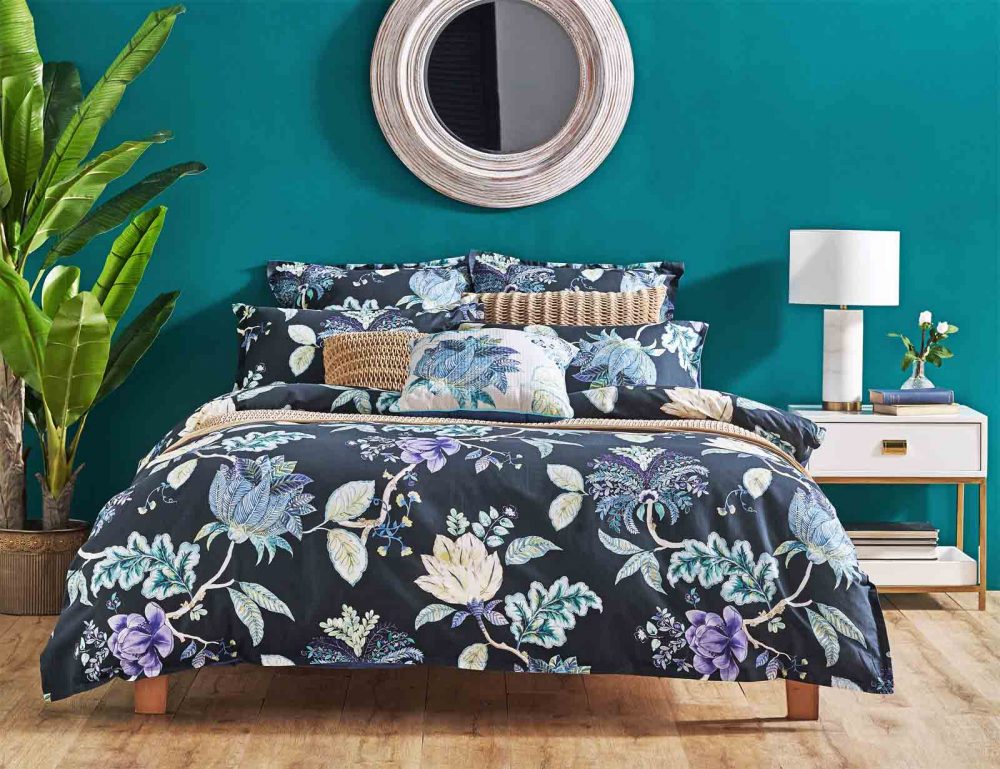 A modern take on a traditional design, the 'Cordelia' Quilt Cover Set mirrors the embroidery patterns of the Jacobean period with a whimsical touch. Its woven dobby mini check pattern makes the blue tones pop against its luxe dark fabric. Chic and sophisticated, this is a quilt set that suits the season.
Blue Quilt Cover Set #3: 'Flora'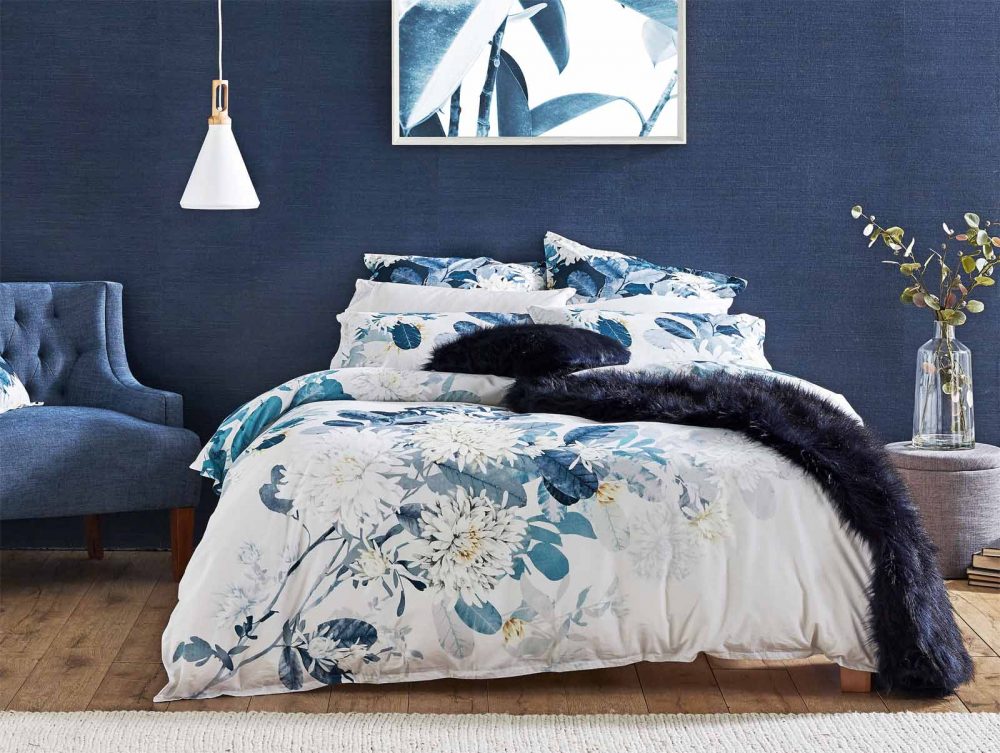 Let the peaceful prints and harmonious tones of the uniquely designed 'Flora' Quilt Cover Set lull you into a serene sleep. Individually painted floral arrangements on a silver background (complemented by a contemporary reverse stripe) have the 'Flora' standing at the forefront of this season's bedding trends.
From tropical quilts to blue and floral quilts, Luxotic will have your bedroom feeling like a brand new space this season! If you're as in love with the Luxotic look as we are, shop the range online or head to your local Harvey Norman store and speak to our friendly bedding experts about the best ways to brighten up your bedroom this season.