We love a great renovation story. There's something about transforming an existing space into something new that is so satisfying and uplifting.
And just like a great story, every renovation needs to have a strong foundation to build on – as the only way to accomplish anything is to start from the ground and work your way up.
Flooring is one of the largest areas of a home, and is crucial for setting the aesthetic tone for the décor – as well as being vital from a functionality point of view. Plus, updating your floors is a smart investment as it will increase the value of your house or apartment.
If there's one thing we love hearing about, it's stories of a satisfied customer who's completed a renovation with the help of Harvey Norman Flooring.
Yes, we know it sounds incredibly corny, but it's very satisfying to hear about our customers' renovation experiences and to see how well things have turned out.
Take Rochelle Abbate's renovation story for example.
Rochelle's home hadn't changed much since she bought it, with the existing carpets and flooring already in place when the home was purchased. Over time, that flooring had experienced the normal trials and tribulations of daily life that leads to wear and tear.
So Rochelle decided that she wanted to modernise her home, giving it a fresh look that was also incredibly practical.
This was no simple refresh where you can throw down a rug, add a splash a colour and call it a day. The entire ground floor of this four-bedroom home was going to need a revamp. We're talking about the entrance way, the combined lounge/dining room, the kitchen, the family room and the hallway that connects them all.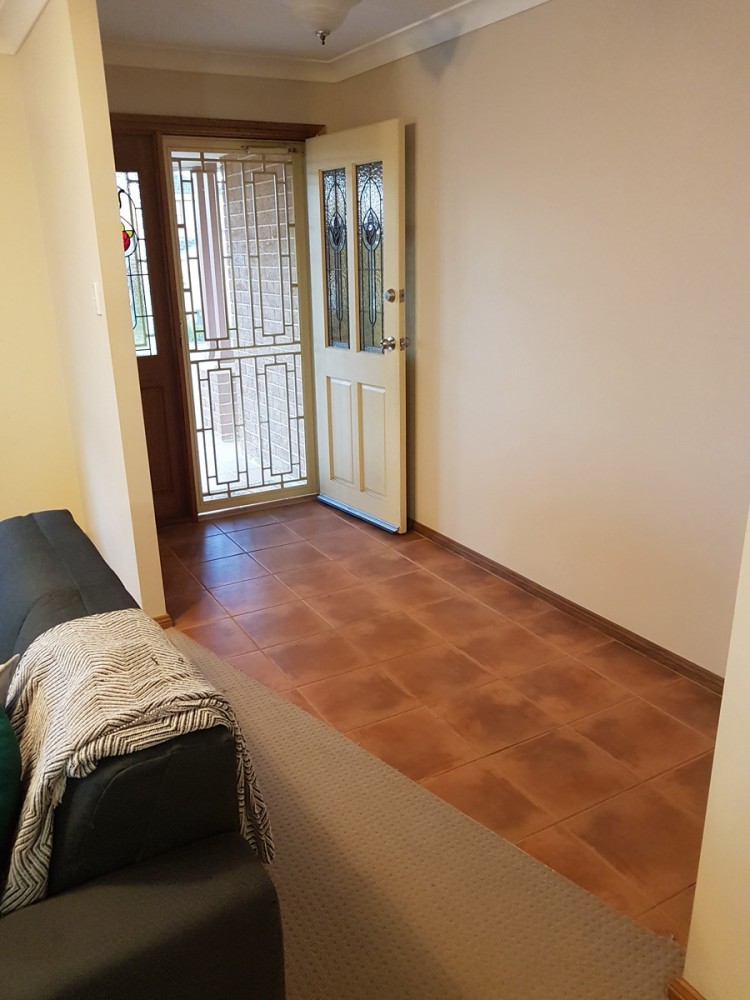 The ground floor of Rochelle's home consisted of a combination of terracotta tiles in the hallway, family room and kitchen floors, with a carpet made with solution-dyed nylon loop pile in the living/dining room.
As you can see in the 'before' photos we've included here, the terracotta tiles had certainly seen better days. When we think of terracotta flooring we instantly think of a coastal villa bathed in sunlight – a real style statement. Sadly, these tiles were showing the wear and tear from years of foot traffic, and a refresh was desperately needed.
The state of the existing carpet would best be described as 'functional'. Much like the tiles, the passage of time had not been kind, and the combination of the colour elements was certainly an acquired taste.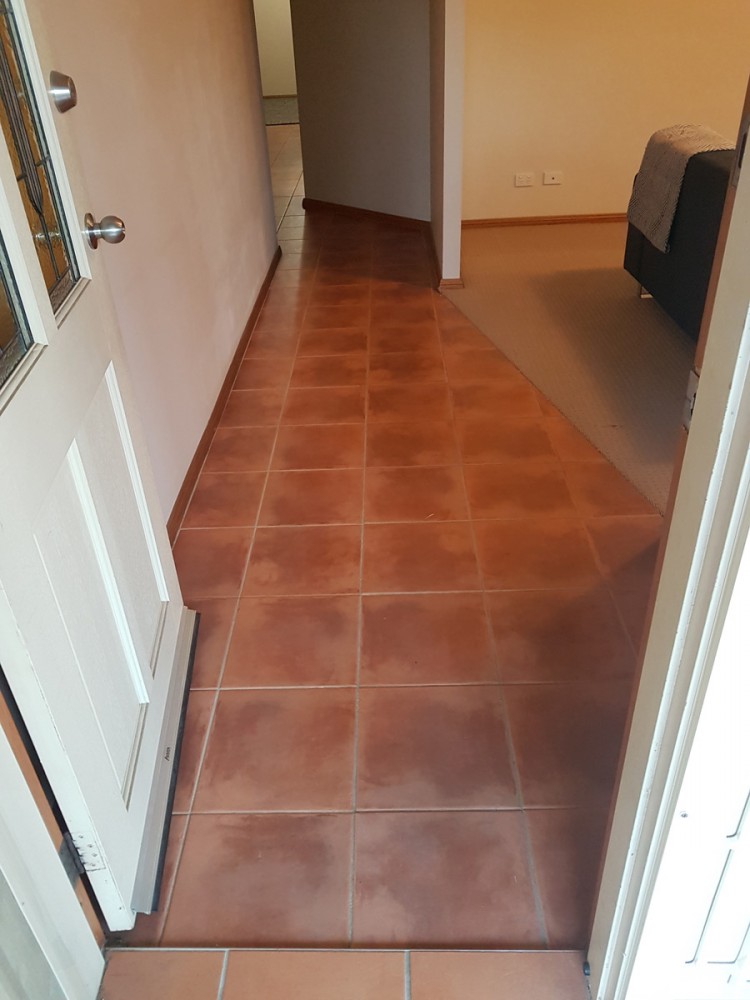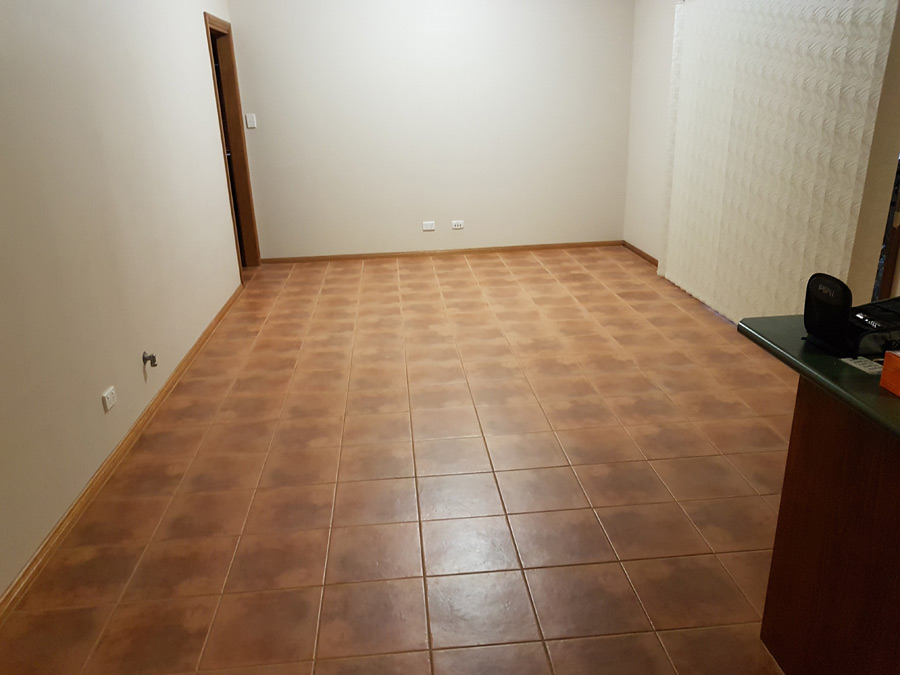 Transforming the flooring in this home was certainly shaping up as a big job. Who did Rochelle call? Harvey Norman Flooring of course!
With years of experience and with a huge range of carpet, timber, bamboo, laminate and vinyl flooring options, our flooring experts were perfectly positioned to offer the right advice for any questions Rochelle had.
Based on the wear and tear on the existing flooring, Rochelle knew she'd need a solution that would be hard-wearing and waterproof. Style was also a major consideration. Your flooring is a big part of your home's look and feel, so you want something that looks amazing while being super functional.
The flooring experts at Harvey Norman had the perfect solution for Rochelle – the Novocore Premium XL SPC Flooring.
Australia's first hybrid flooring, Novocore Premium XL is a Stone Plastic Composite (SPC) that is a lightweight, water-resistant and structurally stable flooring alternative. Ideal for families with kids and pets, this hybrid flooring features a SE+ non-chemical surface that inhibits bacteria survival, reproduction and colonisation – making it super hygienic.
This waterproof flooring, also features a cork base layer for better sound absorption, more comfort and allows for application over less-than perfect subfloors and ceramic tiles.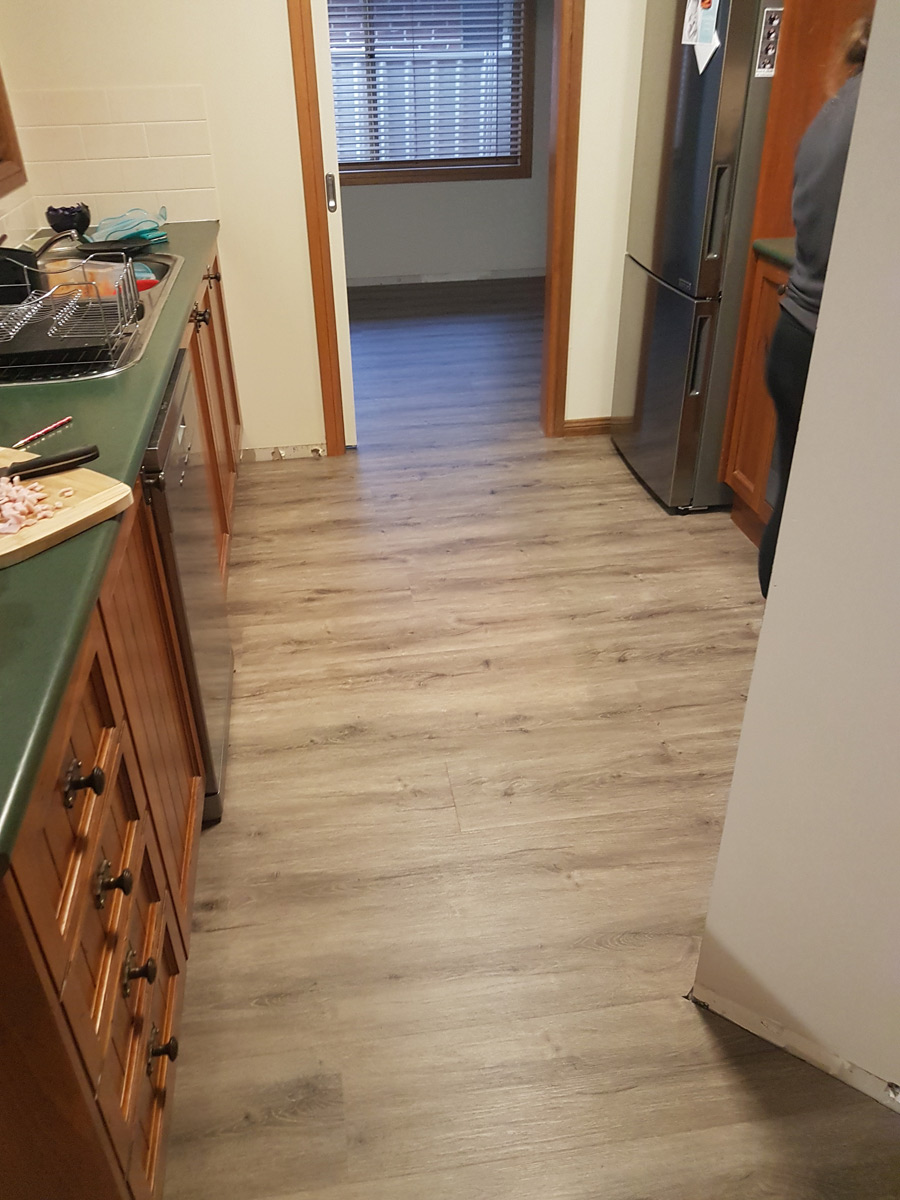 The Novocore Premium XL SPC Flooring is available in a range of stylish colours to suit your tastes. As seen in the 'after' photos we've included here, Rochelle chose 'Twilight Oak' as the colour for her home and it's certainly added some wow factor thanks to its timber look and premium finish.
Exclusive to Harvey Norman, Novocore Premium XL flooring is quick and easy to install and comes with a lifetime residential warranty.*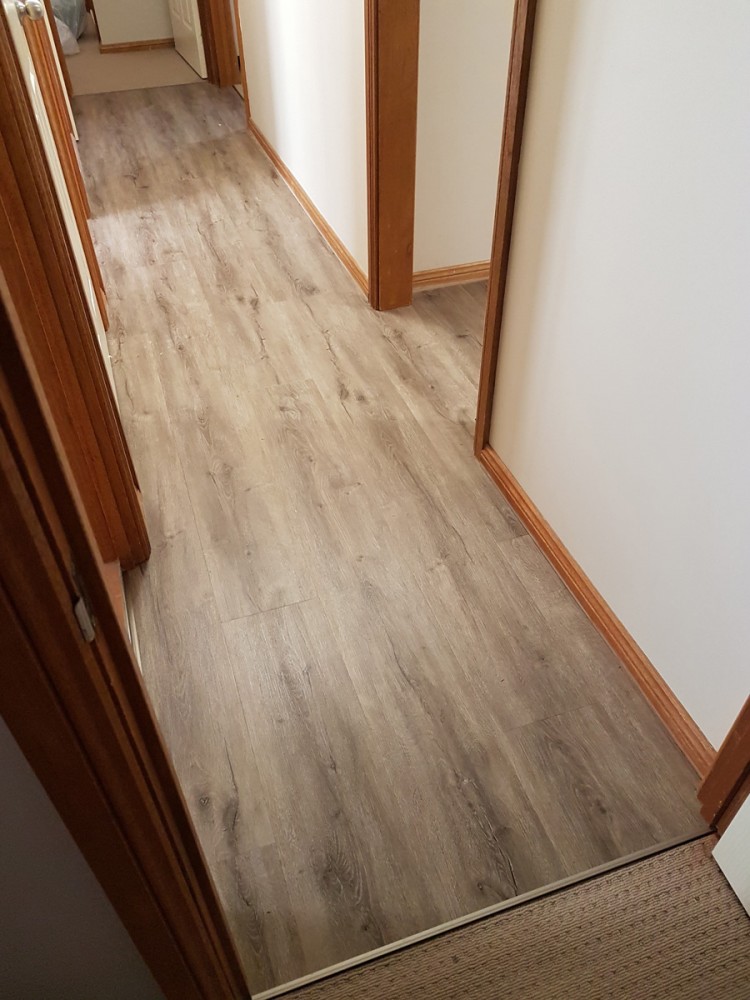 The new hybrid floors were really making a difference, but the combined living/dining room needed a little something extra to give it a finishing touch – a new area rug with a splash of colour!
With some many stylish rugs at Harvey Norman to choose from, our flooring experts suggested something from the 'Elle' range, which you can see below.
Made from 100% microset polypropylene, the 'Elle' rugs offer a plush, tactile texture with a super soft feel thanks to its 11mm pile and woven yarn. Available in 15 colours in a variety of designs (and in three sizes) these quality rugs are stain-resistant and non-shedding so they're easy to clean and low-maintenance.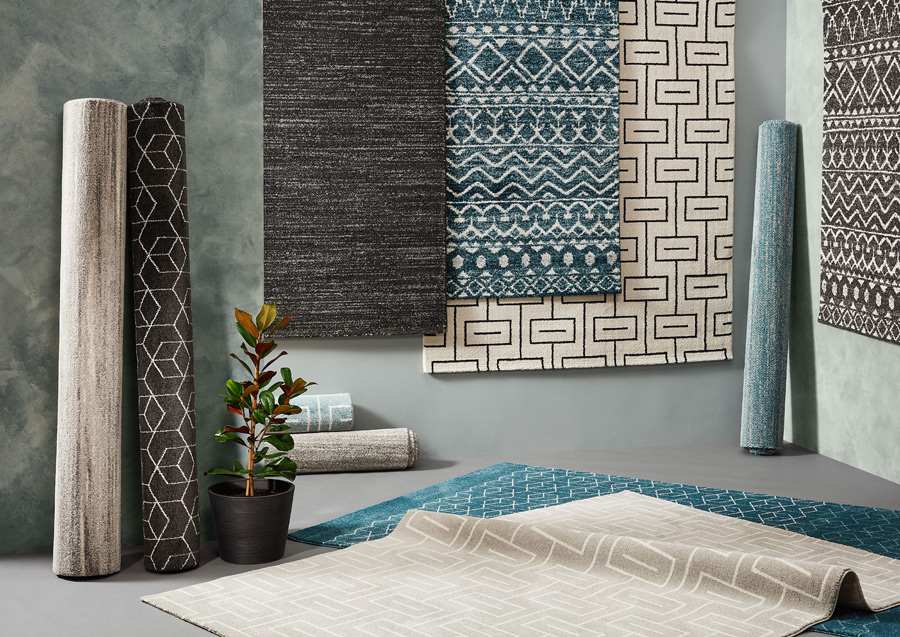 As you can see in the photo below, Rochelle went with the 'Elle' 60606/694 (Medium) rug – a stunning cyan with an interlocking geometric pattern that adds a pop of colour to contrast nicely with the grey tones of the 'Twilight Oak' Novocore Premium XL flooring.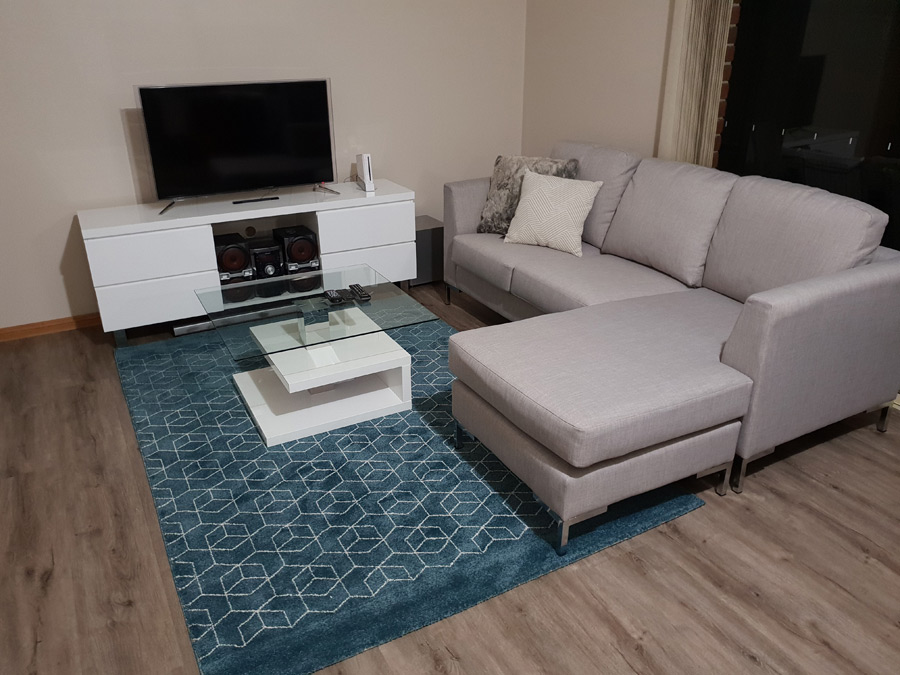 The Harvey Norman team had organised for an independent flooring contractor to come and install the hybrid flooring for Rochelle. The installation only took three days and involved a minimum of fuss for Rochelle. As with all installations, Harvey Norman customers have the option to either move any furniture themselves or arrange for the installer to move any furniture (emptied of contents) for them at an additional price.
Rochelle was happy to report that she found the installation process to be very professional, and was extremely pleased with the final result – a house that has been rejuvenated through the power of quality flooring.
If you're looking for flooring ideas to transform your home from drab to fab, you can check out the range here. You can also buy the extensive collection of rugs online! For more advice and to see the range in person, just find your nearest store and talk with our friendly flooring experts – they'll help you find exactly what you need.
*Warranty refers to normal residential wear only. Terms and conditions apply. Visit franchised store for details.