A fresh splash of colour has the power to renew your home's appeal. In fact, making the right colour choices is one of the easiest ways to instantly elevate the look and feel of your home.
Don't think you need to wait until spring to update your home colour palette. On the contrary! Winter is the perfect time to refresh our living room colour combinations and bedroom colour schemes. A home colour makeover can instantly boost our enjoyment of the extra time spent indoors during the colder months.
To show you the impact of colour on our living spaces, we have curated some of our favourite interior colour trends using a selection of coloured furniture from Harvey Norman.
From the living room to bedroom, we will show you how these sophisticated and stylish colour combinations can be used to craft truly welcoming spaces.
Read on for our favourite interior colour trends so you can effortlessly brighten your home with a fresh, new look!
Living room colour combinations
Your home colour choices set the atmosphere. No matter your personal style, your living room colour combinations should create a warm, genial space for relaxing with family and friends.
Contemporary living room colour combinations emphasise balance and harmony. Well-chosen coloured furniture and complementary décor colours should work together to craft an inviting, cosy feel to your living space.
We have selected three of our favourite interior colour trends that will suit any contemporary living or dining room. If you have a different vision in mind, Harvey Norman's ranges of coloured furniture offer a variety of customisable features to help you achieve your perfect combination of hues. Simply ask us in store about size, fabric, timber stain and more customisable options!
Interior colour trends #1: Moody blues & natural hues
Blue is renowned for its soothing, tranquil properties. Reminiscent of clear skies and vast oceans, blue in all its shades evokes our fundamental connection to the natural world.
Incorporating blue into our home colour scheme thus creates a calm, refreshing haven for enjoying our downtime.
Dark, moody blues are the go-to shades for a contemporary look. Whether used as wall or décor colours, darker blues imbue interiors with classic poise and elegance.
Styling these dramatic hues is a lot easier than you might think. The trick is to balance their cool depths with warm, natural finishes. Neutrals, brass and timber tones are sophisticated complements to moody blues and instil a light, fresh ambience.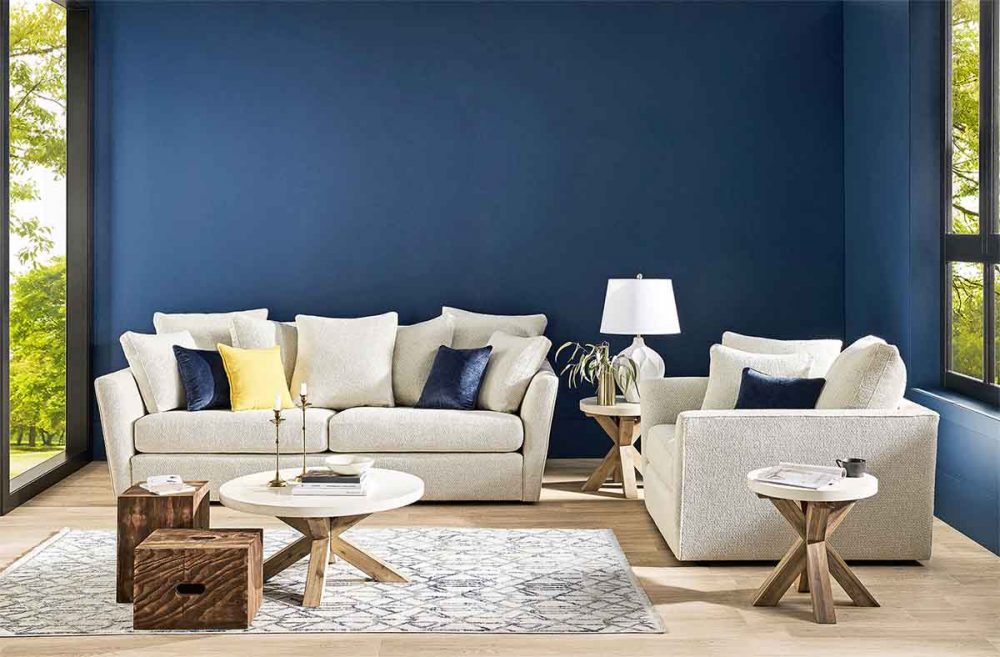 The Australian made 'Fernandez' 3.5-Seater Fabric Sofa is an effortless choice for a moody blue living area. Ours is featured in Forza 'Snow' fabric, a highly versatile neutral that lifts even the deepest of hues. An inviting scatter back and low profile imbue a casual vibe to keep our look cosy and relaxed.
'Fernandez' is crafted with a sturdy pine timber frame and features generously sized base cushions for deep-seated comfort. You can choose from a selection of size and fabric options in store to perfectly suit your space.
Interior colour trends #2: Neutral grey & warm caramels
Grey is possibly the most versatile neutral of all. As the intermediate between black and white, grey co-ordinates with every colour.
Grey incorporates easily into home interiors. It's a much gentler option than plain black or white. Even the darkest greys bring warmth to a space without feeling stark or clinical.
Grey is the ideal backdrop for styling a timeless, sophisticated living space. The key is using your furniture colour to effortlessly elevate this easy-going neutral.
Warm, earthy tones such as caramel and terracotta pop beautifully in a grey scheme. When complemented by natural leather and timber finishes, the result is a suave living space with inviting, cosy charm.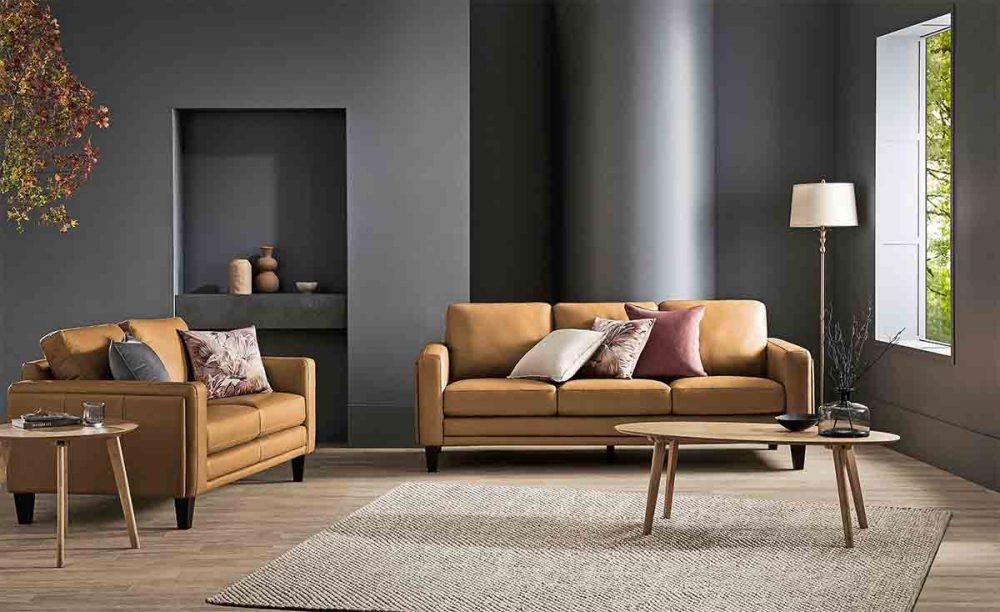 Striking the balance between sophistication and homey comfort, we love the 'Florence' 3-Seater Leather Sofa and 2-Seater Leather Sofa. This timeless 2-piece suite is upholstered in 'Luxury' Caramel leather with tapered Birch timber legs for a subtle rustic edge.
The 'Florence' suite is also available in a selection of leather colour options.
Interior colour trends #3: Berry red & classic latte
Looking to completely revamp your home colour scheme with a bold new look? A lush berry red may be just the ticket.
Berry red is bright, cheerful and reassuringly warm. Rather than overwhelming, a berry red interior styled with classic latte and timber tones creates a richly inviting atmosphere for relaxing and socialising.
Keep other hues to a minimum in a berry red living space. Furnish with timber pieces and opt for light, neutral décor colours.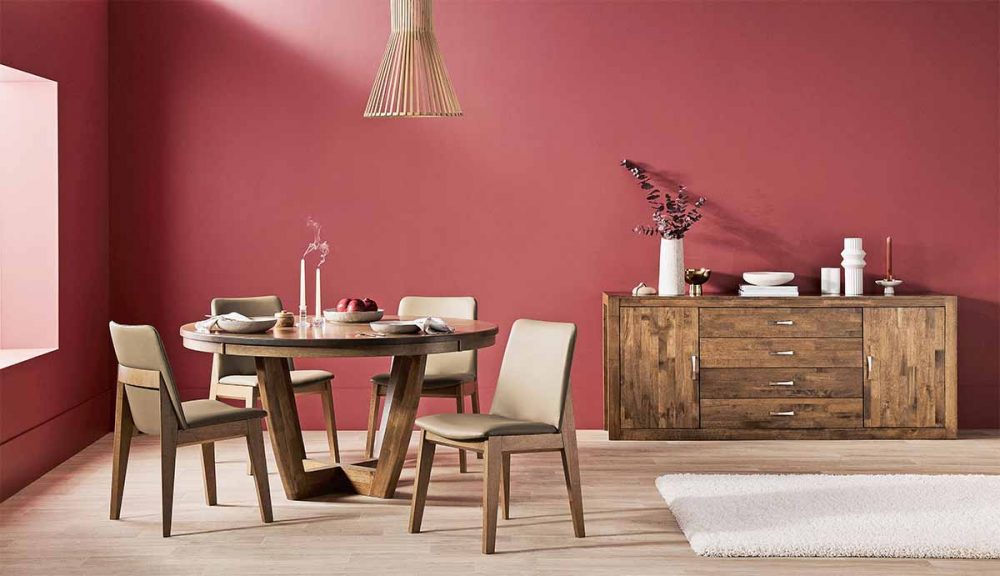 Crafted from hardwood, the striking, natural grains of the 'Jasper' 150cm Round Dining Table are delightfully accentuated in a berry red scheme. The circular tabletop comfortably sits up to six. There is also a 120cm round option that is ideally sized for apartments and smaller dining areas.
We have completed our setting with the 'Bolton' Dining Chair. Constructed from hardwood and upholstered in stone-coloured leather, the earthy tones of the 'Bolton' harmoniously accompany our 'Jasper' table. The 'Bolton' Dining Chair is available in a range of stains, leather and fabric colour options.
The 'Jasper' 196cm 2-Door, 4-Drawer Buffet offers a complementary storage solution. Contoured metallic handles offset the natural beauty of the hardwood with plenty of space for your serveware and other dining essentials. The 'Jasper' Buffet is also available in a smaller 150cm size to suit smaller areas.
Both the 'Jasper' dining table and buffet are also available in a range of timber stains to suit your existing décor colours.
Bedroom colour ideas
Bedroom colour schemes should fulfil two objectives. First, they should promote a restful, tranquil environment for winding down to sleep.
Second, and unlike communal living room colour combinations, the colours you invite into the private space of your bedroom should intimately reflect your personal style.
Of course, restful bedroom colour schemes differ depending on taste. Some find darker colours soothing while others prefer a light, airy space for dispelling the cares of the day.
On that account, we've chosen contemporary bedroom colour ideas from both ends of the spectrum to showcase the power of coloured furniture when crafting a serene, comforting space.
Interior colour trends #4: Soft pink & light Oak
Soft pink is a dainty and romantic choice for a dreamy bedroom. Gentle and unobtrusive, soft or blush pink pairs delightfully with any neutral to craft a soft, relaxing ambience.
Light Oak accents are especially magical in a soft pink scheme. The brightness of the timber maintains a fresh, airy feel and keeps the look sophisticated.
Style with natural textures, fibres and décor colours and you'll have a peaceful bedroom sanctuary you'll never want to leave!
The upholstered bedhead of the Australian made 'Harrison' Queen Bed is the epitome of understated luxury. We have featured ours in Warwick 'Lexus' Musk with a base in Natural stain to showcase the stunning style combination of soft pink hues and Oak timber.
Completing our bedroom is the 'Harrison' 2-Drawer Bedside Table and 4 or 5-Drawer Tallboy. These co-ordinating storage solutions provide ample room for stowing clothes, personal items and other night-time necessities.
If you are dreaming of different bedroom colour schemes, the 'Harrison' collection will make them a reality. You can easily style your own unique 'Harrison' bedroom look by choosing from a range of fabric and timber stain options. Just ask us how in store!
Interior colour trends #5: Slate green & natural timber
Like blue, the ubiquity of green in the natural world imbues the hue with calming, restorative properties. A deep, soothing green invites the lushness of rainforests and the tranquillity of rolling meadows into our interior spaces.
Slate green is a sophisticated option for a contemporary, nature-inspired bedroom retreat. A deep, enveloping colour, it is ideal for creating a sleeping space that feels apart from the rest of the household, and the pressures of everyday life.
Looking to style the ultimate bedroom oasis? Dark timber finishes against slate green effortlessly evoke a cool, relaxing spa feel. Choose darker neutrals as your key décor colours and keep clutter to a minimum!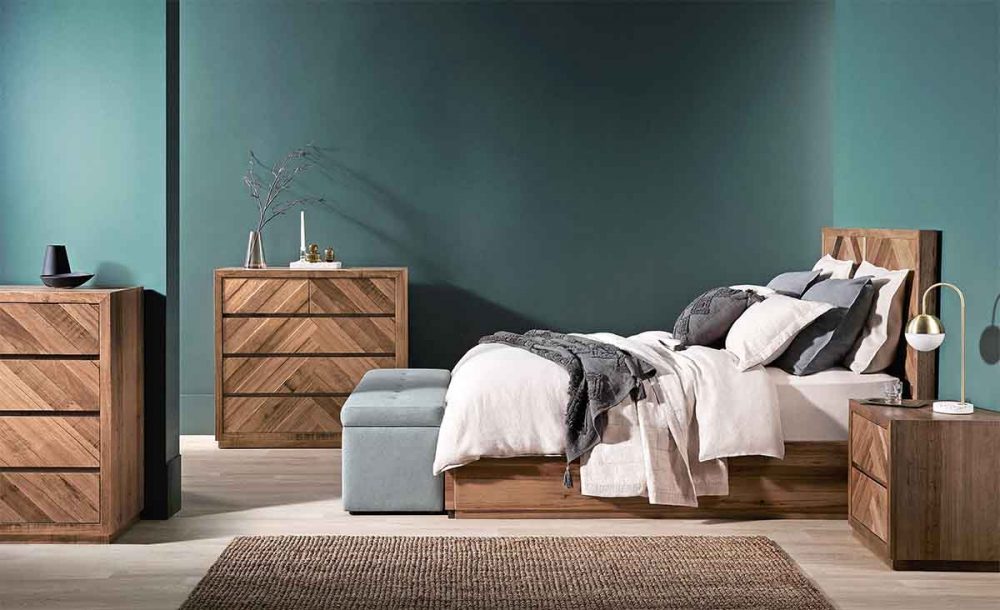 The Australian made 'Herringbone' Queen Bed is a natural choice for crafting tranquil, earthy vibes in your bedroom. Crafted from Silvertop Ash, you can choose from a selection of stains to offset the stunning detail of the timber veneer. We have chosen Smoke for our 'Herringbone' bed as this darker finish best elicits the calming wilderness energy inspired by slate green bedroom colour schemes.
To keep our bedroom retreat clean and serene, we have paired our 'Herringbone' bed with the co-ordinating case goods. The Australian made 'Herringbone' 2-Drawer Bedside Table and 5-Drawer Tallboy beautifully showcase the eponymous pattern in Silvertop Ash while providing ample storage for a clutter-free bedroom.
Like the 'Herringbone' bed (which you can add two drawers to for extra storage), the matching case goods, including a stunning 6-Drawer Dresser, are available in versatile stain options to suit any number of contemporary bedroom colour schemes. Ask in store for details!
Need more coloured furniture inspiration?
If it's time to update your home colour but you are still unsure what interior colour trends will suit you and your space, visit us in store. We will take you through our ranges of coloured furniture and customisation options to spark your imagination. You can also discover our complete ranges of coloured furniture online.