A child's bedroom isn't just for sleeping – it's for playing make believe, escaping with a good book or game and having sleepovers with friends. A sanctuary they can call their own, your child's bedroom should reflect their personality and sense of style.
Harvey Norman's new season kids bedding collection features a spectacular selection of Bedroom Furniture and Manchester in vibrant colours and cute, playful designs. Check out the latest catalogue and be inspired to give junior's bedroom a makeover with our hottest on-trend looks.
Here are a few of our faves to get you started…
Put Your Name On It!
This customisable bed will make a truly unique addition to your child's bedroom, and is sure to make them feel super special. The sweet and simple 'Name Me' bed comes in a wide range of colours your kids can choose from, including Black, Dark Blue, Orange, Pink, Red, Silver and White. And, best of all, they can add their name to the bedhead!
Crafted from durable Steel, this unique bed will be a winner with your little one.
Once your child has picked out their preferred colour, help them choose matching bed linen that will best complement their brand new bed frame.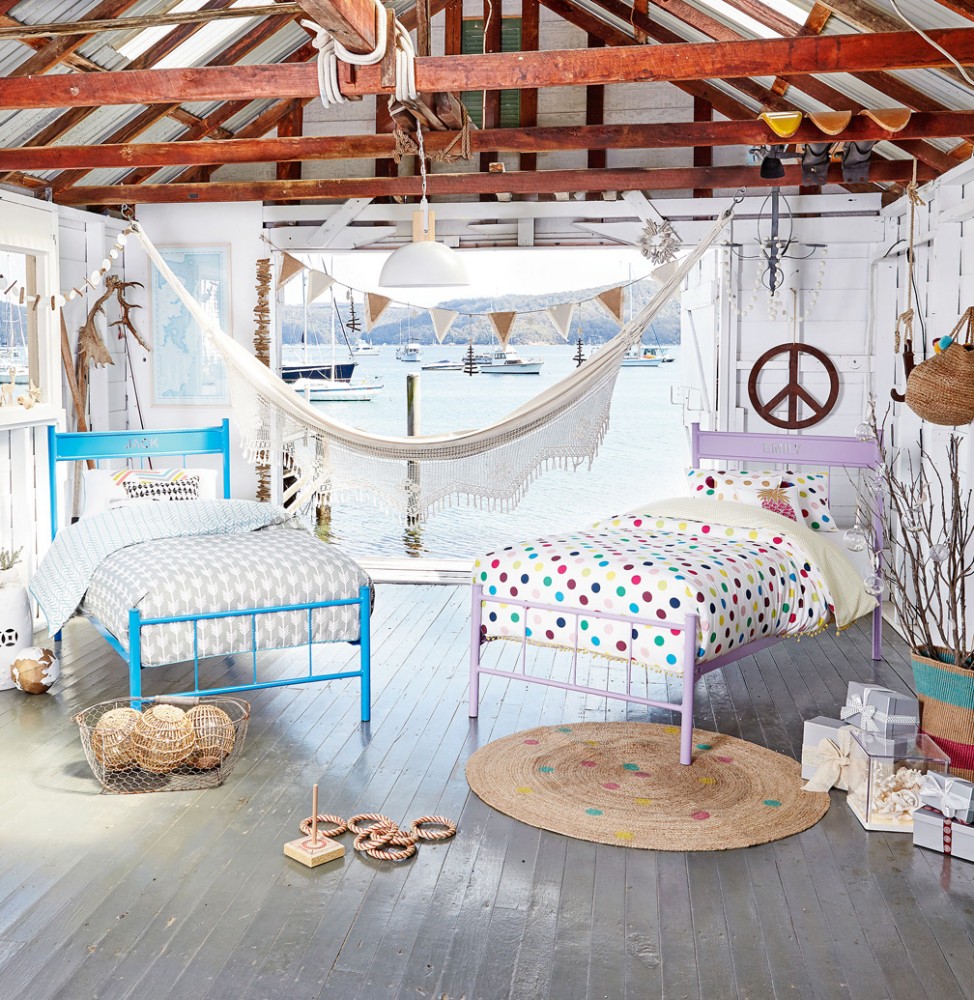 Built to Last
The strong and sturdy 'Cooper' King Single Bed has a hint of the nautical about it, and its classic design means your child won't outgrow it anytime soon. Thanks to its robust construction of combination Radiata Pine with American Ash tops, this timeless kid's bed is built to last.
In keeping with the maritime theme, match the 'Cooper' with marine blues and bright bursts of reds or yellows for a smart, classic look.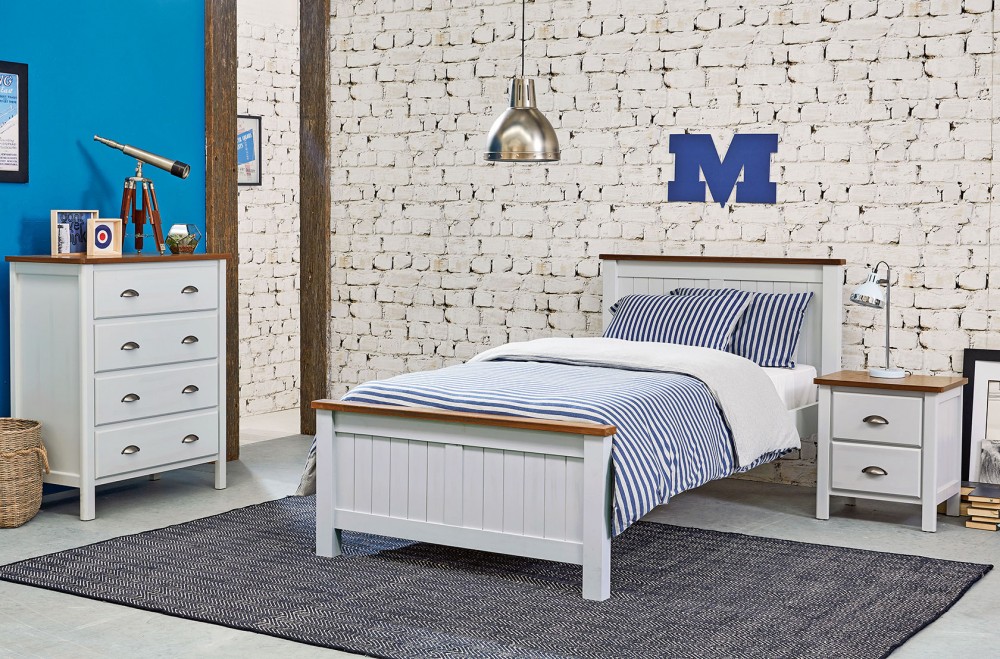 Peekaboo! I See You!
The 'Peekaboo' Single Bunk Bed is both modern and practical, and totally perfect for sleepovers. There's no need to worry about rolling out the spare bed for your child's friends when they come to stay with the space-saving design of this modern bunk bed.
With its neutral design, it's easy to style the 'Peekaboo' with any manchester your child dreams of – whether it's bright and cheerful colours, such as the charming 'Evie Glitter' quilt cover set (featured below) or the busy and imaginative 'Land of the Giants' quilt cover set (featured below).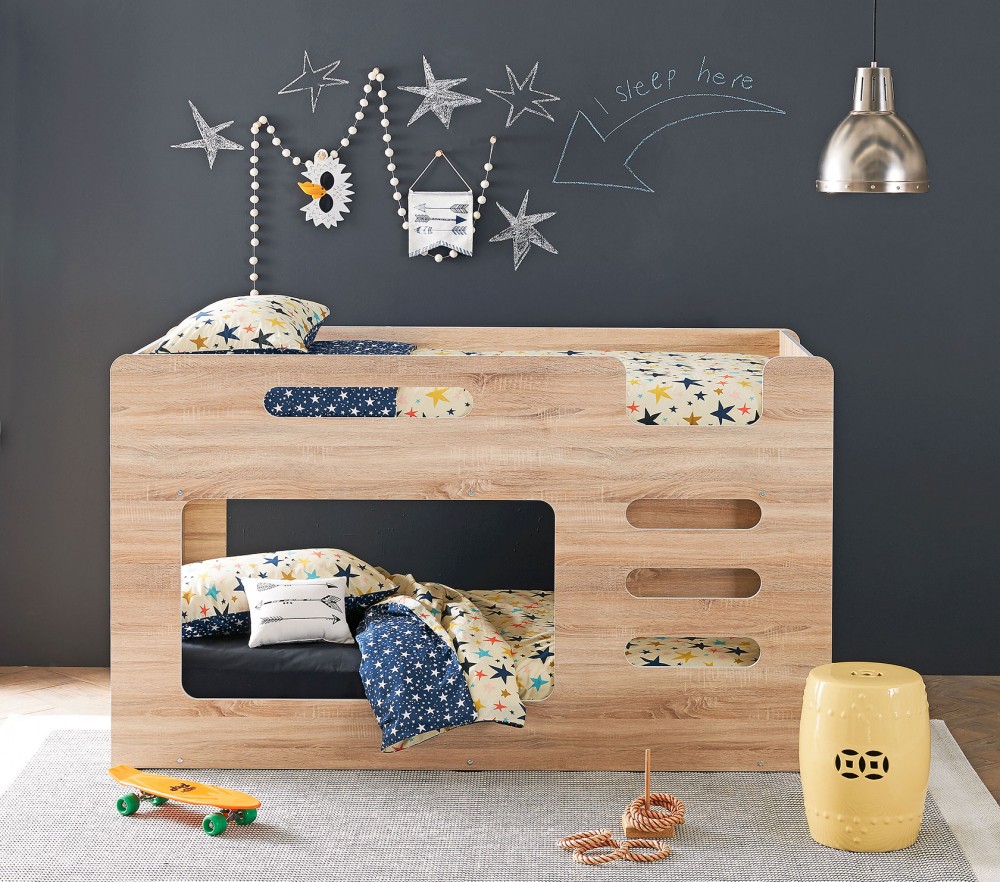 Confetti Dreams
A joyous celebration of spots, the 'Evie Glitter' quilt cover set will add a bright burst of colour to your child's bedroom, warming the space instantly. With its confetti-like design in gold, pink and blue, it's sure to add a festive mood.
Match this pretty quilt cover set with bedroom furniture in calming whites, then top it all off with a fluffy floor rug in robin's egg blue or soft rose pink. For little girls who love to read, a wicker chair in white would be just the place to relax with a good book, while also being a great match for this lovely quilt.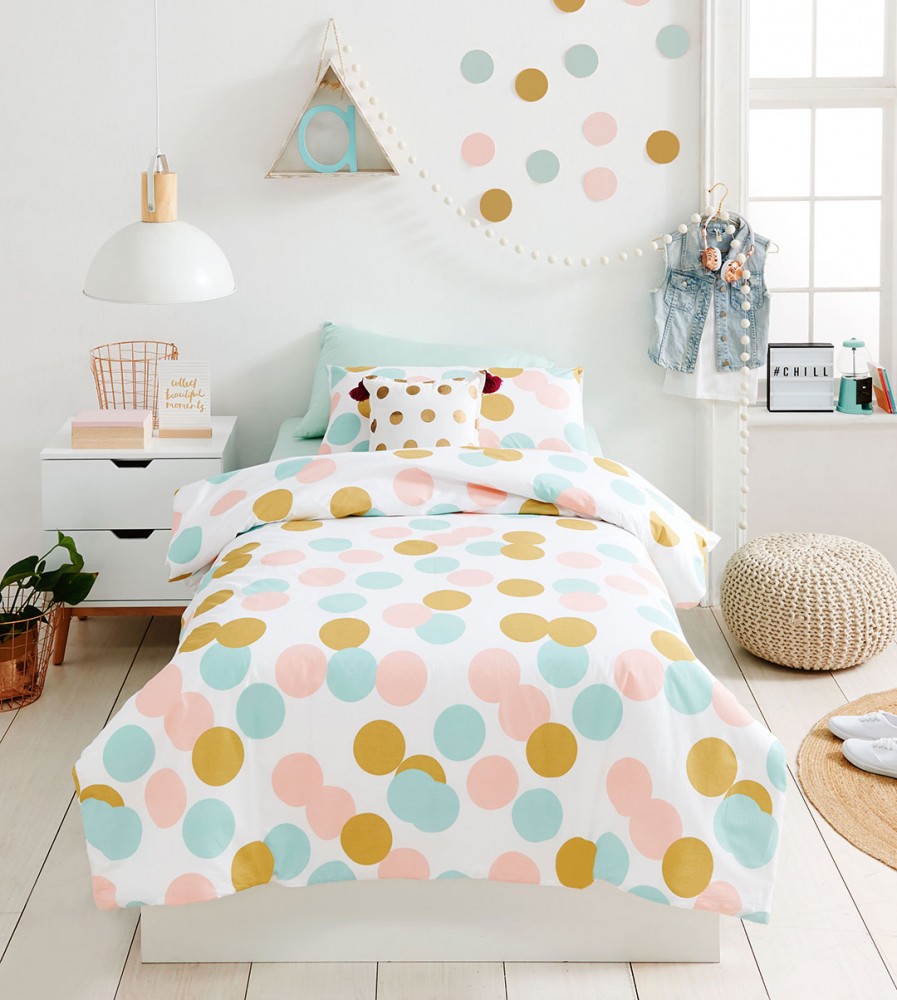 Simple, Modern Patterns
Give your child's bedroom a 'totes cool' makeover with the modern 'Rio Gold' quilt cover set. Featuring a repeating pattern with gold highlights, this set will evoke a modern vibe in your child's space.
A chalkboard-paint feature wall will contrast nicely against the minimal colours of the 'Rio Gold', as well as giving your little one a place to get creative.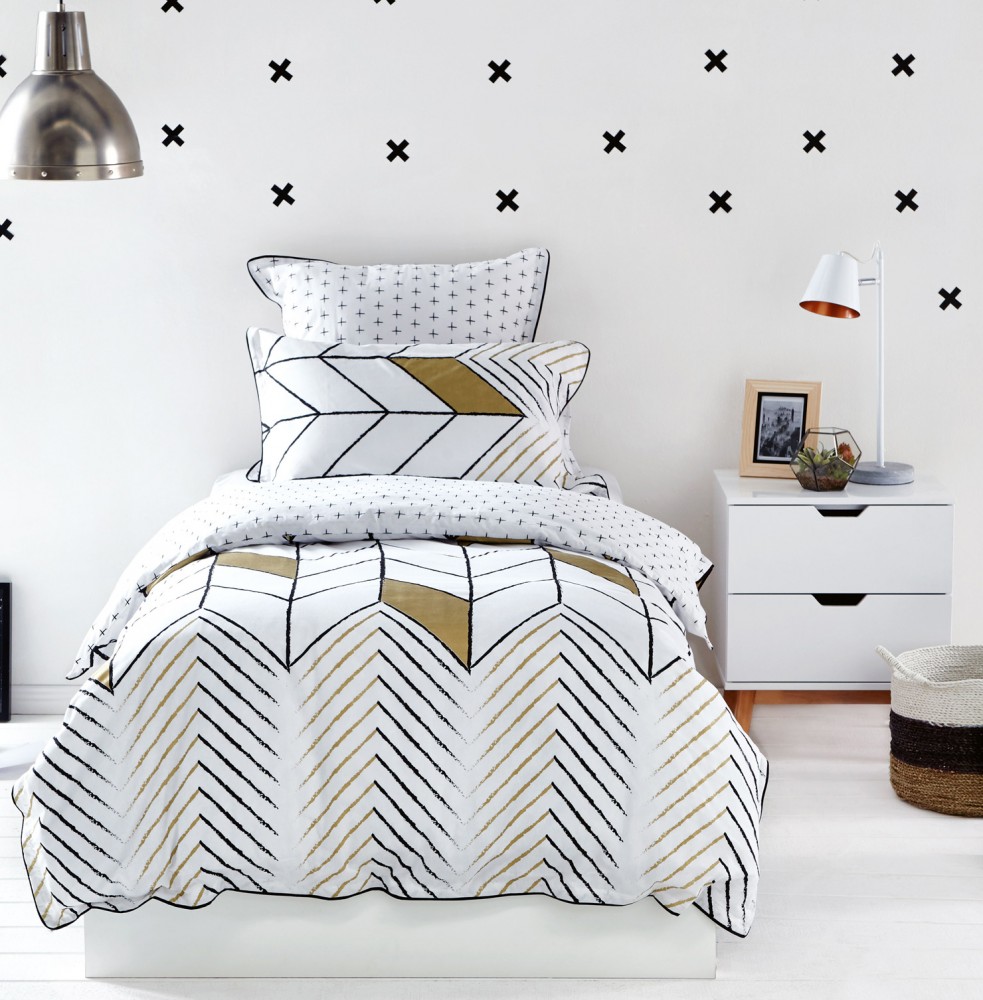 Dreaming of Dinosaurs
This quirky 'Land of the Giants' quilt cover set is perfect for your little palaeontologist. They will love the dinosaur design, while the fun colours will add zest to their bedroom.
Decorate with similarly bright hues – funky photo frames, themed wall stickers or big-statement posters.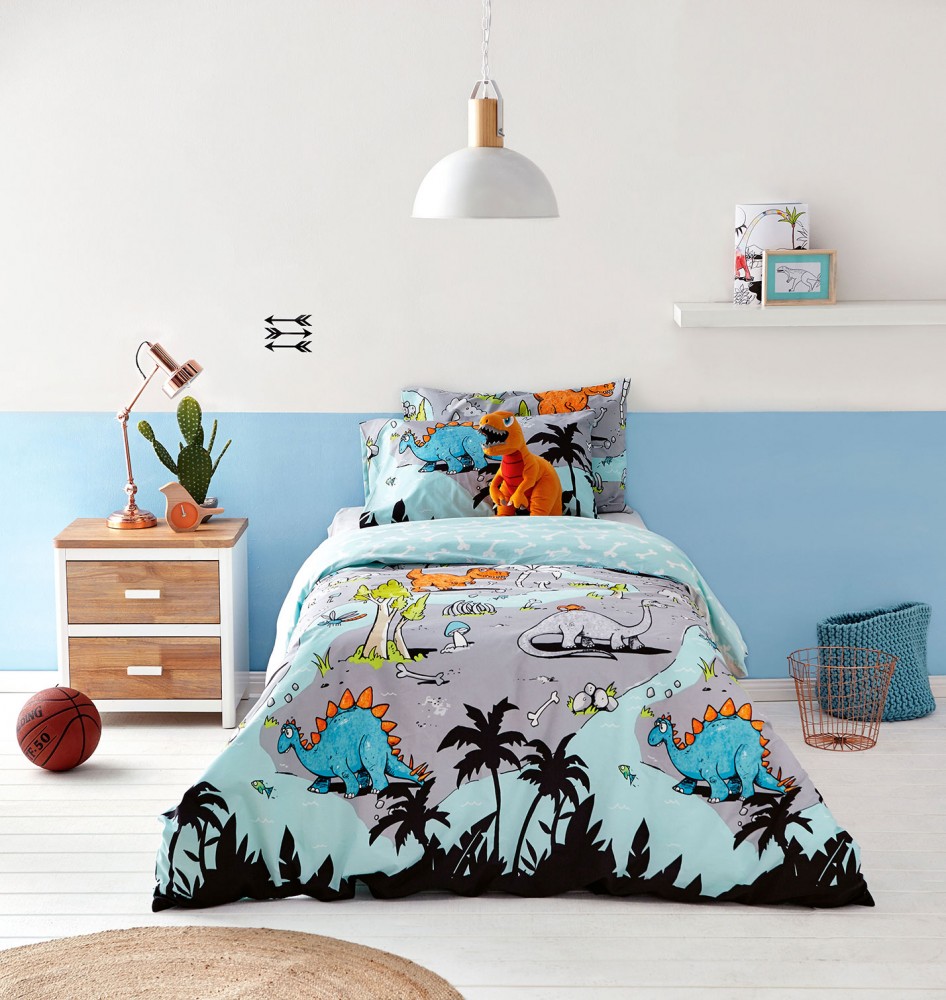 Avid Little Adventurers
Let young imaginations run wild with the 'Arrow' Tee Pee Tent and Sleeping Mat Set, the ultimate addition for any boy's bedroom.
The perfect playtime accessory for your little adventurer, the 'Arrow' Tee Pee will provide your kids with hours of fun.
Featuring a graphic arrow design with matching pillowcase and sleeping mat, they'll never want to leave their new favourite playtime haven.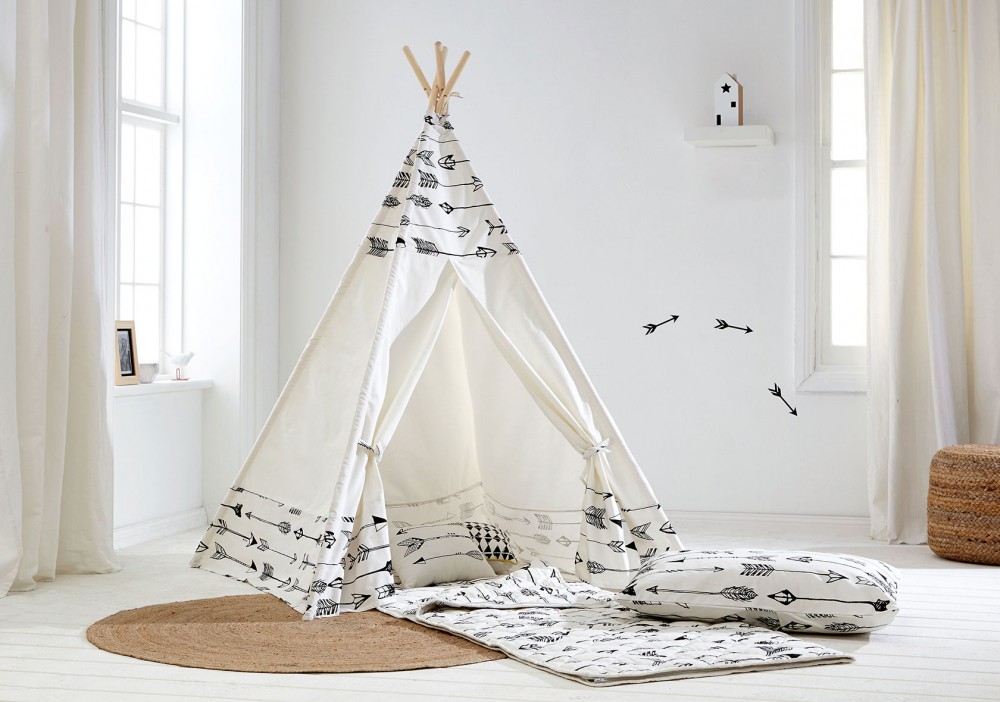 Fit For a Princess
Every little girl wants a special place to call her own.
The beautifully designed 'Spot' Tee Pee and Sleeping Mat Set is ideal for just that. Fill it with pillows, books and fluffy toys to create her very own secret space, so she feels truly special.
A thoughtful gift for a special little someone, this gorgeous tee pee is perfect for playing imaginary games, hosting tea parties or enjoying a 'crafternoon'.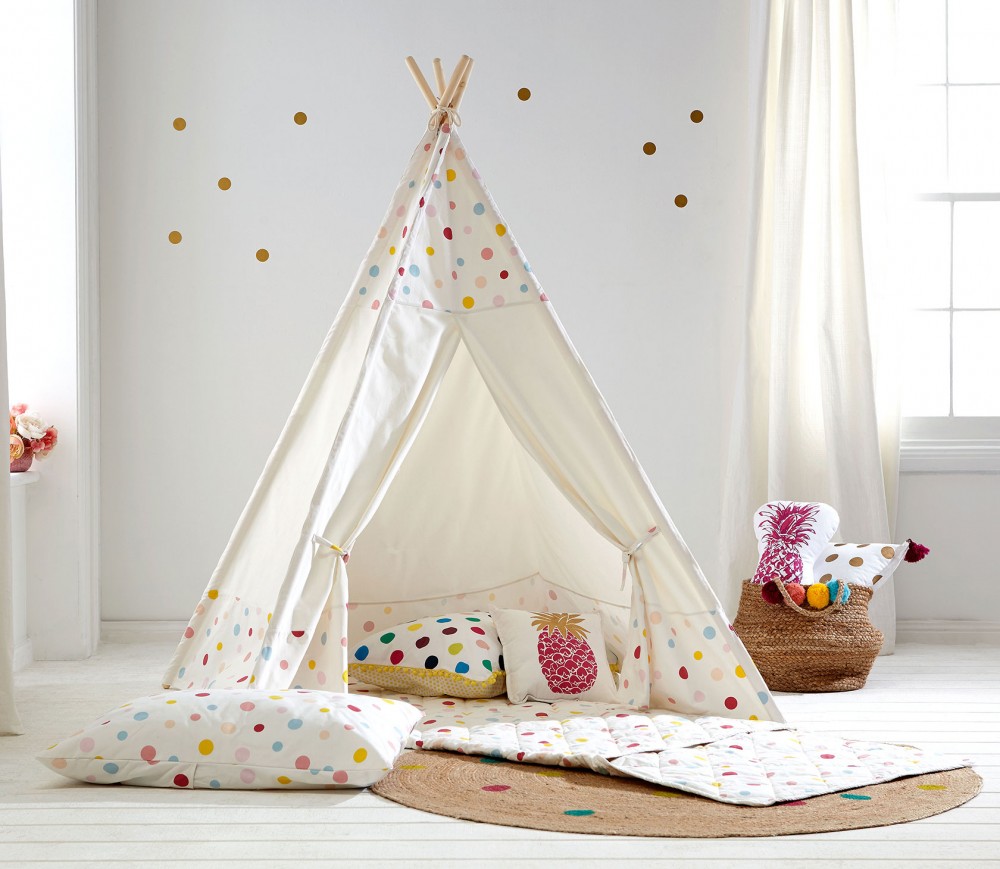 With such gorgeous designs for every boy and girl and for all different tastes, there's sure to be something just right for your little one at Harvey Norman.
Both you and your child will have a ball choosing new furniture and accessories to trick out their bedroom in style.
Come and visit your local Harvey Norman store or browse online to view more of our gorgeous kid's bedroom furniture collection, and check out our great range of fab, fun designs!