Harvey Norman Design & Renovations is committed to crafting premium quality kitchens and bathrooms, as well as clever spaces for home offices, laundries and wardrobes. Our strong project coordination skills, plus excellence in design and installation, have made us one of the most trusted names in the renovations business. Harvey Norman Chairman Gerry Harvey proudly stated that "we are currently one of Australia's premier home renovation specialists".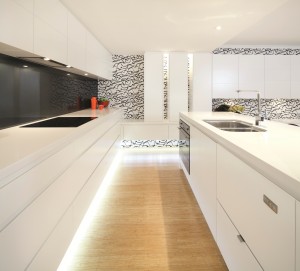 With our customers undertaking a substantial investment in their home, we understand that they're looking for a company they can trust. Harvey Norman Design & Renovations has more than 30 years experience in kitchen renovations, bathroom transformations and more. Harvey Norman is a brand that is synonymous with quality refurbishments – our business is 100% committed to customer satisfaction.
Harvey Norman Design & Renovations offers a wide selection of products and services that are second to none in the Australian home renovations market. With a "state of the art" showroom in the Alexandria and Auburn (New South Wales) stores, you can see firsthand on display astonishing, inspirational kitchens and bathrooms.
We coordinate the entire remodelling process for you, from consultation and conceptualisation, through to design and execution. The highly experienced Design & Renovations team offers professional advice and service to ensure the completed renovation matches your aspirations. We employ the considerable skills of some of Sydney's best designers, who will come to your home to create your dream space. Our team of qualified, licensed tradespeople are the best in the renovation industry today; they use the very latest high quality materials to guarantee the delivery of a renovation that suits your unique lifestyle. In fact, we have so much confidence in the quality of our workmanship, we offer a written 10-year warranty.
Turn your vision into reality today with Harvey Norman Design & Renovations.