Is your little tot's bedroom in need of a little TLC? Our latest Letter Play kids' bedroom feature in Home Beautiful magazine showcases practical (perfect for the parents) yet playful (perfect for the kiddies) range of kids' beds available at Harvey Norman.
Sarah Burman, editor of Home Beautiful magazine, and a mother herself knows that styling a kid's bedroom can be fun but challenging too!
"My best advice is to consider what your child would like in their space and what best reflects their personality. Try to find a happy middle ground that also works in your home. So if your child wants a pink room, let them pick from three options from the more muted end of the spectrum, or if they want a particular theme, just limit the product options to ones that you can live with, too – let's be honest, free reign may result in something that they'll grow out of too quickly."
"My son is almost ready for his first bed so I'm looking for a bed that's safe and primarily made from timber that he won't grow out of too quickly. It needs some serious style credentials and storage is paramount. I'd like my toddler's room to be a fun place where he enjoys being, so I'm looking for bright bed linen, rugs and wall art to complete the space."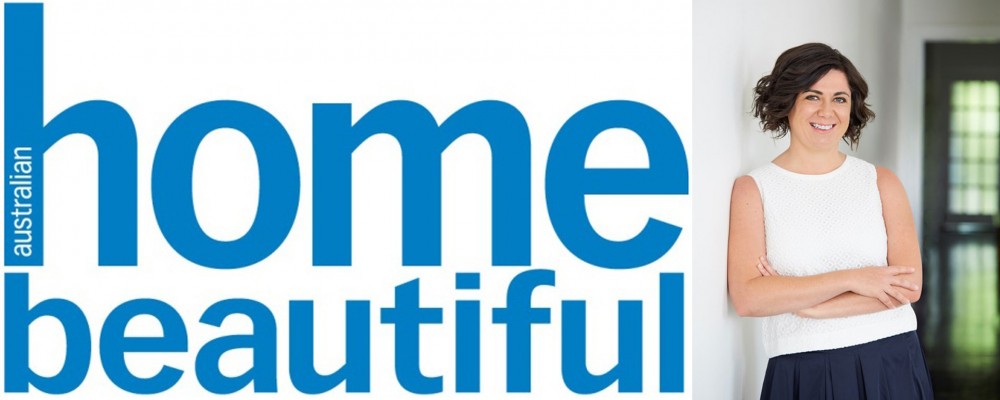 Sarah emphasises that it's important to plan before starting and to allow the greatest possible floor space within the bedroom.

"A child's room is not just a place to sleep. You want your kids to use their room as a creative space, somewhere they can spread out their toys, read their books, indulge their imaginations and just be free to be themselves."
She also encourages parents to opt for a neutral base for the room, which will make it easier to add colour and character with the help of feature pieces and decorator items.
"When they're too young (like mine) to choose for themselves, you should be part of the decision-making in order to future-proof. This way you won't have to redecorate when your kid's penchant for unicorns becomes apparent."
One of Sarah's favourite looks is the candy pink Calais single bed, and she adores the space-saving design of the  Tyson II bunk bed, but the option that ticks all the boxes for her is the Jett king single bed head and bed base.
"I love the storage drawers built into the bed base, and the fact that I can choose the fabric and choose to have it re-upholstered later."
"I don't want every item in a room be too matchy-matchy, so I like that I can bring in natural timbers or glossy whites – either will look fabulous. Now I just have to choose the fabric from the samples.  This may take a while…"
K is for Kindness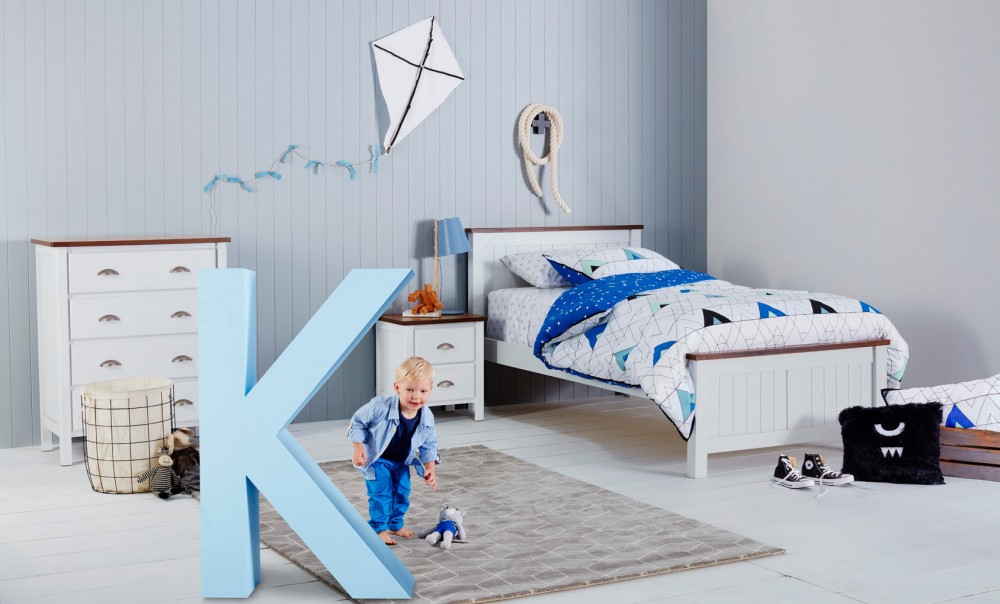 The Cooper king single bed, bedside table and tallboy are crafted from Radiata pine timber with an American Ash veneer. The crisp white and timber-look are perfect for creating a subtle nautical theme when paired with bright blues and sandy beige. This look is bound to capture your child's imagination, allowing them to sail the high seas and soar to the sky!
I

is for

I

magination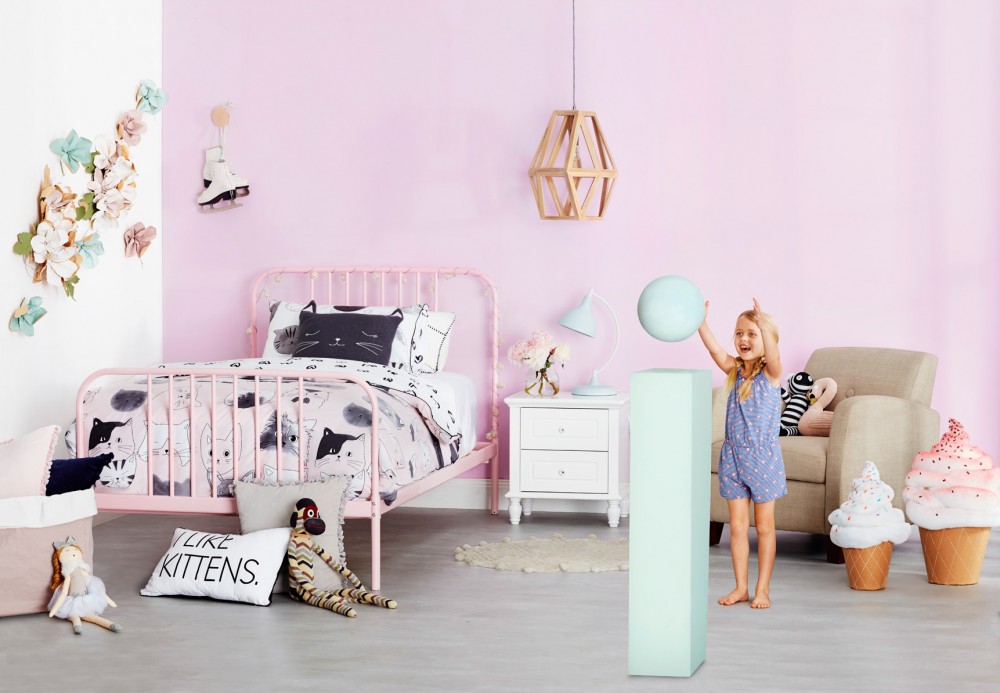 The Calais metal bed in cotton candy pink (also available in white and grey) pairs beautifully with other hushed hues to create a soft, sweet and serene space that little kids will love. As they grow, introduce bed linen and accessories in classic black and white to transform the room from tween-friendly to teen-worthy.
D is for Dreamers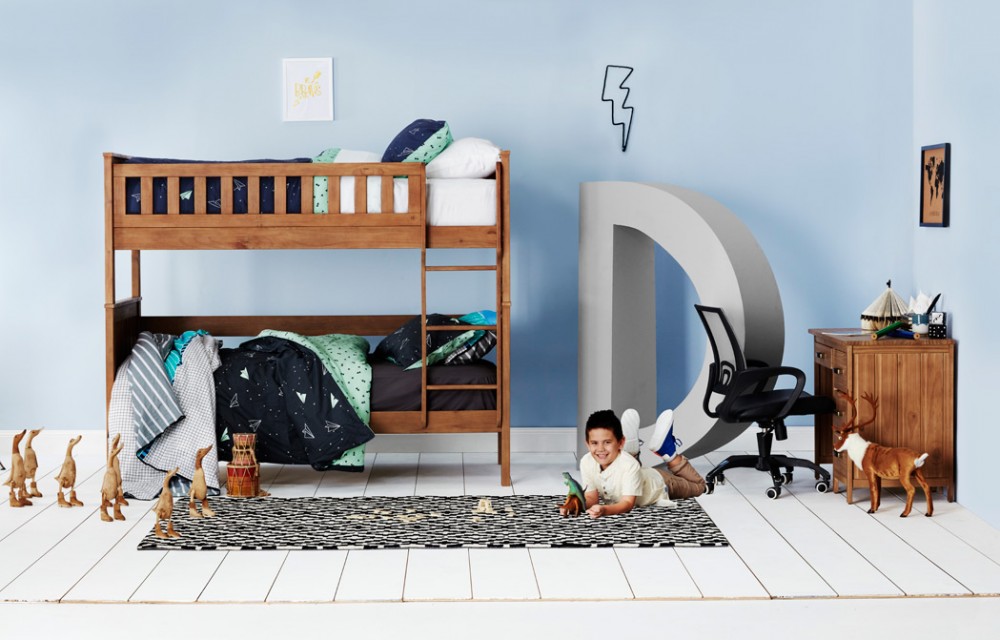 The Tyson II bunk bed is the right option for homes where space is at a premium. A great choice for both boys and girls, the neutral timber tone allows a greater scope when styling for siblings. Mix and match with rainbow brights to make the room pop and keep both bunking buddies happy. Plus, with the Blue Tick of approval from AFRDI, you can rest assured knowing it meets the latest standards of safety for bunk beds.
S is for Sweetness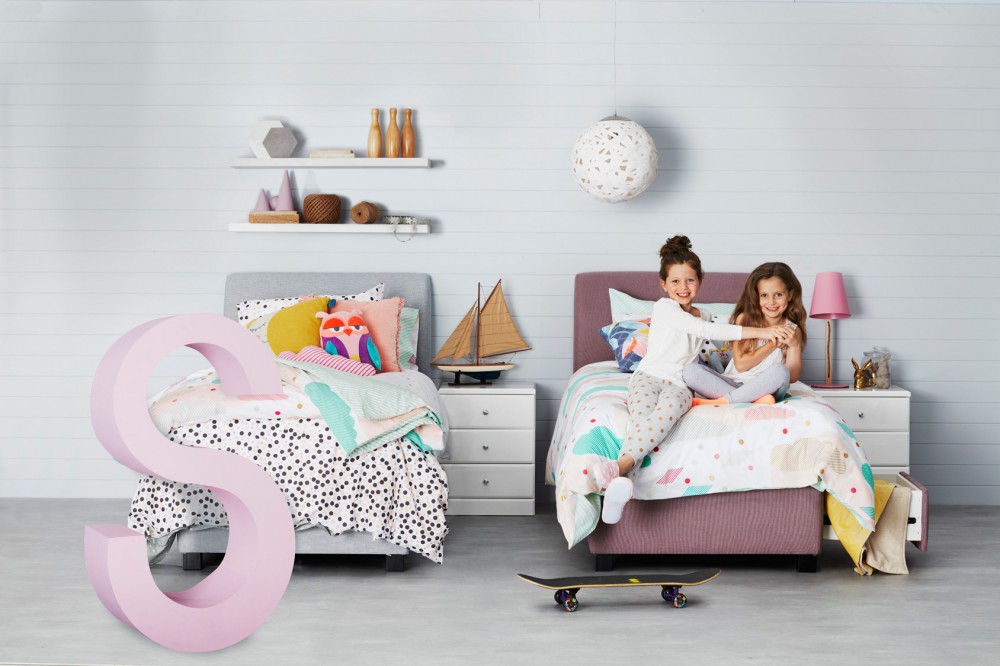 The Jett upholstered bed head with storage drawer base is available in a variety of fabric choices. Its streamlined look and clean design will see it at home in any décor, and the storage drawers will help keep clutter to a minimum. Easily update the look by changing to new linen or experimenting with different decorator pieces.
For more fun and functional kids' bedroom furniture, visit the Harvey Norman website or go to your local store today.