Harvey Norman is excited to announce its support of this year's inaugural Australian Made Week.
An initiative of the Australian Made Campaign, Australian Made Week runs 24th – 30th May and is an opportunity to 'say thanks' to our local makers, growers and manufacturers.
To celebrate, we at Harvey's HQ have taken the opportunity to look deeper into what Australian Made Week is all about, as well as rounding up a selection of our favourite Australian made furniture and craftsmanship from across our extensive ranges of sofas, dining, bedroom furniture, mattresses and manchester.
Read on to discover more about the importance of buying Australian made. Plus, view a selection of Harvey Norman's amazing Australian Made sofas, dining and bedroom pieces, all of which have been crafted by talented local furniture and bedding makers.
What is the Australian Made Campaign?

When it comes to logos, everyone knows a golden kangaroo in a green triangle means 'made in Australia', but have you ever wondered how that kangaroo hops its way onto the products we buy?
Officially known as the Australian Made, Australian Grown (AMAG) logo, the now-world-famous golden 'roo debuted way back in 1986 and is regarded as Australia's most trusted and recognised country of origin symbol.
Only products that register with Australian Made Campaign Ltd (AMCL), and meet the stringent criteria outlined in Australian Consumer Law and the AMAG Logo Code of Practice, can use the symbol.
And what is Australian Made Campaign Ltd, I hear you ask? A not-for-profit public company with ownership of the AMAG logo, AMCL works to promote Australian makers, growers and manufacturers to Aussie consumers. They help us identify Australian made products with confidence so we can always choose local – and reap the benefits!
What is Australian Made Week?
Australian Made Week is AMCL's initiative to focus the spotlight on home-grown makers, growers and manufacturers. Throughout the week (and beyond!), we are encouraged to choose genuine Aussie products and reflect on the impact of our choice.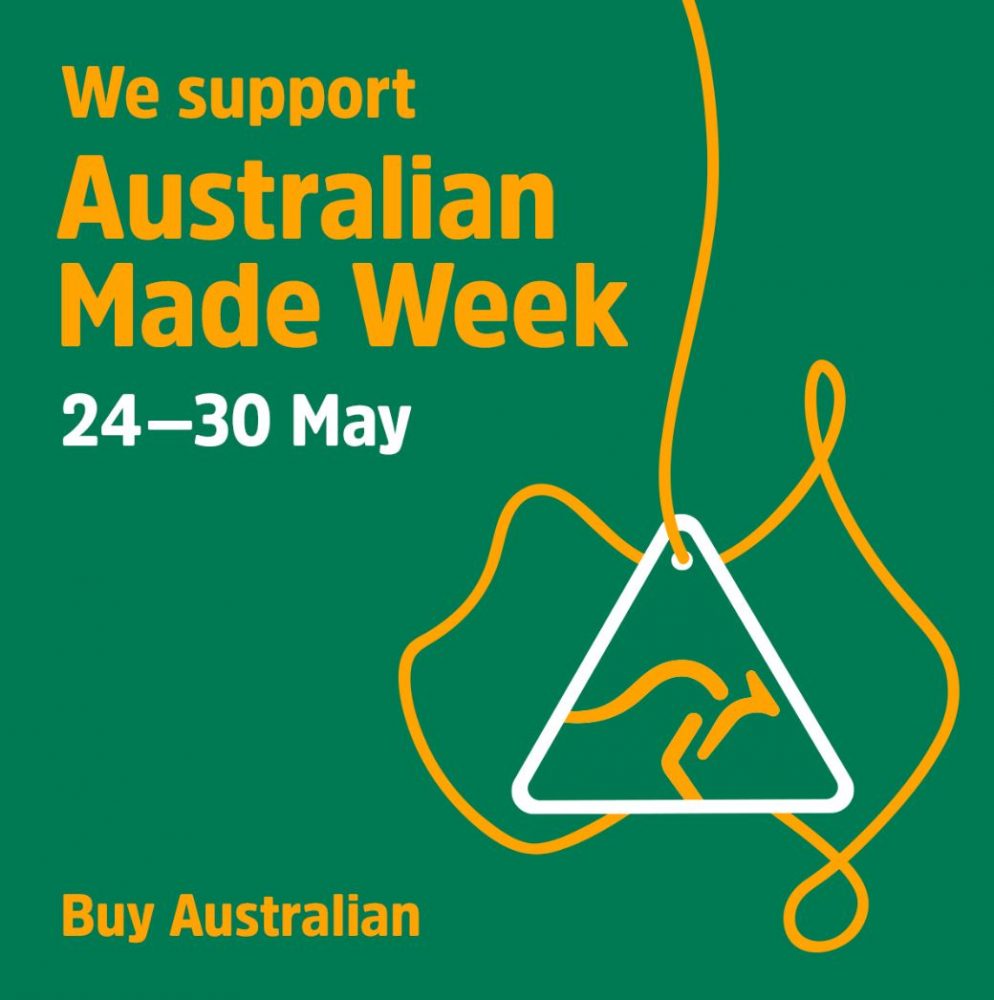 Did you know simply swapping one product for a locally made version has beneficial flow-on effects?
In fact, as AMCL state, if every Aussie household spent an extra $10 a week on Australian made products, an additional $5 billion would be generated in our economy, creating 11,000 new jobs.
In other words, every time we buy Australian made, we are directly supporting local companies, businesses, manufacturers and suppliers. This means more jobs for us, more tax money towards our communities, and a stronger economy into the future.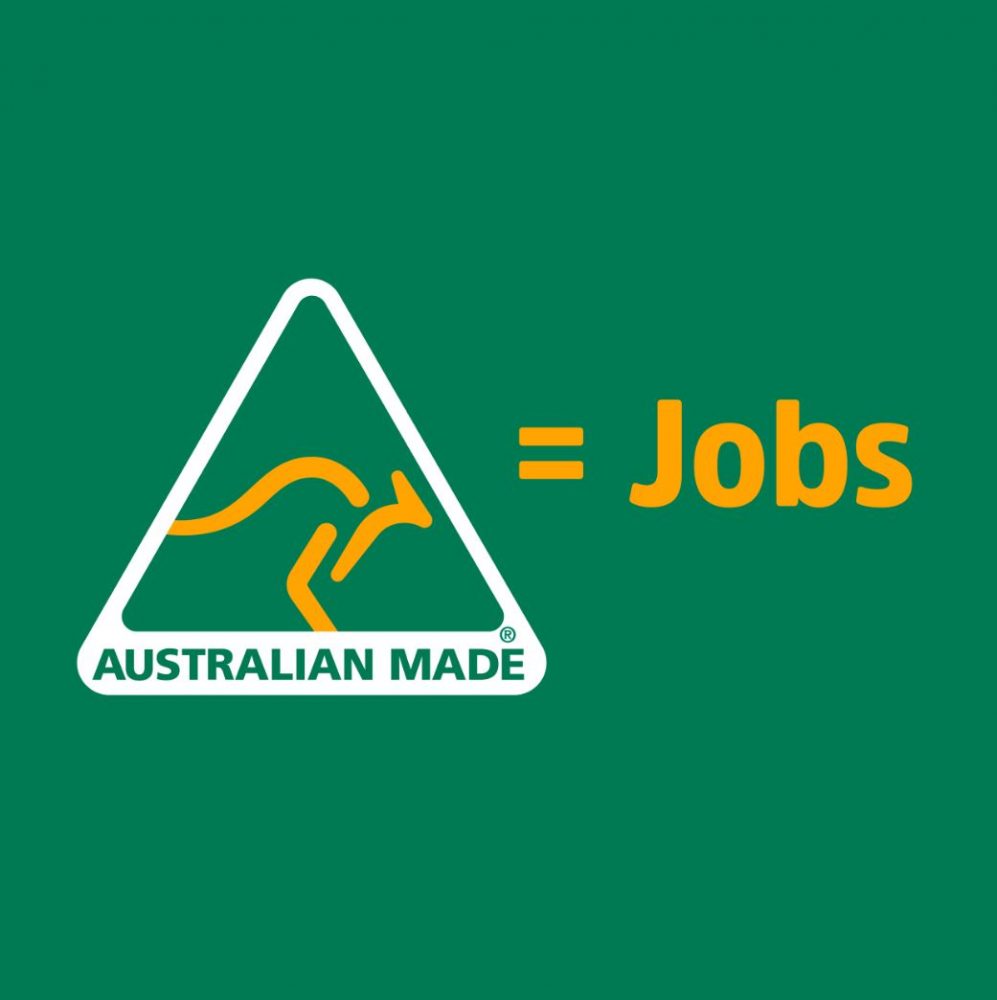 This Australian Made Week, the AMCL are urging all Aussie shoppers to opt for the green and gold kangaroo, no matter what we're purchasing, to give our country this much-needed boost. Shoppers can spread the word by posting their Australian made purchases online, and encouraging friends and family to get involved, too.
Why buy Australian made furniture?
As a proud partner of AMCL, Harvey Norman is excited to showcase the outstanding craftsmanship of Australian furniture makers during Australian Made Week.
Buying Australian made furniture is more than a win for the economy. Choosing Australian made furniture is a smart investment in stylish, high quality pieces that are built to last.
As Australian made furniture is designed and manufactured to rigorous Australian standards, you can be confident your new sofa, dining table, bedroom furniture, mattress or manchester is world class for safety and craftmanship.
At Harvey Norman, Australian made furniture has the extra advantage of being customisable. This means you can choose your preferred size, colour or finish across our Australian made furniture ranges to effortlessly suit your home.
To fire up your imagination for Australian Made Week, we have handpicked a selection of Australian made sofas and dining tables that will suit any contemporary living space. These pieces boast the beauty, versatility and high quality that characterises Harvey Norman's Australian made furniture collections.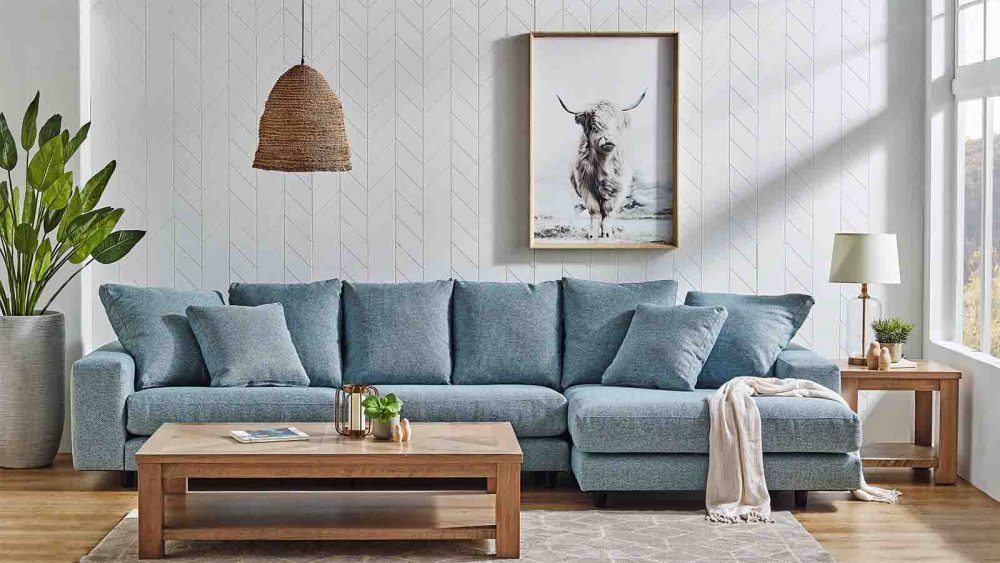 Looking for an Australian made sofa that will seat the family in absolute comfort? Then look no further than the 'Plaza' 3.5-Seater Fabric Sofa with Chaise.
Generously sized with cosy, deep seating, the 'Plaza' takes relaxation to the next level with plush scatter back cushions and a chaise for some well-earned stretching out.
Pictured here in Duckegg, the 'Plaza' is available in a range of size and fabric options and comes complete with a 15-year structural warranty.

If your living area is crying out for a style refresh, then the 'Langham' 3-Seater Fabric Sofa could be just what you need.
This Australian made sofa combines casual, contemporary elegance and deep, oversized seating for a truly inviting living room centrepiece.
Choose from a versatile range of fabric options in store to match the 'Langham' to your space or to craft an exciting new look!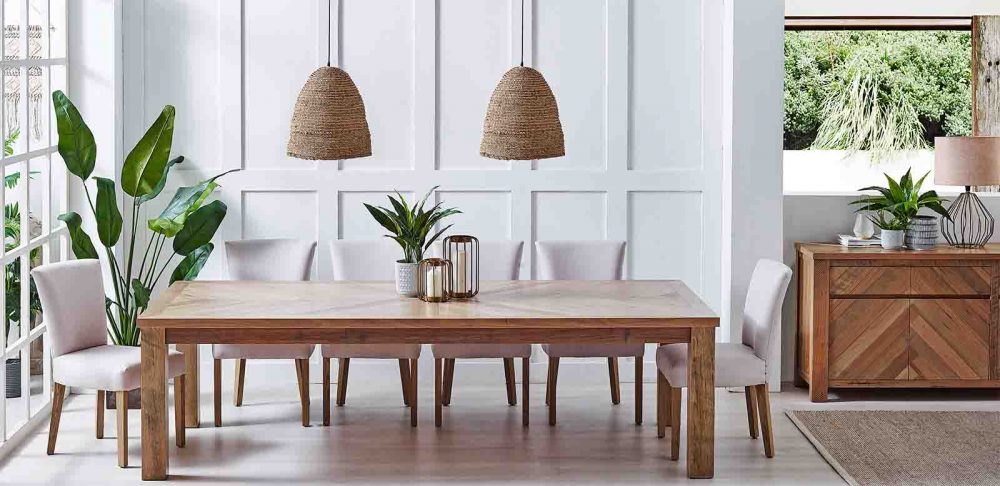 Stately and durable, the 'Herringbone' 270cm Dining Table epitomises the exquisite workmanship of Australian made timber furniture at Harvey Norman.
This stunning Australian made dining table is crafted from radiant Silvertop Ash timber and boasts a striking parquetry tabletop atop a sturdy, minimalist frame.
Ideal for large families or frequent entertainers, the 270cm Dining Table easily accommodates up to ten diners when paired with the complementary Australian made 'Herringbone' Dining Chair, upholstered in Zepel 'Cushy' fabric and available in a range of colours. For smaller spaces or gatherings, a range of size options are available to order.
The 'Herringbone' collection offers 'Cameo', 'Wheat', 'Barley' or 'Smoke' stain options to effortlessly integrate with your existing furniture.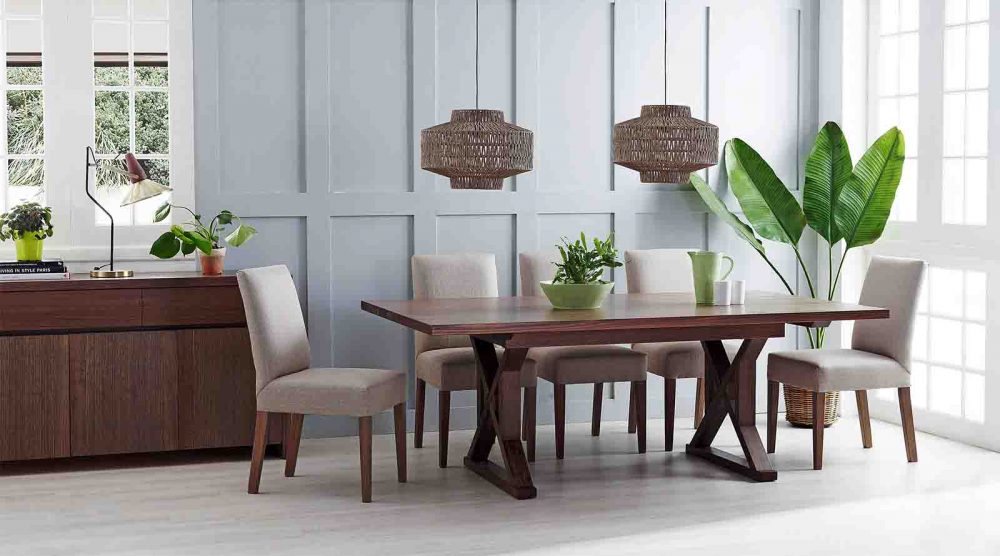 Sit down to the serenity of the Australian bush each morning and night with the 'Lombardozzi' 210cm Dining Table.
Proudly crafted in Australia, the 'Lombardozzi' is constructed from solid Victorian Ash. A contemporary, rustic-inspired design showcases the natural grains of this beautiful Australian hardwood with elegant simplicity.
We have featured the 'Lombardozzi' Dining Table in 'Smoke' stain with the 'Lombardozzi' Dining Chair in 'Zepel' Linex fabric completing our setting. This, however, is just one way of putting together a stylish Australian made dining look. In store, you can choose from a range of sizes and stains as well as fabric and leather upholstery options to craft the dining setting that perfectly suits you. You can't get more Australian made than that!
An Australian made bedroom
If you are still wondering how to incorporate Australian made into your home, then maybe you need to sleep on it!
Australia is a world-leading manufacturer of bedroom furniture, mattresses and manchester.
Combining the highest quality materials with premier craftsmanship, Australian made bedding ranges deliver exceptional style, functionality and durability.
Harvey Norman is proud to offer an extensive selection of Australian made bed frames, mattresses and manchester to suit every taste, space and budget.
To make the fair dinkum bed of your dreams, start with an Australian made plush upholstered or traditional timber bed frame, add a durable, high quality mattress and finish with a cosy, natural-fibre quilt. Too easy!
For some instant inspiration, check out our top Australian made bedding picks below.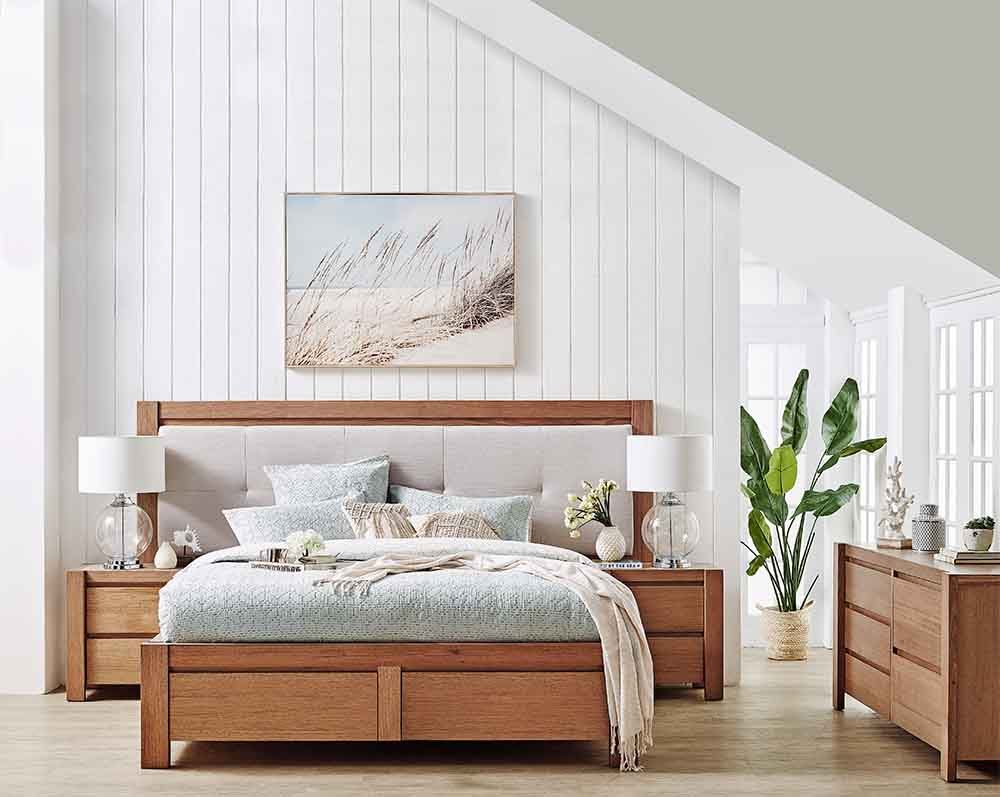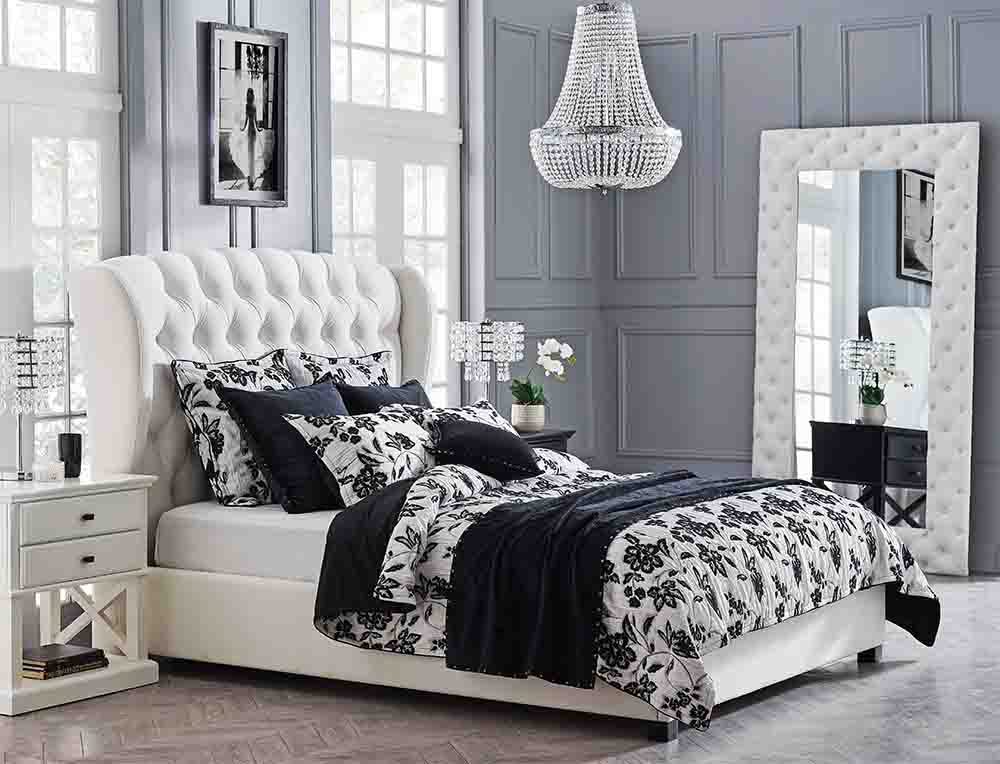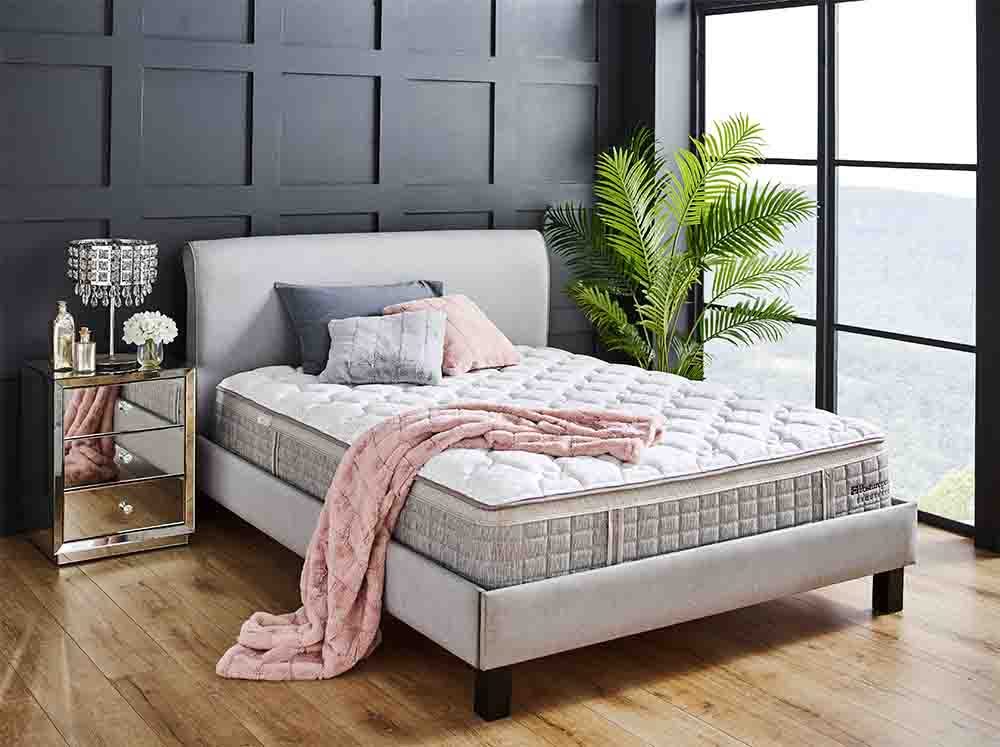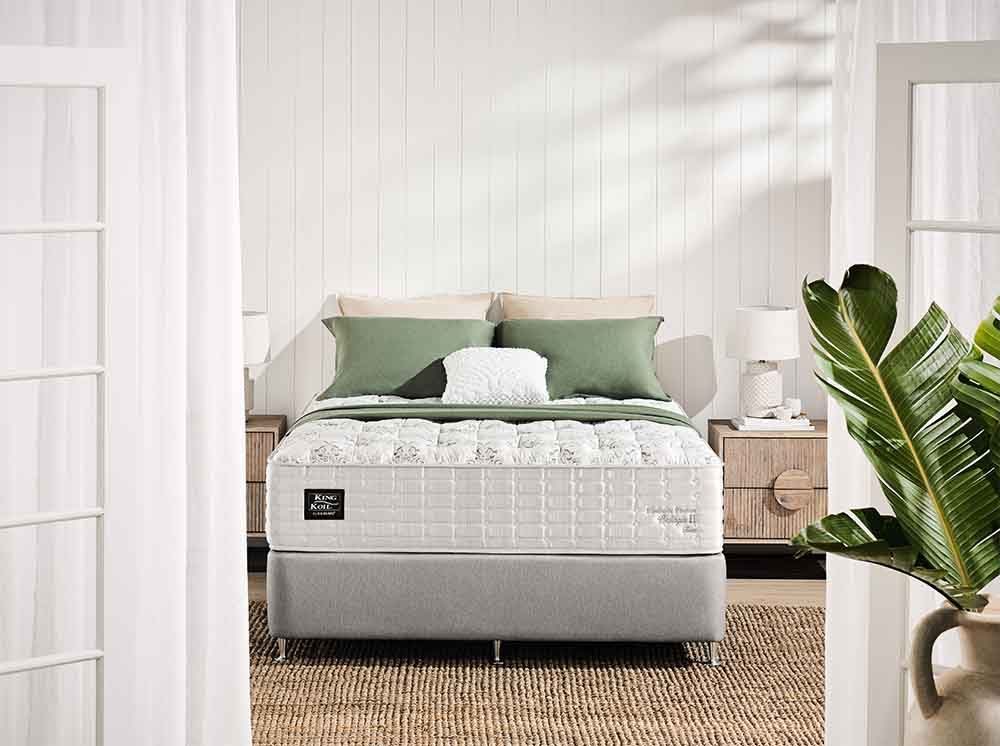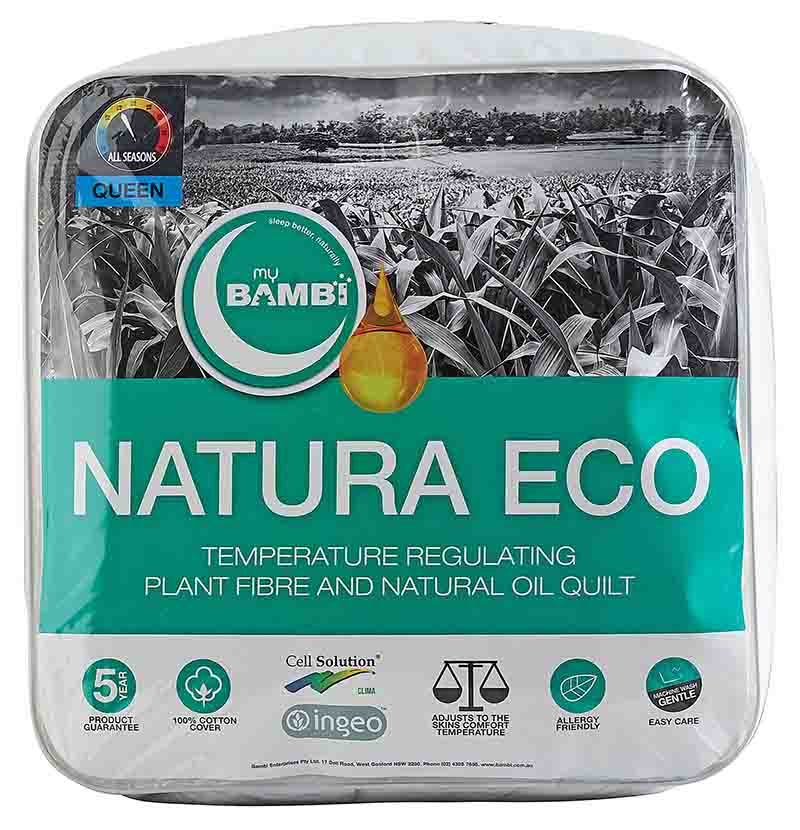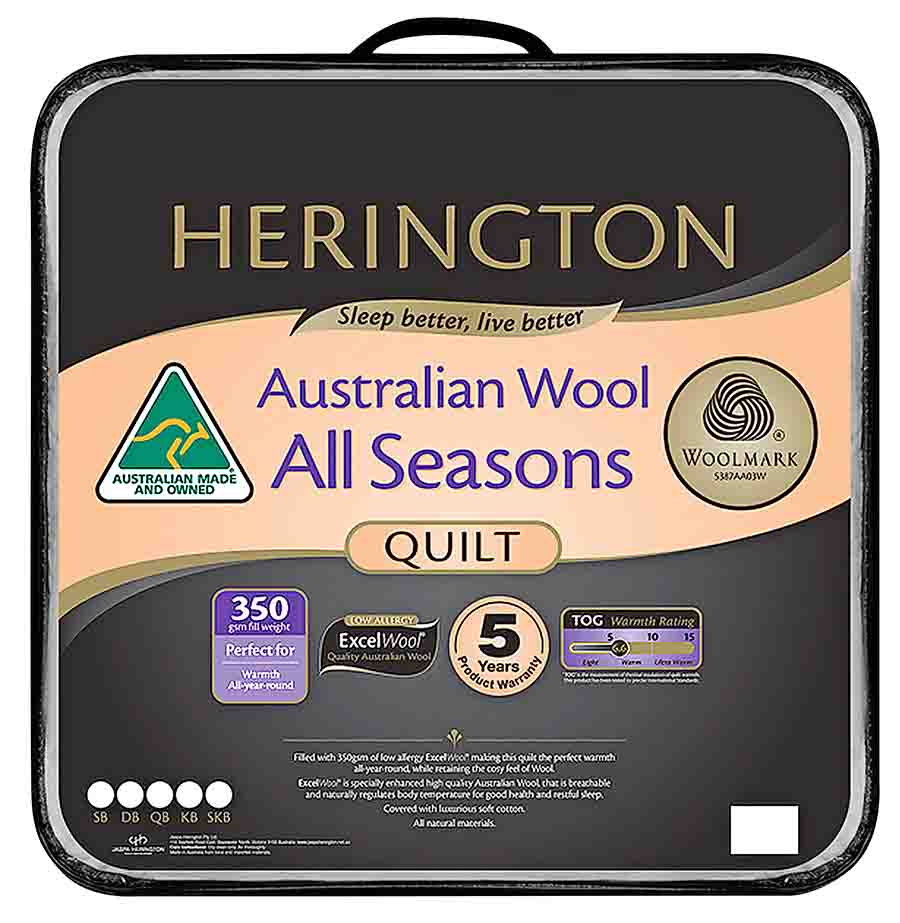 Discover more Australian made furniture, mattresses and manchester for Australian Made Week!
Don't forget, the pieces we have showcased here represent only a small sample of Harvey Norman's extensive ranges of Australian made furniture and bedding. To celebrate Australian Made Week in style, browse online or visit us in store. Our friendly, expert staff will be more than happy to take you through the possibilities for incorporating high quality, dinky-di Australian made furniture and bedding into your home!