Working and studying from home is now a familiar experience for many Australians. And it's something that looks set to continue.
Having the right home office setup can do wonders for your productivity and help turn working from home into a relaxing, liberating experience. Plus, with the right furnishing, your home office can be every bit as stylish and welcoming as the rest of your home.
Whatever your style of work and personal needs, and whatever the space you're working with, you'll find your ideal solution with Harvey Norman's extensive range of home office furniture.
To help you get started, we'll walk you through a few of our top home office ideas!
A Premium Home Office
When it comes to premium home office desks in Australia, your choices range from cutting-edge contemporary designs to reliable classics. On the more traditional end of the spectrum, the 'Huon' Executive Desk is a sophisticated, impressive piece with a timeless vintage aesthetic.
A superb, dark cherry mahogany finish and colonial-inspired forms give the Huon an attractive and commanding presence. A desk like this will help lend your work the sense of value it deserves.
Not all for show, the 'Huon' is also a highly practical home office desk. A black melamine top insert guarantees a durable, scratch- and stain-resistant work surface. With an array of drawers, you'll have ample and flexible storage for all your essentials, even in the smallest size available (W167.6 x D74.8 x H77.8cm).
But, for those with the office space to take advantage, the 'Huon' Large Executive Desk (W182.9 x D91.4 x H77.8cm) is an undeniably impressive option. For a cohesive premium home office setup, the 'Huon' collection also includes a grand and spacious bookcase.
A Relaxed Home Office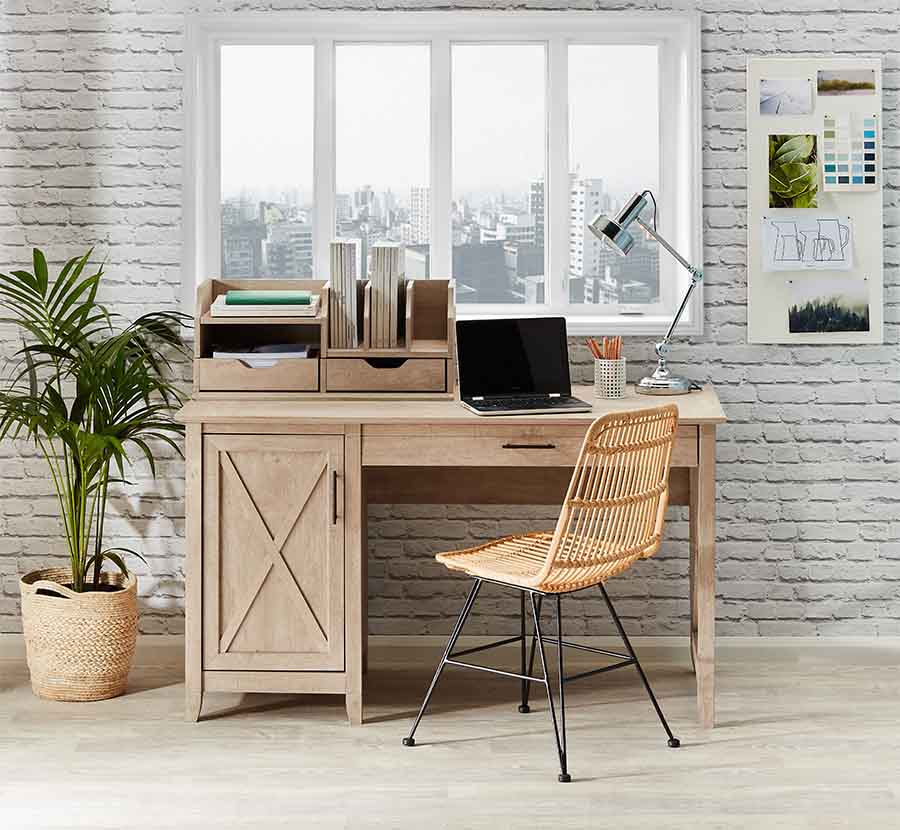 On the other end of the spectrum, the 'Coastal' Desk (W137 x D60 x H76cm) proves that your home office setup can be every bit as relaxed as any other space in your home. A natural grey wash finish with sandy hues and an airy, minimal design lend this desk a light and breezy, beachside vibe. After all, why shouldn't home office desks in Australia reflect our local environments and favourite pastimes?
A relaxed approach can sometimes help us do our best work, with a clear and creative, stress-free mindset. For its part, the 'Coastal' is a laidback home office desk that makes no compromises on functionality. A built-in cupboard offers all the storage you'll need to keep your essentials in order and out of your hair, while the sliding keyboard tray will help you maintain a spacious desk and an attractive, uncluttered room.
The 'Coastal' collection also includes a range of home office furniture and accessories to enhance your stylishly casual home office setup and make organisation a breeze. This includes a Monitor Stand (W68 x D32 x H10.5cm), Organiser (W68 x D30 x H18cm) and Bookcase (W80 x D32 x H168cm).
A Versatile Home Office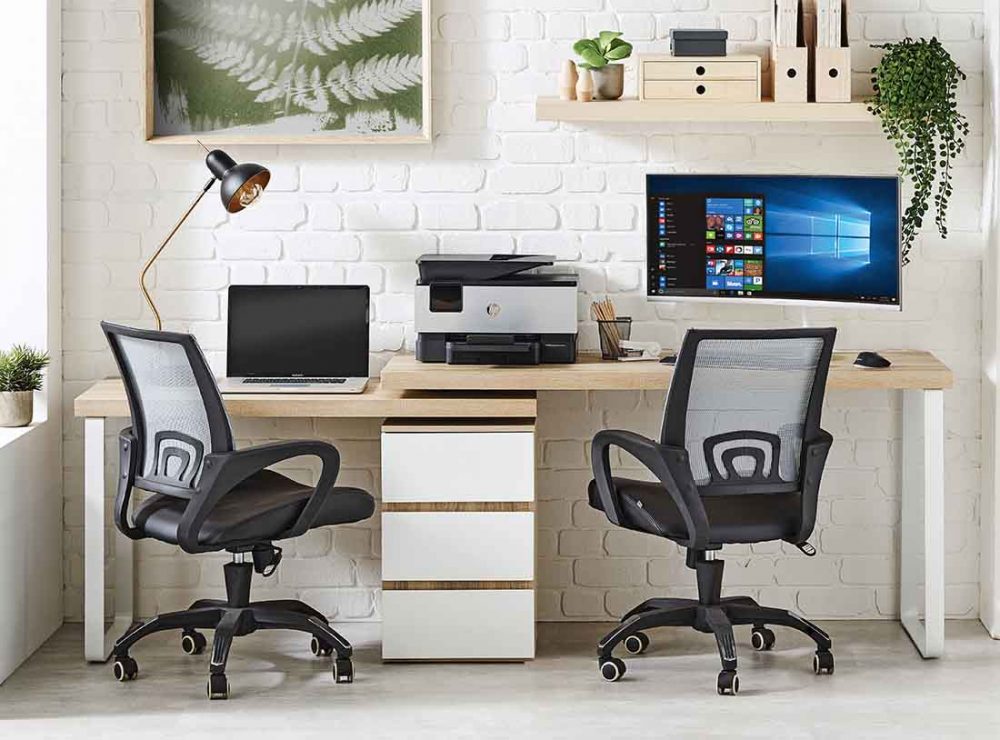 The best home office ideas are those that best suit and take full advantage of your existing space. Ultra-modern and ultra-flexible, the 'Vibe' Desk (W150-230 x D55-120 x H77cm) is sure to make the perfect match for a wide range of contemporary home office setups.
With its modular design and 360° rotation, the 'Vibe' can be expanded into a straight dual-seat setup or L-shape configuration, making it a dream for both collaboration and multi-tasking.  The rest of the time, the desk can be retracted to a much smaller profile, so you're always making the most of your floorspace, whether you're on the clock or kicking back.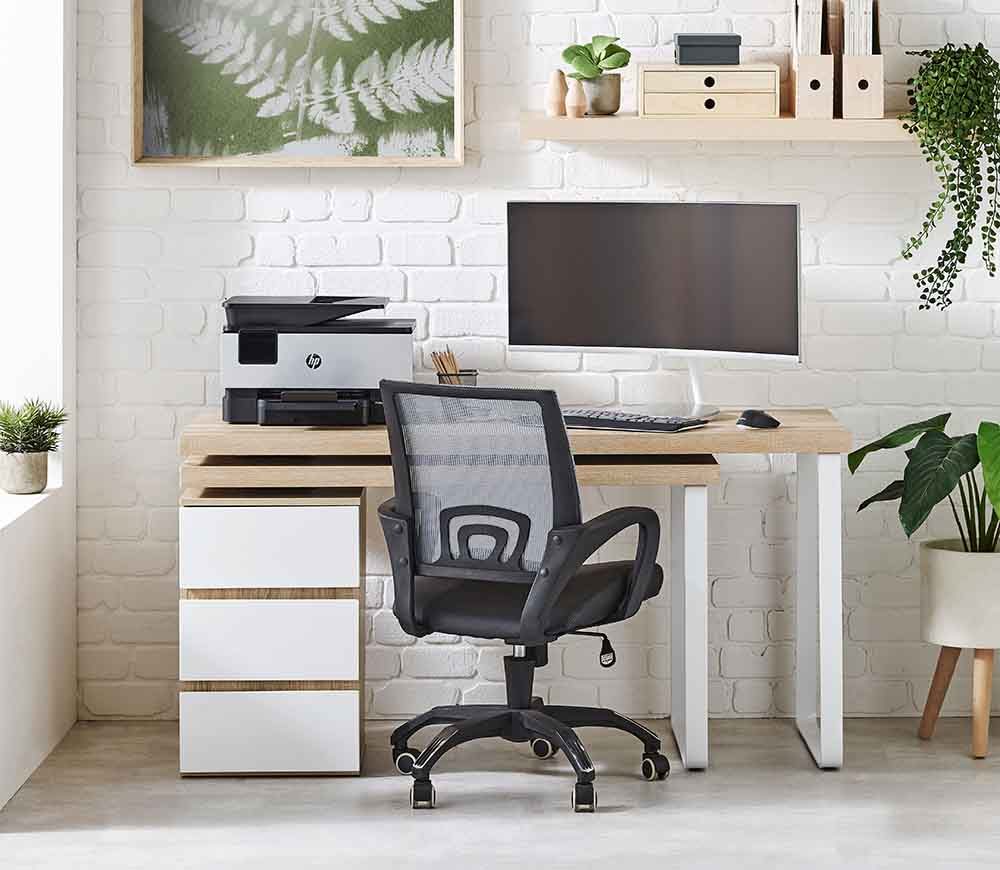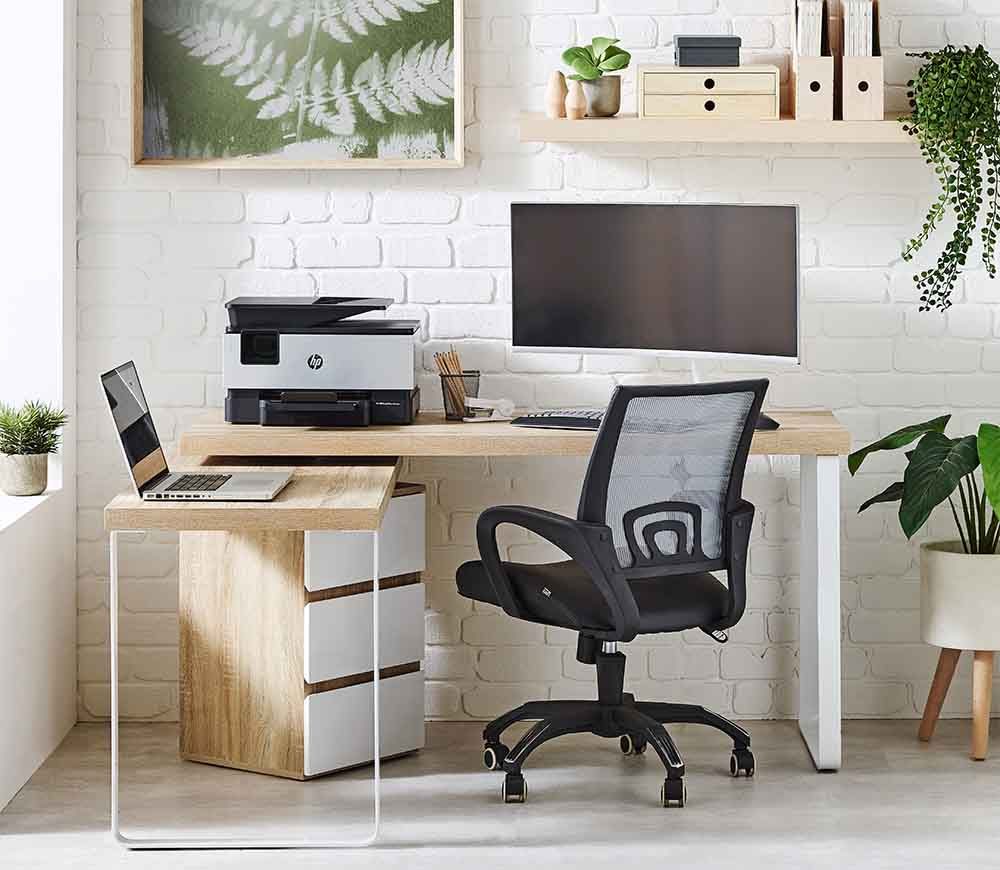 Its bright, simple aesthetic and lightweight but durable construction make this a brilliant student desk. The flexible, space-saving design will be especially valuable for students, who often need to integrate their home office setups into bedrooms.
But, the 'Vibe' will make an equally attractive option for any adult looking for a clean and minimal, versatile home office desk. Pictured in Oak, this piece is also available in a sleek and professional gloss white finish.
A Home Office with Storage Aplenty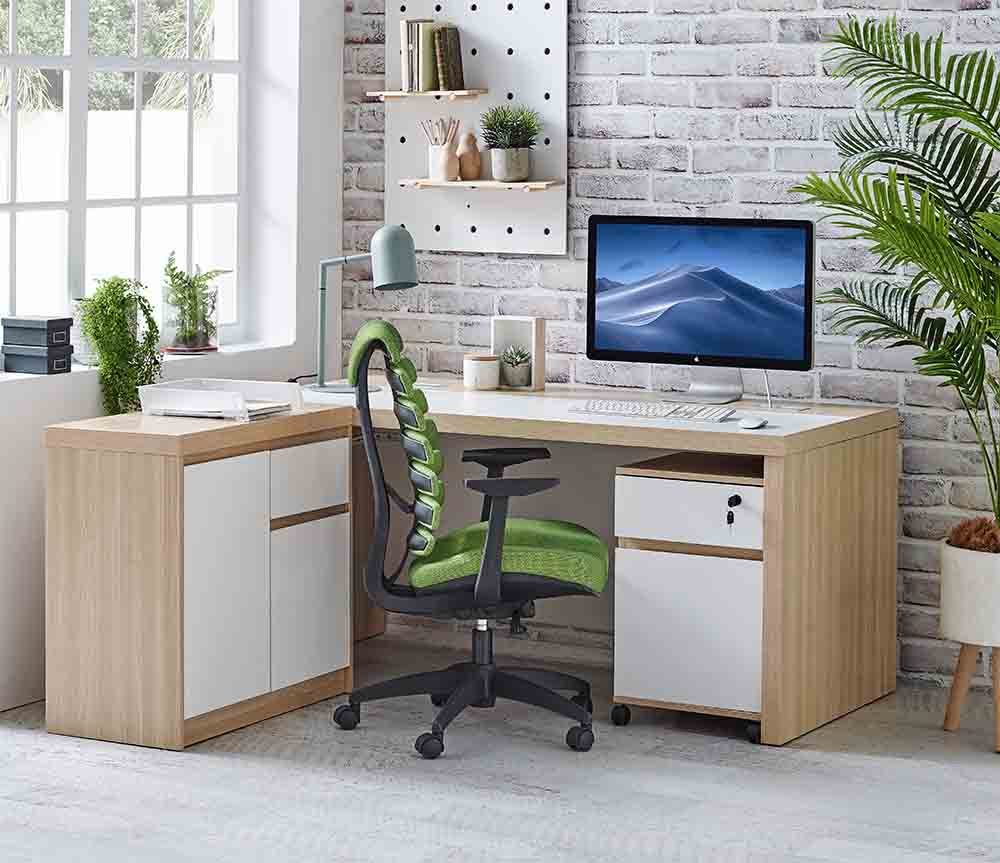 For those who appreciate the contemporary feel and flexible design of the 'Vibe', but would like a little more in the way of built-in storage, the 'Sophie' 3-Piece Desk is an inviting choice. A solid geometric design lends this piece a mature, professional appeal.
With a mobile pedestal (W40 x D40 x H63.7cm) and adjustable storage unit (W80 x D40 x H75cm), the 'Sophie' has all the storage space any worker could need. It can also be re-configured to suit any working style or tucked in when you're finished to maximise floorspace. Even better, the desk (W160 x D80 x H75cm) features built-in cable management to help keep things tidy while you focus on the important stuff.
Featured above in an ash stain with white accents, the 'Sophie' home office desk is also available in walnut and dark grey for a more traditional, executive look.
A Fun Home Office
Designed for comfort and performance over extended periods of use, gaming desks and chairs can double as effective home office furniture. Whether you're planning on working from home or hunkering down and playing your favourite new releases for hours on end, the 'Mask' Gaming Desk (W120 x D65 x H75cm) has all your bases covered.      
With a carbon-look tabletop, RGB lighting and Z-shape aluminium legs, the 'Mask' is dressed the part for a high-end gaming desk – perfect for getting in the zone. The surface area is precisely designed to provide ample space for extra-large mousepads without taking up too much space in your room.
Fully kitted-out with a cup holder, headphone hook and cable management, you'll be set up for focused, fuss-free gaming sessions. And, when the time for play is over and work begins, all these convenient extras will be just as handy.
Home Office Chair #1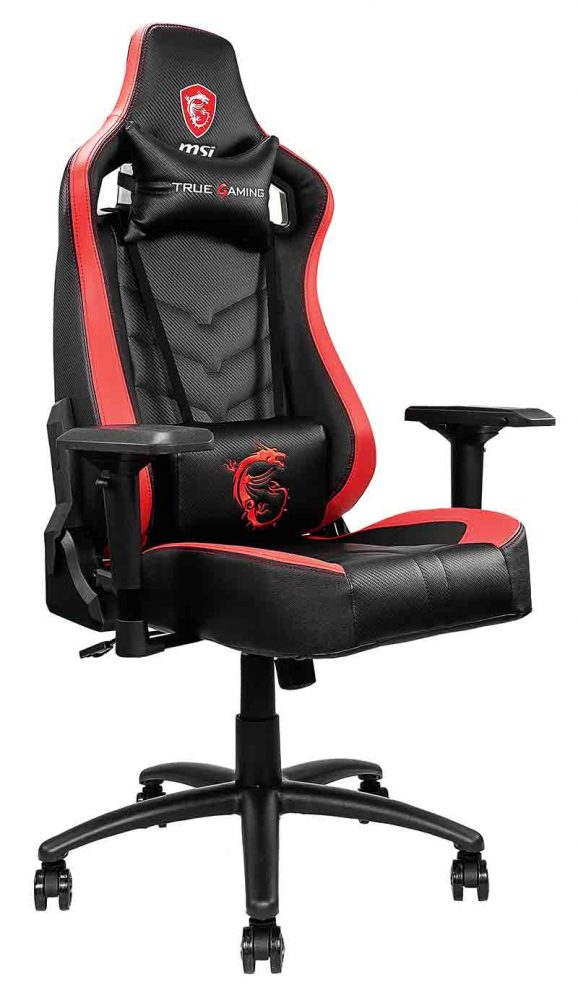 No gaming setup is complete without a suitable gaming chair.
If you're shopping for gaming chairs in Australia, there's no better place to look than Harvey Norman. Our extensive range includes quality options tailor-made for every style and budget.
Just one example of our diverse offering is the MSI MAG CH110 Gaming Chair. An ergonomic headrest and lumbar cushion support, with highly breathable, high-density foam, provide unmatched comfort and help you maintain a healthy posture over the course of longer sessions – whether you're gaming, studying or working.
A 180° reclining backrest and 4D adjustable armrests give you the freedom to find the ideal gaming position, or lie back and relax when you've earned it. With a solid steel frame capable of supporting up to 150kg, this is a sturdy, top-quality item that's built to last.     
Home Office Chair #2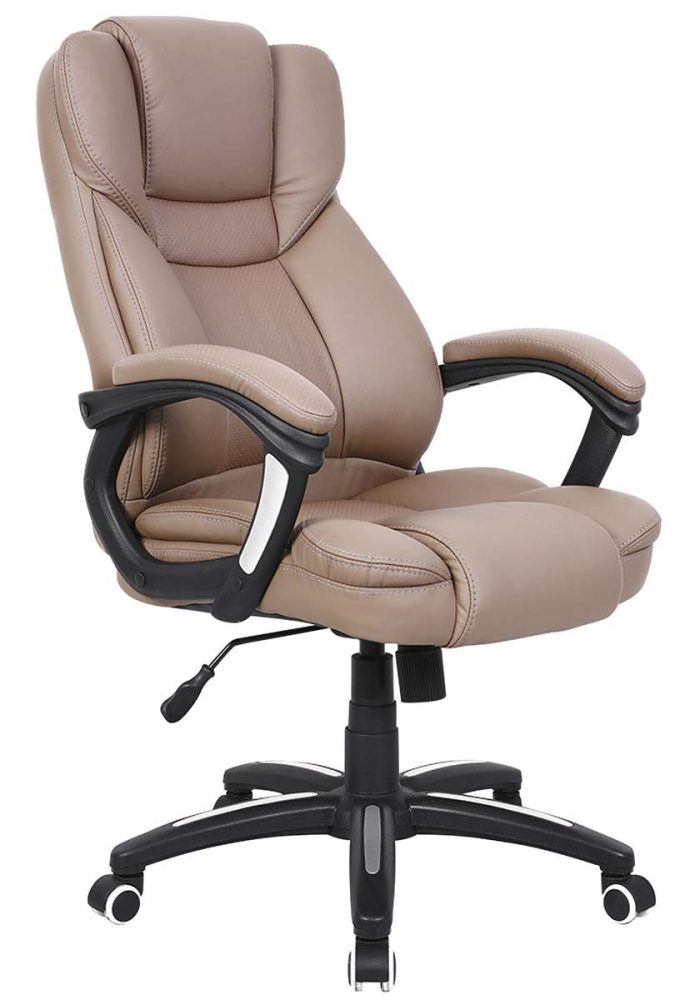 Whether or not you're interested in gaming, a well-chosen chair is an absolute must for your home office setup. With a variety of styles to suit every space, and personalised support for every body type, our home office chair range has the perfect option for you.
The 'Brighton' Office Chair features plush but supportive foam seating, combined with lumbar support, high back cushions and padded armrests. With all-around comfort and support, this home office chair will keep you relaxed, focused and protect you from strains while you work, so you can maximise your productivity and invest in your long-term health at the same time.
Pictured earlier with the 'Huon' Executive Desk, the 'Brighton' will be right at home in any premium, executive-style home office setup. But, with its understated, practical sophistication, this piece will also make a great complement to a wide range of modern office spaces. Featured here in Mushroom, the 'Brighton' home office chair is also available in Black or Charcoal options to suit your preferences.
Transform Your
Home Office Setup

Today

Now that you've seen some of our top home office ideas, you're probably ready to start creating the home office setup of your dreams! Check out our full range of home office furniture and gaming furniture online. And talk with our friendly, expert staff for more advice.