Summer is the time to enjoy the outdoors, and what better way to do that than in your own backyard? It's so easy to create an area where you can sit back and relax in the sun, or wine and dine under the stars with family and friends. Transform your al fresco space into a stylish, comfortable entertainment area with Harvey Norman's latest outdoor furniture collection. Our new season range embraces the look and feel of wicker, timber and aluminium in practical, contemporary designs. With a massive range to choose from, you're certain to find a look that suits your tastes, budget and outdoor space. Whether you have a spacious, poolside setting, or a modest patio retreat, you can instantly refresh the look of your al fresco area with help from Harvey Norman – your local experts on outdoor furniture.
Blue Sky Lounging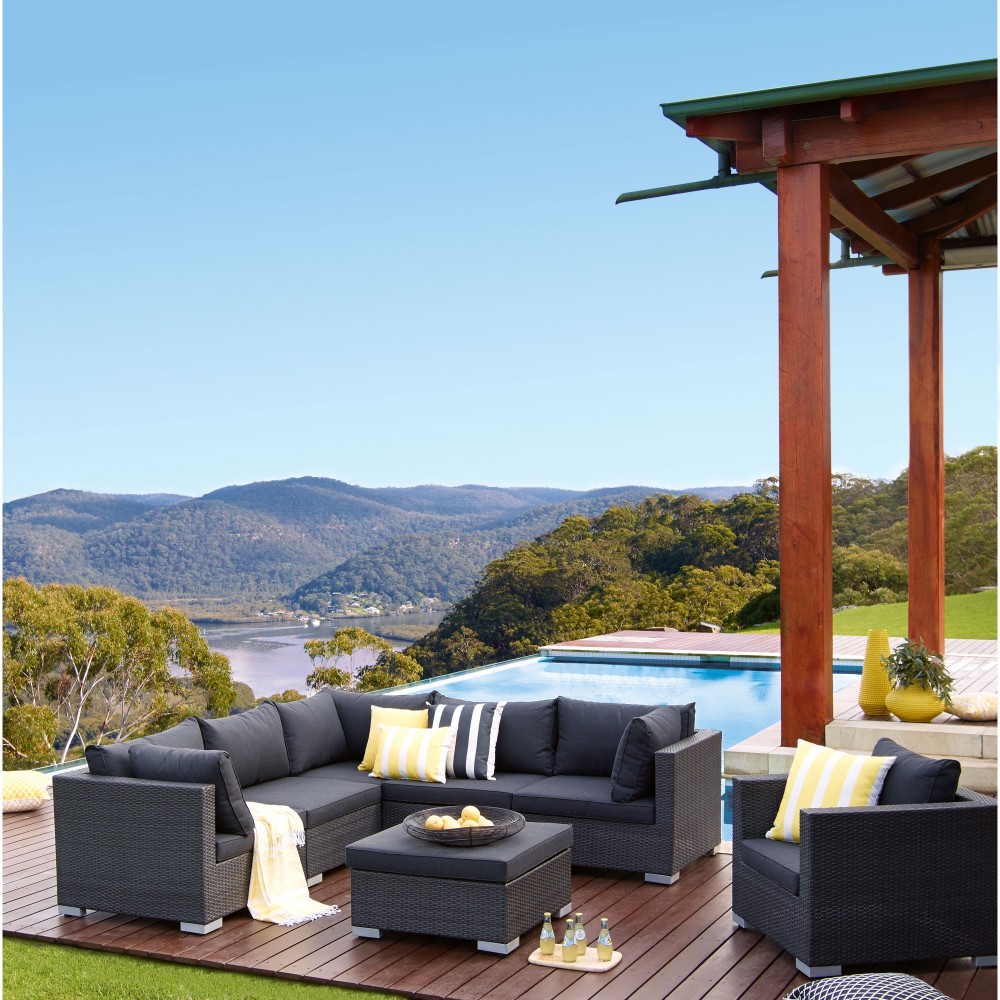 It's become a popular choice for the modern home and that's because wicker outdoor furniture won't let you down. Wicker furniture has a unique woven design that makes it sturdy and durable; ready to sit out tough conditions without compromising on style or comfort. Enjoy a glass of lemonade on a sunny day in one of our new favourites, the 'Newport' Outdoor Modular Lounge Setting. This stylish combo boasts a practical design with UV-stabilised fabric, memory foam cushions and plentiful seating to fit all your guests, making it the perfect outdoor lounge setting to spruce up your al fresco area and impress your visitors.
The 'Newport' Outdoor Modular Lounge Setting consists of a 5-piece modular lounge, ottoman and single armchair. Pictured above with 'Rapee' outdoor scatter cushions. Available in store only. Also available as a 4-piece lounge setting and as 7, 9 or 11-piece dining settings.
Easy Breezy Lunchtimes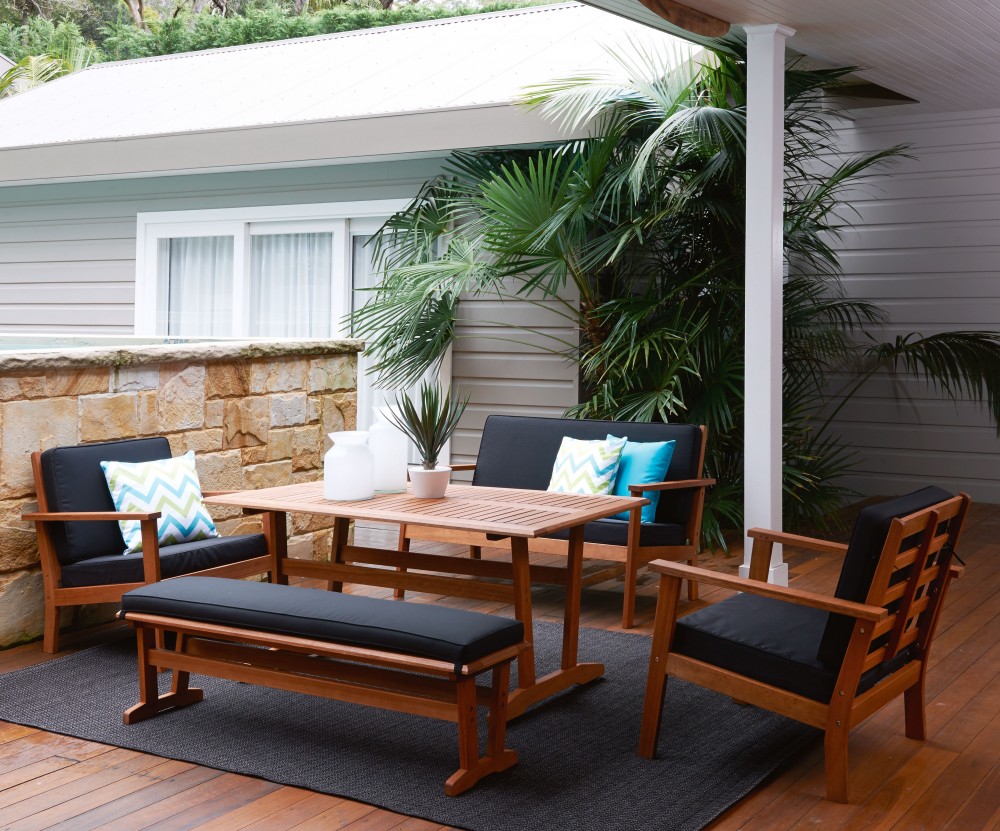 After a winter spent in hibernation, get outside and say hello to the warmer seasons! This is the time for natural materials to strut their stuff, so if you want to give your al fresco space a natural look, then timber outdoor furniture is the way to go. Timber features striking, natural patterns and lines, as well as earthy shades that add a cosy feel to any outdoor look. Plus, it is highly resilient and easy to clean. Pictured above, the 'New Jersey' lounge/dining setting from Harvey Norman is constructed from beautiful Eucalyptus Grandis timber with foam seat and back cushioning for a contemporary look. With its clean design and organic vibe, it will add welcoming warmth to your outdoor area.
The 'New Jersey' 5-Piece Lounge/Dining Setting consists of a 1482 x 784mm dining table, 2-seater sofa, two armchairs, and a bench seat.
Al Fresco Dining in Style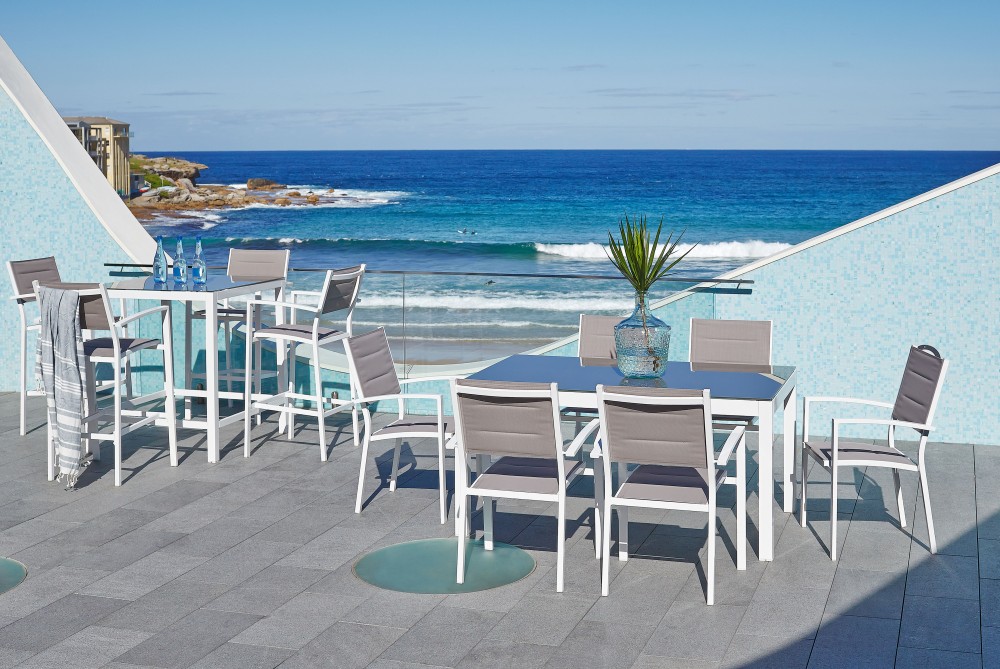 Offering a stylish, modern look, aluminium outdoor furniture is a contemporary choice for configuring your al fresco area to your tastes. Known for its lightweight and non-corrosive character, aluminium is a strong and highly portable metal, so you can easily change seating arrangements or make the most of the setting sun. The 'Noosa' 7-Piece Outdoor Dining Setting from Harvey Norman will effortlessly add a modern touch to your al fresco space. With a tempered glass table top and six Textilene chairs made from durable PVC-coated polyester, it will withstand the test of time. Leave your guests feeling cool and peachy after experiencing the coastal ambience of the 'Noosa'. For extra points, add a matching bar setting to create the ultimate setup.
The 'Noosa' 7-Piece Outdoor Dining Setting consists of a dining table and six matching chairs. The 'Noosa' collection also features both 5-piece and 7-piece bar settings, as well as 9-piece and 11-piece dining settings.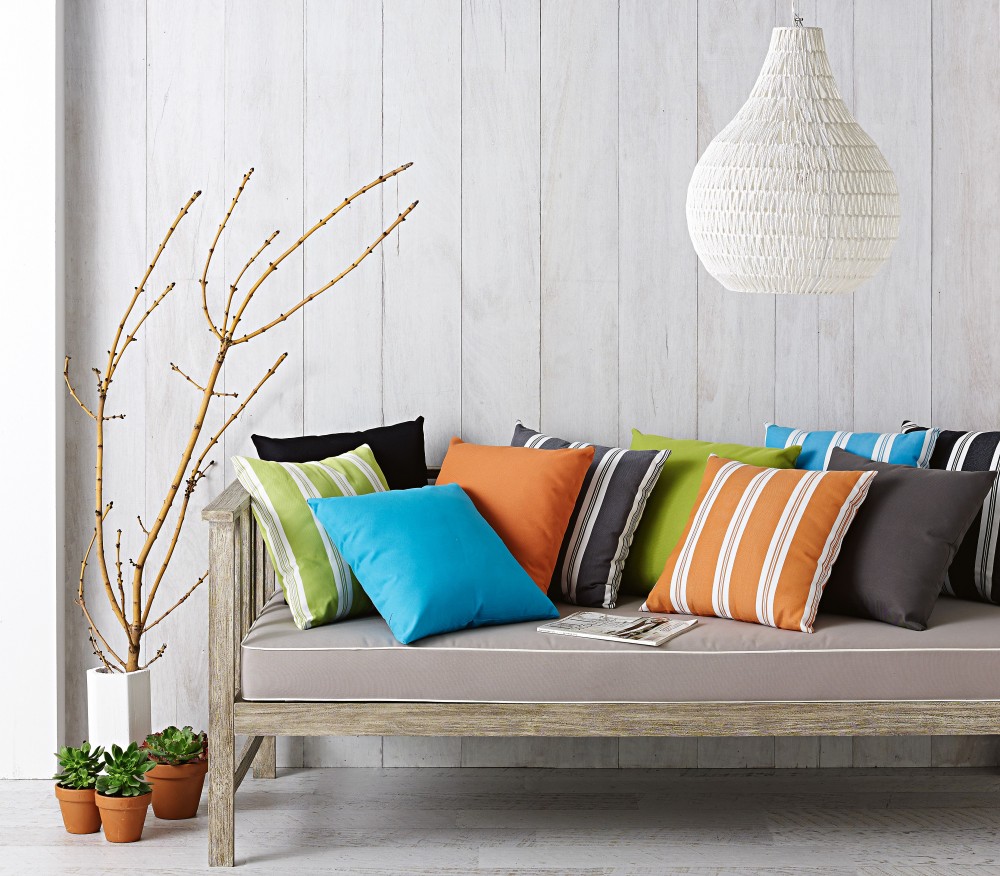 Add a splash of colour to your outdoor space with a selection of our exclusive outdoor cushions, available for just $19.95 each. Encased in 100% polyester fabric with a fibre insert and available in vibrant solid colours or with stripes, they're sure to give your outdoor furniture a stylish and comfy finish.
Loving these new season outdoor looks? There's plenty more to see at Harvey Norman – your local experts on outdoor furniture. With our extensive range of the latest outdoor furniture, we'll help you find the perfect new addition to your backyard, so visit your local store and get inspired today!