The humble dining table is, and always has been, an integral part of family life. It's the hub where family and friends can come together over a meal and relax, reconnect, share their experiences and enjoy the pleasure of one another's company.
Whether it's an intimate family dinner or a large and lively gathering, the dining table is at the heart of family culture.
At Harvey Norman, we have an extensive range of dining furniture to suit your budget, lifestyle and décor.
Check out our new season pieces set to inspire and make the most out of that special space.
 Modern Masterpiece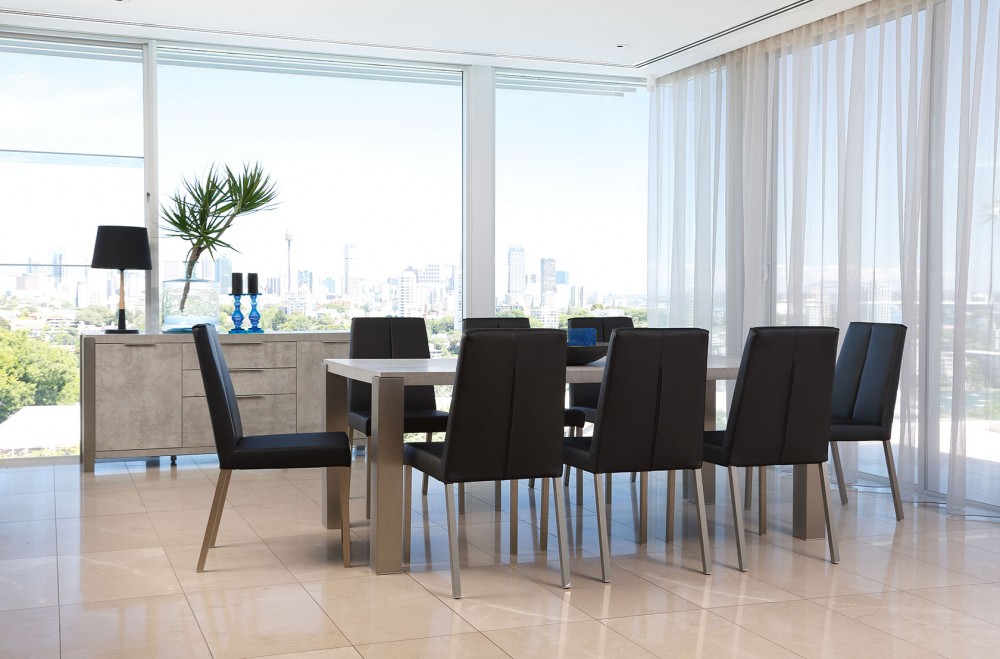 We'll start with the decidedly modern 'Block' Dining Suite.
With smooth lines, the 'Block' will bring a touch of contemporary style to your dining area with its mix of different materials, coming together to form a modern classic. Firm stainless steel legs support a smooth, concrete-look surface, set off by the minimalist, black dining chairs.
This versatile dining table set can easily be imagined in an open plan space or a more formal dining room.
Suite consists of a dining table and eight matching PU chairs.
Country Chic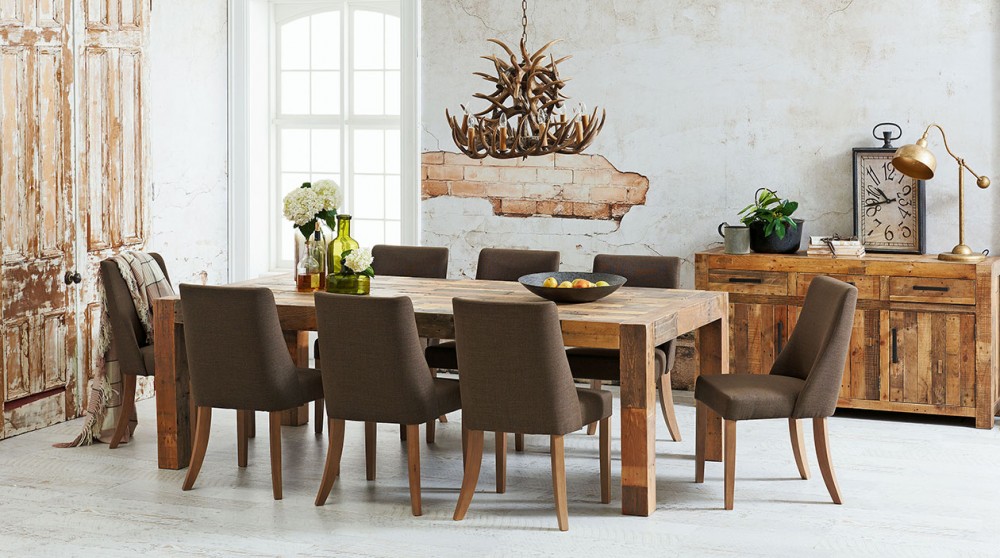 This quality setting is perfect for relaxing with family and friends over a delicious meal. Whether it's a lazy home-cooked brunch or a quick and easy takeaway, the 'Outback' is perfect for mealtime gatherings.
With its contemporary twist on a traditional design, this setting at once resembles something familiar yet modern. Featuring a set of comfortable cushioned chairs upholstered in earthy tones and a sturdy, rustic timber table, the 'Outback' is a setting that will remain part of your household for many years to come.
Suite consists of a table and eight matching chairs.
Holiday at Home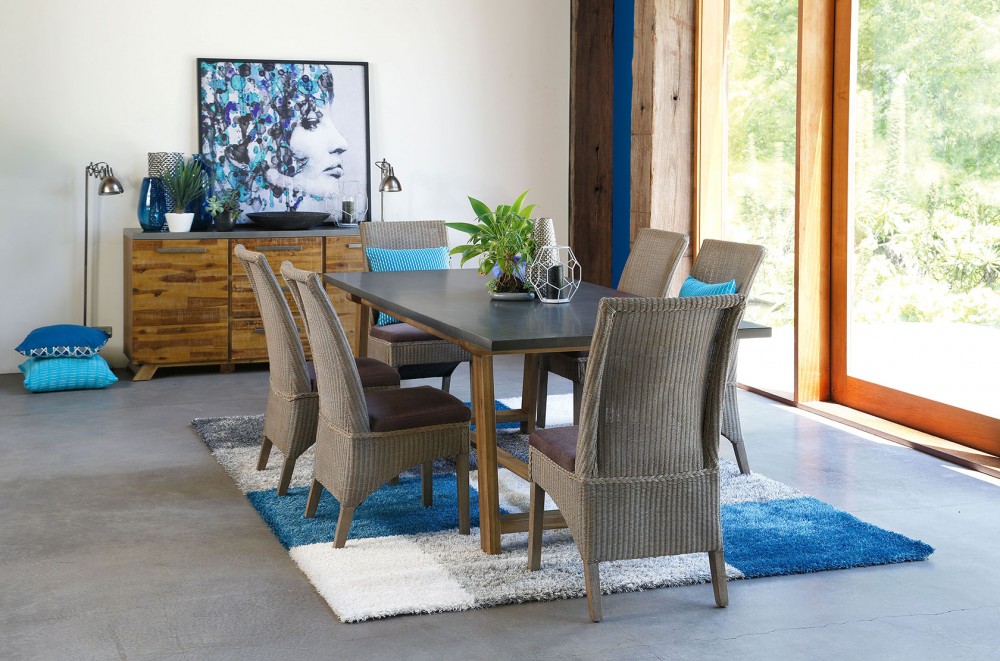 Keep that summer feeling all year round with the 'Rocka' Dining Suite.
Low-slung dining chairs create a breezy, holiday atmosphere – a mood that can be further encouraged with decorator accessories in varying shades of tranquil blue and green. Try a lush indoor terrarium, statement wall print or a scattered selection of ocean-coloured cushions.
Suite consists of a table and six matching chairs.
French Provincial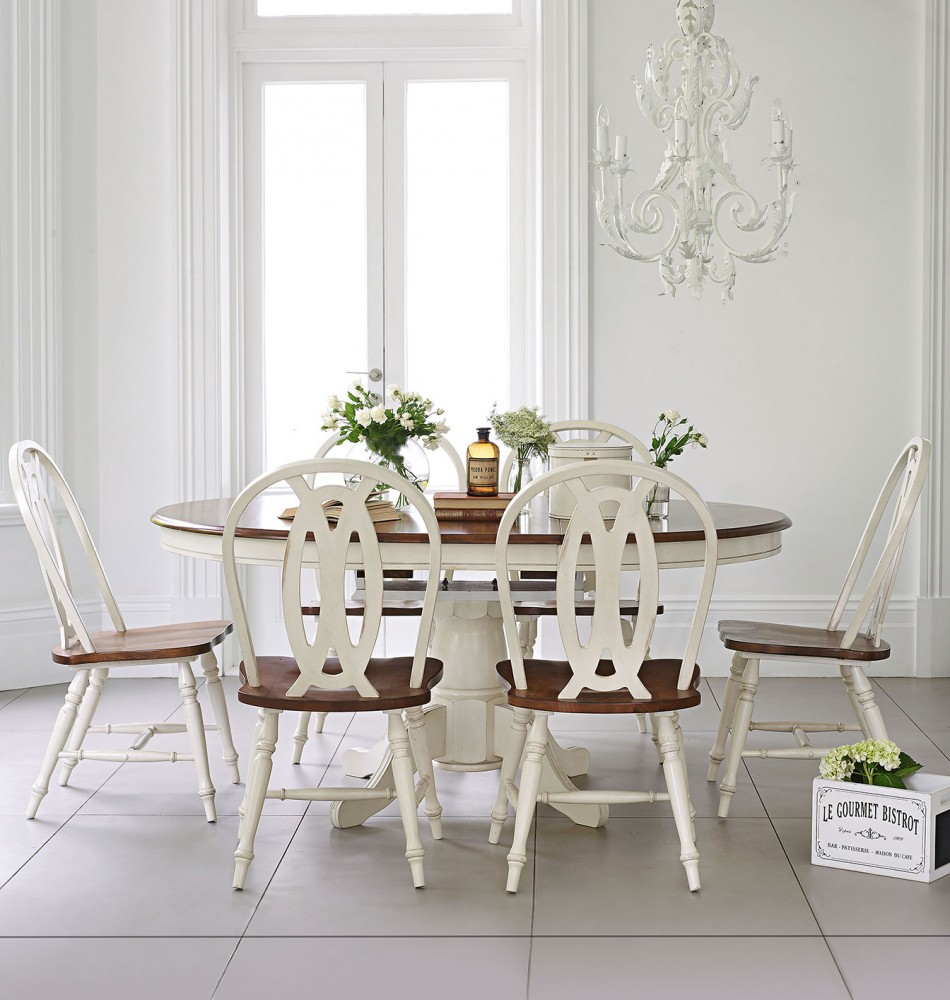 Evoking a sense of old world charm, the 'Hampshire' will instantly create an elegant, traditional atmosphere in any dining room.
Belying its dainty design, this setting is made from sturdy rubberwood, ensuring you are able to entertain in French provincial style for many years to come.
Decorate with ornate lighting to complete the look, or keep it simple with select objet d'art found at an antiques fair or your local second hand store.
Suite consists of an extendable dining table and six expertly crafted timber chairs.
Dinner with the Joneses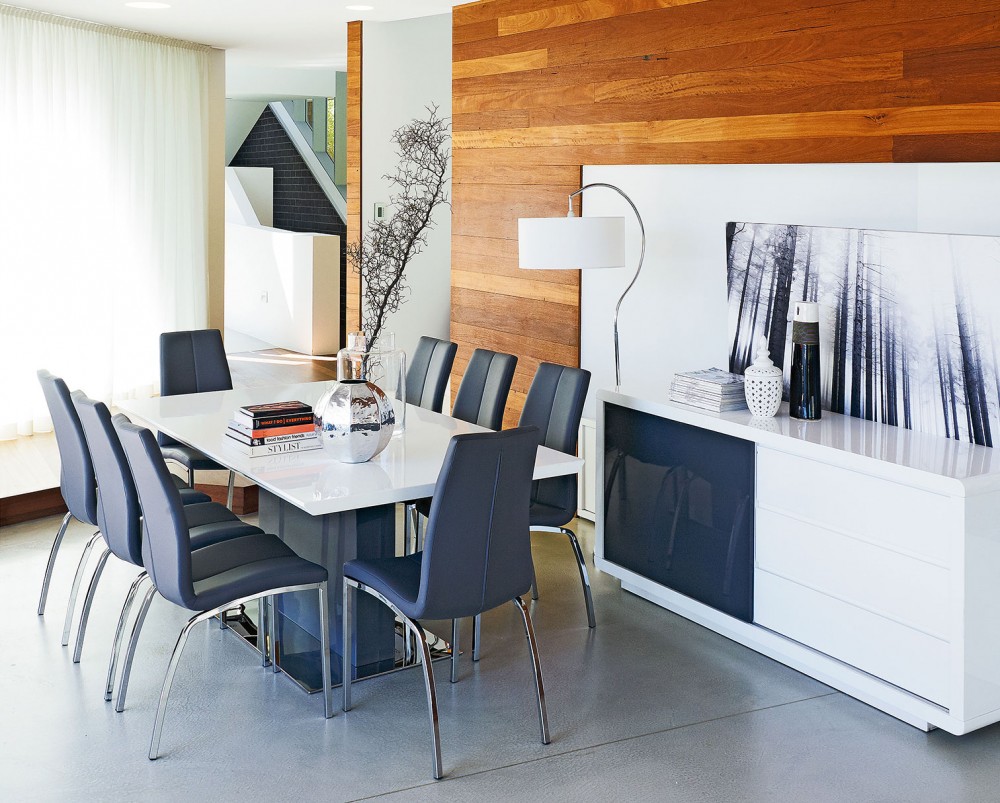 Stay ahead of the curve with this sleek, striking setting.
Featuring smooth lines contrasted with graceful curves, the 'Dallas' is guaranteed to make a statement.
Not only is the 'Dallas' stylish but practical too, able to extend an additional 50cm for extra guests. Don't just keep up with the Joneses – have them around for dinner.
Suite consists of an extendable table and eight cushioned PU chairs.
Less is More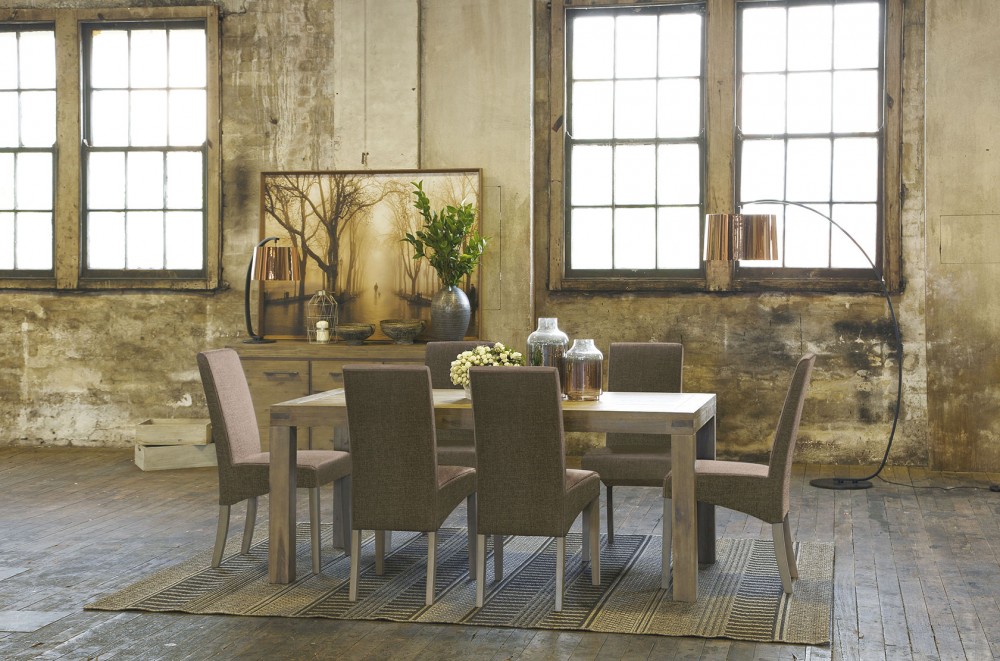 The 'Emerson' is a model of understated yet elegant dining room furniture.
Combining neutral tones and natural timber, this refined setting will make a welcome addition to any dining room.
Set off the warm timber tones with softened colours in natural hues such as light greens and earthy reds.
Suite consists of a table and six comfortable, high-backed dining chairs.
Monochrome Matters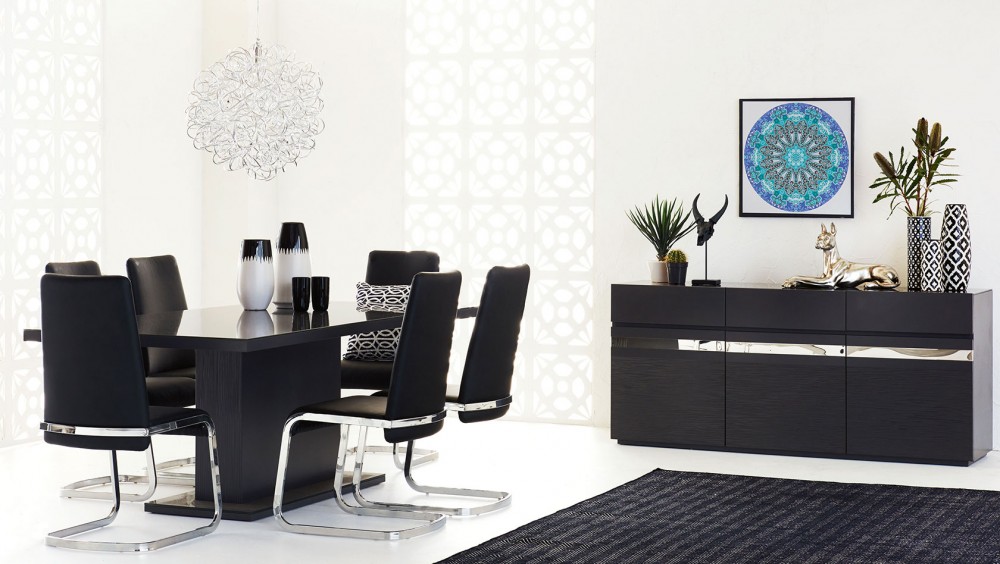 Give your dining room a modern makeover with the 'Germano'.
This monochromatic suite oozes fashionable sophistication, featuring a glossy, black glass table top and black upholstered chairs. The singularly-coloured set is broken up nicely by the bright silver legs of the dining chairs; a subtle yet effective accent.
Embellish with similarly monochromatic accessories or add a little chaos with a brightly coloured rug, a vase filled with blooms in vivid hues or an eye-catching wall hanging.
The 'Germano' suite consists of a glass dining table and six co-ordinating dining chairs.
Classic Style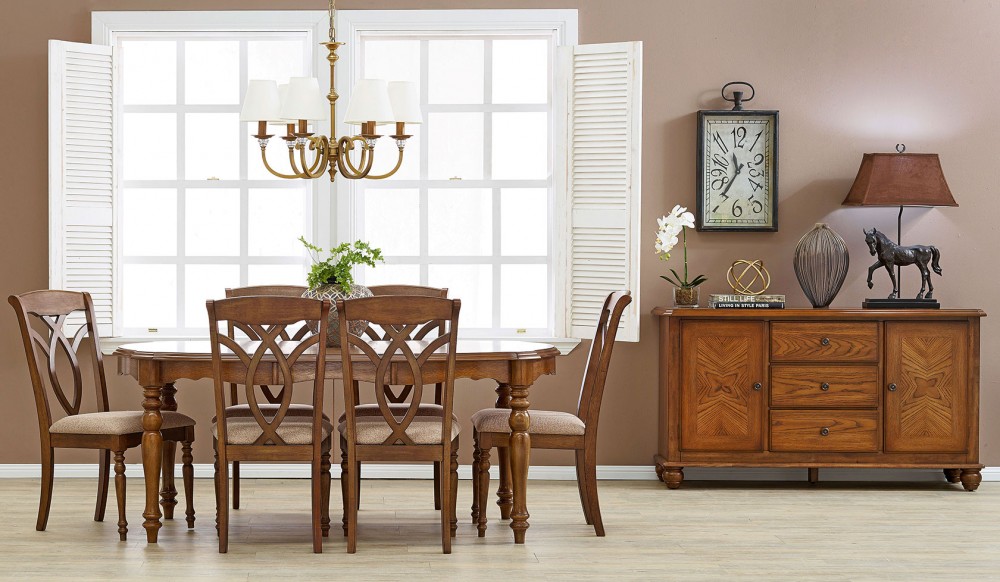 Embrace the traditional styling of the 'Isabella', featuring intricately designed dining chairs and a polished timber table.
With the natural wooden whorls of the burnished table top creating an eye-catching pattern, matched with the scalloped skirt and classic legs, this suite will become the centrepiece of your dining room.
Style like this never goes out of fashion. The 'Isabella' range is also available in white (buffet pictured below).
Other pieces in the 'Isabella' collection include a matching coffee table, buffet and lamp table.
Suite consists of a table and six expertly crafted dining chairs featuring a sink-in cushioned seat.
Old Meets New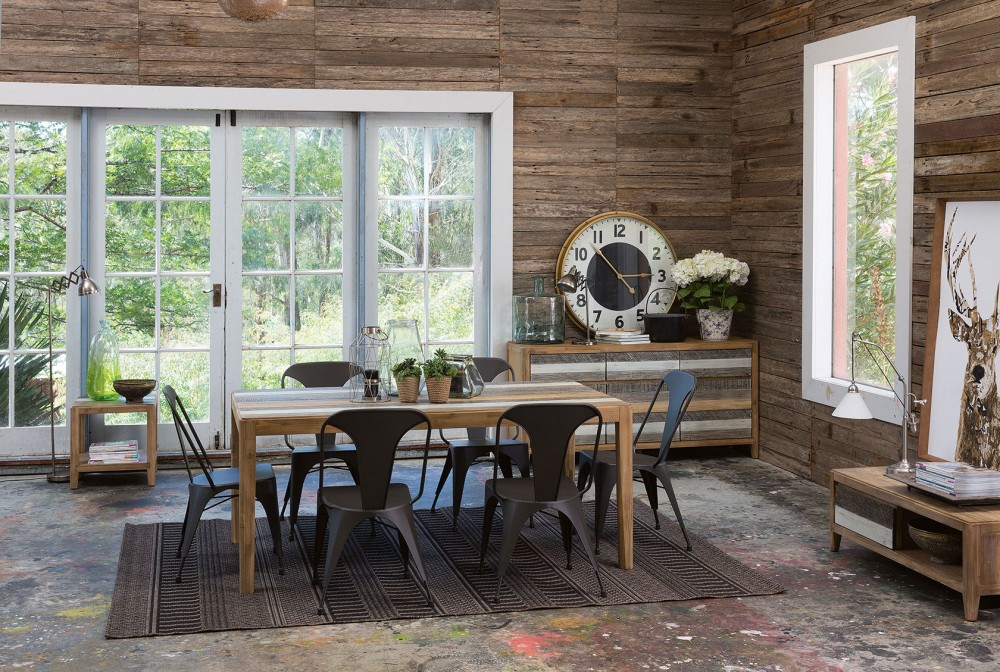 Add character to your dining space with the 'Bahamas', the perfect choice for those looking for a relaxed setting.
Featuring mismatched table-top panelling and industrial-inspired metal chairs, this suite showcases traditional design with an urban twist. With its fresh, eclectic mix of new and old, be inspired with dining room decorations that play to that theme. Keep an eye out for retro designs with a modern bent.
Suite consists of a table and six matching dining chairs.
Feeling Inspired?
Head to your local Harvey Norman to view our extensive range of dining furniture, or browse the collection online. Our friendly staff are always willing to help and are more than happy to chat about your ideas.
What are you waiting for? Get redesigning!