Is your little one starting to outgrow their nursery? Is it time they moved into their own room, with a real 'big kids bed'? With a fresh new year underway, now is a wonderful time to invigorate your child's bedding to suit their ever growing needs.
To get you inspired, we've put together some of our top picks from Harvey Norman's wide range of kids' bedding options. Whether you and your family are after the latest in cool kids beds, or some new kids' Manchester to rejuvenate their space, join us as we look at kids' bedding that's on-trend this year.
Slide into a New Day with this Kids' Bed
Pictured with: 'Space Monkey' Quilt Cover Set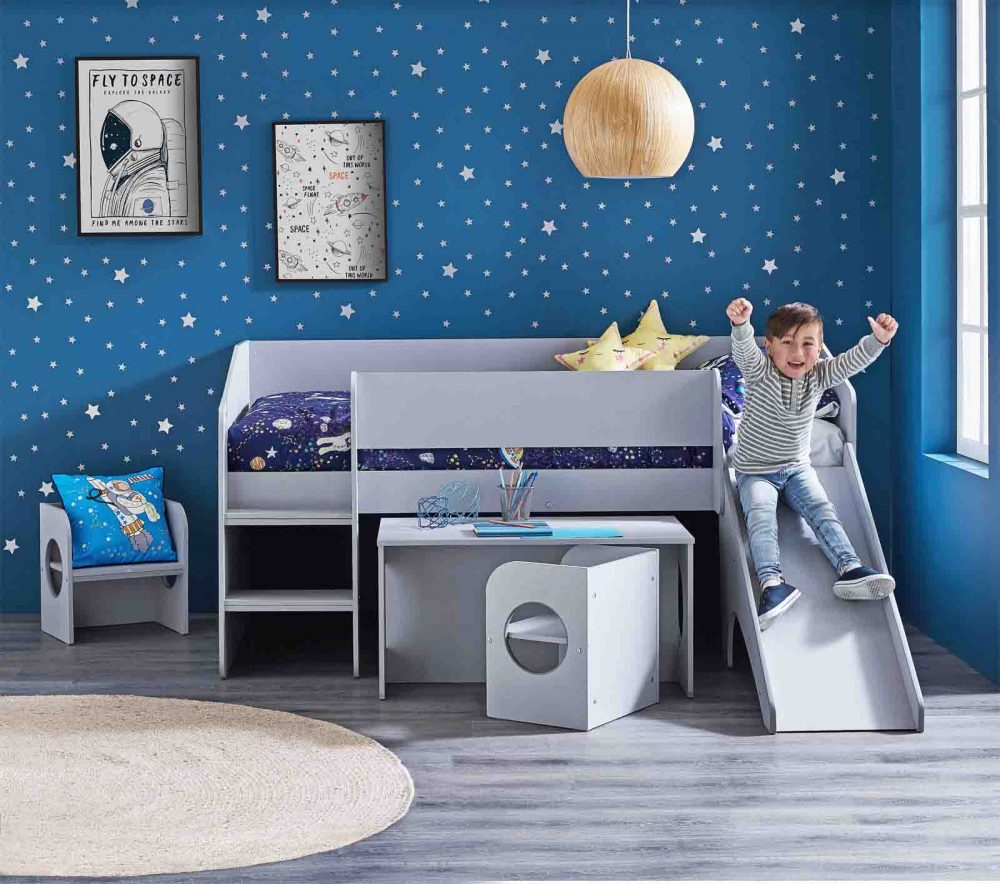 Unless it's Christmas morning, getting the kids out of bed and ready for the day ahead can often be a challenge. But what if getting up involved a lot more fun – say, a slippery-dip ride, every morning? With the 'Neptune', those school mornings might not be so tough, because this bed's slide is the coolest way to start the day.
The 'Neptune' is a kids' bed that's the perfect height for young astronauts to climb up onto, and there's a two-step ladder for safe and easy access. A robust safety rail means they won't fall out during the night. The raised design of this great space-saving bed creates a clever space for an optional pull-out desk and two very bold chairs that neatly tuck away, an ideal place for the little ones to draw, paint and play.
The 'Neptune' is finished in grey laminate that's easy to clean and resists those everyday bumps and scrapes.
If your youngster loves all things space, then the perfect complement to the lunar looks of this kids' bed with slide is the 'Space Monkey' Quilt Cover Set. Featuring cute and playful images of spaceships, planets and stars, this quilt cover set is available in single, double and queen sizes. It's made of 100% cotton, so your little space cadets will be cool and comfy all night long.
Kids' Bedheads that Know How to Get into Shape
Spark their imaginations with the fun and magical designs of the 'Tyler' Bedhead range, available in four different creations. Each kids' bedhead design will turn their bedroom into a whole new world of play and pretend.
Made from sturdy engineered board with very stylish pine timber accents, the 'Tyler' can be paired with either an ensemble or the matching 'Tyler' base, and there's adjustable height settings on each bedhead to suit both options.
Kids' Bedheads for the Girls: 'Tyler' Unicorn or Cloud Bedhead
Pictured with: 'Magic Unicorn' Single Quilt Cover Set | 'Poppy' Single Quilt Cover Set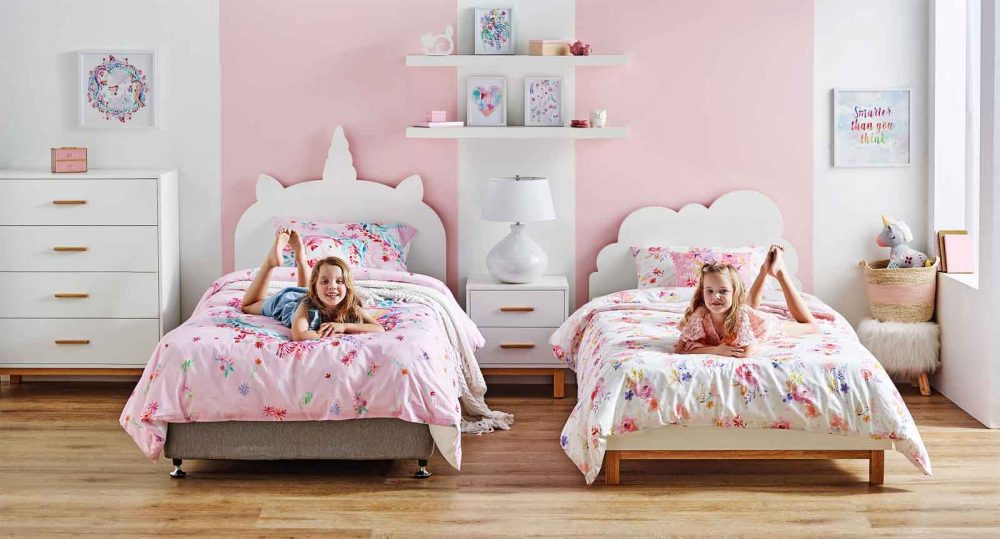 What better symbol is there of imagination than the mystical unicorn? It's the stuff of dreams, yet this kids' bedhead makes playtime more real and inspiring than ever.
The ideal accompaniment to any unicorn is, of course, additional unicorns, which are available via the 'Magic Unicorn' Quilt Cover Set! This cool cotton set features a gorgeous watercolour motif with a very stylish patterned unicorn in the centre, on a soft pink background.
Meanwhile, the Cloud design will let them drift away to a world of fun and games during the day, then off to dreamland at night. With its soft, round curves, it's very easy to co-ordinate with other furniture. Pairing perfectly with this kids' bedhead choice is the 'Poppy' Quilt Cover Set. This lovely floral design creates a peaceful haven for rest and relaxation once they're finally exhausted from playtime.
Kids' Bedheads for the Boys: 'Tyler' Wigwam or House Bedhead
Pictured with: 'Traffic Cars' Single Quilt Cover Set |'Waterworld' Single Quilt Cover Set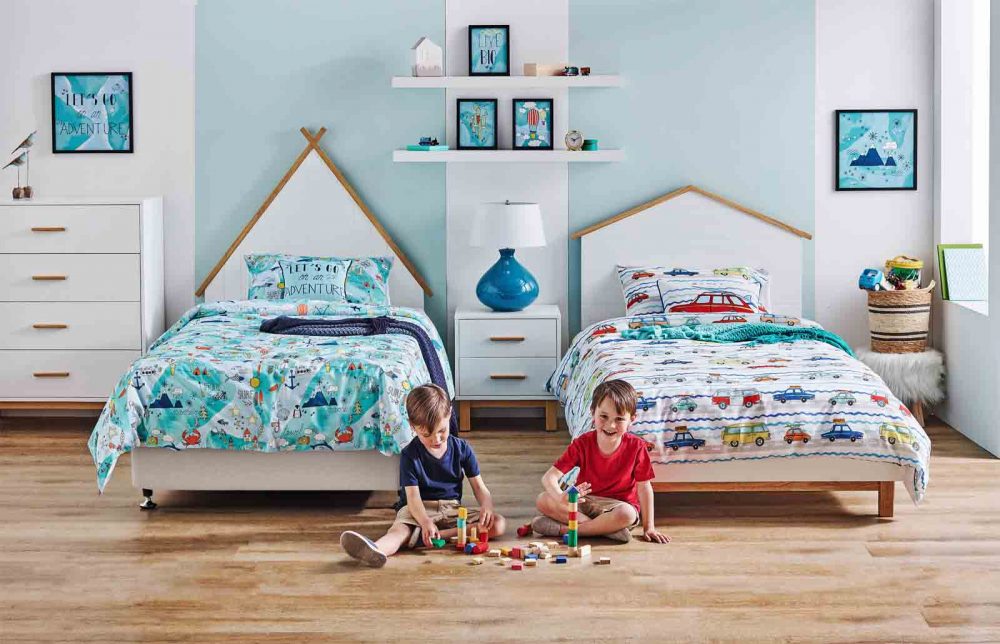 With its pleasing timber accents, the Wigwam option is a fun and quirky centrepiece for your kids' bedroom. This cool kids' bedhead is the ideal option for those looking for something a bit different, and is certainly a great starting point for creating a design statement in your kids' bedroom.
If you're looking for the right kids' Manchester to go with it, you can't go past the pictured 'Waterworld' Quilt Cover Set. Ideal for the little adventurer, this set is all about exploring great underwater worlds.
Alternatively, the adorable House bedhead is the home of big dreams. It's a classic look and works well here with its fresh white design and timber accents.
The House kids' bedhead option is pictured with the 'Traffic Cars' Quilt Cover Set – ideal for the car fanatics! This very cute design features a variety of different colourful cars, all in the fast lane to a great nights' sleep.
A Kids' Bed for the Little Princess
Pictured with: 'Poppy' Quilt Cover Set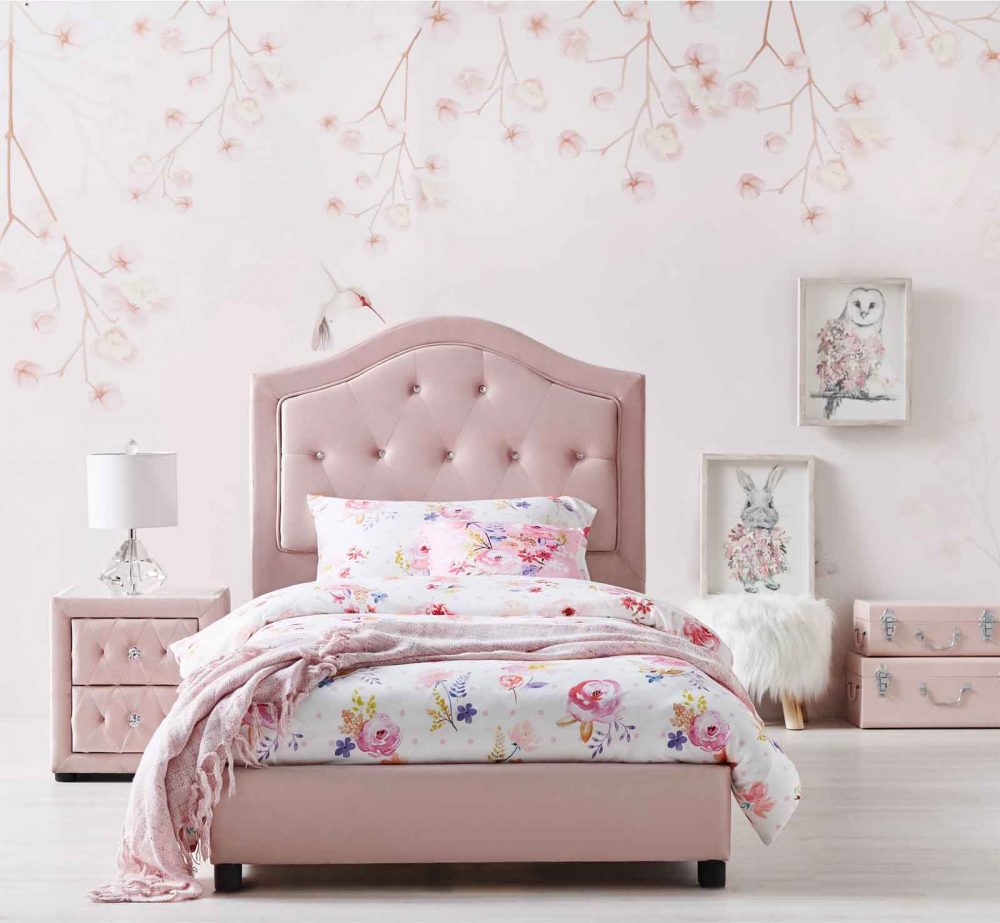 If you have a little princess at home who needs a fitting place to sleep, then the 'Emily' Bed is definitely worth a look. This kids' bed features a very stylish diamond-tufted bedhead design with crystal buttons that just looks gorgeous in combination with the dusty pink fabric. As far as kids' beds go, this is one of the most stunning we have seen!
Cushy and soft to the touch, the bedhead makes the 'Emily' perfect for sitting upright to read or to watch a favourite film. The rest of the bed is upholstered in velvet fabric that will suit the most stylish of kids' bedrooms, while strong pine legs give it sturdy support.
The 'Emily' is also available with a matching kids' bedside table, which is every bit as graceful. It features the same velvet fabric in pink, as well as super-cute crystal handles and diamond tufting. It's a great way to help your kids get into the habit of keeping things tidy from an early age. If you'd like some storage ideas for your own bedroom as well, have a read here!
To complement your decor, the 'Emily' Bedroom Collection is also available in an alternative colour called 'Lace', which is a neutral velvet colour.
A Kids' Bed that Grows with Them
Pictured with: 'Flamboyant' Quilt Cover Set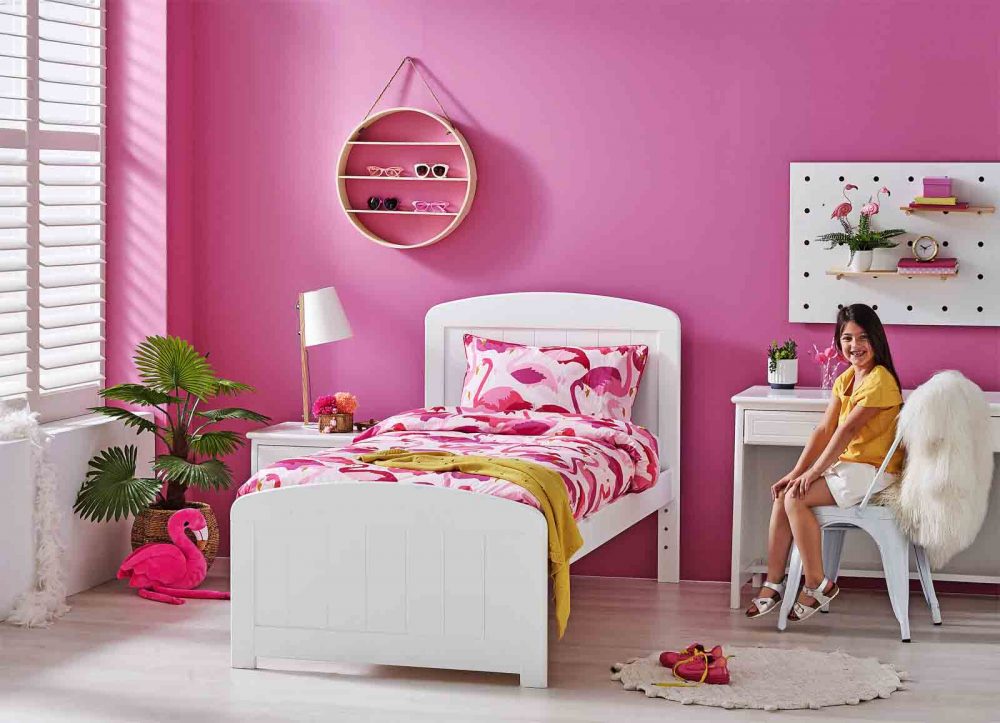 If it's time for them to move out of the cot and into their very first proper bed, then the 'Hayley' Single Bed is a terrific all-rounder kids' bed that will last them well into their teen years. This is made possible thanks to its three height settings – low, medium and high.

As your child grows, the 'Hayley' will grow with them. Being an adjustable kids' bed, it ensures that it's not too high for a young toddler to climb into, and not too low for older kids who don't want to feel as though they're sleeping on the floor.
'Hayley' not only fits most kids in terms of size – it's also designed to suit a wide variety of bedrooms. A clean, white timber design means it suits both boys and girls, and will blend in with your existing décor. Alternatively, it's the perfect blank canvas for stickers, posters and paint.
There's a whole range of storage options that match the bed, including a desk, tallboy, hutch and under-bed drawers to help your kids stay organised and tidy. There's even a trundle option that's ideal for sleepovers and is suitable for the standard Single or King Single bed.
Safety First
Pictured with: 'Space Monkey' Quilt Cover Set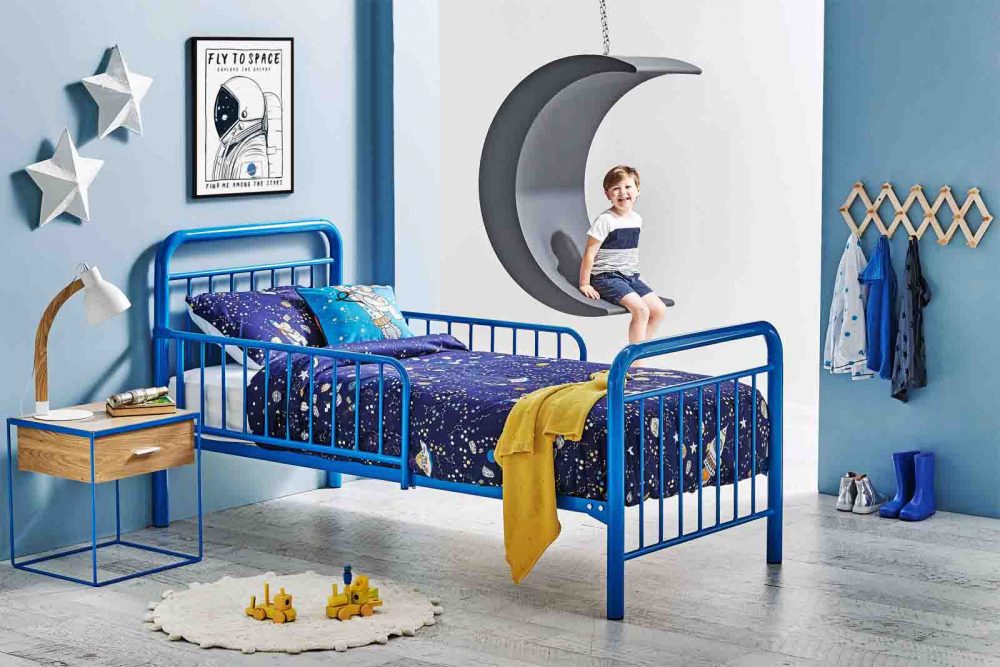 When choosing a bed for a toddler, the number one concern is always safety. You don't want them rolling out onto the floor during the night, because they're still so young and fragile. But, you also can't keep them in a cot forever.
The ideal in-between is a bed with side rails, like the 'Cali' Toddler Bed. This stylish steel-framed option is the ideal toddler bed, equipped with sturdy side rails to prevent overnight incidents. These are removable, so once your child is old enough not to need them, the bed will remain suitable for your youngster.
As an added bonus, this children's bed is Aussie Made. This means you can customise it to suit you and your child by picking from 16 great powder-coat colours. There's an option to suit every little personality!
A Clever and Compact Kids' Bedding Solution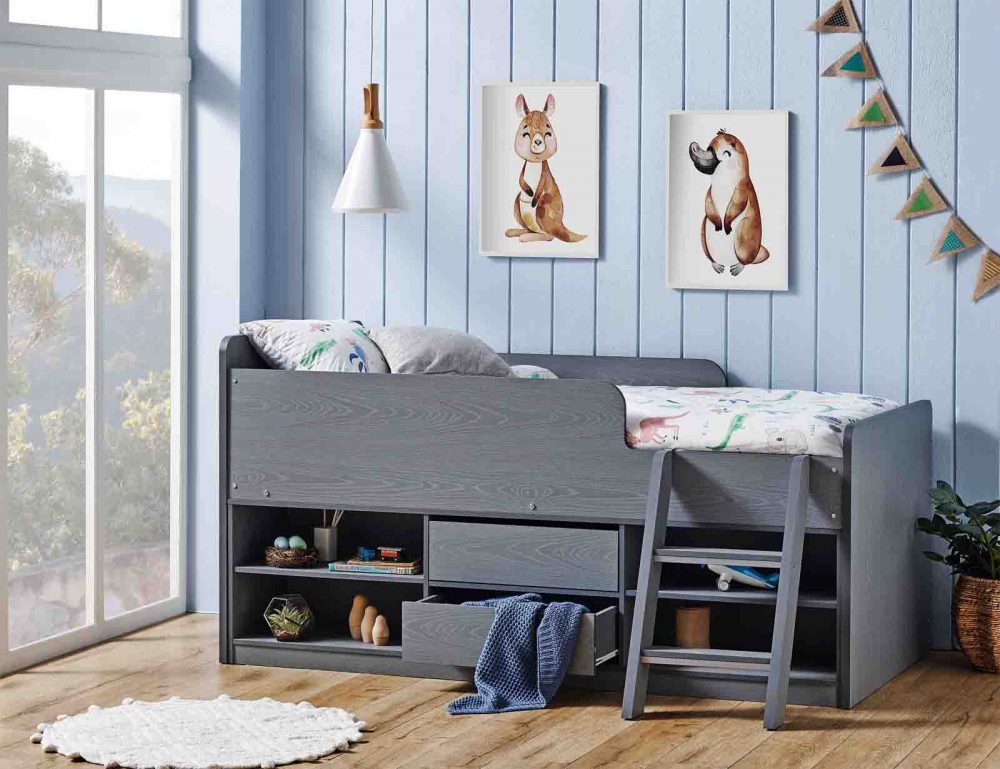 Don't think your child's bedroom is quite cute enough? Well, add this adorable little kids' bed with ladder and it sure will be! It's equipped with raised sides to keep them secure and snug, and the lovable little two-step ladder is great for teaching climbing skills at a young age.
The compact 'Ajax' space-saving bed features plenty of storage, including two wide drawers and four display cabinets, to keep all those toys in order. It's finished in a fetching dark grey with woodgrain effect, bringing a bit of modern minimalist style to your child's bedroom. It's a kids' bed that's ideal for smaller homes or apartment living.
Completing the Look with Kids' Manchester
Once you've found the right bed that suits your child's age and bedroom, the next step is more fun – choosing the right Manchester to go with it! Kids' Manchester can be really cool, with a range of bright colours, delightful artwork and comical characters that are able to bring the little kid out in all of us. Here's two of our favourite picks from Harvey Norman's kids' bedding range.
'Happy Mermaid' Single Quilt Cover Set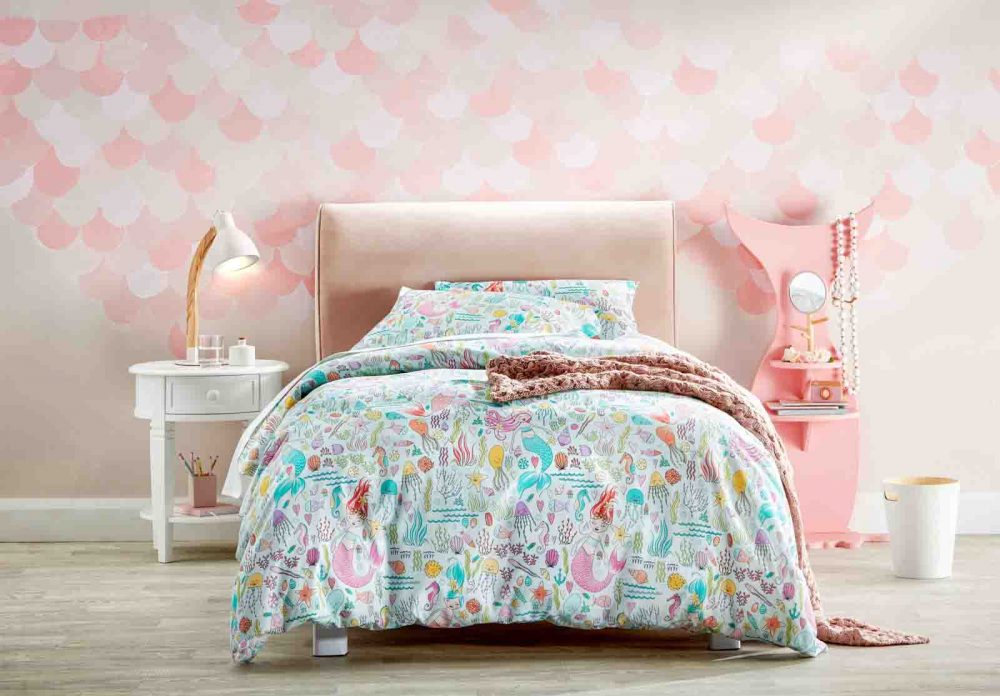 Make every night a trip to the beach with this seaside-inspired design. Your little beachgoer will love the 'Happy Mermaid' Quilt Cover Set and its colourful print, which includes everything from mermaids to seahorses.
'Savannah' Quilt Cover Set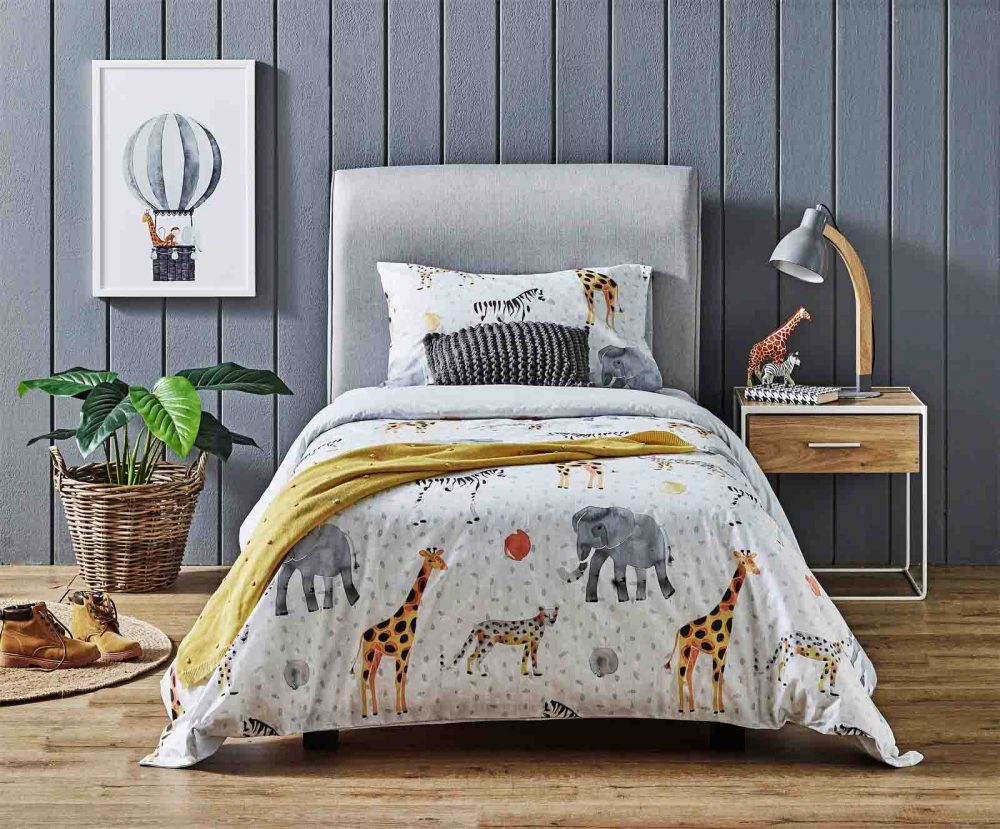 If your child doesn't feel like a trip to the beach, why not visit the grasslands of Africa with the 'Savannah' Quilt Cover Set by KAS. Your little explorer will love these special illustrations of elephants, zebras and giraffes. It's perfect for the kid that loves exploring new things.
Discover More Great Kids' Bedding
For more inspiration on great bedroom furniture for the juniors, browse Harvey Norman's full range online or visit your local Harvey Norman to speak to our friendly expert staff and see our kids' bedding range in person.
More from our Kids' Bedding range: the best beds for teens!
If your kids are a little older, then check out our special on 6 of the Best Beds for Teens. Just like this look at kids' beds, these beds for teens are ones that will be trending in the year ahead.