Spring is in the air! It's the perfect time to start those new-season projects you've been putting off and bring a refreshed feeling into your home. One of the best places to start is the kids' rooms – once they feel special and content, they *might* let you get on with the rest of your list.
To help usher in the excitement and energy of spring, Harvey Norman has a fantastic new range of children's bunk beds and kids' quilt cover sets that are actually going to make them want to go to their room!
Bunks are such a great option when choosing children's beds – they're a top solution for when space is at a premium. Whether you have more than one child or your bundle of joy likes to have friends over on the weekend, bunk beds help foster close friendships and develop sharing skills.
To help you find your inspiration, we've selected some of our favourite pieces from our wide range of cute quilt covers and AFRDI Blue Tick-certified bunk beds.
What is the AFRDI Blue Tick?
Harvey Norman bunk beds are independently tested by the Australasian Furnishing Research and Development Institute (AFRDI) and certified to the highest quality and safety standards for bunk beds.
While standard bunk bed tests cover Australian safety standards for entrapment hazards, rollout protection, protrusions and snag points, AFRDI certification additionally confirms the safety of the ladders, coatings and corners and edges, as well as testing the bed's strength, stability and durability.  If you're looking for a bunk bed, look for the AFRDI Blue Tick so you can sleep soundly knowing that your little ones are too.
As every Harvey Norman bunk bed is AFRDI Blue Tick certified, all you and the kids have to do is pick out your favourite!
1. 'Peekaboo' – For Toddlers and Preschoolers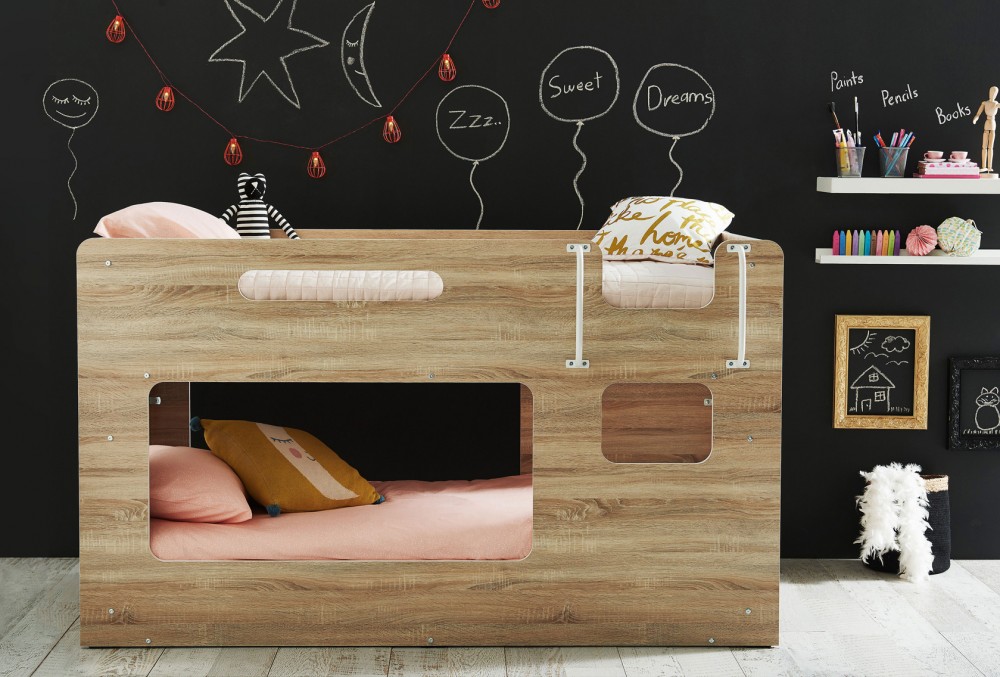 Low to the ground with rounded corners and an age-appropriate ladder, the 'Peekaboo' Single Bunk Bed is a toddler bunk bed ideal for little ones and their big imaginations. Constructed from a gorgeous light timber that is going to go with every colour scheme, it's the perfect focal point to encourage closeness between siblings from an early age. Its durable design is also a great platform for developing abstract thinking as well as gross and fine motor skills as they inevitably use it to build cubby houses, forts and more!
2. 'Bailey' – For Primary Schoolers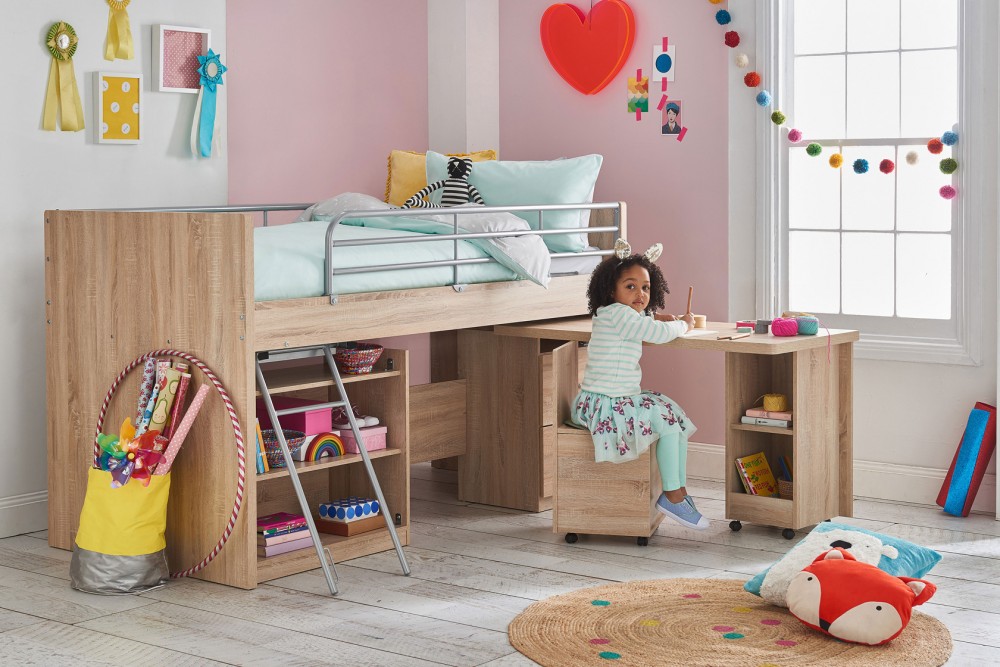 Sure to be a hit with your kids as they go off to big school, the 'Bailey' Single Mini Sleeper Bed is a loft design with built-in children's bedroom furniture. With shelves, drawers and a fun roll-out desk and chair combo, it's great for encouraging positive homework and tidying habits, and leaves lots of space in their room for activities.
3. 'Tyson II' – For Tweens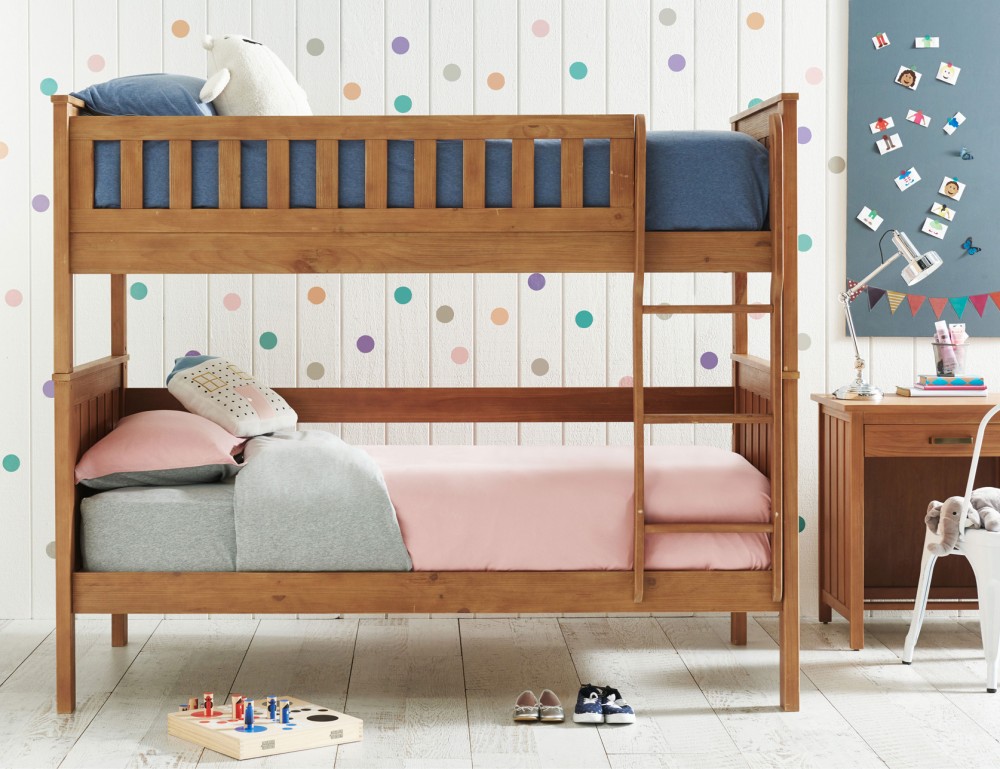 With its classic design and rich timber grain, the 'Tyson II' Single Bunk Bed is a wonderful choice for growing kids. Primary and early high school students will love being able to share their space with friends, and you won't have to worry about unexpected guests commandeering your sofas. Available in a choice of three different timber stains, the 'Tyson' range also has a number of other furniture pieces to complete the bedroom, including bedside table, tallboy and desk.
4. 'BT Trio' – For Teens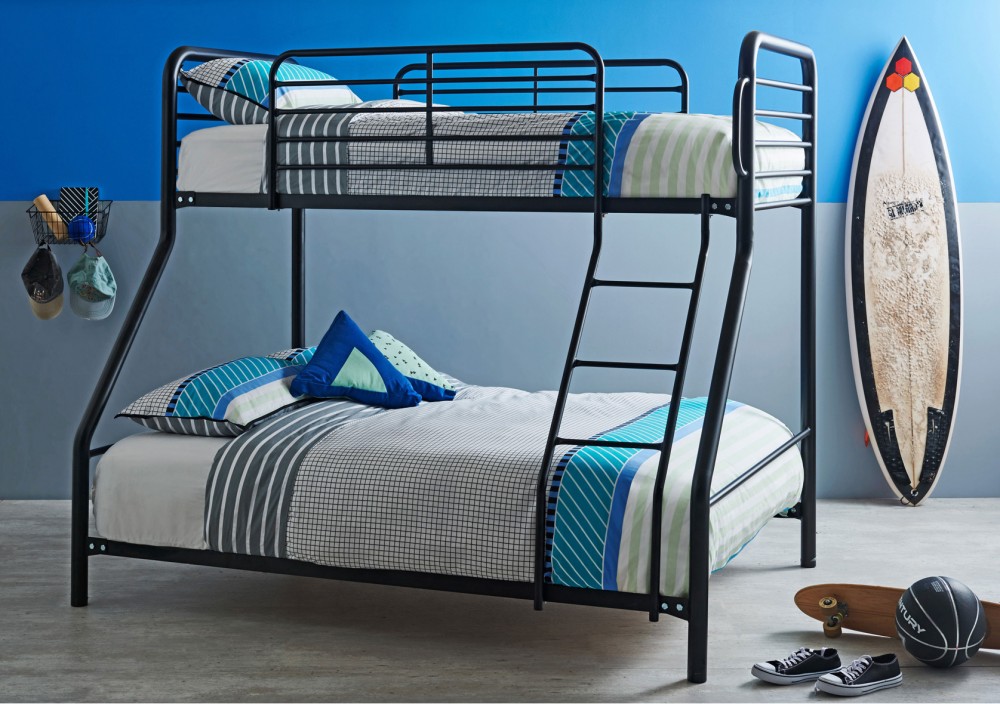 A flexible option designed to suit kids as they grow, the super sturdy, Australian made 'BT Trio' Safety Bunk Bed consists of a single and a double bed, ideal for when they start to need extra space to spread out. It's also going to be a lifesaver when family visit for the holidays and space is already tight. With its sleek metallic design, it is a neutral, low-fuss choice that will fit with kids' ever-changing tastes. Available in a huge range of colours to cater for the pickiest of teens.
Quilt Cover Sets
Whether you're decking out a new bunk from our selection above, or refreshing their current bed, a new quilt cover is an easy way to update your child's room.  As one of the biggest focal points in a bedroom, quilt covers often set the tone for the rest of the decorating choices, and there is nothing like new, comfortable bed linen for encouraging problem sleepers to settle down with minimum fuss.
1. Creative Prints
If your child loves arts and crafts, it's hard to go past the inspiring style of the 'Rainclouds', 'Confetti' and 'Jett' quilt cover sets. They feature fun, artistic designs with bright colour choices, and have an alternative design on the other side to keep things fresh.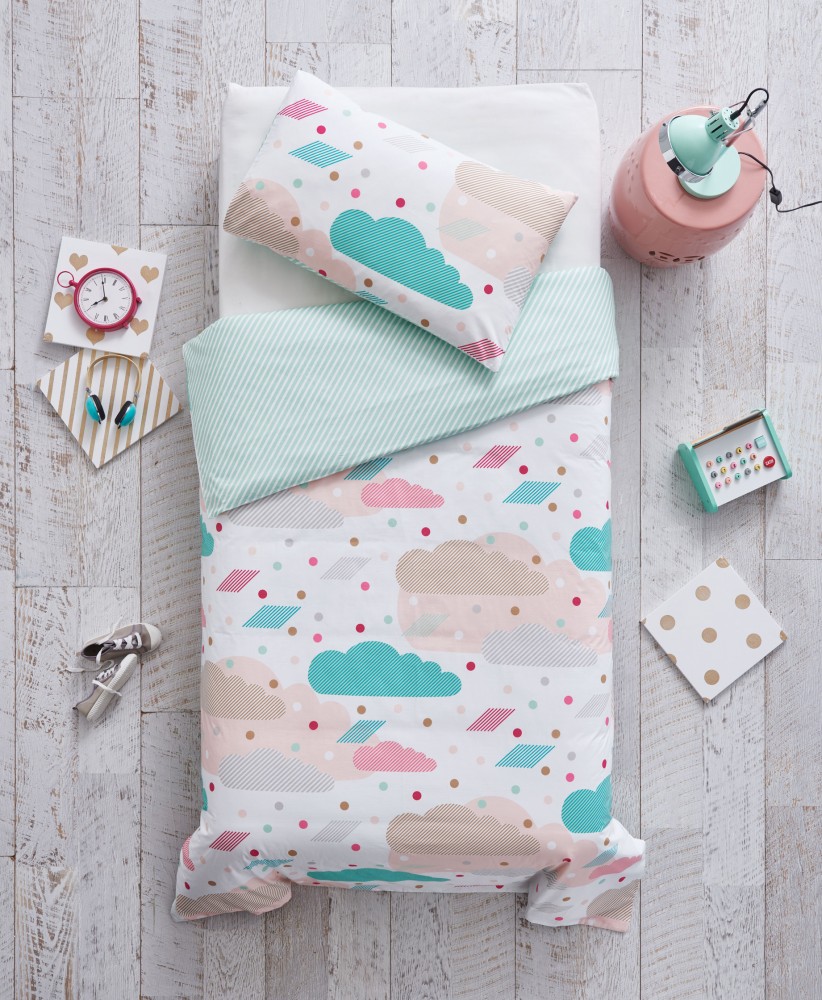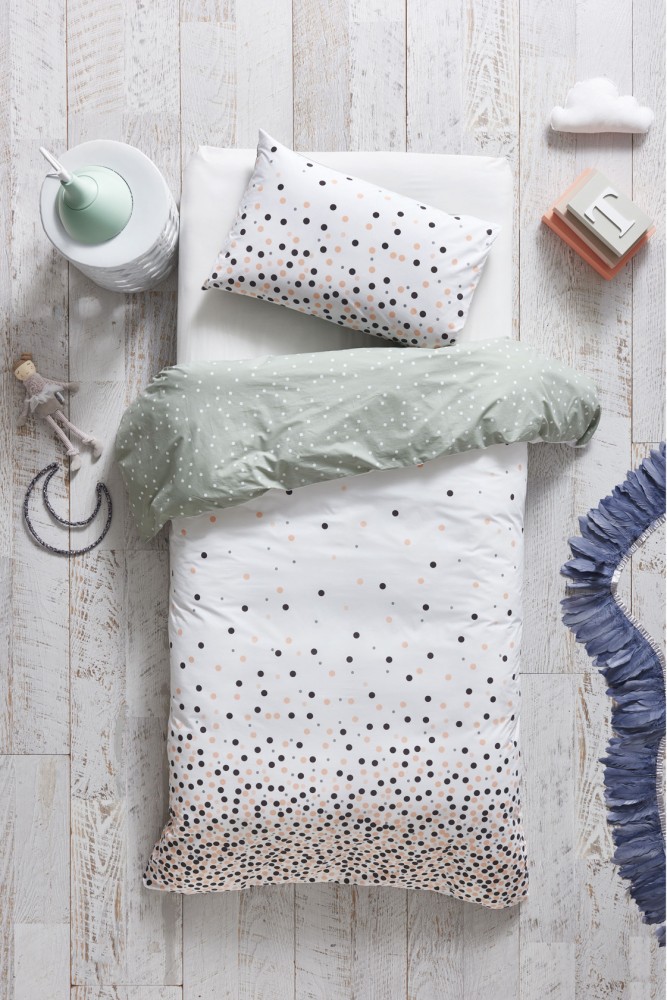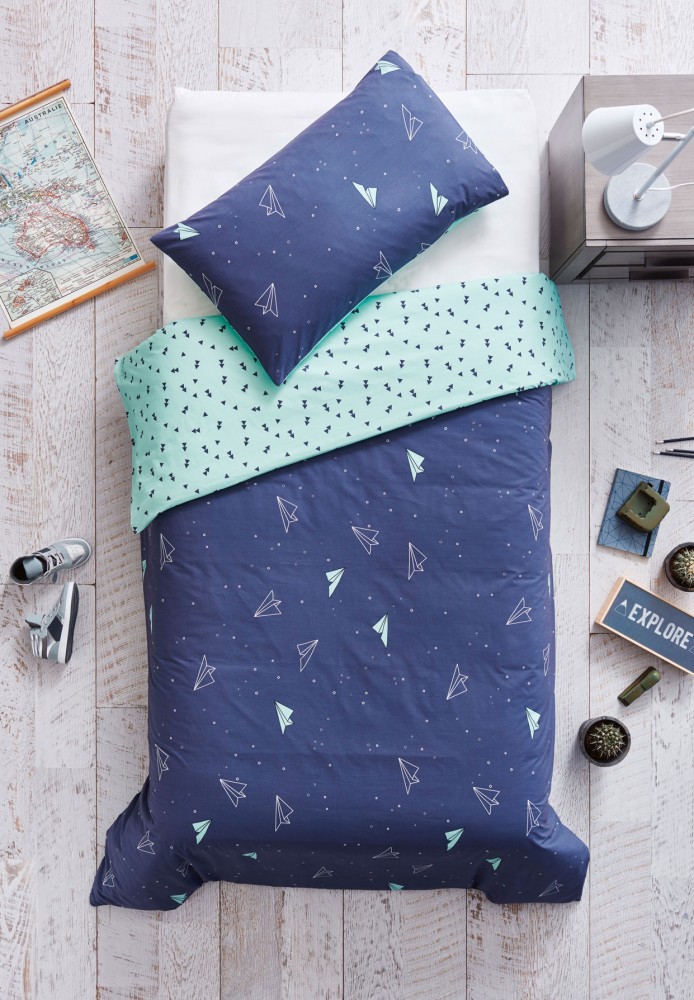 2. Peaceful Pastels
If your kids need that little bit of extra encouragement to switch off in the evening, the pastel palettes of the 'Bolt', 'Spot' and 'Cozi' quilt cover sets may be the perfect choice. With their calming tones and low-fuss prints, they're also not too tricky to mix with other decorator and furniture choices. Plus, these quilt covers feature a different design on either side, making them reversible so that it's easy for you to flip sides to update the look.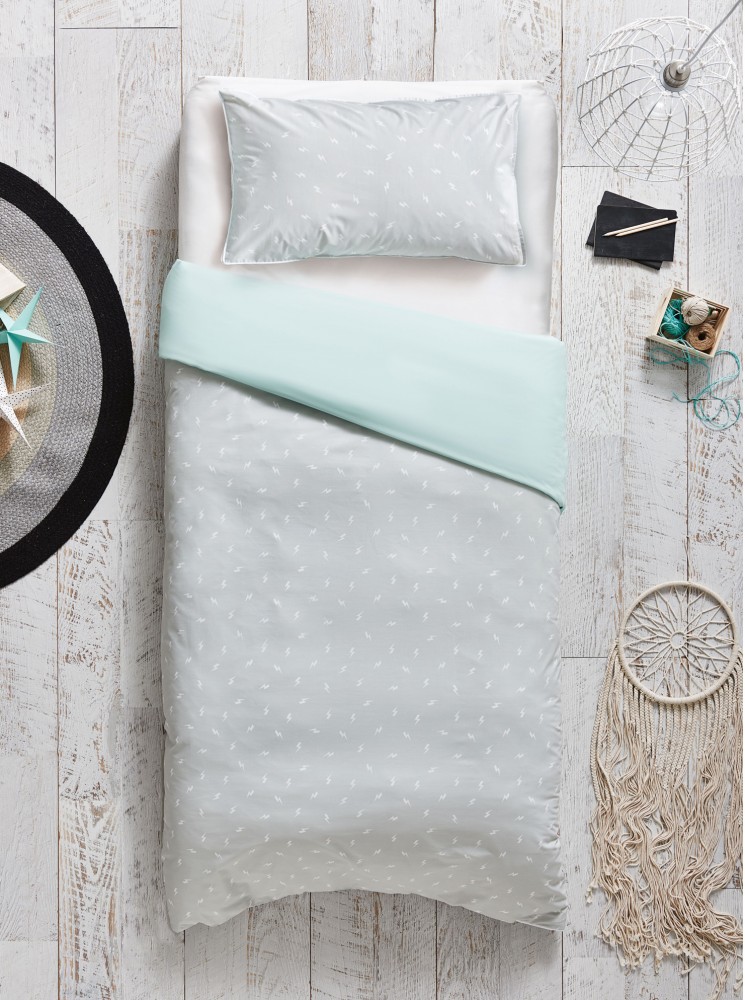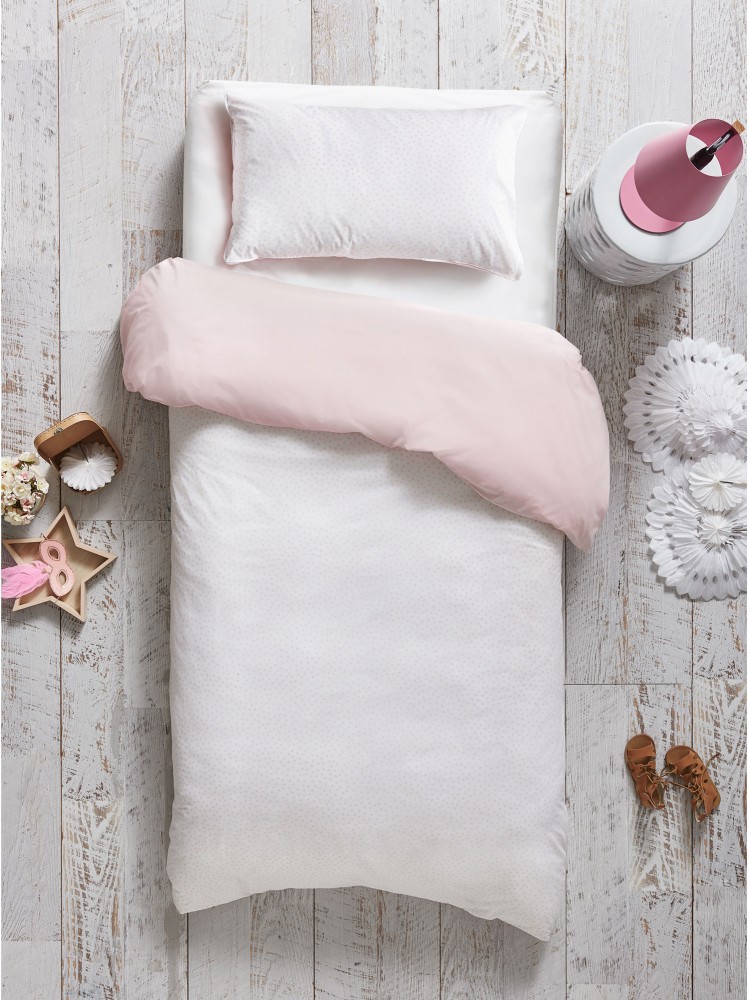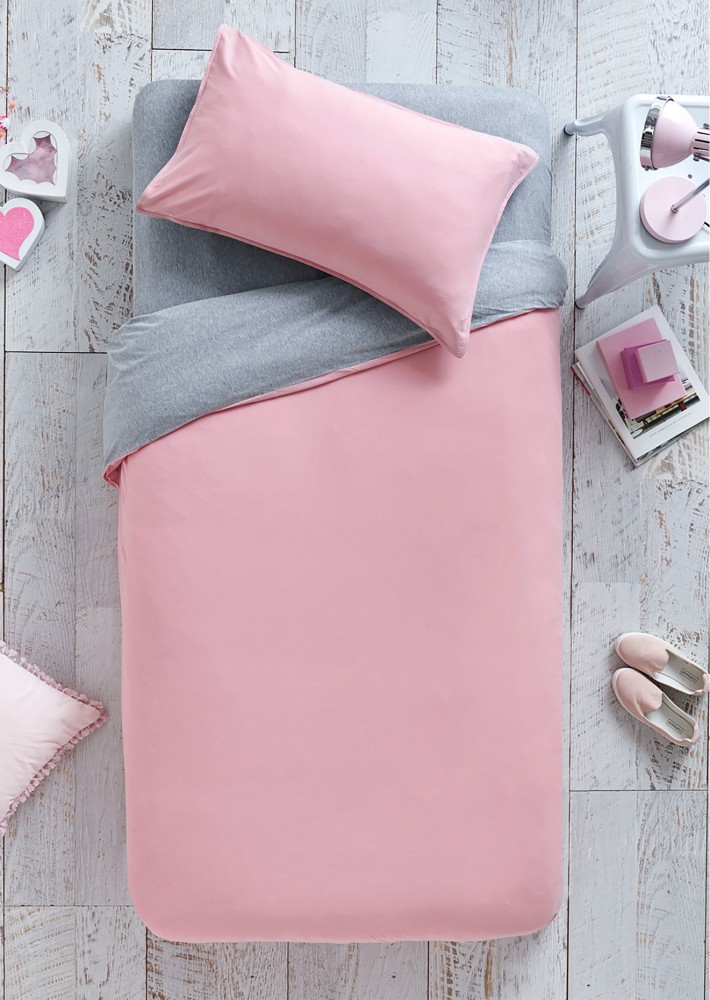 3. Soothing Blues
With their serene sapphire and navy blue hues, the 'Squares', 'Spyro' and 'Jamie' quilt cover sets are great for virtually every age group, and complement a vast range of different décor styles. These dreamy styles will make bedtime stories about dragons soaring in the sky or pirates and mermaids of the deep blue come to life for tiny tots, while the older children will reach a tranquil dream-state even sooner and get that much-needed 8 hours of shut-eye, ready and alert for school the next morning.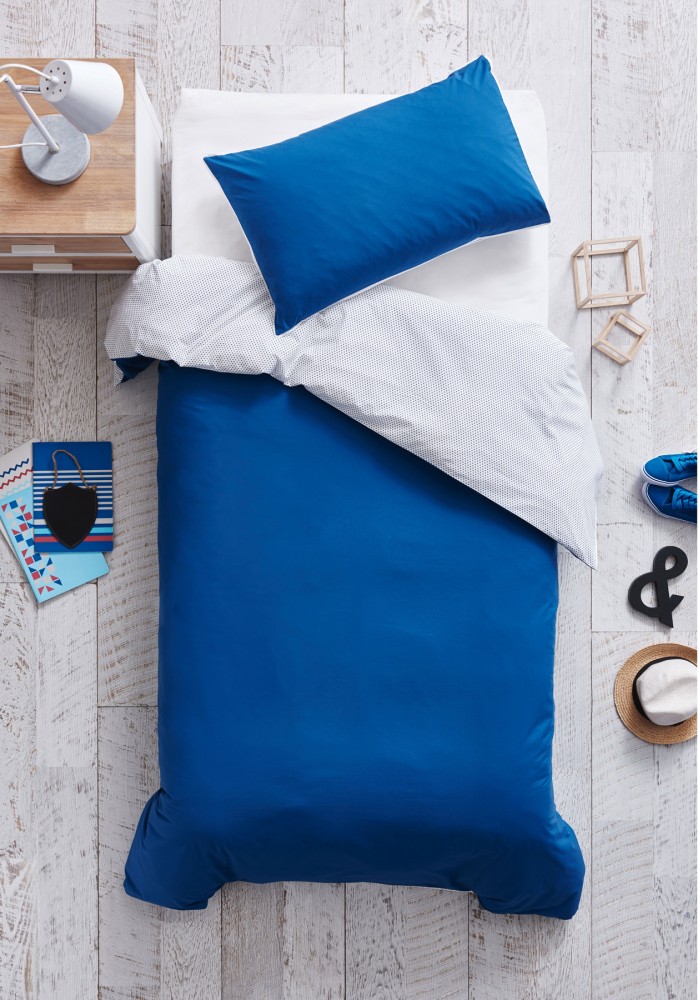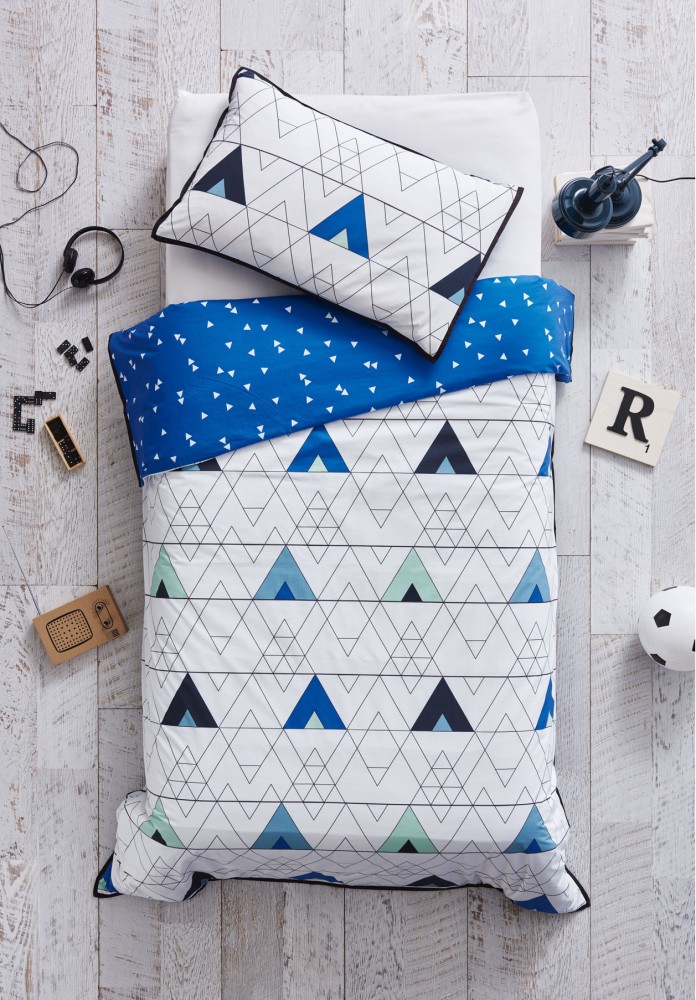 Inspired to start a home interior project the whole family can enjoy? Check out our kids' bedroom furniture and bed linen collection online or at your local Harvey Norman store.