When you're a kid, the coolest place in the world is often your bedroom. It's your own space –the place where your personality shines through. It's where you come to play. It's where you go to dream.
As a parent, you want to do everything you can to turn your child's room into that magical sanctuary – and so much of that has to do with selecting the right bedding.
So, to help find the perfect bed, Manchester and accessories for your little one, come explore with us as we take a look at some of our faves available at Harvey Norman.
Bunks for the Dreamers
Boring adults like us love bunk beds because they're an amazing space-saving solution. Kids love bunk beds because they're just plain fun! After the lights have gone out, there's nothing better than just lying back and swapping amazing stories with your sibling or best friend.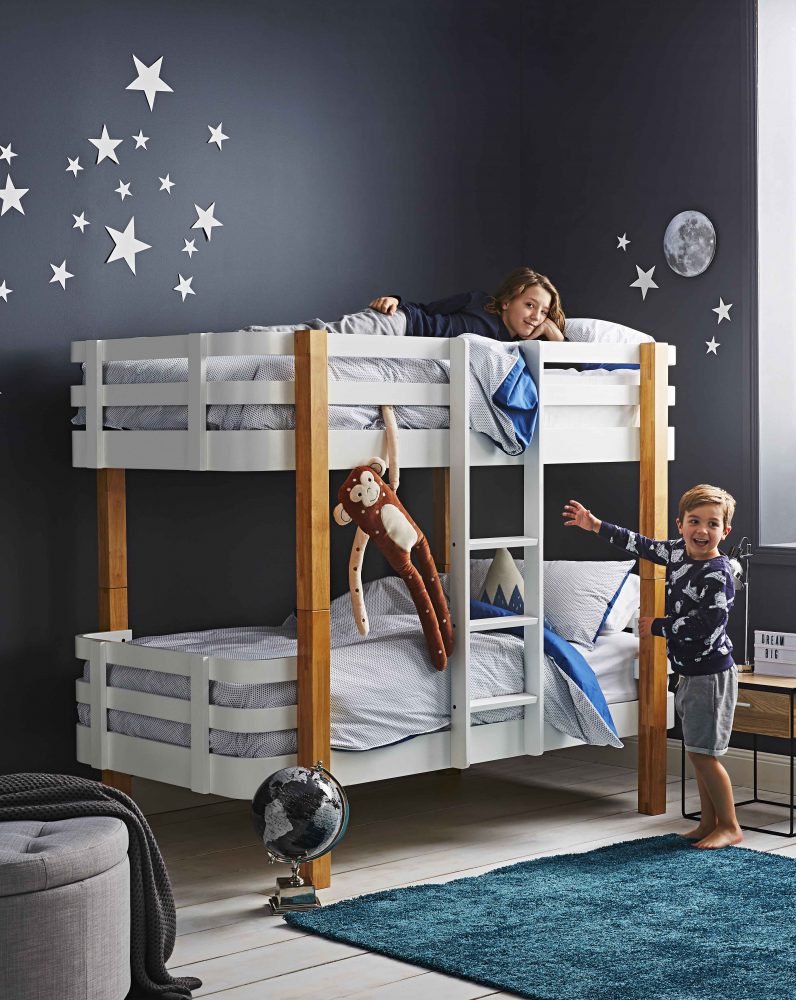 Complete their room:
Square Quilt Cover Set | Spot the Monkey
At Harvey Norman, we've recently added a sublime new range of bunk beds for kids to our collection – each of which is sure to spark your child's imagination. There's the dream-making Skylar, as well as the Ava, Castle, Biblos and Nemos. Plus, we've still got all of our old favourites including Zara, Melody Trio and Trio (which is Australian made and available in 14 different colours!)
Some of our bunks – such as the all-new Owen and classic Tyson II – can even be split into two separate beds once the kids get a little older and graduate to their own rooms.
As a parent, safety is always going to be one of your biggest considerations when choosing a kids bunk bed. The great news is that so many of Harvey Norman's bunk beds have been tested by the Australasian Furnishing Research and Development Institute (AFRDI) and are AFRDI Blue Tick certified. This means that everything from the safety of the ladders, coatings, corners and edges to the beds' strength, stability and durability have been tested and certified to be of the highest standard. With an AFRDI Blue Tick, everyone sleeps easy.
Australian Made & Customisable
We love Australian made kids beds. Our locally crafted designs are always of the highest standard and have been built to last. And more importantly for your kids – they're totes customisable!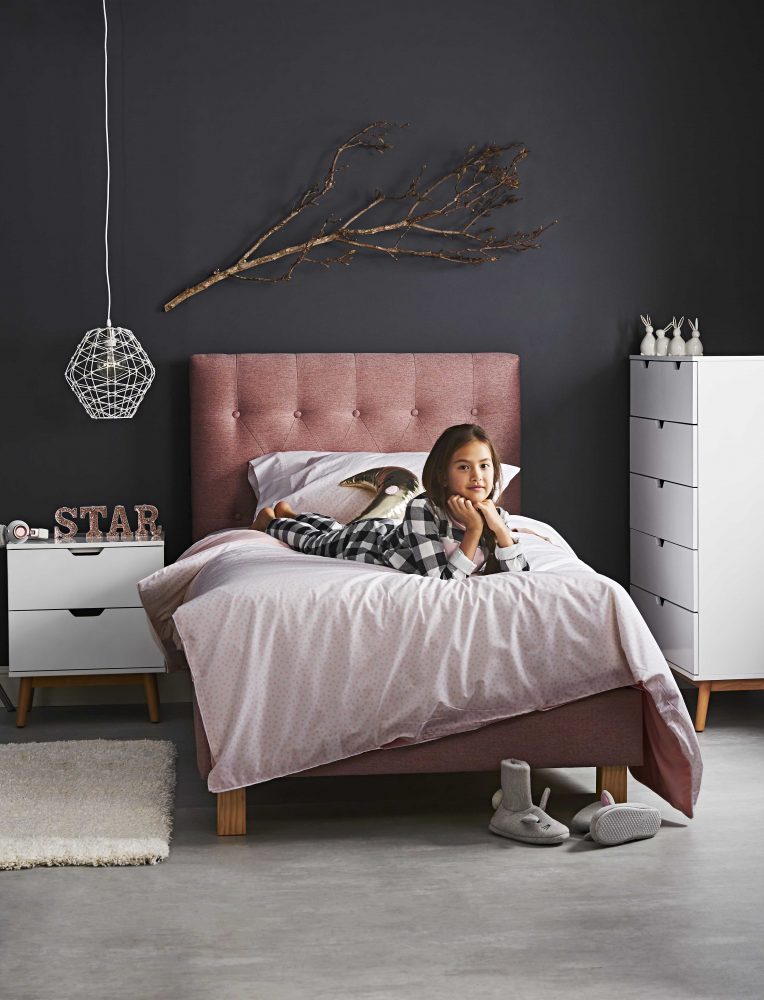 Complete their room:
 The Australian made Adelle Bed is shown here in a millennial pink Watson Blossom Fabric. This beautiful tone might suit your little one to a tee – but if not, just customise it with a colour that does (or let them choose – if you dare!) Depending on what they like, you can even customise the leg design!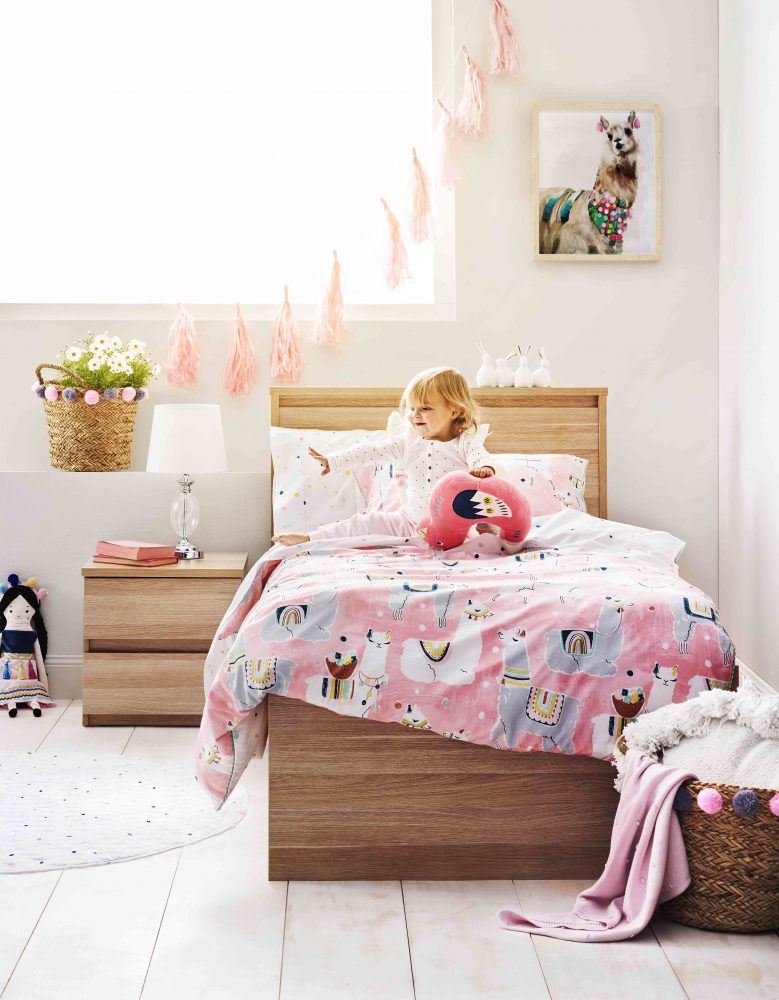 Complete their room:
Lil Song Bird Cushion | Llama Party Quilt Cover Set
 The Norway is another wonderful offering from our customisable range of Australian made beds. You can select from four timber stains and even add storage drawers underneath, which brings us to:
Secret Storage
If you've got kids, then you've got mess – unless, of course, you know the secret…
… a storage bed!
Toys, books, odd socks, toys (seriously, where did all these toys come from?!) can all be lovingly hidden away in a kids bed with storage. Keep things tidy by choosing a bed with nifty drawers at the front or even a gas-lift function that elevates the mattress, making way for an entire storage space underneath.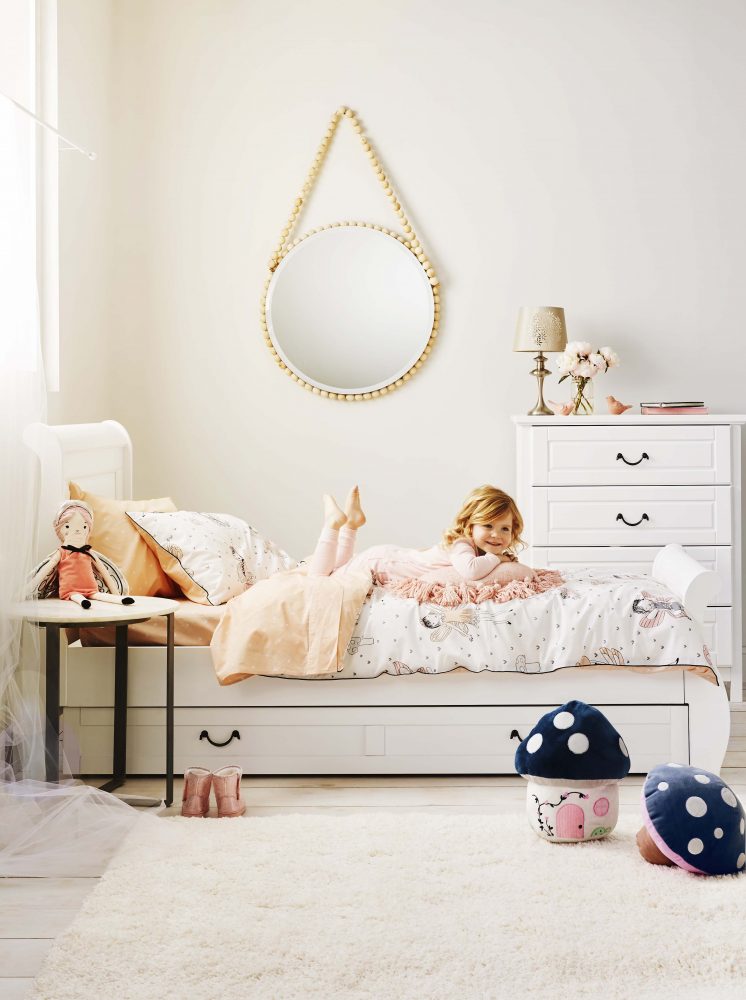 Complete their room:
Enchanted Quilt Cover Set | Felicia the Fairy | Mushroom Grey Cushion | Fairy House Cushion
Kids beds with trundles are another marvellous storage solution.  One of the great rites of childhood is having your friends around for a sleepover – pizzas, cartoons and lots of laughs! As a parent, however, you don't want that spare mattress hanging about all week. Having a bed that features a stylish pull-out trundle, such as the Oxford, means you can simply slide it back in and keep that room looking as fresh as it did before your little one and their BFF ran amok!
The Kids Are On-Trend!
When your child retreats to their room at night and curls up under their covers, you want to know that they're sleeping peacefully. But after they wake, the only thing that matters is making sure their room looks as trendy as can be!
Luckily, style and comfort aren't mutually exclusive – especially when it comes to our so-on-trend yet oh-so-comfortable beds.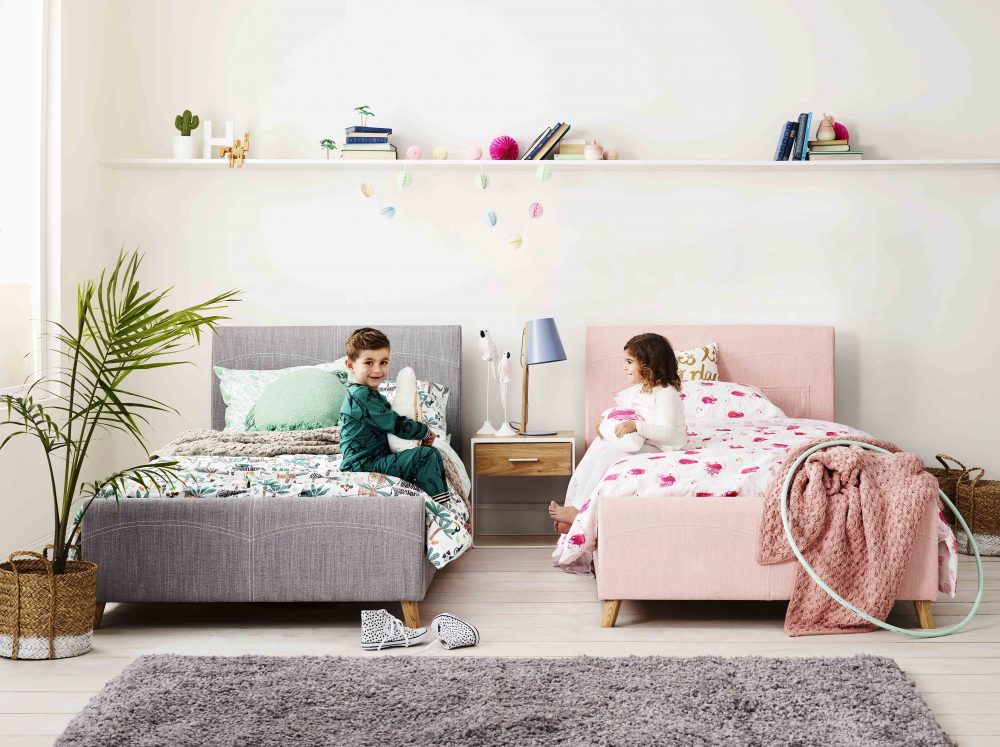 Complete their rooms:
 Jungle Quilt Cover Set | Jungle Cushion | Flamingo Quilt Cover Set | Flamingo Cushion | Harper Throw
By taking one look at the Heston Fabric Bed, you know it's comfortable. And you also know it's super swanky. Available in three en vogue colours – denim, pink and grey – that will match your kids' personalities, the Heston's cute stitch design also houses clever pockets for your little one to store their treasures.
Super low to the floor, this is a great safe first bed that will last for years!
Inspired?
Inspired by our cool selection of kids beds, Manchester and accessories? With options for all budgets, now's the perfect time to browse online or to come into your local store, where your little ones can have a look at their future sleeping pad for themselves!  
*Products pictured in header image:
Complete their rooms: