We're well and truly into the new year now, with 2017 officially here and a whole new range of styles and trends to go with it!
While Summer may nearly be at an end, it doesn't look like the weather will be cooling any time soon. So if you're looking for a way to keep those feel-good Summer vibes going, what better way to spice things up than with a new home makeover?
Our latest catalogue showcases an array of fab furniture pieces sure to freshen up your home – whether you're after something classic or contemporary.
We've curated an exciting mix of styles and chosen our top six lounges and dining suites from the catalogue. These fresh furniture pieces are sure to spark your enthusiasm and get you excited about sprucing up your space!
We've also included a list of our favourite display cabinets – the perfect storage solution to keep your living room, dining area, home office or family room looking stylish! Plus, it's a great place to house all your favourite trinkets, knick-knacks and objet d'art.
Read on and see how you can spice up your space!
Modern Touch
'Zenith' 3-Seater Fabric Sofa.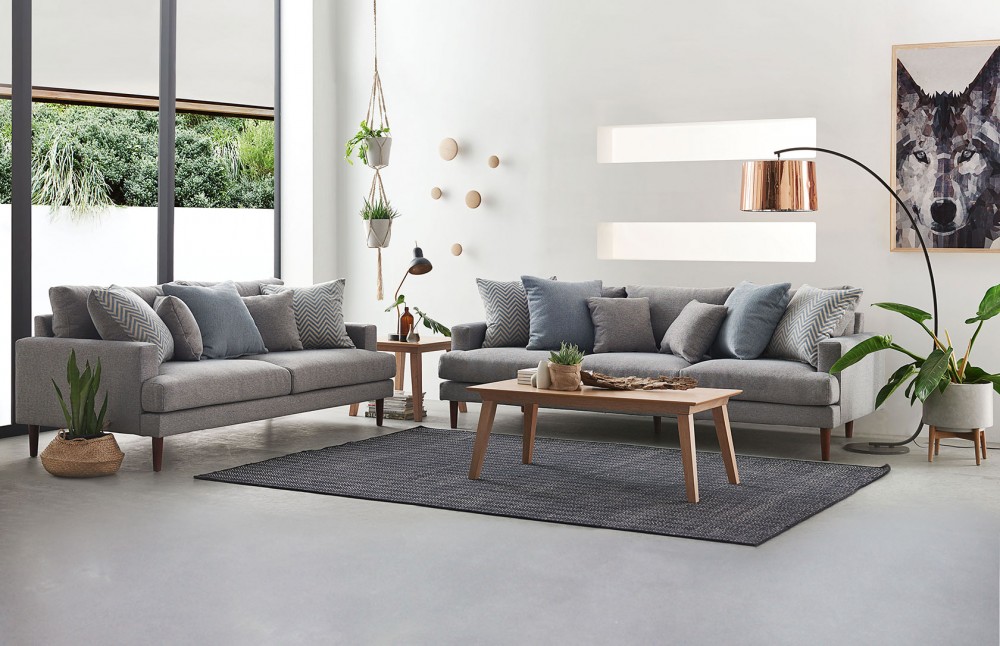 This elegantly understated piece will suit just about any living room. Exhibiting a streamlined, Nordic look (which, you can be sure, is always in vogue) with stylish pin legs and plush cushions, the 'Zenith' sofa will add instant appeal to your living space.
Thanks to its clean, modern design, you can style this sophisticated lounge with dramatic patterns and accessories. Draw inspiration from nature with indoor greenery and organic materials such as wicker or timber, and add metallic accents to really bring the room to life.
Scandi Chic
'Durban' 9-Piece Dining Setting.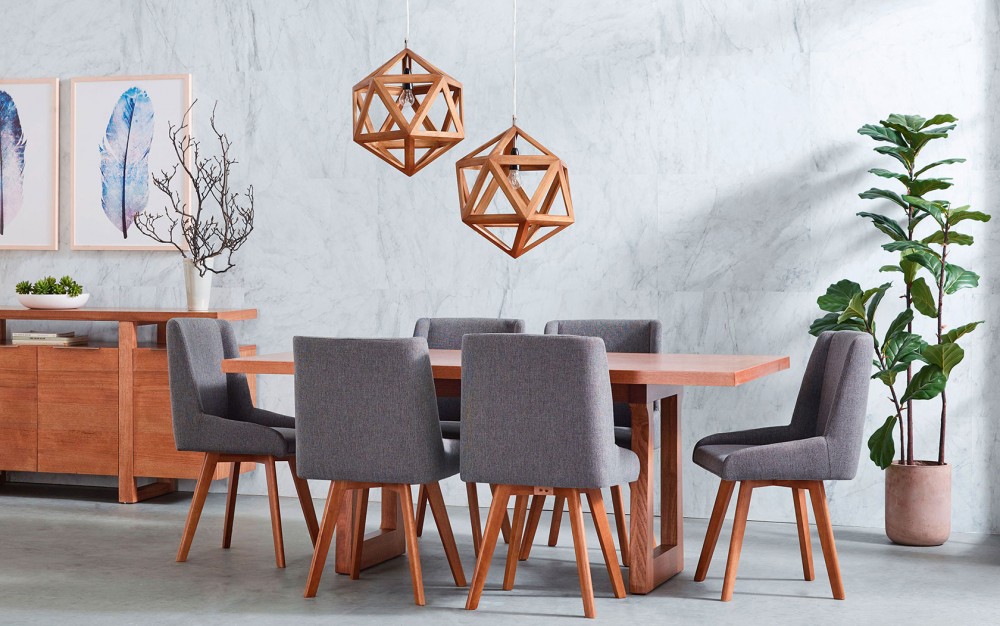 Instantly refresh your dining space with the contemporary 'Durban' timber dining suite. Crafted from Victorian Ash, this trend-setting piece will become your dining room's new gathering hub.
Six fabric-upholstered dining chairs perfectly complement the striking design of the 'Durban' table, providing plush seating for your guests.
Complete the look with the matching 'Durban' buffet unit and Scandi-style accessories, including subtle prints and geometric-shaped pendant lighting.
Family Favourite
'Louee' Fabric Recliner Corner Lounge.
This comfortable, spacious recliner lounge is the perfect addition to your living area. Whether you're after a bigger lounge to fit the whole family, or you need more seating space for entertaining, the 'Louee' is the solution you've been looking for. And with two manual reclining actions, you can sit back and relax with a book or movie when you need a little 'me time'.
Match the 'Louee' with cool and calming neutral tones with bursts of bright blues and greens. When the weather begins to cool, add a nice, warm throw to make this corner lounge extra cosy!
Stately Elegance
'Reuben' 9-Piece Dining Setting.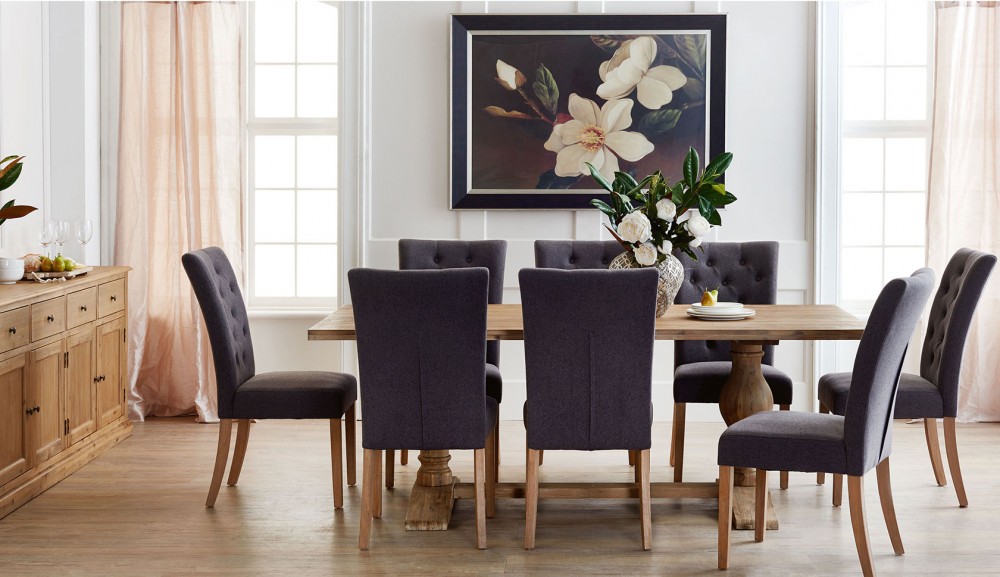 Featuring a blonde-toned Acacia table with classic legs and elegantly upholstered dining chairs, the 'Reuben' dining setting provides ample space for family and friends.
Exuding an aura of simple elegance and refinement, this darling dining suite can be matched with similar accessories to bring out its natural charms. Look to Mother Nature for inspiration, such as fresh flowers and foliage, and add a touch of warmth with the matching 'Reuben' buffet.
Lovely Leather
'Lilly' Leather Sofa with Chaise.
You'll never want to leave the comfort of your lounge room with the sumptuous 'Lilly'. This luxurious leather sofa features a chaise, plush arms and high back rests, making it the perfect place to unwind, relax and de-stress after a long day at work.
Create a dramatic contrast with darker timber tones and add a bright pop of colour with ocean-blue accents or prints. To complete the look, unite the room with cushions and lamps in a similar, muted colour palette.
Comfort & Style
'Tate' 9-Piece Dining Setting.
The 'Tate' perfectly encapsulates modern style at its best. The striking design of the dining table is sure to capture your guests' attention, while the classy dining chairs offer comfort and style.
Expertly crafted from Victorian Ash, the 'Tate' will be a sturdy yet sophisticated mainstay in your home for years to come.
The low-key elegance of this setting requires similarly chic accessories to really set it off. Invest in some modern art that will complement this suite – or take the shortcut and arrange a collection of coffee table books on the 'Tate' buffet (available separately) to impress your dinner guests.
Cabinet Reshuffle
Whether you're looking for a smart storage solution or want to display your special treasures while keeping them safe, a new display unit will be the ideal addition to your living or dining space.
Showcase your antique fine china, your 'special occasion' tea set or your beloved figurines that you've carefully collected over the years or inherited from your parents or grandparents. Whatever you're after, Harvey Norman has a range of cabinets to suit your style and the size of your home.
Add one to your dining room to go with your new dining suite, or make use of that spare corner in the lounge room and display your cherished curios.
One thing you can bet on is that display cabinets never go out of style. They're useful as a place to store precious breakables or as a way to exhibit prized possessions. And with the Harvey Norman seal of approval, you know these quality-made pieces will stand the test of time.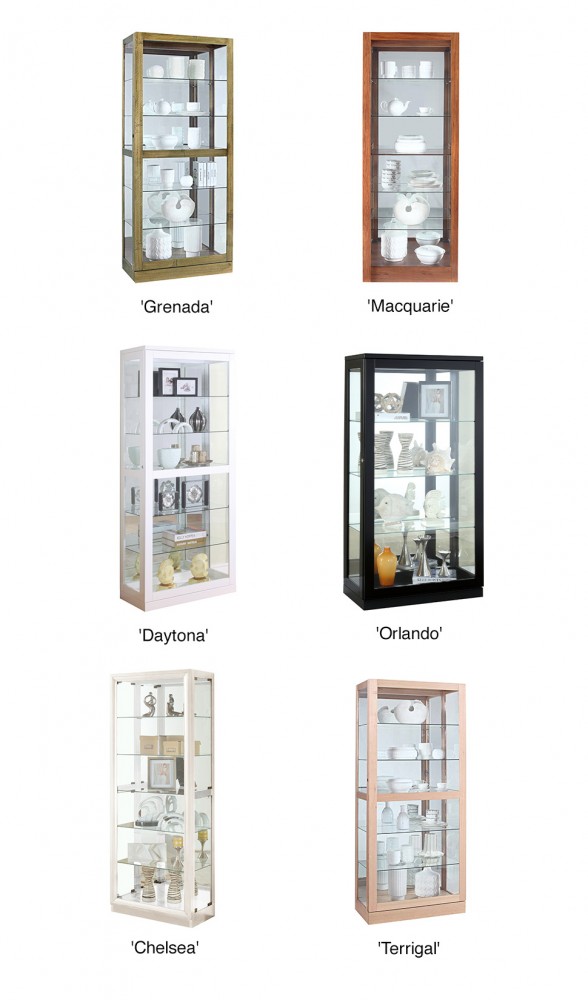 Here is a list of our favourite designs:
'Grenada' Display Cabinet in aged Ash finish
'Macquarie' Display Cabinet in Tasmanian Blackwood
'Daytona' Display Cabinet in crisp White finish
'Orlando' Display Cabinet in Modern Black finish
'Chelsea' Display Cabinet in Black or White
'Terrigal' Display Cabinet in Tasmanian Oak
Feeling inspired you to update your lounge room or dining area? Check out our beautiful furniture collection online or visit your local Harvey Norman store to speak with our friendly furniture team!