Whether it's home work for primary school, assignments for ­high school, or research and essay writing for uni, a functional home office setup is going to be essential. That's why we're showcasing three great student desks and a selection of Harvey Norman's wide range of back to school furniture, with the aim of giving you and your child the ideal study space.
As you'll see, all good desks require enough space for your laptop and necessary books and documents. Plus, your kids will need clever storage solutions and a bookcase for study materials – all to keep things close to hand while avoiding the clutter that can make a desk feel like a dumping ground.
So, to help get you inspired, here are some of the best student desks in Australia – with three distinct styles of home office furniture that can invigorate a study space and help motivate students to work hard in the year ahead.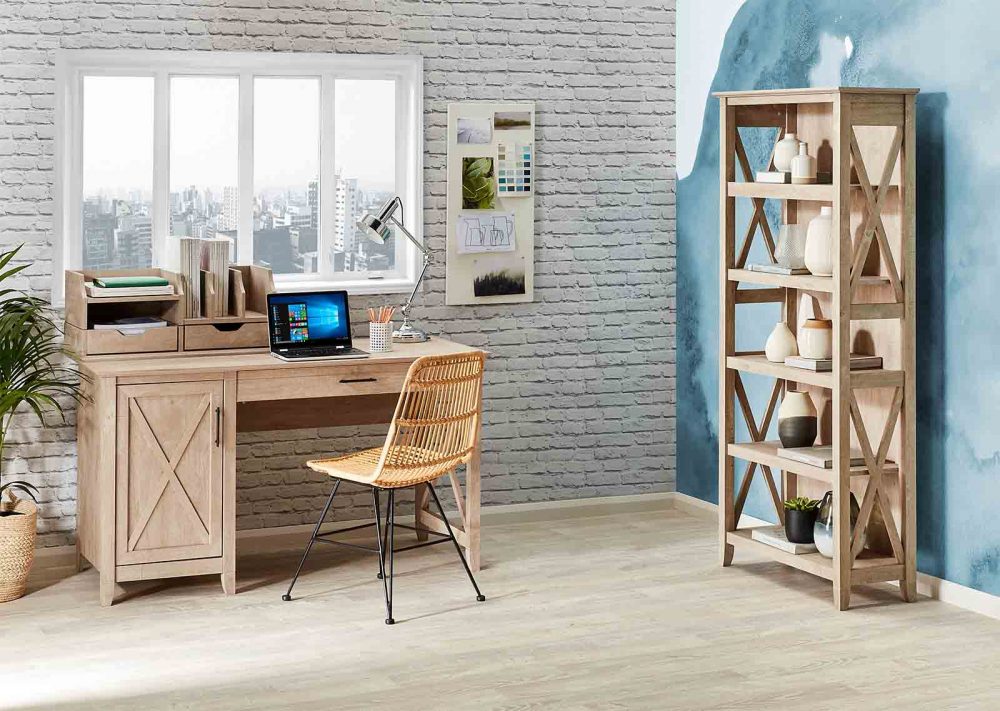 If you're after furniture for students with a light and breezy aesthetic that features loads of options, the 'Coastal' range of home office furniture is a superb choice. Beautifully crafted in a washed grey finish, the pieces in this collection have a fresh yet homely feel that's very appealing to the eye and to the touch. Start your child's study space with the 'Coastal' Desk (W137 x D60 x H76cm), which comes with a built-in storage cupboard and cross-wooded detailing.
Featured with the 'Coastal' Desk in the above image is the 'Citra' Dining Chair. Its simple design and lightweight rattan construction will add a relaxing feel to your space, making it the perfect companion piece to this desk for students.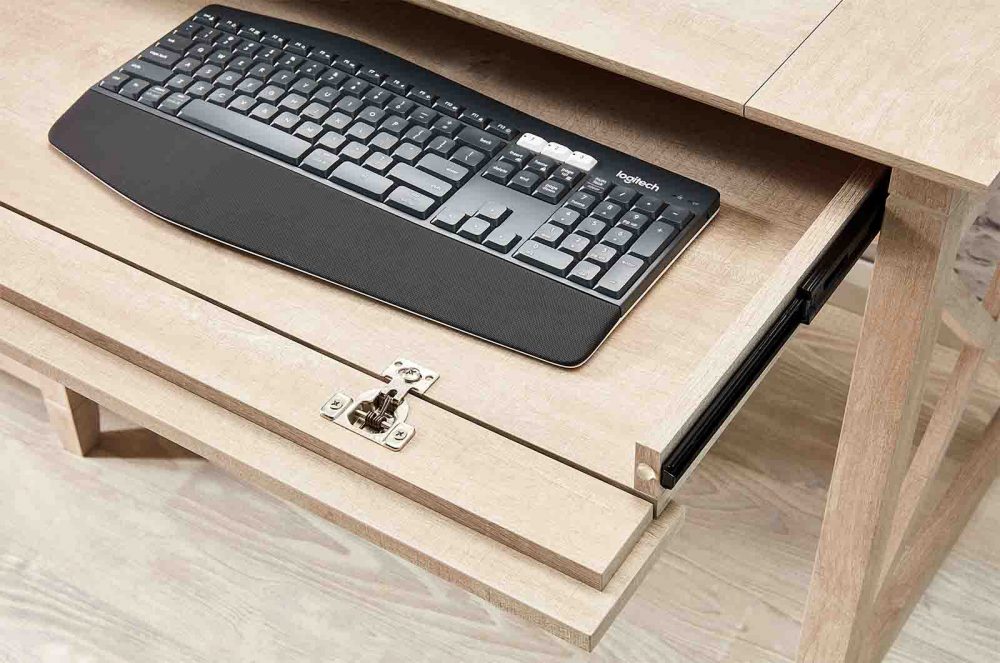 The desk also features a handy pull-out keyboard drawer that makes it easy to free up desk space – you can tuck your child's laptop away in the drawer too. Such a versatile option for a student desk!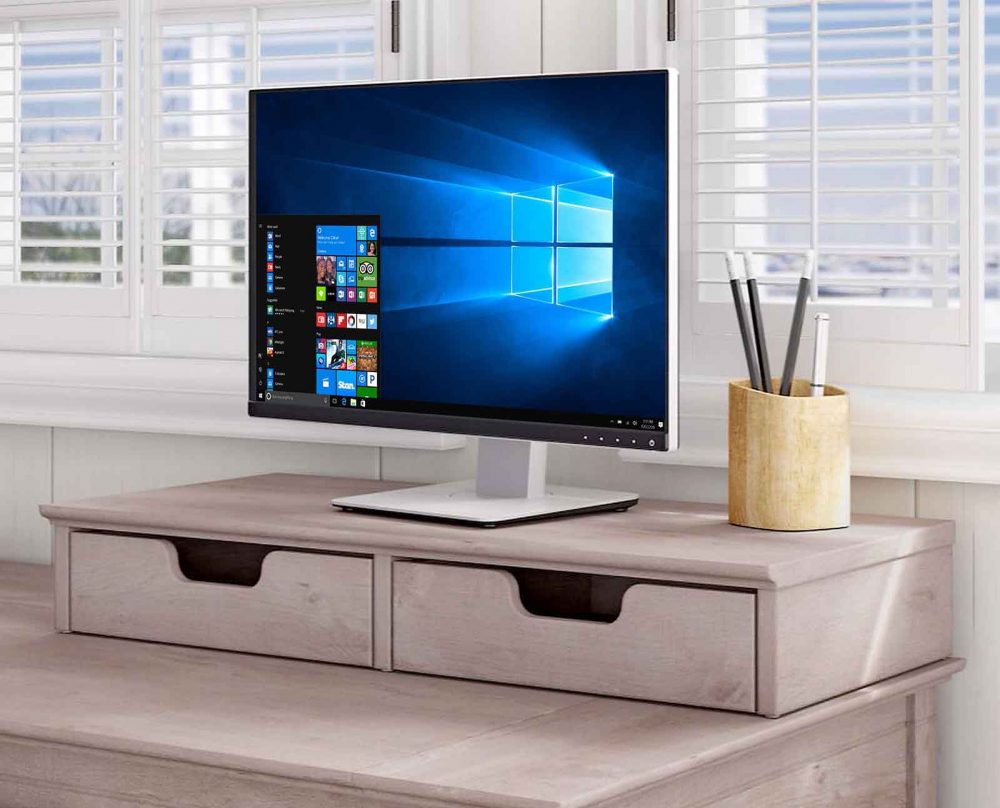 Need space for a monitor? The 'Coastal' Monitor Stand (W68 x D32 x H10.5cm) will help you get to eye-level while also adding an additional two storage drawers that will certainly come in handy.
If you or your child is prone to clutter, add one of these to the desk. The 'Coastal' Organiser (W68 x D30 x H18cm) will help keep your child's stationery or books alike in order so the desk surface can stay ready for work.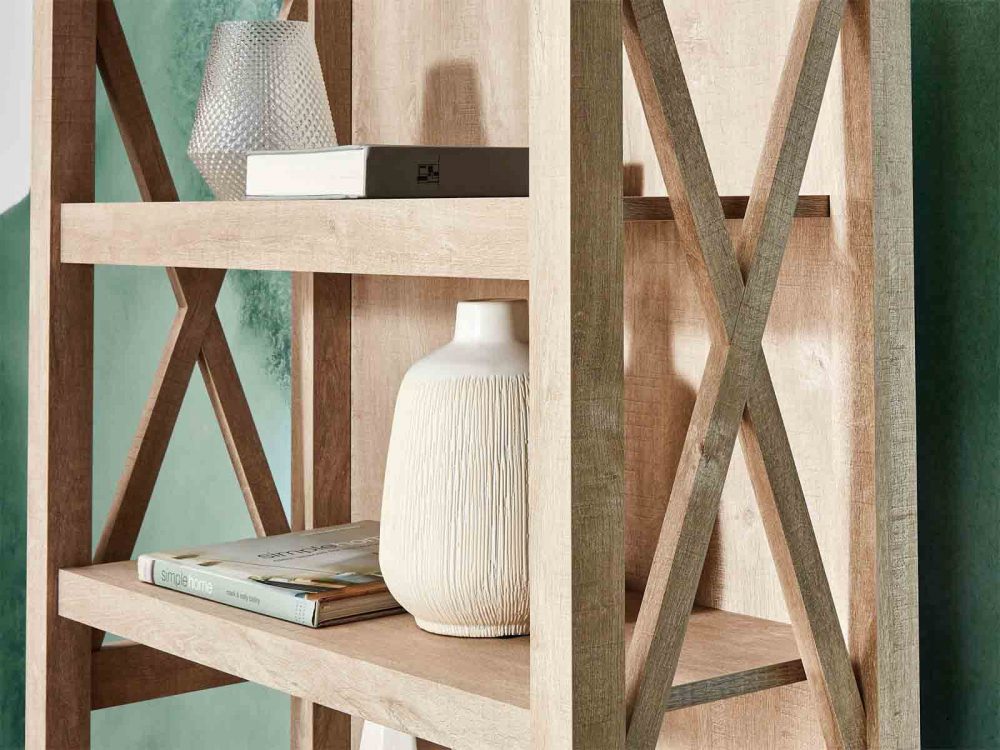 A stunning feature to any room, the 'Coastal' Bookcase (W80 x D32 x H168cm) is a great addition to store away any books or display any keepsakes or mementos you may have. With an open and airy design that lends itself to a sense of roominess, this bookcase features five fixed shelves with deep display spaces.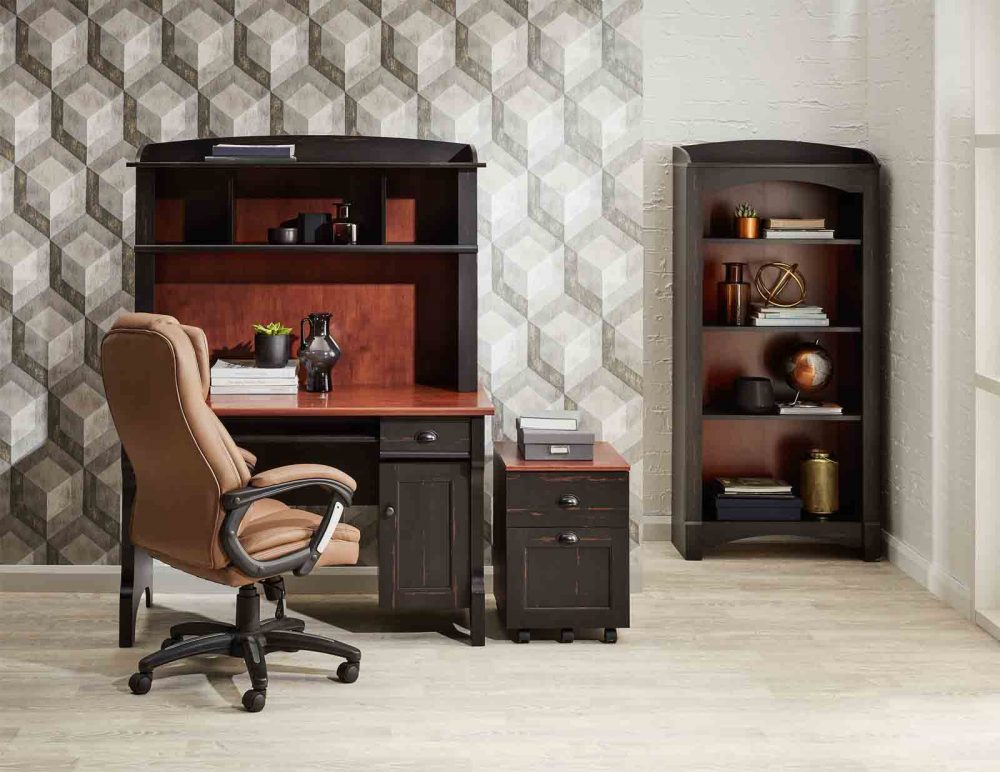 After something a little more traditional in a study desk for students? The 'Murray' Home Office Collection might be just what you're looking for. Classic style combines with a sturdy construction and an antique finish for that timeless appeal.
The 'Murray' Desk with Hutch (W120 x D59.6 x H160.5cm; shown here in Antique Black) will be the academic hub for those who have a scholar's heart and an organised process. The handy hutch features three cubby shelves above a roomy centre shelf – perfect for books, binders and stationery – while the two side compartments are ideal for putting things away out of sight so students can focus on the task at hand. It also features the all-important pull-out keyboard drawer to keep the desk surface free.
For extra storage, combine the desk with the 'Murray' Mobile Filing Cabinet (W39.4 x D49.5 x G56.5cm; shown in above image), which has an additional drawer and castor wheels for portability.
If you require additional storage for those pesky textbooks, folders and other knick-knacks, the 'Murray' Bookcase (W75 x D32 x H160.5cm; also seen in the above image) features four shelves that make a perfect display which will complete your room.
Another item featured in the above image is the 'Brighton' Office Chair – the perfect comfort for you and your children whilst grinding away at work and homework. Featuring gas lift and tilt mechanisms, it makes for a great chair for students.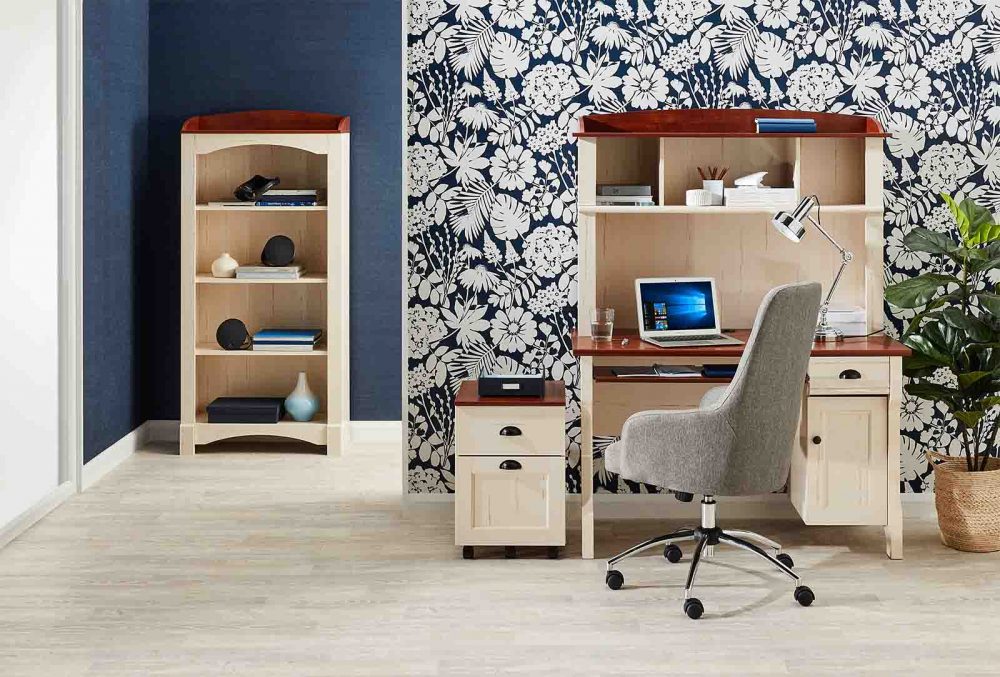 If you're after something a little lighter, the good news is that the 'Murray' range is also available in a White Maple colour (as shown above). This makes for a student desk and furniture option that's easy to coordinate with a wide range of home decor.
The featured 'Duke' Office Chair is another wonderful chair for students. It has been designed with a very comfortable plush fabric, a high back for support, and adjustable height and tilt mechanisms that let you and your children work in the position that suits best.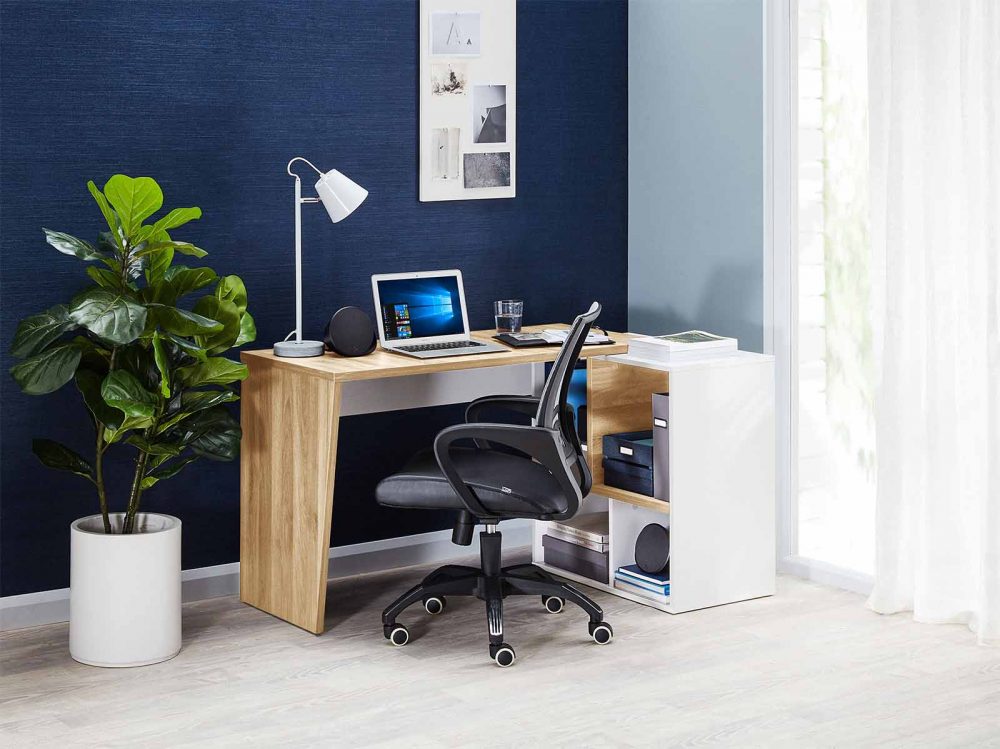 Looking for a versatile study desk for students that can change along with your child's needs? You'll love the 'Atom' Swivel Desk, with its adjustable form and neutral colour tones offering premier adaptability.
The 'Atom' Swivel Desk (W160 x D55 x H75cm) comes fitted with four shelves for convenient storage of all important books, stationery and other accessories.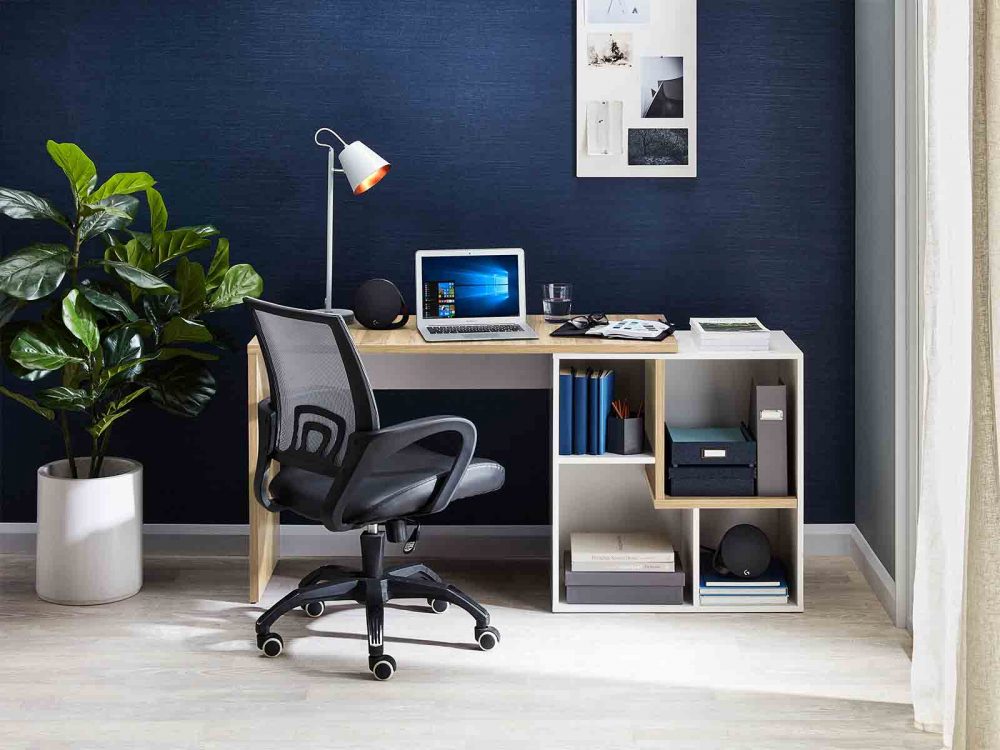 What makes the Atom desk truly special is its swivel feature which allows it to adapt to a range of spaces and configurations. You can choose from either an L-shaped corner configuration which is perfect for smaller nooks and bedrooms, to a straight configuration which is ideal for larger spaces like a living room or a study, and will work with all sizes of student chairs.
The featured 'Webster' Mesh Office Chair is available in black, blue and grey designs. This gas lift chair is a great way to enhance any student's study space.
Discover More Student Desks & Back To School Furniture
Inspired to transform your child's study space for going back to school? There are many more student desks and back to school furniture options that are available at Harvey Norman. Browse them online – and then head down to your local Harvey Norman store to try them out in person. Our friendly, expert staff can help you find the perfect setup for you and your child.