Kids. They come with a lot of stuff. As every parent knows, finding the right kids storage solution for all that stuff can be frustrating. More boxes? More baskets? That's just more clutter! What if I told you there is a simpler way to keep your kids' bedrooms mess-free?
At Harvey Norman, we're all about making life easier … and what could be more easy than storage built right into your kids' beds?  Space-saving and practical to grown-ups, kids' beds with storage built-in are also designed with your children's thoughts in mind. You see, these beds are fun!
To help you get your space back, we've put together a list of our top 7 storage solutions for your child's bedroom. These options are all about maximising room and minimising effort. Pack away time will be so easy your kids might even lend a hand!
1) Kids Beds With Trundles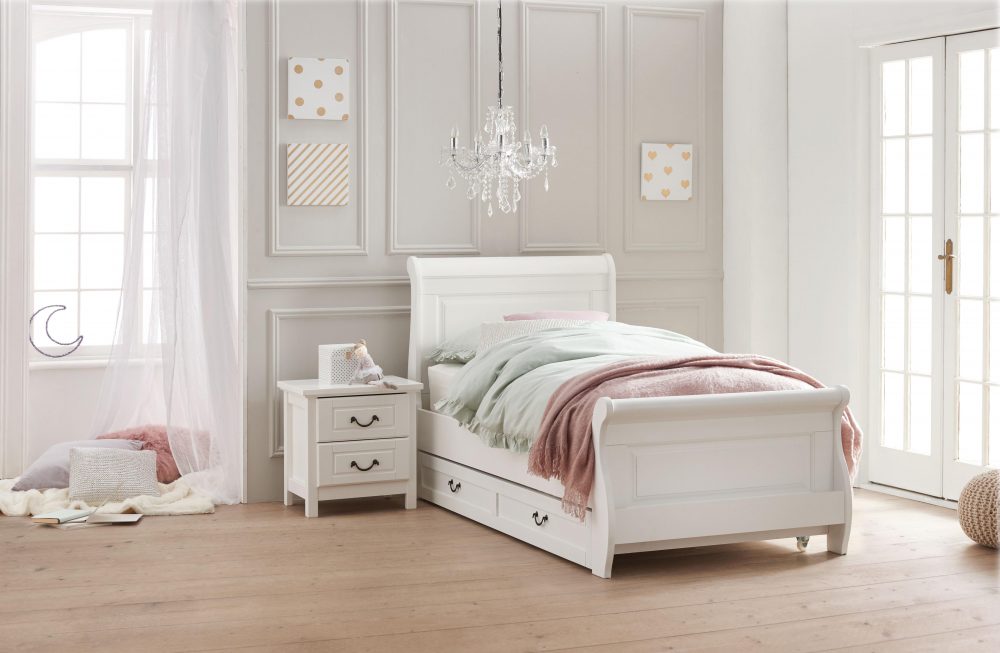 Kids + friends = sleepovers! This equation doesn't have to be tricky to solve when space is at a premium. Trundle beds answer two big questions – where to host your kids' guests overnight and what to do with the spare bed after they've gone home. Wheeled trundles are simple to roll out when needed and just as easy to slide back away. As an added bonus, storing a trundle under your kid's bed will prevent mess gathering under there!
Pictured above, the 'Oxford' is a prime example of a stylish and elegant bed with an optional built-in trundle. Ideal for your little prince or princess, this regal bed maintains a quiet dignity – when the trundle is stowed underneath you won't even know it's there!
2) Kids Storage Bed Head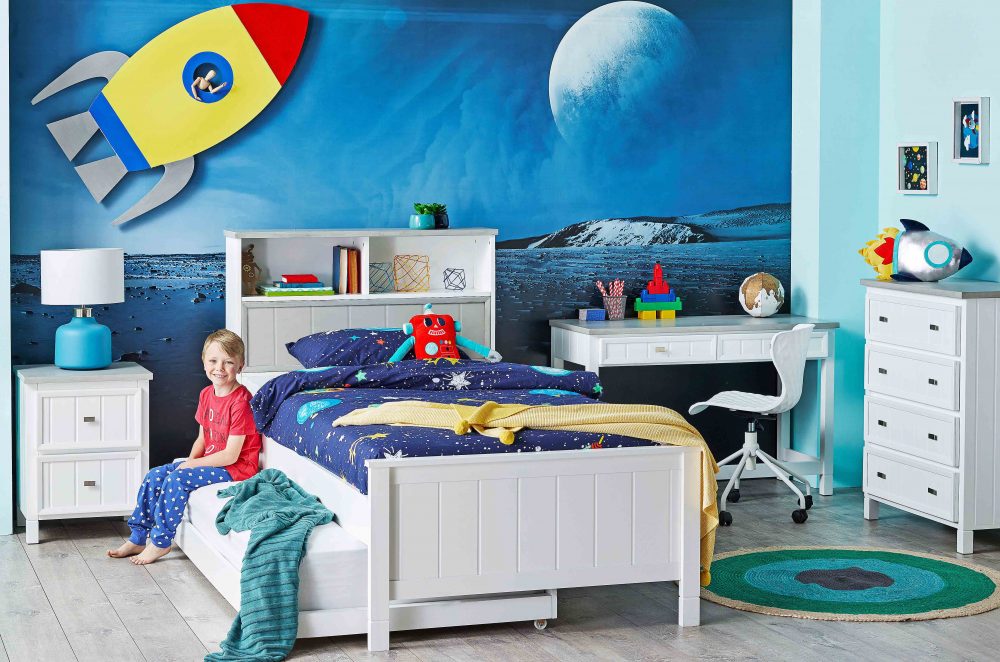 Favourite toys require a special place in your kid's room – usually right next to their bed. Unfortunately for us space-conscious parents, it often turns out that every plaything is their favourite! That's why you need a clever storage option. And if, like me, you don't have room for a bedside table near their bed, there's no better solution than a storage bed head to keep those precious toys, books, torches and treasures close for comfort during the night.
For a truly all-purpose storage bed head, the 'Luna' features two spacious storage shelves in a sturdy bed frame built to handle all the rough and tumble. Your little ones will love arranging their favourite bits and pieces near to hand and you'll love maintaining an open space next to their bed – perfect for bedtime stories and cuddles!
3) Bunk Bed With Desk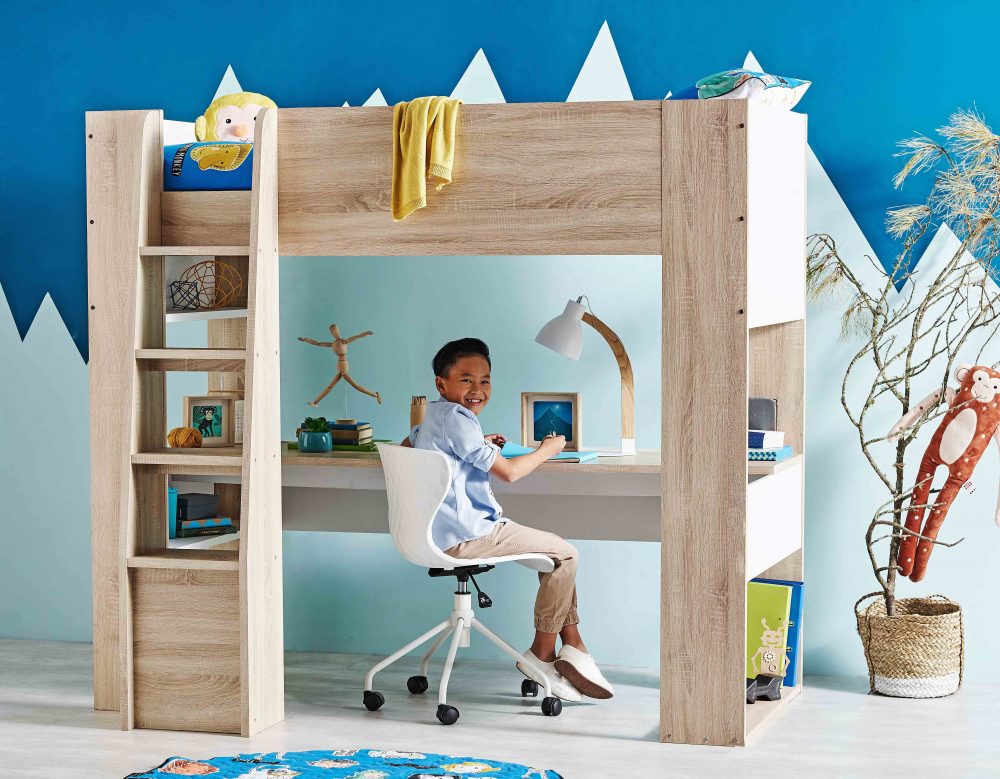 Little ones don't stay little forever. As kids move from preschool through big school (and beyond!), homework and projects become growing responsibilities – and there's no doubt that your child will benefit from having a dedicated area away from the household bustle to concentrate on their work. Don't think your kid's bedroom has space for a desk? Think again! A bunk bed with a desk incorporated into the frame provides a generous working area and also ticks the "cool" box, too – that's a win-win.
One very neat option, the 'Nemos' will accommodate your child's budding sense of style plus their need for study space. With a desk cleverly integrated into the frame, no space is wasted – there are even two handy storage shelves hidden beneath the desk. Sporting a contemporary Sonoma oak and white finish, this bunk bed will remain a funky statement piece as your child moves from milestone to milestone.
4) TV Bed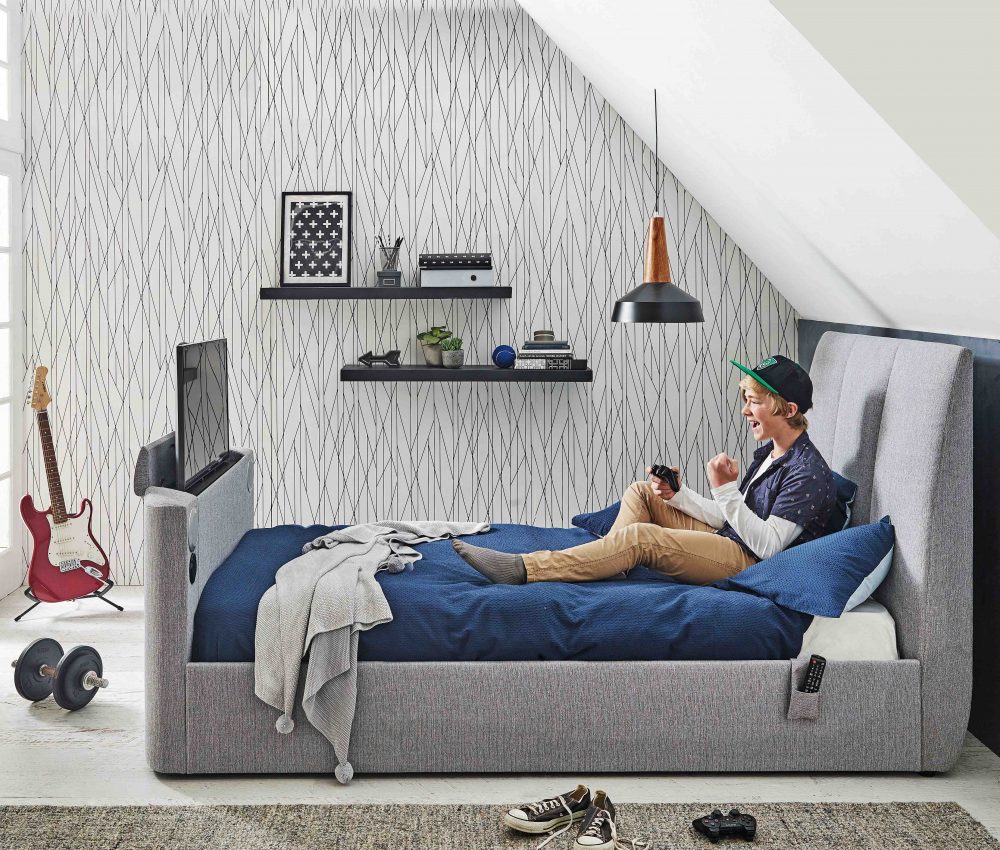 Like so many kids, my eldest son is a gamer – which is why I was so excited to discover the 'Fort' TV Bed!  It turns out that TV beds are an absolute dream come true for all little gamers and their parents. No longer do you have to work out where you want to squeeze a television in their bedroom, as the 'Fort' bed frame will store a TV in the foot-end and comes complete with a built-in, remote-controlled audio system. A simple push down activates the internal lift mechanism to raise or lower the TV as needed. As a bonus, cable management holes keep all the power, aerial, HDMI and optical cables safely organised and out of the way. Compatible with most 20-32" LCD, LED and plasma TVs, the 'Fort' TV bed is a sure fire way to up the wow factor in your kid's bedroom.
5) Under Bed Storage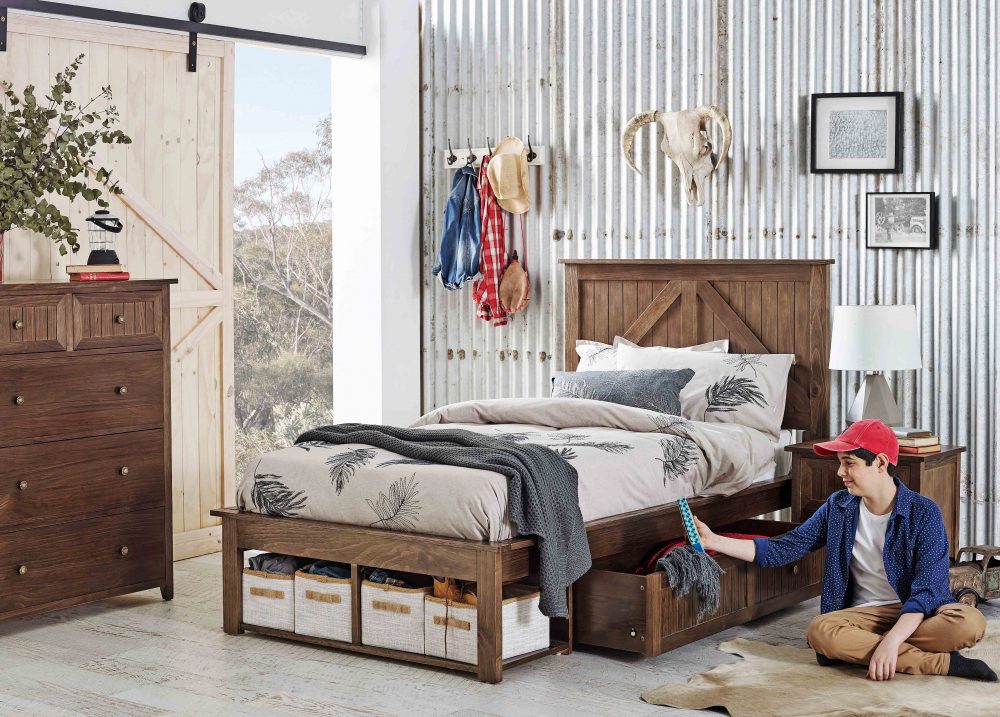 It's amazing how quickly bedroom cupboards fill when you have kids. The extra blankets, sheets and pillow cases occupy valuable wardrobe real estate. How about moving these bulkier items to a more convenient location such as right under the bed where they are used? Under bed storage drawers are an efficient, easy and space-saving option when your wardrobe space is at a premium.
A bed with drawers will keep stored items neat and dust-free. One such bed that will excite any little adventurer is the 'Avoca'. This charmingly rustic timber bed frame offers ample storage for Manchester, clothes, shoes or anything requiring quick access.  Not only does the 'Avoca' take full advantage of its under bed space, it does so with rugged finesse – much more attractive than boring plastic tubs!
6) Kids Bedside Tables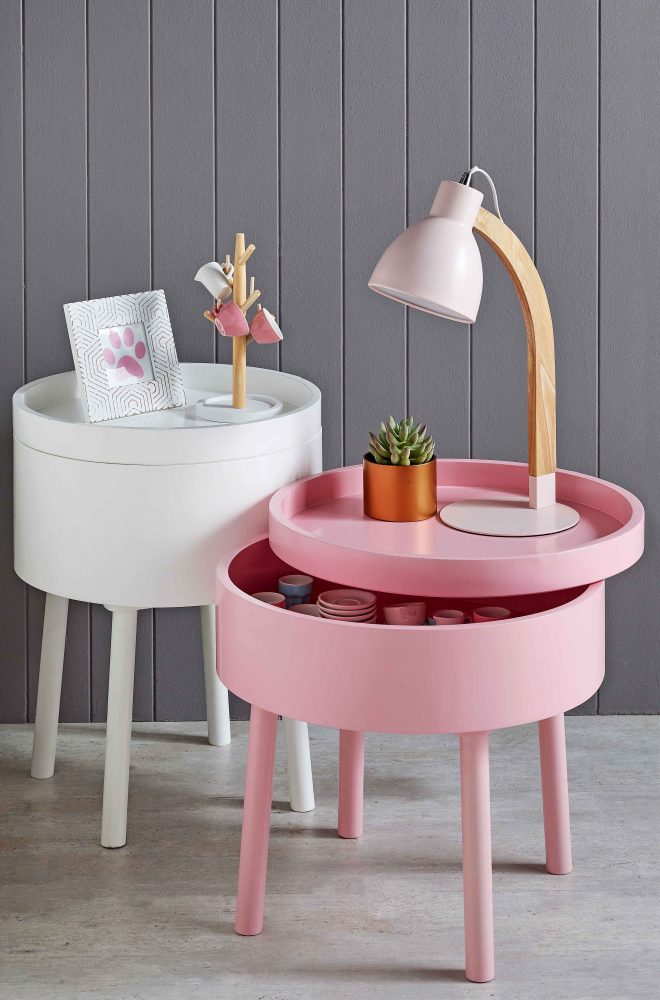 Shh … can you keep a secret? Maybe you can but we all know kids can't! Even if they are quite hopeless at keeping things under wraps, they love building an air of mystery around little treasures or prized collectables. Secret hiding spots are important to a kid – especially when they have siblings! Kids' bedside tables are the obvious location for all those bits and pieces they want to keep secure, so why not up the fun factor?
For a kids' bedside table with a difference, the 'Josie' is both a quirky and dainty table with hidden storage. Your kids will love stashing their keepsakes under the removable top!
7) Bed Head Pocket Storage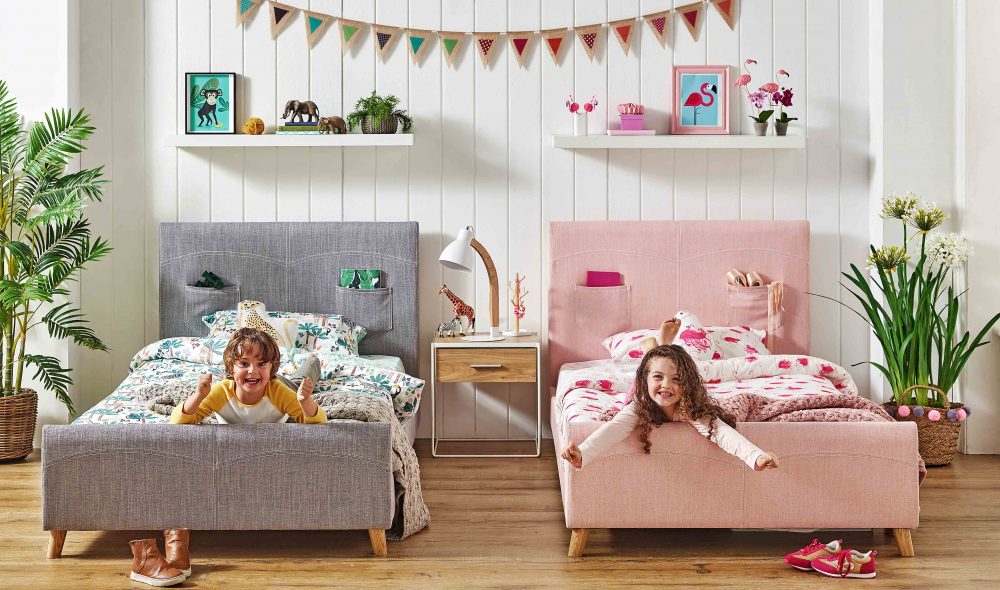 Successful storage isn't always about going big, especially in your child's bedroom. Sometimes you need a solution for the one or two small items your kid can't live without. The dual storage pockets on the 'Heston' bed are perfectly sized for holding an electronic device or a book or two … just the essentials your young dreamer wants to keep in easy reach. Available in super cool denim, pink or grey, you can choose a 'Heston' bed that suits your child and their decor.
Ready to restyle your child's room for optimal organisation? These clever kids' bedroom storage solutions can be browsed online, or you can head into your local Harvey Norman and speak to our friendly expert staff about even more options to suit you and your bambino.