Do you have a home with a classic design? Maybe your place has a more contemporary and modern feel? At Harvey Norman, we've added seven new beautiful beds to our huge range, offering different looks to suit an array of homes. If you've been thinking about giving your master bedroom a makeover, now is the perfect time, especially after you read the rest of this blog and fall in love with a few (if not all) the beds featured here!
1.     Refined Retreat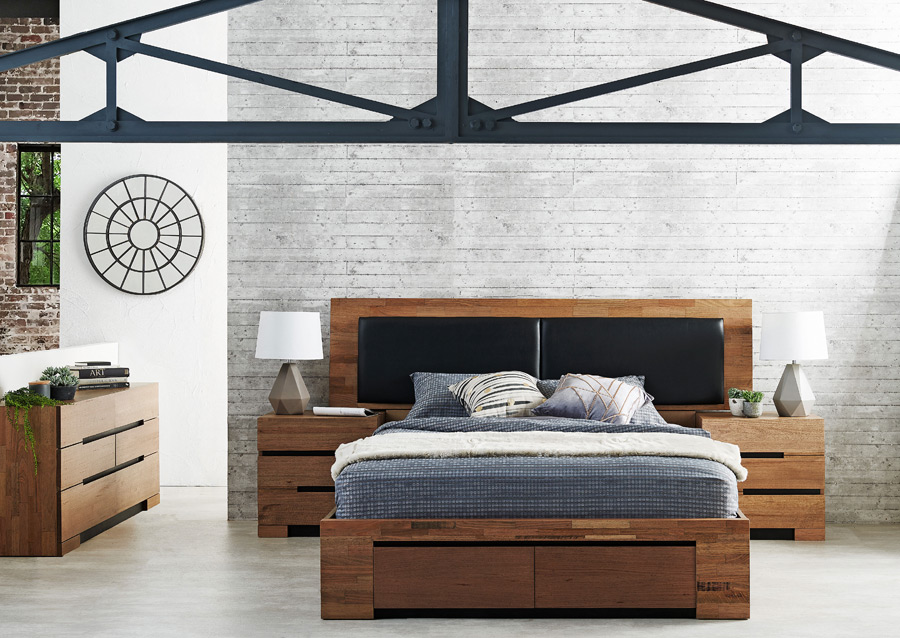 Add warmth to your bedroom with the natural beauty of the 'Blaxton' Bed. Crafted from quality Victorian Ash and Tasmanian Oak timber, this Australian made bed offers a subtle style that will turn any bedroom into a home decorator's dream.
If you need extra storage space then you'll love this bed as it feature two drawers at the foot end – perfect to stow away extra quilts, throws, and sheets, and even clothes! Adding to the functionality of this bed is the option for you to choose your own timber stain and fabric for the bedhead. You can also choose between a parquetry finish for a more textured look or a plain finish for those who prefer seamless surfaces.
Achieve the chic, streamlined look shown in the image above with the matching bedside tables and dresser. Introduce bed linen and accessories in hushed hues that will let your gorgeous bed shine as the main focal point in your room.
2.     Contemporary Cool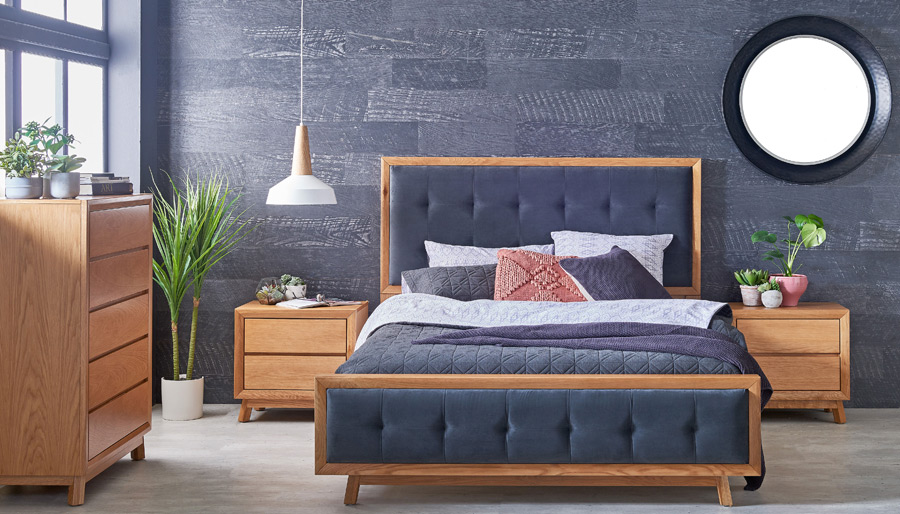 Revitalise the look of your bedroom with the stylish 'Seattle' Bed. Featuring a unique timber accent, the sophisticated button-down design of the fabric panels on the bed head and foot create an inviting focal point in any room.
Pictured above in Warwick Plush Charcoal velvet fabric, but you can choose any fabric colour you like from a huge range to match your personal style!
Keep your bedroom coordinated with the matching bedside tables and tallboy. Then, accessorise with a few faux plants and terrariums to brighten up your room. For your bedding, opt for quilt cover that matches the fabric colour of your bedhead. A pop of colour here and there like coral or lilac can also create a sense of contrast.
3.     Antique Ambience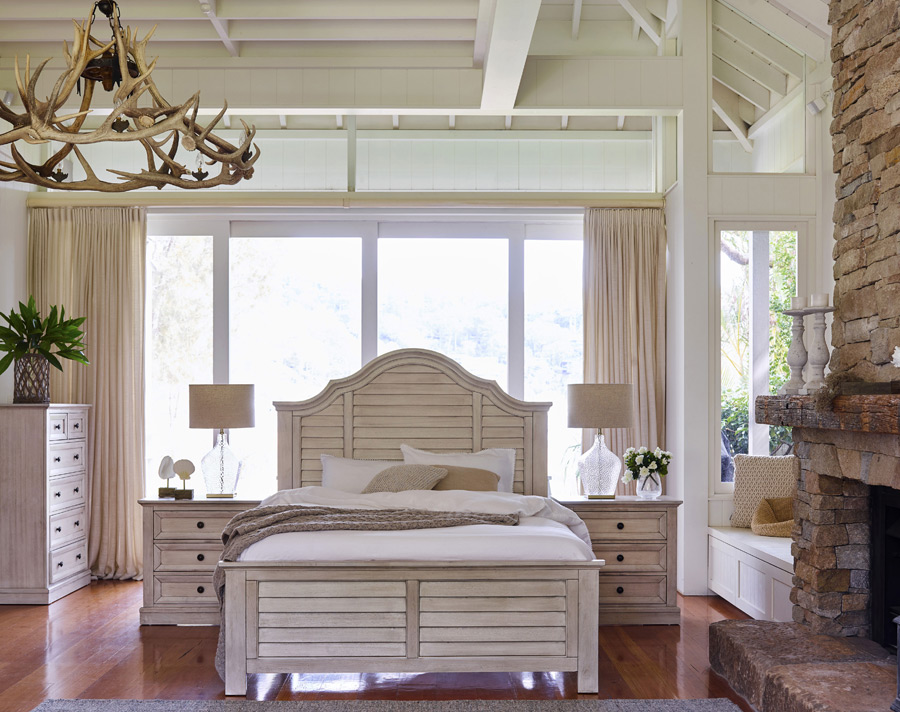 Are you a fan of intricate details? Then indulge your senses in the beauty of the manor-style 'Capri' Bed. The hardwood-crafted detailing on the bedhead heightens the elegance of this bed making it hard not to fall in love. Create a unified look and complete the antique ambience in your bedroom with the matching bedside tables and tallboy.
The louvered timber panelling on the foot and head of this charming bed gives it a Hamptons feel that will make your home feel like a luxury holiday getaway, every day! It shows off a beautiful antique white finish all over, which makes it easy to accessorise in all your favourite colours, be it a muted base or a more rich canvas of bold and bright.
4.     Timber Tones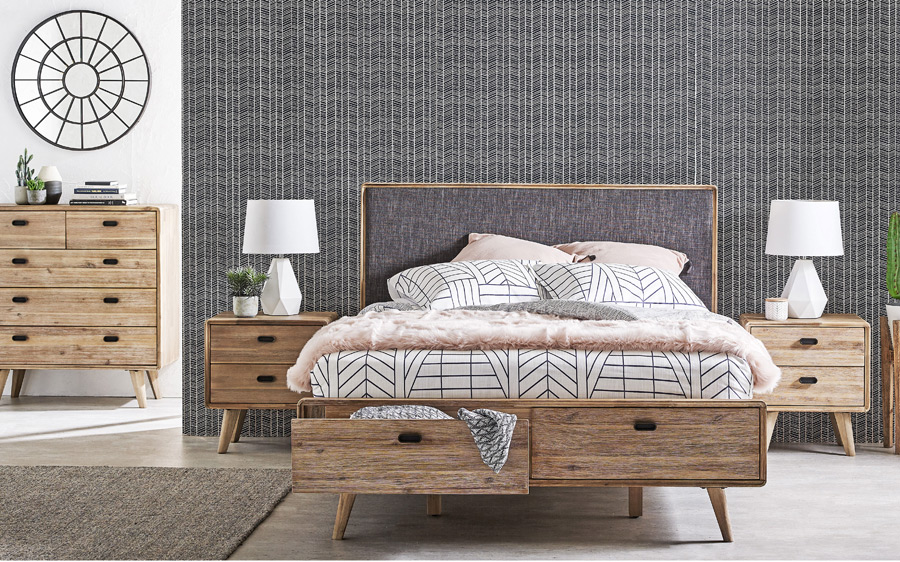 Bask in the glory of the ever-so-homely 'Braga' Bed. Constructed with sturdy timber, this Nordic-inspired bed will be on trend and relevant for a long time to come. The earthy timber tones will match the décor of any bedroom.
The 'Braga' features a unique wood grain so subtle that it will complement any bedroom interior. At the foot end of the bed, you will find two drawers to keep extra cushions, quilt covers or towels well organised. The bed also features an on-trend grey upholstered fabric panel that makes sitting in bed watching Netflix a whole lot more comfortable.
Pair the 'Braga' Bed with the matching bedside tables and tallboy. A white quilt cover with simple geometric patterns enhance the timber tones. Give your bedding an elegant touch with a throw and a few cushions in a subtle shade of powder pink. For added contrast, accessorise with all-white lamps and marble-look vases.
5.     Show-Stopping Style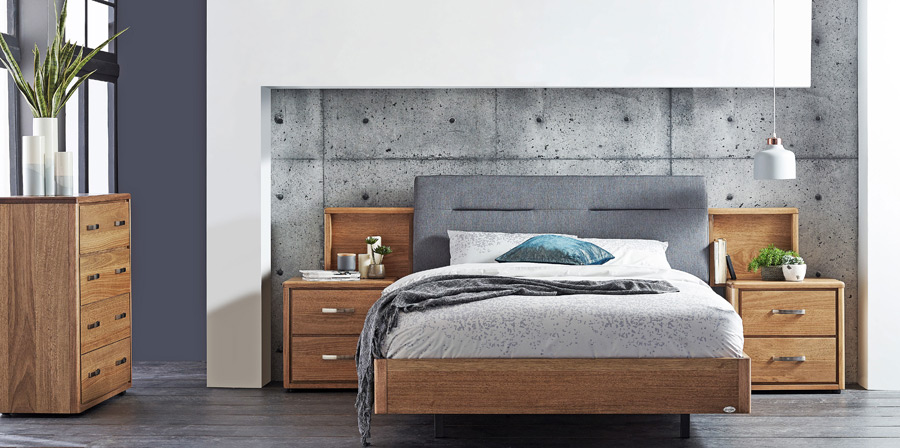 The newest addition to our range, the 'Easton' Bed creates a comfortable sleeping space with a stylish touch. This Australian made bed is a centrepiece that combines aesthetic and functionality.
The bed frame is constructed from Victorian Ash timber with a veneer finish. While the fabric-upholstered bedhead adds a contemporary touch. The timber finish is available in multiple stains and you can also choose your own fabric for the upholstery to match the design of your bedroom. To elevate functionality, a gas-lift storage base is also available to order for this bed.
As an optional extra, you can also add bedside table extensions for that added sense of luxury. A tallboy is also available separately for added storage.
6.     Soothing Serenity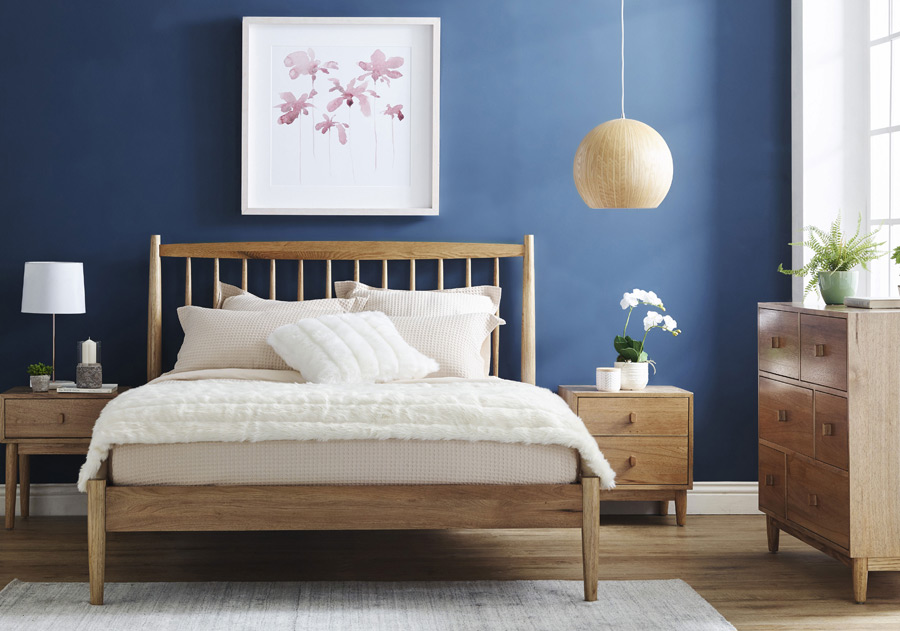 Looking for a minimalist, yet beautiful looking bed to add to your master suite ensemble? Then you won't want to go past the 'Luxe' Bed!
Blending a pared back Sandi-inspired design with a light blonde timber tone, the 'Luxe' Bed is easy on the eyes. The timber bed frame is not only stylish, it is also built to last. Plus, the nice and natural finish will complement any style of bed linen your heart desires so you can easily change the look and feel of your room from season to season – snowy white in winter, pretty pastels in spring, sunny patterns in summer and rich ambers in autumn.
Achieve a coordinating look with the tallboy and the bedside tables from the 'Luxe' range. Add a simple white table lamp on your bedside table, a few small plants and an all-white bed linen to complement simplicity of the 'Luxe' Bed.
7.     Charming & Chic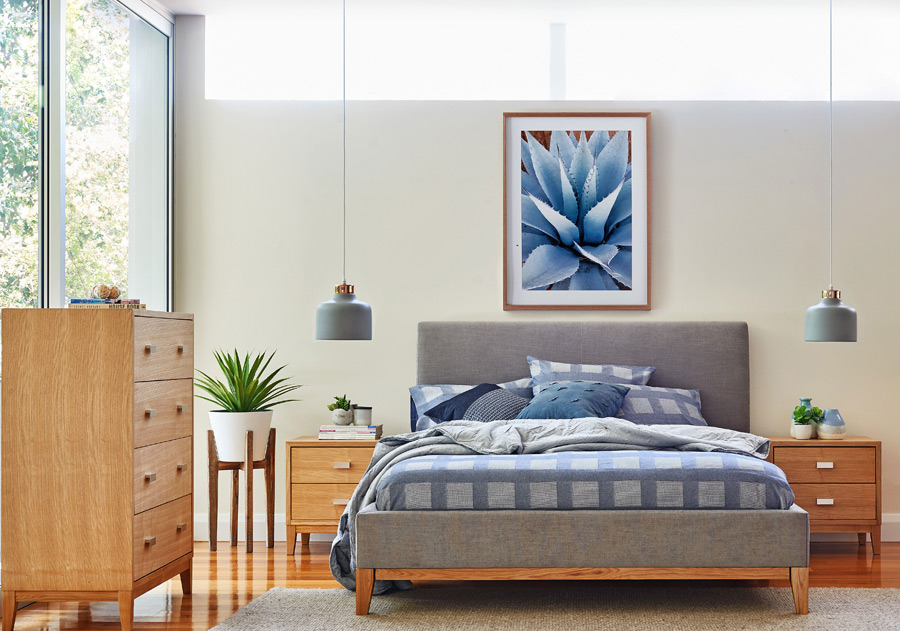 Introduce a fuss-free finesse to your home with the 'Toronto' Bed. Blending clean, chic lines with natural timber tones, this upholstered bed will be sure to breathe new life into any tired bedroom spaces.
Crafted from sturdy timber, this simple yet stylish bed will offer quality support for years to come. The natural, earthy wood grain on the timber also creates a tranquil and restful mood, while the on-trend grey fabric upholstery keeps the look current.
Matching bedside tables, tallboy, and dresser are available for you to achieve a harmonious style.
Are you now itching to give your bedroom a makeover with one of our brand new beds? Take a look at our huge bedding range online for more inspiration or head in to your local store and chat to our friendly bedding experts to help you choose the right bed for you.