Home is the undisputed comfort zone. In any list of absolute necessities for our hub of creature comforts, comfortable seating is well and truly at the top. Comfy chairs set the scene for happy, relaxing hours spent lounging or dining with family and friends. Plus, with the recent adjustments many of us have experienced to working from home, comfy chairs have taken new significance as essential to maintaining at-home productivity.
10 Comfortable Sofas & Chairs
What do you need to know when looking for your new favourite comfortable chair? At Harvey's HQ, we've rounded up 10 super comfortable seating ideas from Harvey Norman's extensive range to give you an overview of how to choose comfy chairs for lounging, dining, working and gaming. No matter your comfort or style preferences, you'll be sure to find inspiration for effortlessly creating a joyful and welcoming atmosphere in your home.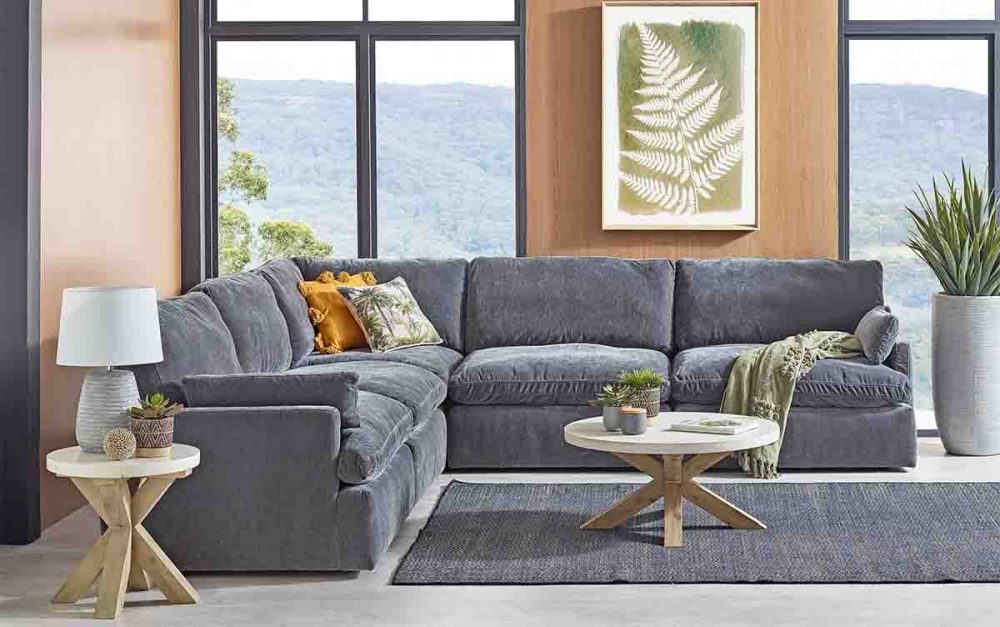 Plush Sofas
If there's one room where comfort must prevail, it's the living room. Let's be honest, who doesn't prioritise getting comfy on the sofa after a long day? It sounds straightforward but, just like the shows we choose to binge from that sofa, how we 'get comfy' is a matter of personal preference. Some are happy to sit while others need to sprawl out in all directions! Similarly, if we lounge to watch a movie, we may sit up to read a book or magazine. In other words, 'getting comfy' can mean different things to different people at different times.
Accordingly, comfortable sofas need to provide more than a place to sit. A truly comfy sofa must be generously-sized and crafted with the superior structural support needed to accommodate all modes of relaxation. To help you find your new favourite comfy lounge chair, we've handpicked a selection of sofas below from our extensive range. These sofas epitomise high quality craftsmanship with a special emphasis on comfort and style.
1. 'Cavana' Fabric Sofa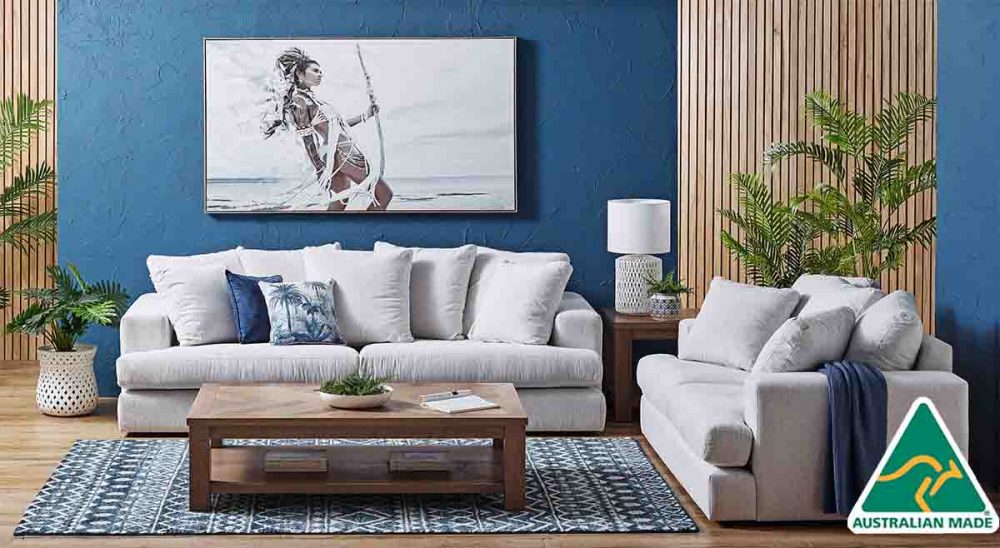 Imagine a comfy sofa welcoming you with a soft, sumptuous embrace – that's what it's like sinking into the 'Cavana' Fabric Sofa! Deep seating combined with fibre-filled scatter back cushions make this Australian made sofa an indulgently cosy addition to any living room. Pictured above in plush 'Cottage' Snow fabric, you can select from a range of size and fabric options to style your 'Cavana' to your space. Just be warned, once you enter the comfortable embrace of the 'Cavana' Fabric Sofa you may never want to leave!
2. 'Tate' 5-Seater Fabric Modular Lounge Suite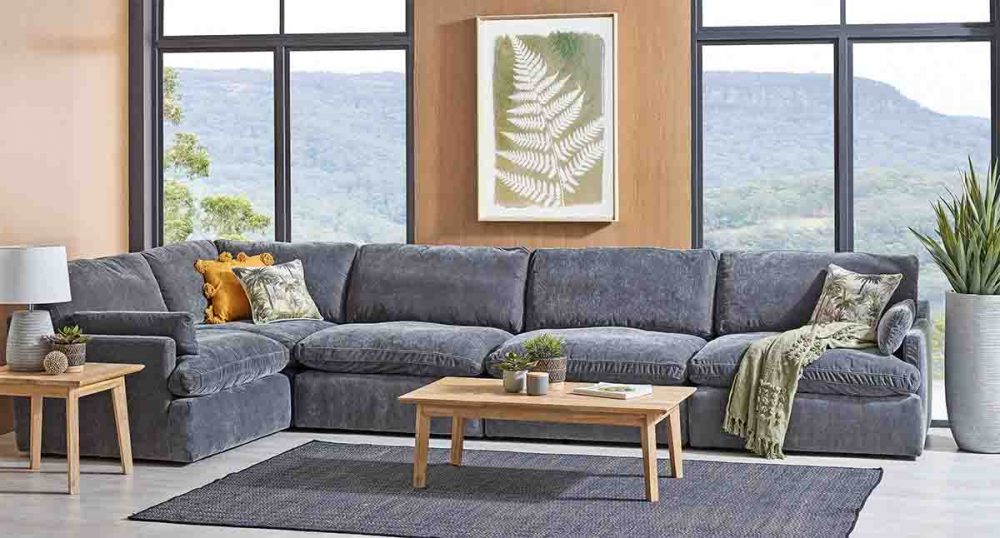 You know when you first sit down on a comfortable chair and it takes a few adjustments to find the most relaxing position? Well, sometimes, finding the perfect position for your sofa can also take a few attempts. This is why modular sofas are worth their weight in gold!
With a modular, you can rearrange the pieces as many ways as you need to find the most comfortable spot for watching TV or to fit the flow of your space.
For supreme versatility, we particularly love the 'Tate' 5-Seater Fabric Modular Lounge Suite. This modular is designed for multiple configurations so you can simply switch the pieces if you change your mind. Once your comfy new modular is in place, your reward for all that hard work is sinking down into the generously-sized feather and fibre seating. Or, stretch out with the included co-ordinating bolster cushions supporting a cheeky nap! The 'Tate' is available in Charcoal (pictured) or Latte fabric.
3. 'Langham' Fabric Sofa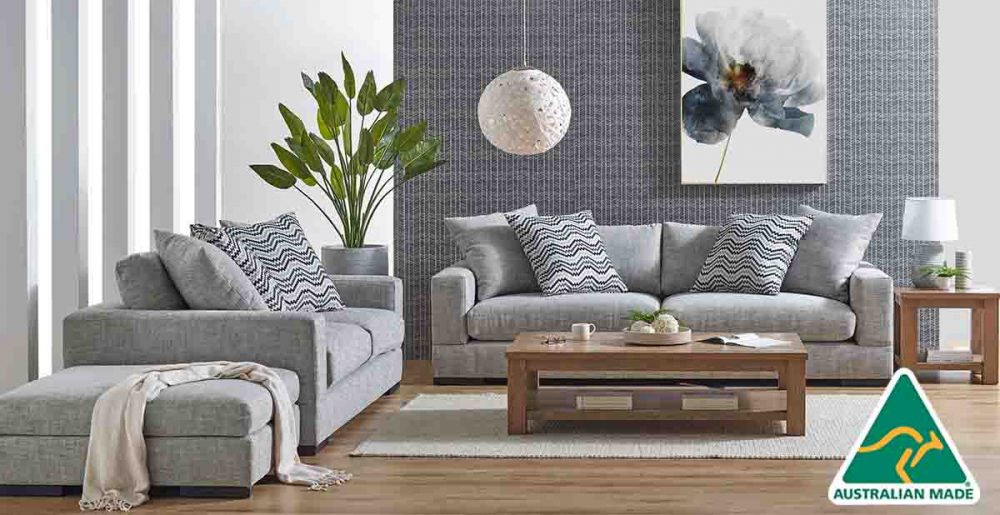 If the warmest welcome is 'make yourself comfortable', then the 'Langham' Fabric Sofa is eminently accommodating to all the family.
Proudly Australian made, this generous sofa invites everyone to make themselves supremely comfortable on deep, capacious seating. The extravagantly plush, sink-in foam cushioning is expertly rendered in a clean, contemporary design that effortlessly adapts to any space. Choose from a selection of size and fabric options to perfectly accommodate your style!
4. 'Kade' Leather Sofa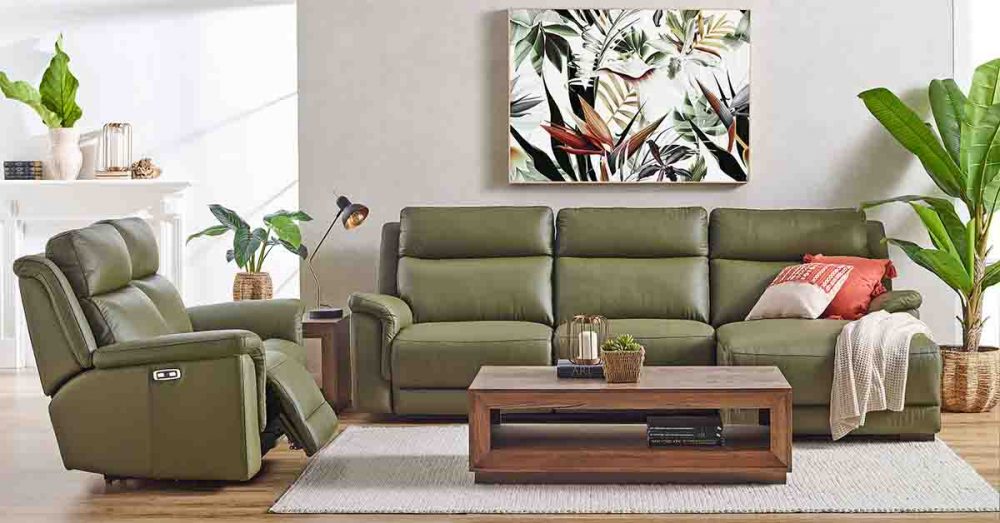 For the ultimate comfy lounge chair, nothing beats the pure luxury of the 'Kade' Leather Sofa. The touch of a button gives you the support to put up your feet and fully immerse yourself in the business of serious relaxation. Add to that the supple touch of easy-to-clean Villa leather, and you have a comfy sofa deserving of its pride of place in the living room.
Undeniably sumptuous, the spacious 'Kade' features powered recliners and powered headrests for those moments when only a complete stretch out will do. The sleek leather upholstery is not only soft but supremely durable and, coupled with a robust inner frame, ensures a lasting investment in luxurious comfort. Pictured above in 'Villa' Virch leather, you can choose from a versatile range of colours and sizes to co-ordinate with your space.
Comfortable Dining Chairs
Comfy chairs for the dining table are as much a necessity as they are for the living room.
Like our sofas, dining tables play host to a variety of activities that involve long periods of sitting. Relaxing over a board game or doing the daily crossword demands a comfortable chair that expertly combines cushiony softness and ergonomic support. Unhelpfully, these features are incorporated into such a variety of different styles that the process of buying dining chairs can quickly become overwhelming! To simplify matters, we've chosen our favourite comfortable dining chairs in three distinct styles so you can find the best fit for your dining table and existing décor.
5. 'Matisse' Dining Chair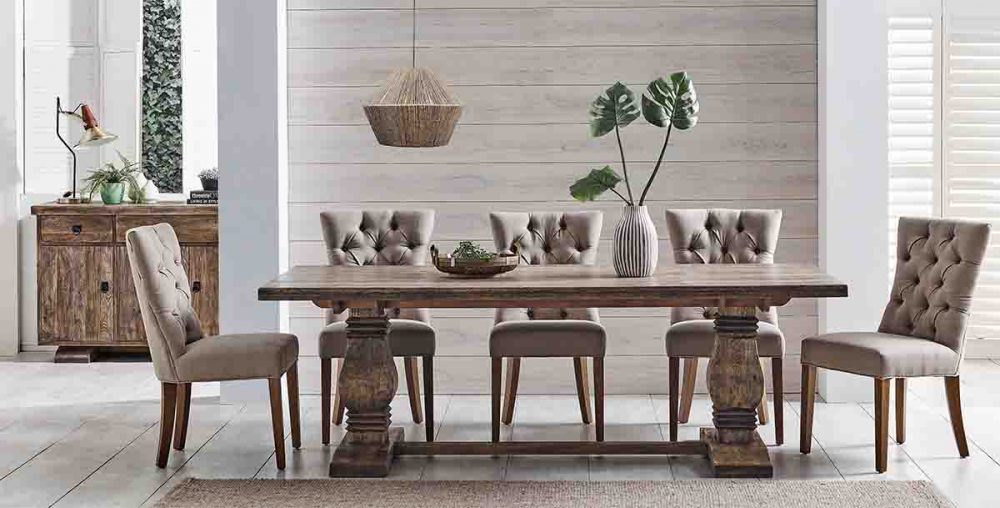 Exquisitely opulent, the 'Matisse' Dining Chair is an impeccable addition to a traditional or vintage-style dining setting. Alternatively, paired with an unembellished, contemporary-style table, the 'Matisse' will instantly elevate your dining ambience. Soft fabric upholstery with a regal button-tufted design ensures an unparalleled seating experience for your family or guests. Environmentally-friendly Mango wood provides a sturdy frame and a touch of natural warmth to this undeniably comfortable chair. The 'Matisse' is available in eminently versatile Black or Beige fabric.
6. 'Ashford' Dining Chair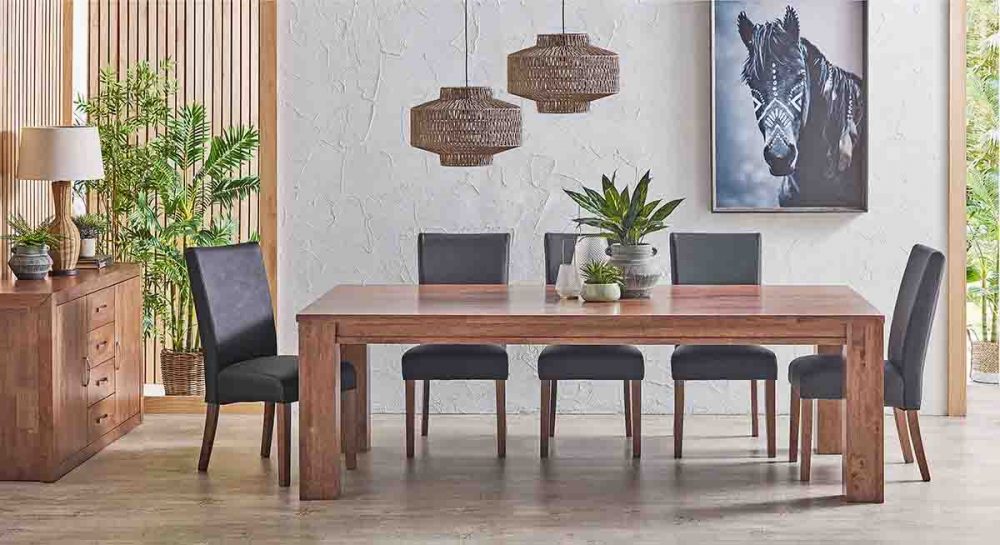 From contemporary minimalism to urban rustic, the 'Ashford' Dining Chair is effortlessly adaptable to the full spectrum of modern styling. Boasting soft leather upholstery over plump cushioned seating, the 'Ashford' proves that sleek, streamlined design can deliver long-lasting plush comfort. Fully customisable, the durable timber legs are available in a range of stains to match your choice from a selection of fresh leather colours.
7. 'Charleston' Dining Chair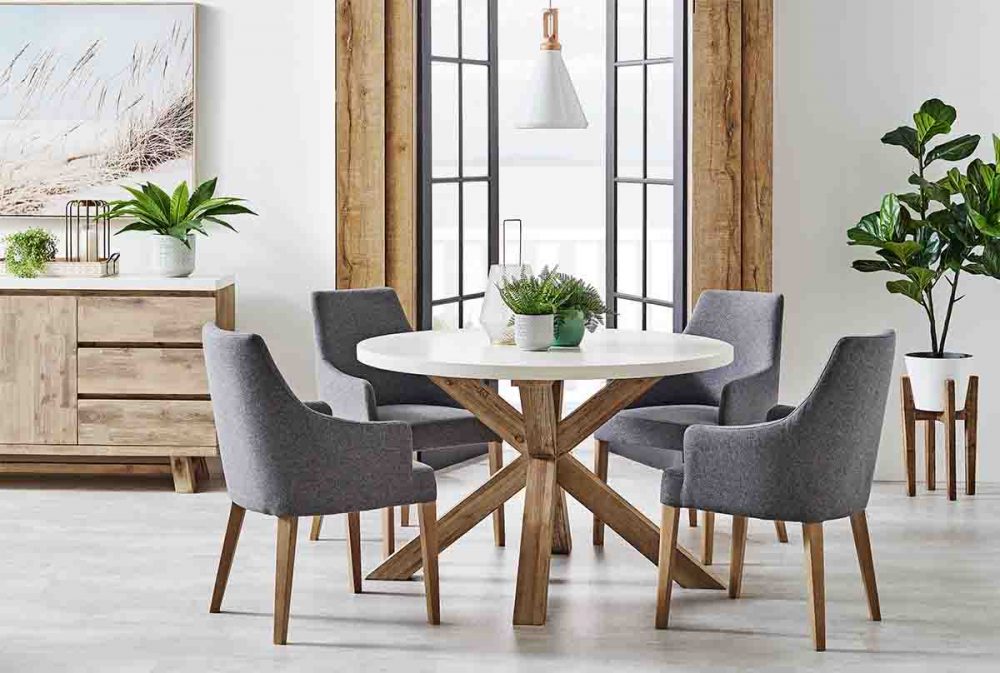 If you are buying dining chairs to reinvigorate your dining space, an ultrachic carver chair will effortlessly transform your setting into a comfy, contemporary hub for dining and relaxing. The 'Charleston' Dining Chair is a premier example of the classic carver design with soft, enveloping arms and generous, cushiony seating.  Sturdily crafted with solid timber legs, the 'Charleston' is a comfortable dining chair built to support many happy hours gathered around the table!
Comfortable Home Office Chairs
It goes without saying that working at a desk for long periods during the week is not the same as casually sitting at a table to dine or socialise over drinks! Unlike comfy chairs for the dining table, comfortable home office chairs are much more specialised. The most comfortable office chairs are ergonomically engineered to ensure you receive maximum support to minimise the discomfort of prolonged sitting.
To better understand the requirements of comfortable desk chairs, check out two of the best office chairs available below.
8. 'Comfy' Office Chair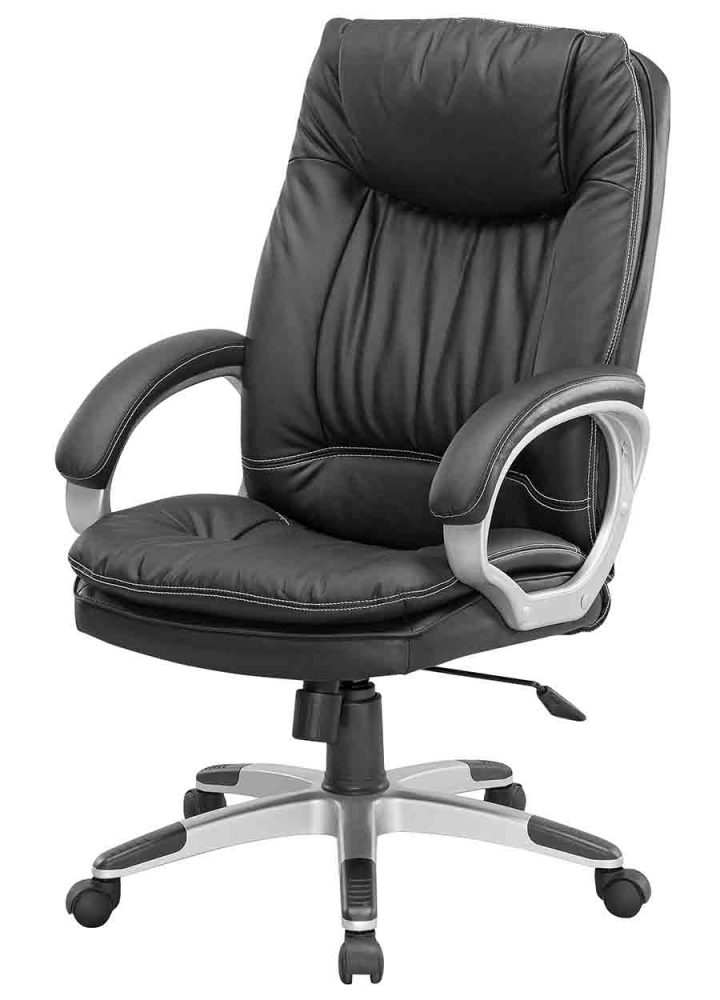 Featuring a generously high back with padded support for the crucial hip and back areas, the 'Comfy' Office Chair certainly lives up its name! Using the tilt and gas-lift functions, you can easily adjust for optimal postures across a variety of desk tasks. The plush seat cushioning will keep your lower half relaxed to avoid strain while the luxe padded armrests complete the full-comfort design.
9. 'Hensley' Black Office Chair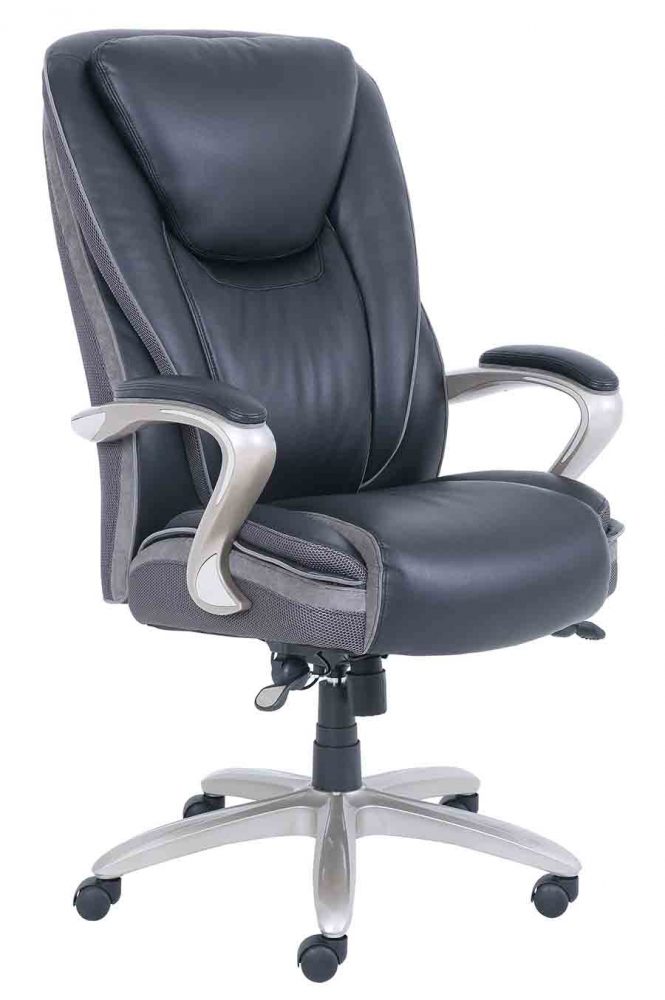 For an executive-style addition to your home office, the 'Hensley' Black Office Chair is a deluxe synthesis of stylish looks and cutting-edge comfort technology.
This exceptionally comfortable chair features the unique Serta Premium Elite 5-layer cushioning system, deep-layered body pillows and contoured lumbar zone for targeted support. Add to that a cushioned elevated headrest plus hand-sculptured upholstered arms and you have a desk chair built to reduce fatigue and facilitate productivity. A gas-lift mechanism and ergonomic side-seat fingertip controls allow you to quickly and easily adjust your position, with a weight capacity of up to 180kg.
Just like you, the 'Hensley' gets the job done!
Our Favourite Gaming Chair in Australia
If there's one at-home activity that rivals watching TV, dining and working for marathon sitting sessions, it's gaming. For serious gamers, the focus and stamina required to maintain your best game play is just as exhausting as any physical endurance race. The last thing you need is an aching back or neck stealing your attention, and your rankings.
To play without distraction, you require one of the most comfortable gaming chairs available. Luckily, we know where to find it! The 'Torino' Race Tec Gaming Chair is one of our favourite gaming chairs in Australia and it is exclusive to Harvey Norman.
10. 'Torino' Race Tec Gaming Chair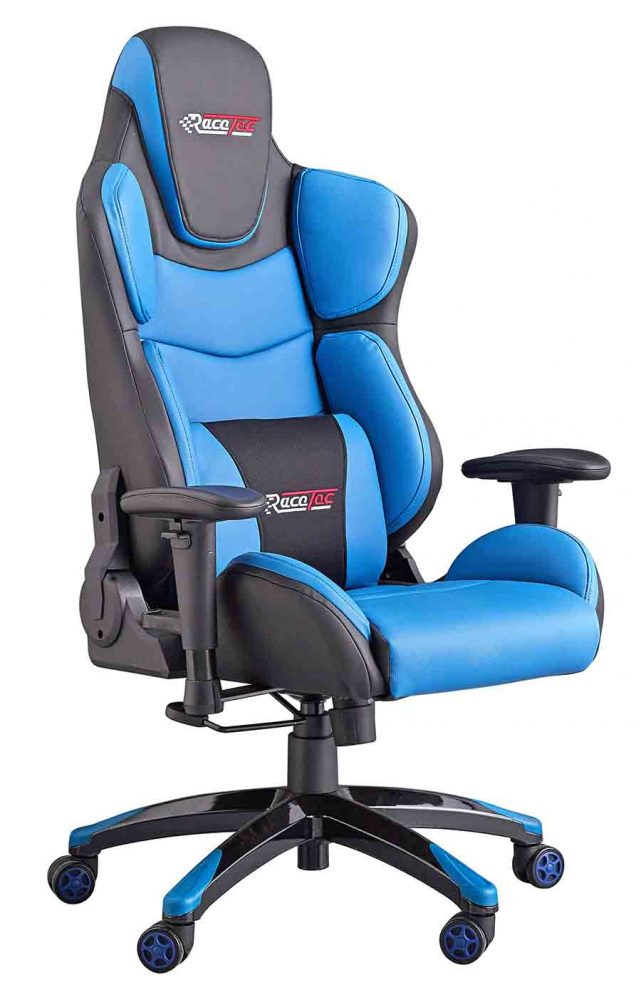 Purpose-built for dedicated gamers, the 'Torino' Race Tec Gaming Chair features a steel frame engineered to withstand the most vigorous of game play. Moulded foam cushioning and easy-clean PU upholstery provide soft, encapsulating comfort while a lumbar pillow with adjustable strap offers extra support. You can adjust the height, angle and arms of this comfortable gaming chair to achieve perfect ease of movement, and stay mobile with the roadster wheels and simple rocking mechanism. The 'Torino' is available in Blue (as pictured above), Red or Orange.
Where to buy these comfy chairs
Remember, these are just 10 of our very comfortable seating ideas. For more inspiration, click here to discover Harvey Norman's full range.