A brighter, warmer season is just around the corner, which means nature is coming out of hibernation and so should you! It's time to soak up some sun, shake off those heavy Winter textiles and lose yourself in gorgeous pastels, contemporary prints and beautifully woven bed linen. At Harvey Norman we're celebrating our latest bedding collection by counting down the top 3 on-trend bedding styles of the new season to give you that Spring / Summer bedding inspiration you've been craving.
1.   Breathtaking Botanicals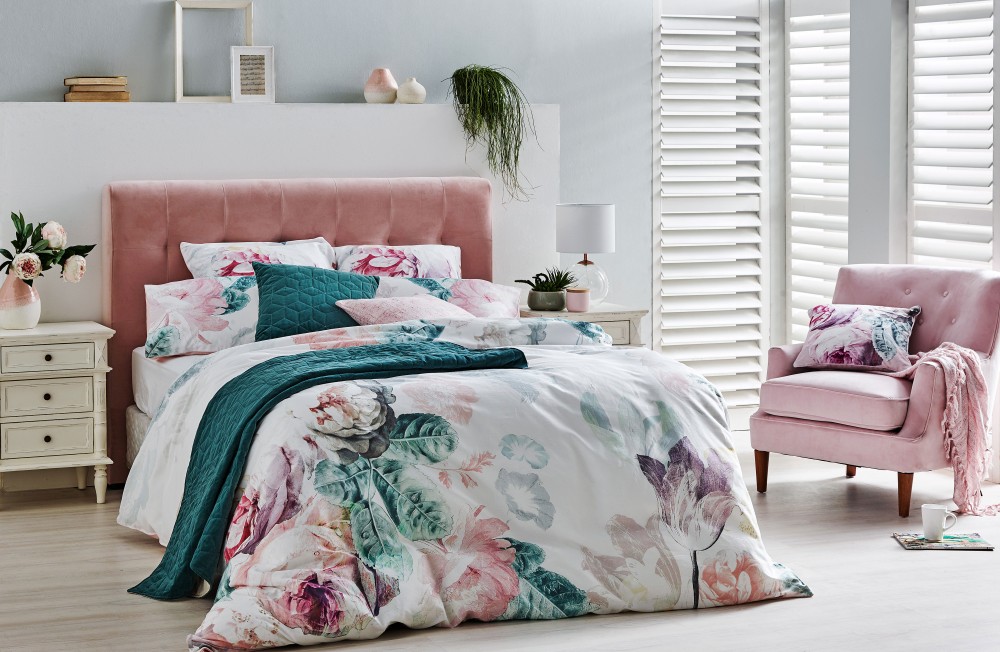 If you're after a bold new look with eye-catching pops of greens, millennial pink and purples look no further! Our 'Rochelle' Quilt Cover Set is just for you and promises not to overpower your furniture or other bedding accessories. Enjoy the fresh glamour of romantic pastel botanicals which pair well with a wide variety of timber and fabric bedding styles. The 'Coral' bedhead is an ideal match with its elegant stitch-tufted fabric bedhead highlighting the soft pinks in the Manchester.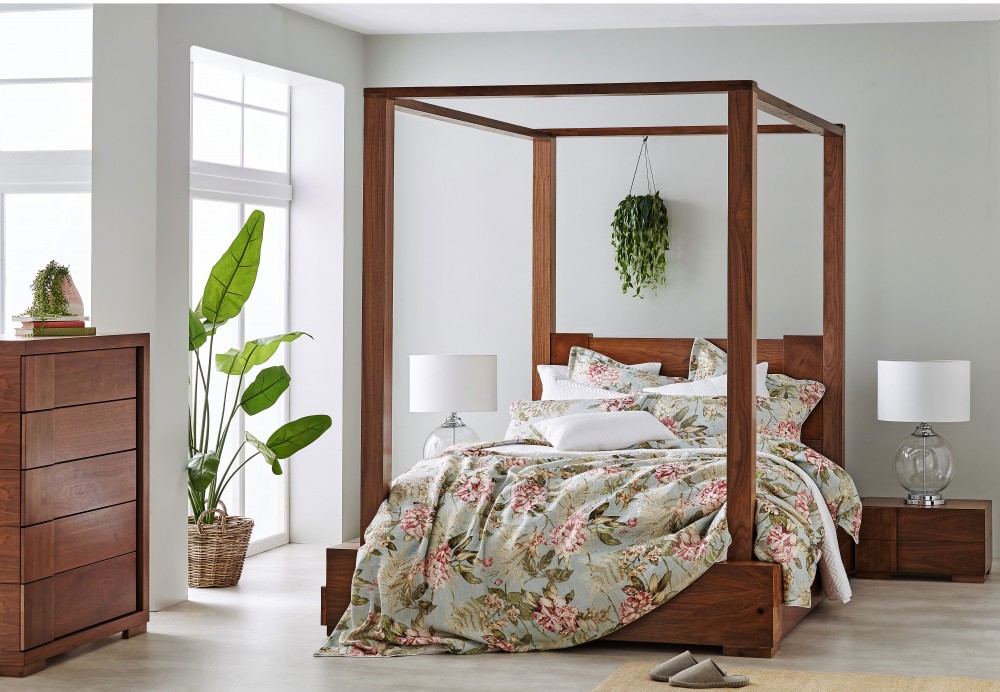 Another, more subtle, floral alternative is the 'Leura Mist' Quilt Cover Set. Featuring a range of striking floral frescoes in contrasting pinks and greens on a delicate teal background, the 'Leura Mist' achieves an elegant yet playful feel. Coupled with the sturdy, warm timber of the 'Rockdale' 4-Poster Bed this bed styling is sure to make a seasonal statement in your home.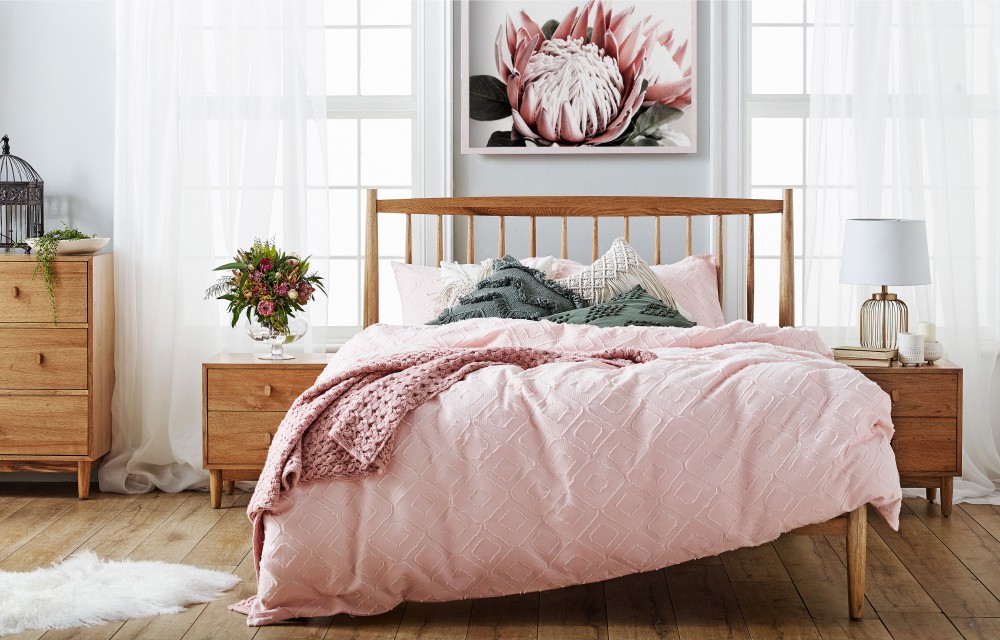 Embrace glamour and romance with the woven texture of the gorgeous 'Kokomo' Quilt Cover Set in a delicate shade of pink. The textured diamante pattern creates a calming effect and makes for a complementary piece, while the classic design of the timber 'Luxe' bed is a sturdy, eye-catching addition to your bedroom with its timber grain detail and railing design with a slight Scandi-style and boho feel. Add some extra flower power by accessorising with the 'Mother Nature' print.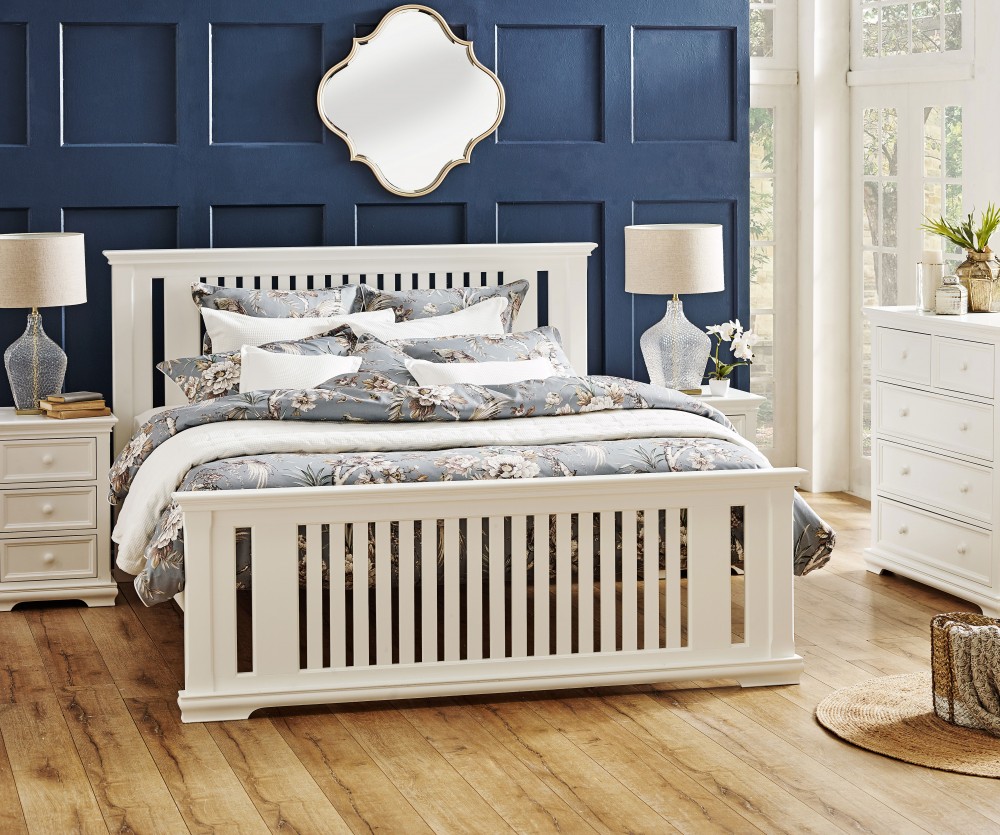 Capture the beauty of monochromatic frescoes with the 'Woodbridge' Quilt Cover Set and its nature print features on a soothing grey-blue. Your bedroom will be the ultimate spring retreat with this trending bedding style. Constructed from timber, the 'Ivy' bed's Arctic White finish makes it the perfect piece of bedroom furniture to complement and show off your Manchester and accessories whilst maintaining a regal feel.
2.   Native Australiana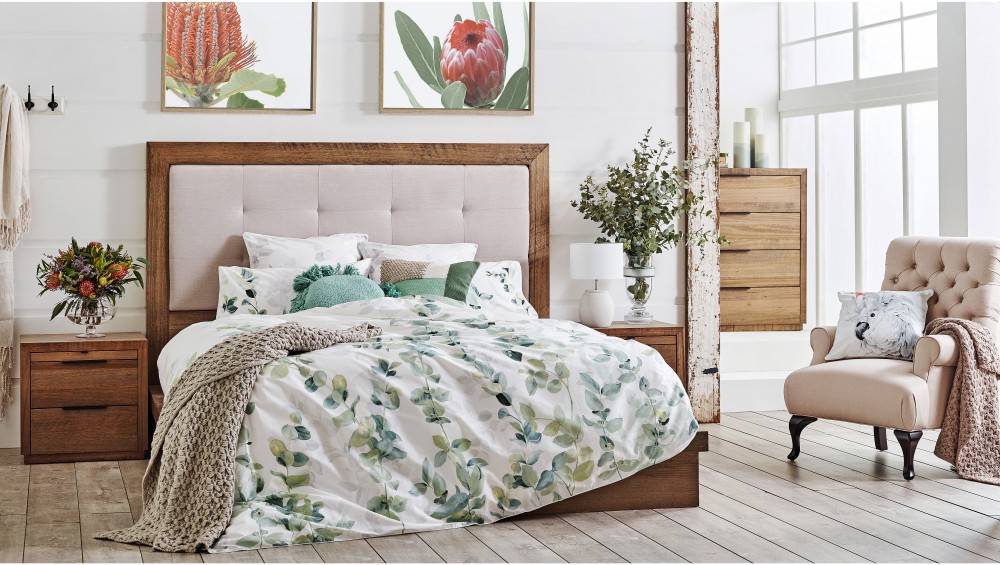 Invite the feeling of a misty morning in the Australian country side into your bedroom by adding a touch of Aussie flora to your bed linen. The 'Lindsay' Quilt Cover Set is a spring bedroom trend that boasts detail and colour from Australian foliage against a clean white background, and adds a touch of refined sophistication. The 'Mimosa' bed, crafted in Australia, utilises both local timber and quality fabrics to complete a nature-inspired spring bedroom trend.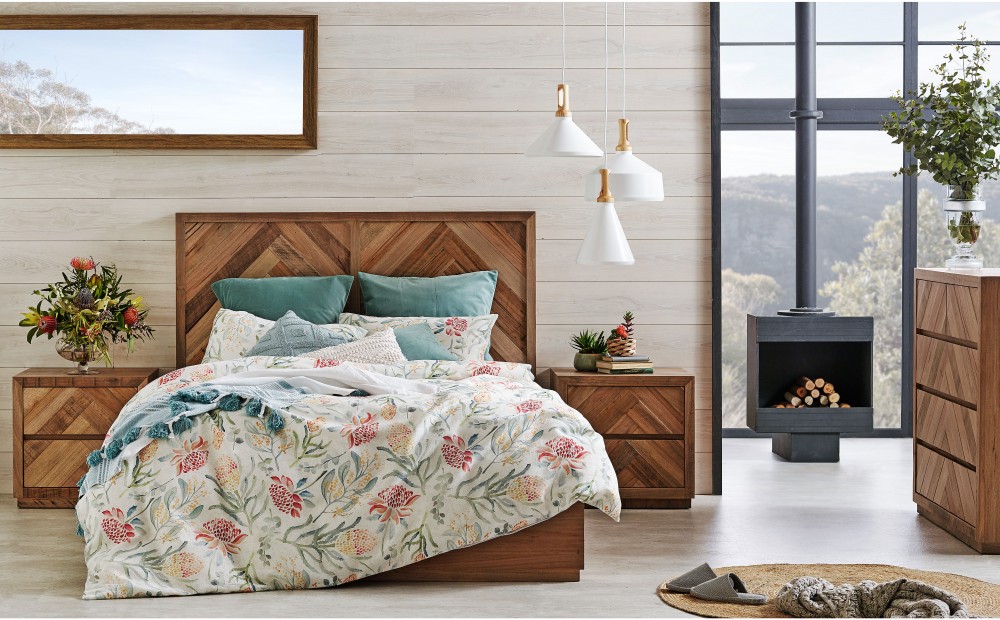 For added colour, check out the 'Myaree' Quilt Cover Set which uses both greenery and native floral patterns to bring a 'wow' factor into your bedroom. The subtle pops of colour will liven up your bedroom after those chilly winter months. Add some Australian Made timber furniture with a rustic finish such as the 'Herringbone' bed and you've created a look that's being replicated everywhere, from tiles to flooring. This winning combination is an Insta-worthy bedding trend fit for 2019.
3.   Boho Chic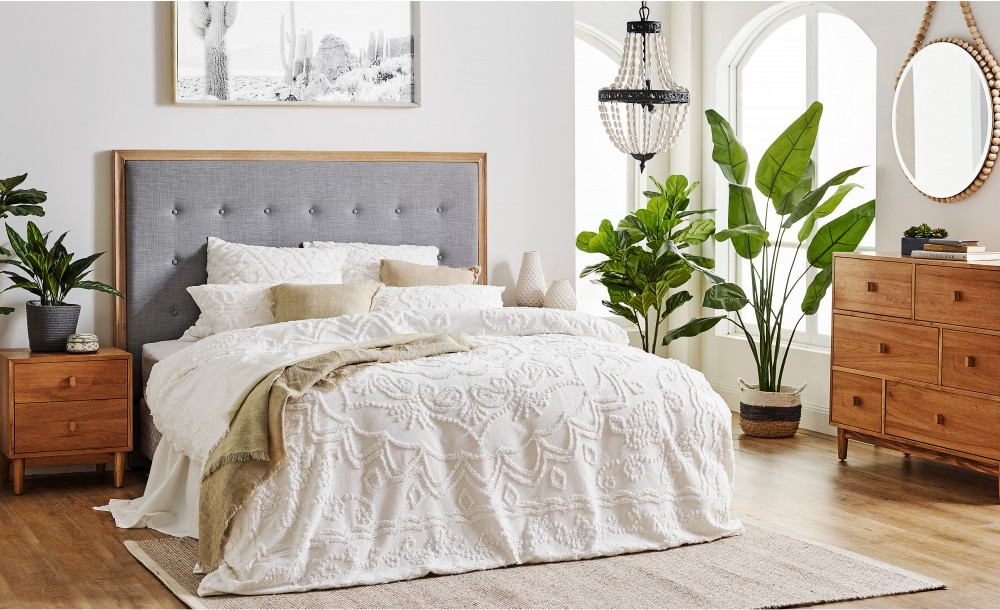 For a softer look, the  'Charming' Quilt Cover Set is an ideal choice with more focus on rustic textured fabrics rather than dramatic shades. This bespoke feel adds a touch of Boho-chic with soft cotton chenille weaves and neutral tufted yarn-dyes, while the 'Webster' bedhead adds colour with a high grey fabric bedhead complete with stylish buttons and white-wash frame.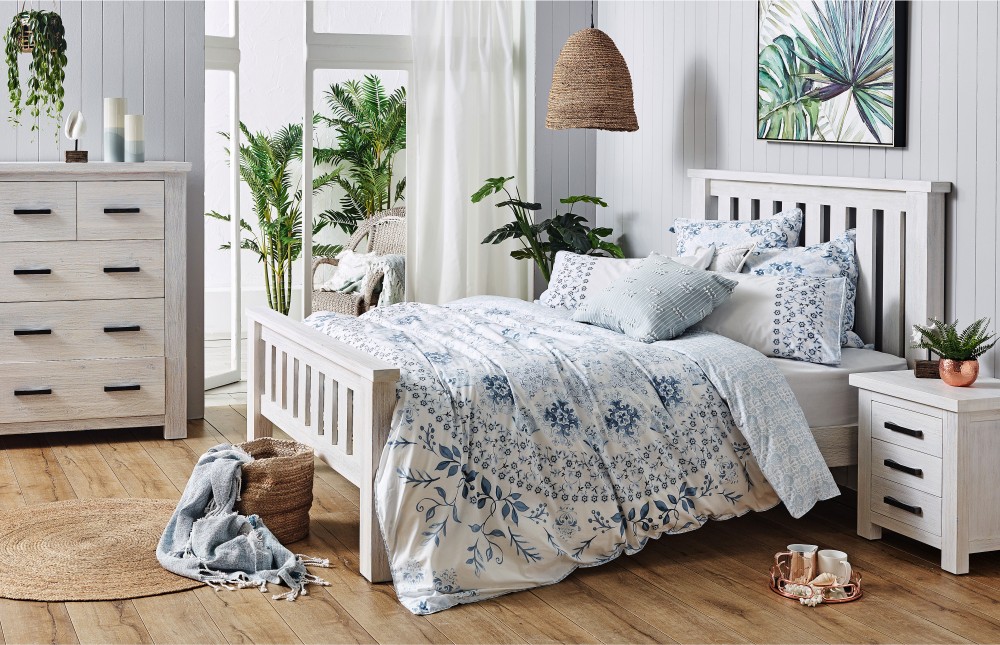 While the time for heavy Hygge fabrics has passed, the relaxed understated feel of fresh white linen and complementary soft blue hues is still on-trend. Our coastal, boho feel, featured in the 'Villa Cloud' Quilt Cover Set, combines the layering of pillows with symmetrical patterns to create a lightweight, airy atmosphere. If you're craving the ultimate coastal look, the clean, white-washed timber of the 'Kimberly' bed is the ideal bedroom furniture choice. It completes the minimalist, calming vibe, making your bedroom the ideal place to relax on those sweltering summer nights.
Express your personal style this season by revitalising your bedroom furniture and Manchester with our abundance of on-trend bedding styles, which you can shop online or by heading into your local Harvey Norman store, where you can speak to our friendly bedding experts.